Ricky Stenhouse Jr. Extends a Daytona 500 Streak Not Seen in Nearly 30 Years
Ricky Stenhouse Jr. became the most recent surprise Daytona 500 victor in a string of upsets that has made the outcome of NASCAR's biggest race one of the most unpredictable parts of the Cup Series season.
Stenhouse triumphed Sunday at Daytona International Speedway for his third career win and first since 2017, when he won the spring race at Talladega Superspeedway and the summer race at Daytona.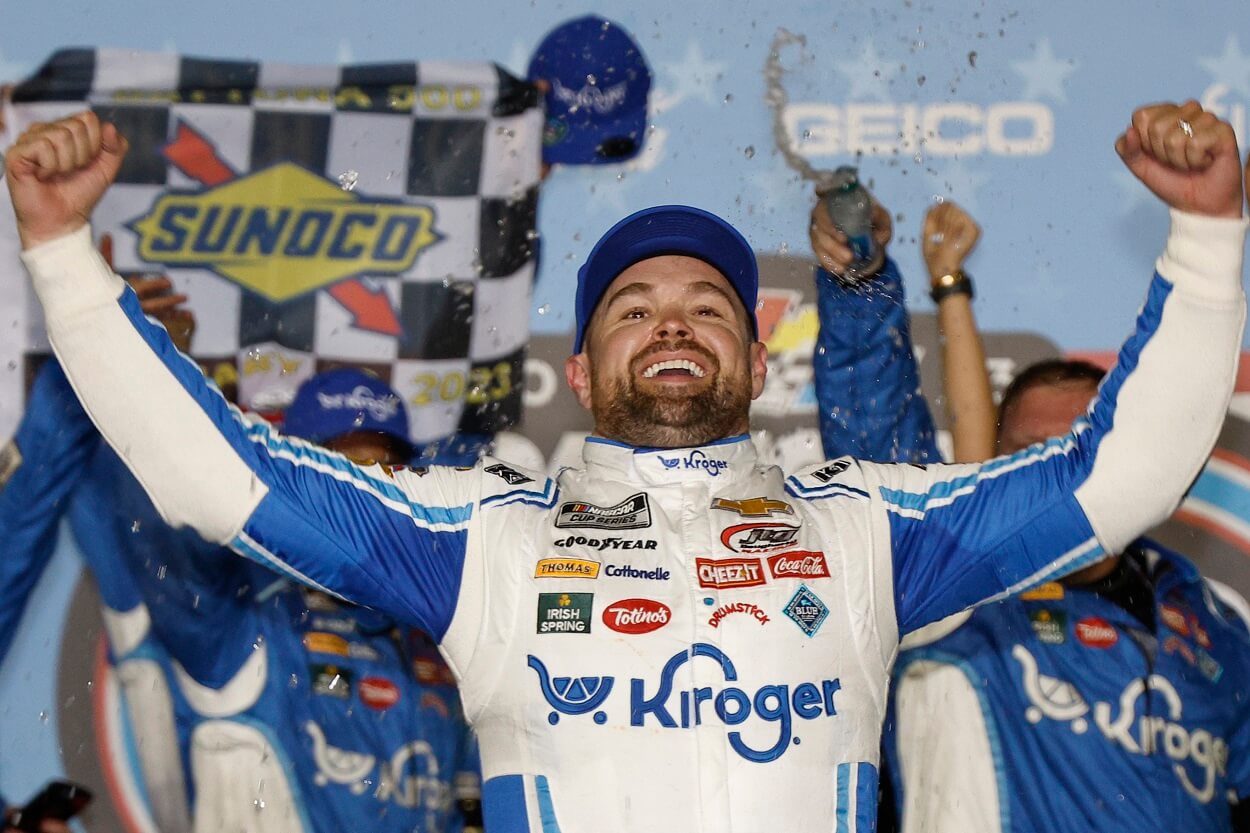 And that actually makes him the most accomplished Daytona 500 winner since Denny Hamlin won his third Great American Race in 2020.
In the years since Hamlin's victory, Michael McDowell captured his one and only Cup Series win at the 2021 Daytona 500, and 2022 rookie Austin Cindric scored his first and only Cup Series win to date the following year.
The last three Daytona 500 winners have a combined five Cup Series victories in 835 combined starts at the sport's highest level. The Daytona 500 has not had a three-year run with winners so short on Cup Series wins since 1993-95 when Dale Jarrett and Sterling Marlin were getting their careers established in the Cup Series.
Mid-1990s Daytona 500s also featured yet-unproven winners in Dale Jarrett, Sterling Marlin
Jarrett eventually compiled a resume that featured 32 Cup Series wins, three Daytona 500 victories, and the 1999 series championship. All of that led to his NASCAR Hall of Fame induction in 2014, but his future was still quite uncertain when he strapped into the No. 18 car for Joe Gibbs Racing to run the 1993 Daytona 500.
Former football coach Joe Gibbs had started JGR only one year earlier, and Jarrett finished 19th in the 1992 points standings with only two top-five finishes. Jarrett had raced at the Cup Series level full-time since 1987, but his only victory had come in 1991 while driving the No. 21 car for Wood Brothers Racing at Michigan International Speedway.
Jarrett then outran Dale Earnhardt in a famous finish with Jarrett's father and fellow Hall of Famer, Ned, in the broadcast booth calling the race for CBS. The younger Jarrett then went on to win at least one race in each of the next 10 seasons.
Jarrett won the Daytona 500 again in 1996, but only after Marlin had celebrated a pair of Daytona 500 victories for his first two career Cup Series wins.
Marlin had been in the Cup Series much longer than Jarrett before he captured his first Daytona 500 win. Marlin made his first Cup Series start in 1976 at the age of 19. He didn't run his first full season until 1987 but remained winless through his first seven full-time campaigns despite 33 top-fives, including eight runner-up results.
Marlin then joined Morgan-McClure Motorsports for the 1994 season, and he immediately took the No. 4 car to Victory Lane in the Daytona 500 with a narrow victory over Ernie Irvan. He won a pole award at Phoenix Raceway in the penultimate race of the 1994 season but did not visit Victory Lane again until the Cup Series returned to Daytona to start the 1995 season with the Daytona 500. 
Marlin led a race-high 105 of the 200 laps and edged Earnhardt to become the first driver to win back-to-back Daytona 500s since Cale Yarborough did so in 1983-84.
Marlin won twice more in the 1995 season and finished third in the final points standings. He did not go on to have near the success that Jarrett did later in his career, but he ultimately won 10 career races. He also finished third in the 2001 standings and was leading the points standings with seven races left in the 2002 season before a broken neck forced him to miss the remainder of the season.
Austin Cindric is the most likely recent Daytona 500 winner to eventually run up front consistently
As for the current trio of underdog Daytona 500 winners, Cindric is likely the only one of the three who still has the potential to carve out a career similar to either Jarrett or Marlin. Cindric is only 24 years old, while McDowell is 38 and Stenhouse is 35.
Cindric also drives for a powerhouse team in Team Penske that won the Cup Series championship a year ago, while McDowell's Front Row Motorsports and Stenhouse's JTG Daugherty Racing organizations have only six wins and three playoff appearances combined.
Another surprise winner in 2024 is also certainly a strong possibility, with the Cup Series field as evenly matched as it has ever been given the Next Gen car and pack racing that Daytona produces.
Parity was one of the top storylines of the 2023 season, and the Daytona 500 has managed to fit that framework well, with drivers capitalizing on one of the few opportunities on the schedule for the entire field to have a legitimate chance to win the race.