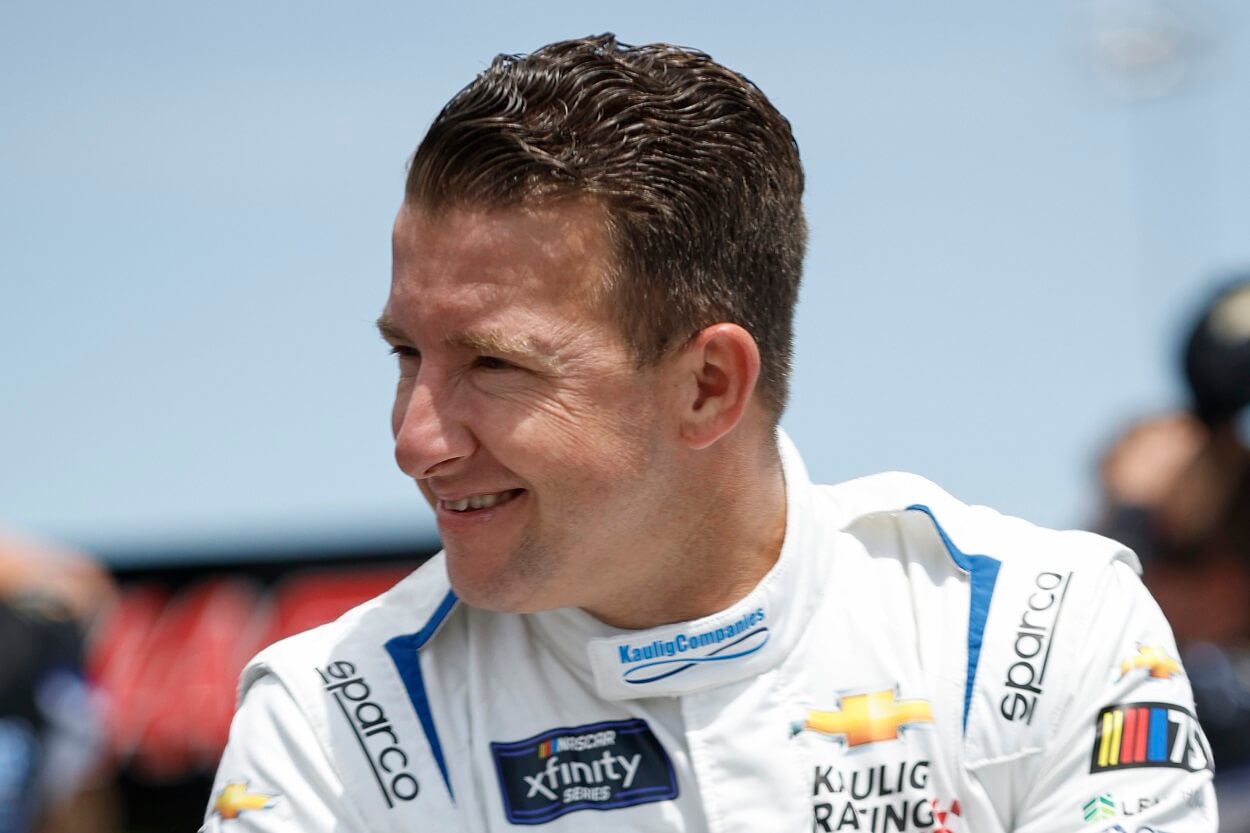 AJ Allmendinger Finally Turned Things Around at Sonoma and the Upcoming NASCAR Schedule Works in His Favor
AJ Allmendinger still has a tough road ahead to reach the NASCAR Cup Series Playoffs.
AJ Allmendinger has had one of the most underwhelming seasons of any NASCAR Cup Series driver so far in 2023. But a sixth-place finish Sunday at Sonoma Raceway might have been the turning point in what will need to be a late-season dash to claim a berth in the NASCAR Playoffs.
Allmendinger is back in a Cup Series car full-time for the first season since 2018, when he finished 22nd in the points standings at age 36 in the No. 47 car for JTG Daugherty Racing.
He dropped back to a schedule of only five Xfinity Series races for upstart Kaulig Racing in 2019 but won the pole award at Road America and won the race at the Charlotte Roval.
Allmendinger expanded his schedule to 11 Xfinity starts the following year and won two races. That led to a full-time Xfinity ride for Kaulig in 2021, and he won five races each of the next two seasons, including a Championship 4 appearance in 2021.
He also ran five Cup Series races for Kaulig in 2021 and won the race at the Indianapolis Motor Speedway road course for his second career Cup Series victory. He ran 18 Cup Series races a year ago and has traded his full-time Xfinity ride for a full-time spot in the Cup Series with the same organization for this year.
AJ Allmendinger opened the 2023 NASCAR season loaded with potential
The 41-year-old road-course ace entered the season with high hopes and a schedule that featured six road-course events. Allmendinger began the year with a sixth-place finish in the Daytona 500, but he crashed out of the first road-course race of the year at the Circuit of the Americas and had not finished better than 14th in any other race, which left him 24th in the points standings and far from a spot in the 16-driver playoff field.
Sonoma turned out to be just the track Allmendinger needed to begin to turn his season around. He qualified fifth and finished fourth in Stage 1. He spent all but seven laps inside the top 15, and his 27 quality passes during the 110-lap event ranked fourth among all drivers in the field. 
The sixth-place result boosted Allmendinger four spots in the points standings to 20th. He is now only 33 points behind Alex Bowman for the final position in the playoff field with 10 races left in the regular season.
Luckily for Allmendinger, half of those races are at the two types of tracks where he typically excels. The Cup Series will run at three road courses and have two superspeedway-style races before the playoffs begin on September 3 at Darlington Raceway. It is not a coincidence that Allmendinger's two top-10 finishes this season have come at those two types of tracks.
Both of AJ Allmendinger's Cup Series victories have come at road courses, and he has finished inside the top 10 in eight of his last 13 road-course starts since 2020. He also has finished sixth or better in three of his last four races at Daytona International Speedway and Talladega Superspeedway, while he finished 16th in March in his first Cup Series start at the reconfigured Atlanta Motor Speedway that now races like a 1.54-mile superspeedway.
The remaining regular-season schedule sets up well for Allmendinger
Even if he does not win one of those races to clinch a playoff berth, chances are good Allmendinger will post top-10 and possible top-five results in most of those five races. The challenge will be whether or not those finishes can cover potential bad finishes at the five other tracks that are similar to most places where Allmendinger has run poorly so far this season.
Allmendinger could quickly find himself in the thick of the playoff discussion if he can survive the next race on the schedule on June 25 at Nashville Superspeedway, where he finished 19th a year ago, without a terrible result. The inaugural Chicago Street Race follows on July 2, with Atlanta up next on July 9.
With a modern Cup Series schedule that includes a wider variety of tracks, Allmendinger could surge from an afterthought to a legitimate playoff contender in less than a month.
That will require him and his No. 16 team at Kaulig to move past a dreadful start to the season that had Allmendinger as low as 27th in the points standings after 10 races. And his teammate Justin Haley has only one week spent higher than 22nd in the standings through the first 16 races in the second year of the Next Gen car era.
AJ Allmendinger had gone from preseason dark horse to one of the biggest disappointments in the series this season. He has now cracked a window toward possible playoff contention; whether or not he can crawl through it will be one of the fascinating features of the final leg of the 2023 regular season.