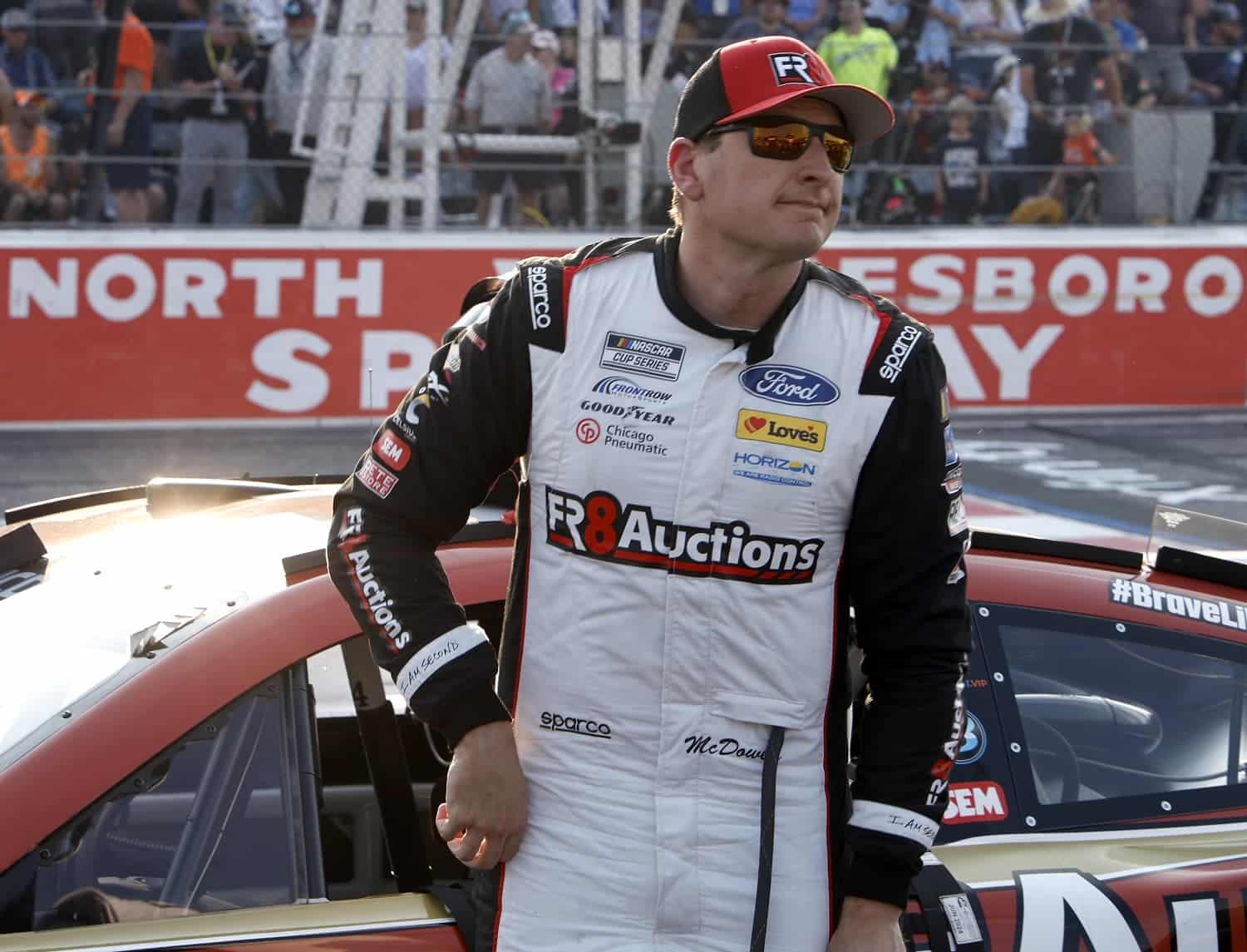 Sonoma Winners and Losers: Michael McDowell Has 2 Weeks to Lament What Might Have Been
Michael McDowell was in the hunt at Sonoma until a late pit stop went bad. It was a blow to his playoff hopes.
There are precious few opportunities each season for Michael McDowell to make the NASCAR Cup Series playoffs, and the No. 34 Ford team missed a big one at Sonoma.
The margin for error for a lower-level team is thin, and Front Row Motorsports used all of it – and then some – on a single pit stop that was the difference between seventh place and perhaps winning on Sunday.
Michael McDowell is running short of opportunities
Michael McDowell is 19th in points after finishing seventh at Sonoma on Sunday. If he's going to qualify for the playoffs on points, then the Cup Series veteran's target is Bubba Wallace, who's 37 points ahead in 15th place. (The presumption is 16th-place Alex Bowman, who has missed three races, will eventually overtake Wallace.)
Considering that Wallace has more resources at his disposal at 23XI Racing than McDowell does at Front Row Motorsports, McDowell would be best advised to win his way into the playoffs. Given his history, that's most likely to happen on a superspeedway or a road course.
Sunday's race was on a road course, and the No. 34 team missed an opportunity to go into next week's break in the schedule on a high. McDowell stood third when Denny Hamlin brought out the caution on Lap 93, sending much of the field to the pits for tires. The combination of three cars staying out and an excruciatingly long stay in his box sent McDowell back out in 13th place.
That left him no shot at reeling in winner Martin Truex Jr., and McDowell had to settle for seventh.
"We were starting to run him back down on that long run and that last pit stop hurt us," McDowell said. "It is what it is. … We almost executed all day, it's just that last stop."
Now, he's down to the Chicago, Indianapolis, and Watkins Glen road courses to win his way in. If all else fails, there's the superspeedway at Daytona to close out the regular season.
Sunday's Sonoma winners, aside from Martin Truex Jr.
Toyota – That's three straight wins on road courses for the manufacturer with just six cars in the hunt each week.
Kyle Busch – He may have fallen a spot short of back-to-back victories, but the driver of the No. 8 Chevy has finished seventh or better in four straight races. He's definitely the guy least happy to be taking next weekend off.
NASCAR – Sonoma reaffirmed NASCAR made the right call by taking stage breaks out of races on road courses. Watching pit strategy play out was a lot more interesting than the one lap of drama we previously got from restacking the field after Stage 2 in past seasons.
Joey Logano – Consecutive third-place finishes have moved the defending champion up five places in just week weeks.
Sonoma's short list of losers
Denny Hamlin and Tyler Reddick – Not all the Toyota drivers had as much fun as Martin Truex Jr. Hamlin started on the pole and led a third of the race, but he got shuffled by the caution in the middle of pit stops under the green and then clipped the corner at Turn 12 late to send him home in last place. Reddick, the gold standard lately on road courses, stayed out after Hamlin's misfortune but cut a tire on Lap 97 and finished 33rd.
Got a question or observation about racing? Sportscasting's John Moriello does a mailbag column each Friday. Write to him at [email protected].