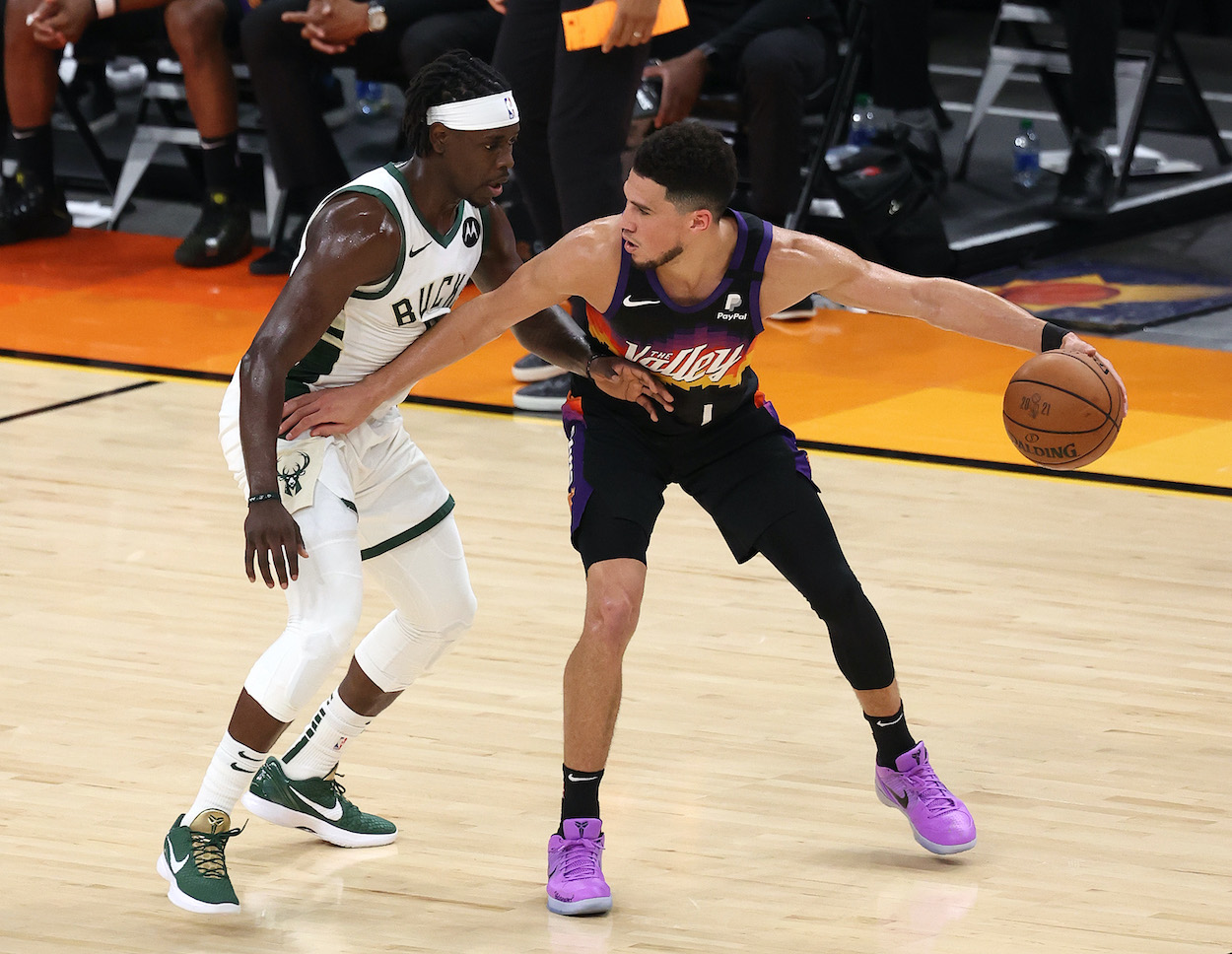 The Bucks' Risky $134 Million Gamble Is Paying Off Better Than They Ever Could've Imagined
Jrue Holiday and his $134 million contract are hoping to lead the Milwaukee Bucks to an NBA title.
The Milwaukee Bucks have been consistent NBA Finals contenders ever since Giannis Antetokounmpo grew into the superstar he is today. The Bucks finished the previous two seasons as the No. 1 seed in the Eastern Conference, but they were unable to make it to the championship series with the core they built around their MVP.
So, Milwaukee made the bold decision to trade starting point guard Eric Bledsoe to the New Orleans Pelicans for veteran Jrue Holiday, and the team even doubled down on the move by giving Holiday a $134 million contract extension earlier this year. It was a risky and expensive move, to say the least, but it might just pay off with an NBA championship in year one.
The Bucks took a $134 million gamble on Jrue Holiday
Bucks general manager Jon Horst knew he had a championship contender on his hands once Antetokounmpo became an MVP-level talent. And when you're lucky enough to steal a player of Antetokounmpo's caliber in the draft, you can't afford to waste his prime by surrounding him with a faulty roster.
The "Big 3" of Antetokounmpo, Bledsoe, and Khris Middleton was enough to lead Milwaukee to the No. 1 seed in the East in each of the last two seasons, but they had nothing to show for it. Last offseason, Horst identified the PG position as the weak point on the roster. Bledsoe was serviceable as a starter for three seasons, but he wasn't pushing the Bucks over the edge, and he wasn't a great fit with Antetokounmpo on the court.
During last year's playoff run in the bubble, Bledsoe averaged just 11.7 points per game on 38.8% shooting and an abysmal 25.0% from three. He also coughed up 2.6 turnovers per game in the postseason. That's not going to cut it in today's NBA.
So, the Bucks set out last offseason to give Antetokounmpo the help he needed to get the team over the hump. In November, Milwaukee traded Bledsoe, George Hill, three future first-round picks, and two additional pick swaps for Holiday and Sam Merrill in a four-team trade.
A few months later, the Bucks signed Holiday to a four-year contract extension worth $134 million. The deal could be worth nearly $160 million if Holiday hits a variety of incentives. That's a whole lot of money for a guy who's had similar stats to Bledsoe for most of his career.
The risky move is paying off better than the Bucks could've hoped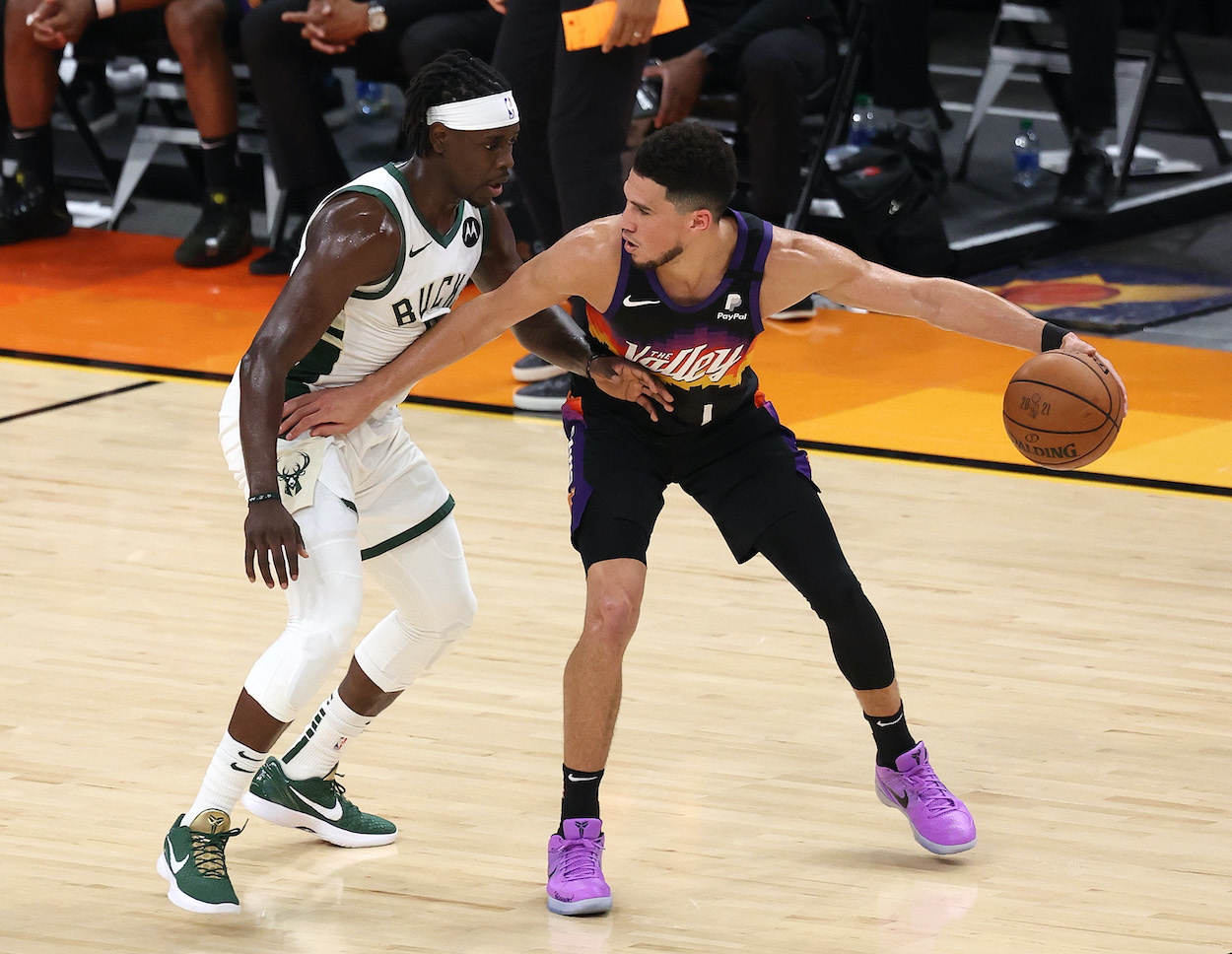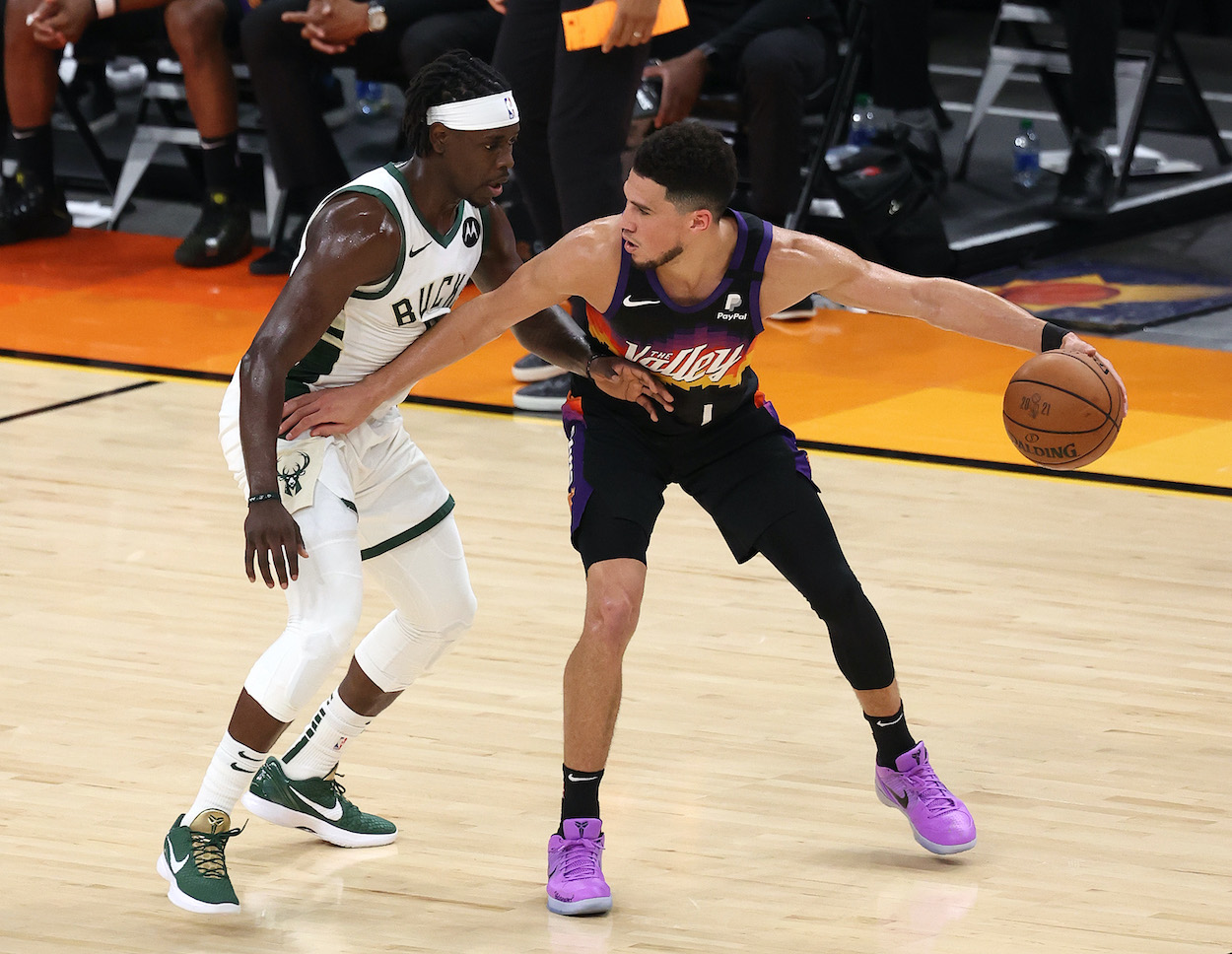 Following the risky trade and contract extension, the Bucks immediately found themselves under immense pressure to ride Antetokounmpo and Holiday to an NBA Finals appearance.
Well, that's exactly what they've done, and now they're one win away from their first championship since 1971.
Aside from Antetokounmpo, Holiday might be the biggest reason why, too. He's averaging 17.6 points, 8.5 assists, and 1.5 steals per game throughout his first postseason run with the Bucks, and he made arguably the most important play in franchise history at the end of Game 5 in the Finals.
With Milwaukee holding a one-point lead down the stretch, Holiday ripped the ball from Devin Booker's grasp, dribbled it up the court, and tossed a flawless alley-oop pass to Antetokounmpo to all but clinch the game. He finished the contest with 27 points on 60% shooting, 13 assists, and three steals.
Without Holiday's heroics Saturday night, the Bucks might not be heading back to Milwaukee for Game 6 with a chance to clinch the series.
Bucks one win away from the best $134 million they ever spent
Many fans were skeptical about Milwaukee's decision to trade Bledsoe for Holiday last offseason and follow it up by paying the point guard $134 million. After all, Holiday is only a one-time All-Star, and those players don't normally tip the scale for championship contenders.
But his calm decision-making and lockdown defense on Booker and Chris Paul throughout this Finals series has been crucial for the Bucks on their way to winning three straight games to take a 3-2 lead over the Phoenix Suns.
Milwaukee is now one win away from their first NBA title in 50 years.
One win away from confirming the best $134 million they ever spent.
All stats courtesy of Basketball-Reference