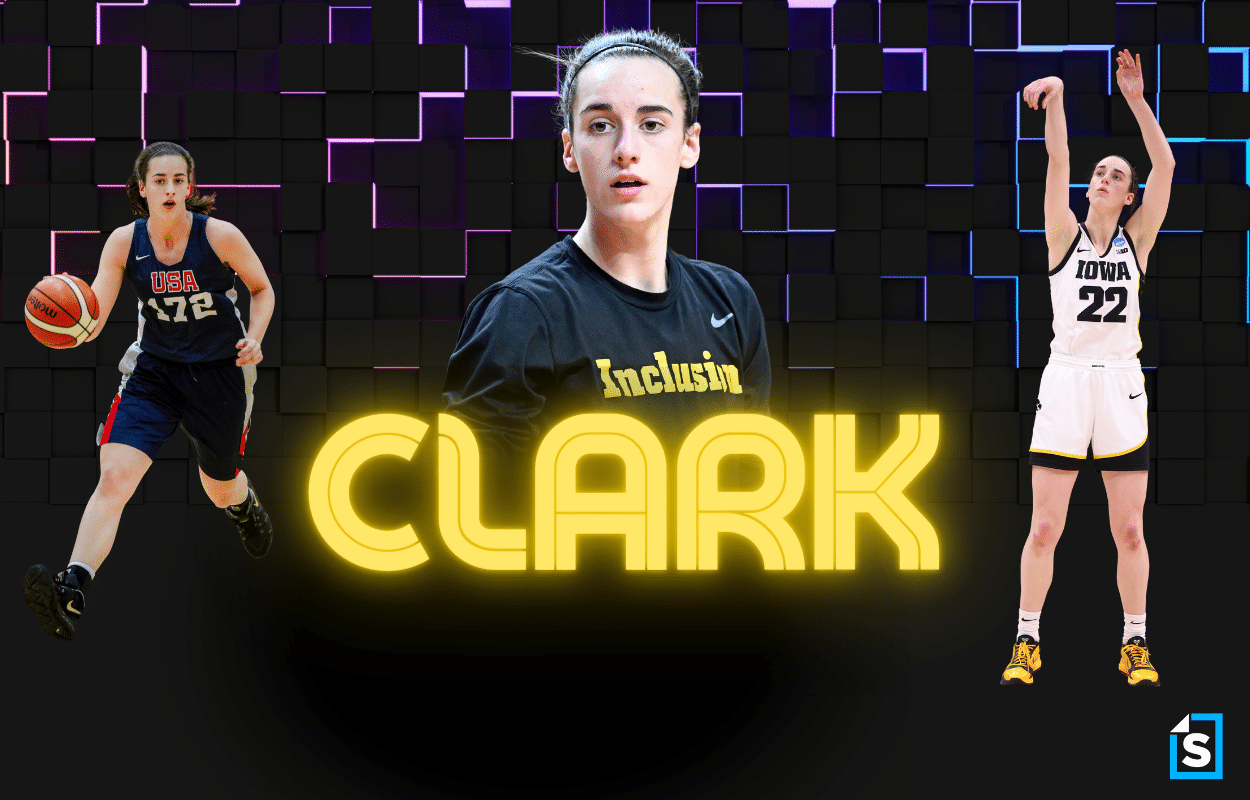 Caitlin Clark: Biography, Career, Top Stories for the Women's College Basketball Star
Through three years at Iowa, Caitlin Clark has put together one of the best resumes in women's college basketball history.
Raise your hand if you didn't know who Caitlin Clark was before the latest edition of March Madness.
Clark is the Iowa women's college basketball star who took the sport by storm during the Hawkeyes' run through the 2023 NCAA tournament. The sharp-shooting guard with Stephen Curry range racked up every award imaginable after leading the Hawkeyes to a berth in the national championship game.
Clark more than did her part to help put women's college basketball on the map as she led Iowa to its first-ever trip to the national title game, where it lost to LSU. That game drew 9.9 million viewers to become the most-watched women's college basketball game on record.
Article contents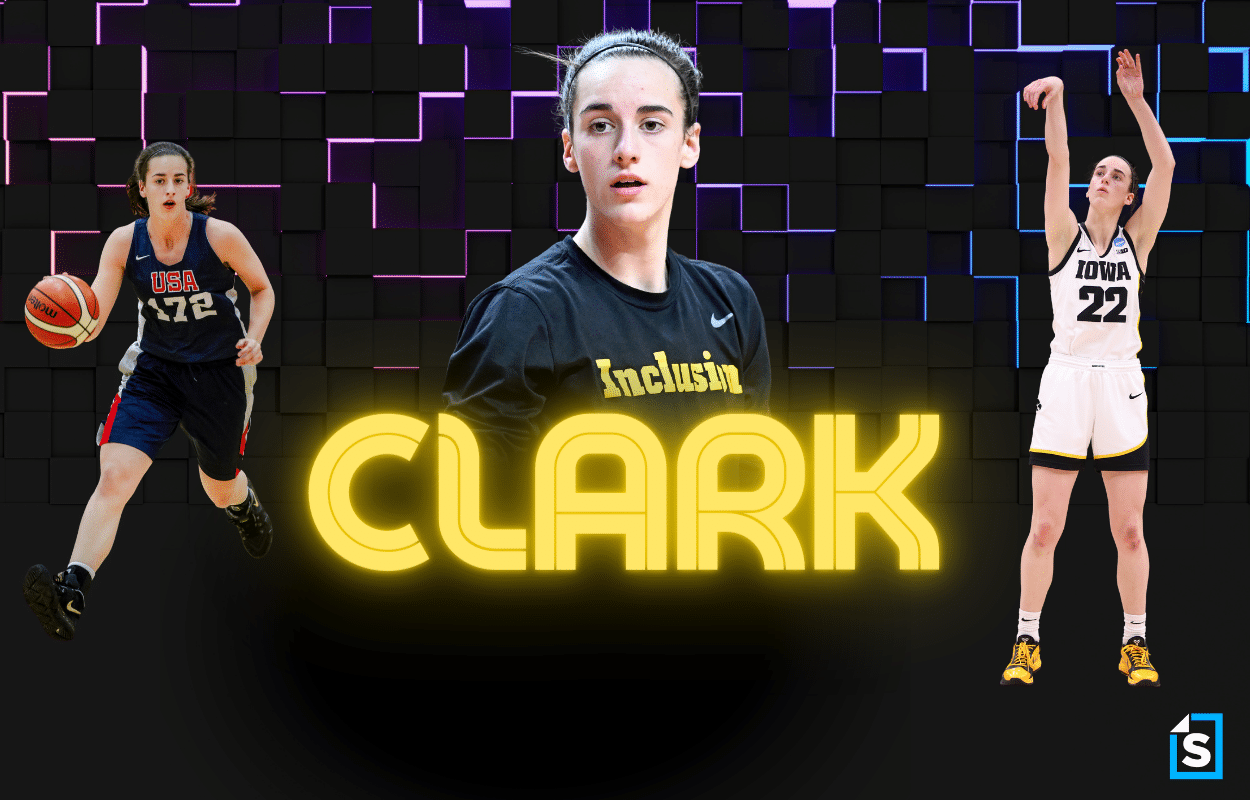 Quick facts
Early life
High school career
College career
2023 NCAA tourney
Awards and Achievements
Stats
Legacy
NIL deals
FAQs
Quick Caitlin Clark facts
Birthday: Jan. 22, 2022
Birthplace: Des Moines, Iowa
Parents: Anne Nizzi-Clark and Brent Clark
Siblings: Blake Clark, Colin Clark
Listed height: 6-foot-0
Listed weight: 155 pounds
High school: Dowling Catholic High School (West Des Moines, Iowa)
College: Iowa
College position: Guard
College number: No. 22
College playing career: 2020-present
Where did Caitlin Clark grow up?
Caitlin Clark was raised in West Des Moines, Iowa, and was part of an athletic family. Her father, Brent, was a four-sport athlete at Indianola High School and a Simpson College standout in basketball and baseball, according to Hawk Central. Her brother, Blake, played college football at Iowa State.
Ever the competitor, Clark always faced tough competition from her brothers. She strived to be like Blake, so she tagged along with him and played against him in various sports.
"I was always that annoying little sister," Clark told Hawk Central. "They didn't really want me around much, so I had to kind of hold my own if I wanted to be with them."
At the recreational level, Clark played on boys' teams. She more than held her own. She was also a well-rounded athlete, competing in volleyball, softball, soccer, and various other sports.
Caitlin Clark's high school career
Clark attended Dowling Catholic High School in Iowa, and the hype over her began even before she played in a high school game.
"Oh, it's been going on since before her freshman year [at Dowling]," Dowling girls' basketball coach Kristin Meyer told Sportscasting in March. "Before her freshman year, I got a call from an assistant coach at a Division 1 program that was ranked in the top 10. They told me that she could play for them right now."
Clark also played soccer at Dowling for the first two years before turning her full attention to basketball.
"She played two years of soccer, leading goal scorer," Meyer said matter-of-factly. "She could've played Division 1."
As a freshman, she averaged 15.3 points. As a sophomore, she put up 27.1 points and 6.5 rebounds per game, per Hawk Central. In her senior year, she averaged 32.5 points despite being double- and triple-teamed every night. She was named Iowa Gatorade Player of the Year and led the state in scoring for the second time.
"She can put a team on her back," Dickson Jensen, Clark's AAU coach, said after her senior year. "There's no question she's an immediate-impact [player]. And she'll be ready for it. She'll be ready to be the go-to girl 12 months from now."
While Clark had the attention of every college scout, Meyer said Clark was unfazed and continued to be her fun-loving self.
"What you see is what you get with her," Meyer said. "She loves life. She loves having fun, goofy fun, but when she steps on the court, she's locked in.
"There are thousands of things I could say about her. She's always been a hard worker and continues to put the work in. She has so much confidence in herself, and she sets high goals. It's fun to see her progress."
Caitlin Clark's storied college career
In her debut as a freshman point guard, Clark put up 27 points and eight rebounds. In her next game, she had the first double-double of her college career with 30 points and 13 rebounds. She scored 26.6 points as a freshman, leading the NCAA Division I. She was also second in assists and three-pointers. Clark was named First Team All-American by the United States Basketball Writers Association.
As a sophomore, she became the fastest Big Ten player to reach 1,000 points in her career with a 44-point effort in a win over Evansville. As always, Clark never took credit. She dished out praise to her teammates and coaching staff.
"I think it speaks to the offense we run," Clark told The Gazette after reaching the milestone. "We're a team that likes to score the basketball. But any time you reach 1,000, it's a big accomplishment."
In a loss to Michigan, she scored a career-high 46 points, putting up 25 in the fourth quarter alone. Clark was unanimously voted Big Ten Player of the Year. She became the first women's player to lead the nation in points and assists in the same season.
In December of her junior year, Clark tied Delaware's Elena Delle Donne as the fastest women's Division I player to reach the 2,000-point mark in her career in her 75th game.
Clark averaged 27.8 points, 8.6 assists, and 7.1 rebounds as a junior and guided Iowa to its second straight Big Ten title. She became the first unanimous national player of the year in Big Ten history. Clark claimed every national player of the year award, including the AP Player of the Year, the Honda Sports Award, the Naismith College Player of the Year, the John R. Wooden Award, and the USBWA National Player of the Year.
"It's a huge honor," Clark said in a statement after earning the AP honor, per USA TODAY. "I picked a place that I perfectly fit into, and that's allowed me to show my skill set. I'd be lying if I said it didn't mean something. It's not the reason you play basketball, it's just something that comes along with getting to do what you love."
Iowa's run through the 2023 NCAA tourney
The Iowa Hawkeyes women's basketball team had never played for a national championship. Caitlin Clark changed that in 2023.
The second-seeded Hawkeyes knocked off Southwest Louisiana, Georgia, and Colorado to make their way to the Elite Eight. There, they squared off against fifth-seeded Louisville, and Clark showed she could perform well under the bright lights.
She finished the game with a triple-double, collecting 41 points, 12 assists, and 10 rebounds in a 97-83 victory. Clark became the first player in men's or women's basketball to have a 40-point triple-double in the NCAA tourney.
"She is spectacular," said Iowa coach Lisa Bluder, per the Washington Post. "I don't know how else to describe what she does on the basketball court. A 40-point triple-double against Louisville to go to the Final Four? Are you kidding? I mean, it's mind-boggling."
Next up was top-seeded South Carolina, and she added another 41-point effort. Clark became the first player in tournament history to record consecutive 40-plus-point games. She finished the game with 41 points, eight assists, and six rebounds in a 77–73 upset win to propel the Hawkeyes into the championship game against LSU.
In the title game, LSU's depth proved too much for Iowa, which dropped a 102-85 decision. Clark finished with 30 points, including eight three-pointers, the most ever by a men's or women's player in a championship game.
In three years, Clark has racked up awards and achievements
With another year of eligibility, Clark might want to find some time to expand her trophy case.
In addition to AP Player of the Year, the Honda Sports Award, Naismith College Player of the Year, the John R. Wooden Award, and USBWA National Player of the Year, Clark was the recipient of the 2023 Wade Trophy, awarded to the best upperclass women's basketball player.
Clark is a three-time winner of the Dawn Staley Award, presented to the best guard in Division I women's basketball. She's a two-time First-Team All-American and a two-time recipient of the Nancy Lieberman Award as the nation's top point guard.
She's a two-time Big Ten Player of the Year and has been named First-Team All-Big Ten three times. Clark is a two-time NCAA scoring leader and a two-time assists leader. Last season, she was also named Academic All-American of the Year.
Caitlin Clark college stats
In just three seasons at Iowa, Clark has put up some serious numbers. She's proven to be much more than just a scorer, averaging 8.0 assists and 7.0 rebounds. She has also shot 46.5% from the floor.
| | | | | | |
| --- | --- | --- | --- | --- | --- |
| Season Games Points Assists Rebounds FG% | | | | | |
| 2020-21 30 26.6 7.1 5.9 47.2 | | | | | |
| 2021-22 32 27.0 8.0 8.0 45.2 | | | | | |
| 2022-23 38 27.8 8.6 7.1 47.3 | | | | | |
Caitlin Clark's legacy
There's still plenty to be written regarding Clark's college career, but she's more than done her part when it comes to bringing attention to women's sports. She wants more than that. Clark said she hopes her legacy involves having an impact on young athletes and helping them achieve their dreams.
"I want my legacy to be the impact that I can have on young kids and the people in the state of Iowa," an emotional Clark said after the loss to LSU in the championship game. "I hope we brought them a lot of joy this season.
"I hope this team brought them a lot of joy. I understand we came up one win short, but I think we have a lot to be proud of and a lot to celebrate. I was just that young girl, so all you have to do is dream, and you can be in moments like this."
Clark's NIL deals
Clark's success has turned into significant sponsorships via Name, Image, and Likeness, the initiative allowing college athletes to profit through endorsement deal opportunities. According to On3.com, Clark is No. 44 on the NIL top 100 list with a valuation of $796,000.
Some of her notable endorsement deals are from Buick, Nike, and Hy-Vee. She also has deals with Topps, H&R Block, and Bose.
Clark's NIL interest shot up as she and the Hawkeyes moved on through the Final Four. Returning for her senior year will only bring in more deals next season.
Caitlin Clark FAQ
Where was Caitlin Clark born?
Caitlin Clark was born in Des Moines, Iowa.
How old is Caitlin Clark?
Caitlin Clark is 21 years old. She was born on Jan. 22, 2002.
Where did Caitlin Clark go to high school?
Clark attended Dowling Catholic High School in West Des Moines, Iowa.
Does Caitlin Clark have any siblings?
Caitlin Clark has two brothers, Blake and Colin.
What number does Caitlin Clark wear?
Caitlin Clark wears No. 22 for the Iowa Hawkeyes.
What position does Caitlin Clark play?
Clark plays point guard.
How tall is Caitlin Clark?
Clark is listed at 6-0.
How much college eligibility does Caitlin Clark have left?
Clark has one year of eligibility remaining. She'll be a senior at Iowa this fall.