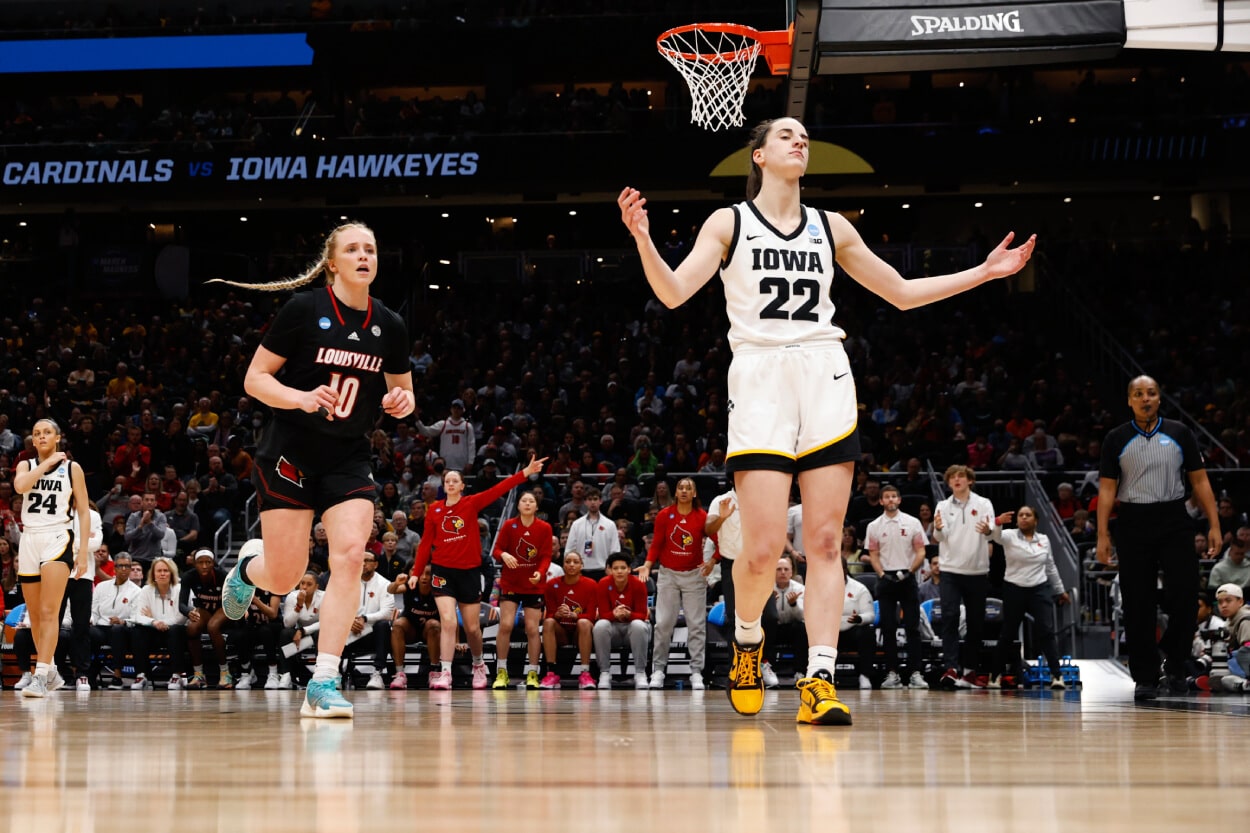 For Caitlin Clark, the College Hype Began Before Her Freshman Year of High School
Iowa guard Caitlin Clark has had the attention of college coaches since she was in the eighth grade.
She's been referred to as the Stephen Curry of women's college basketball. Like the Golden State Warriors All-Star guard, Iowa's Caitlin Clark has no problem launching shots from another zip code, and she makes more than her fair share. Clark's talents will be on display Friday night when her second-seeded Hawkeyes take on No. 1 South Carolina in an NCAA Women's Final Four matchup.
While Clark is the talk of women's college basketball these days, she's been on the radar of college programs even before she was a freshman at Dowling Catholic High School in Iowa. Kristin Meyer, who coached Clark at Dowling, told Sportscasting on Wednesday about a call she received from an assistant at a Division 1 program before Clark stepped on the court as a high school freshman.
Caitlin Clark leads Iowa into the Final Four for the first time in 30 years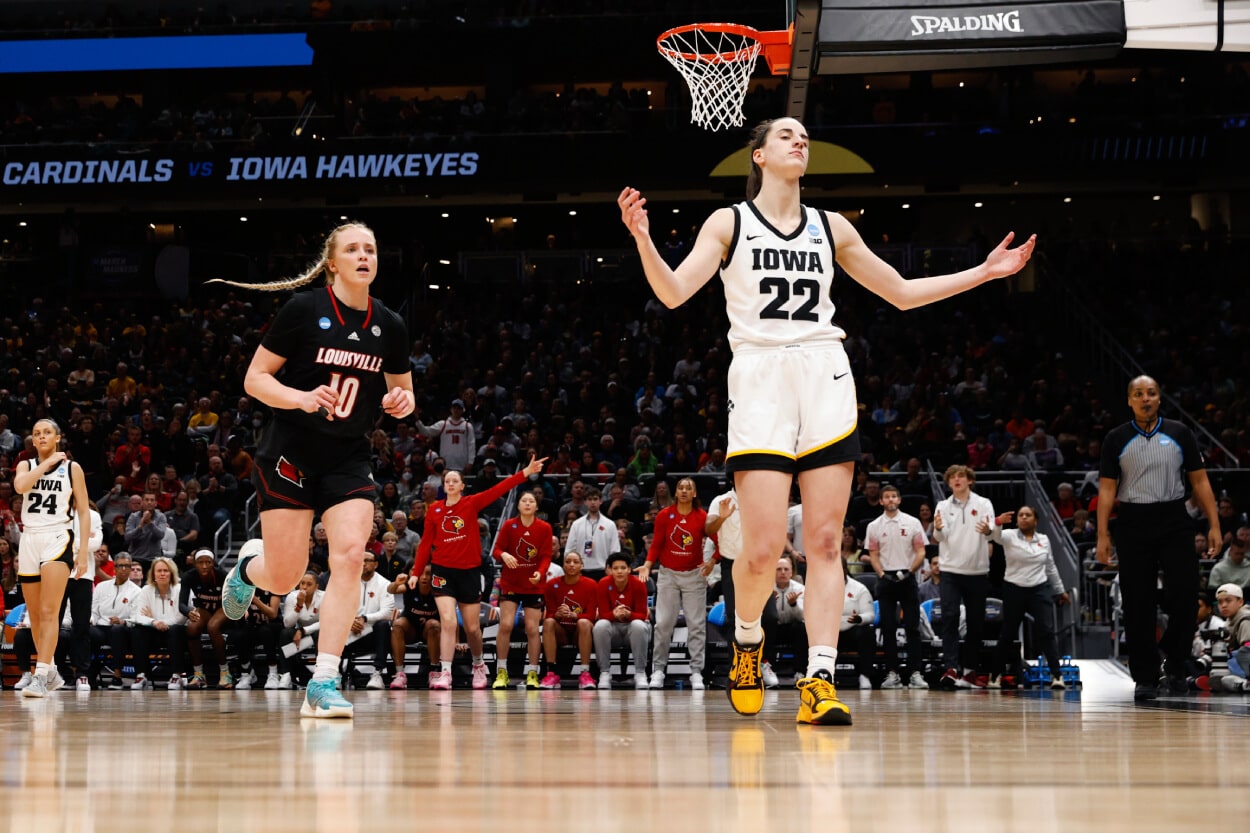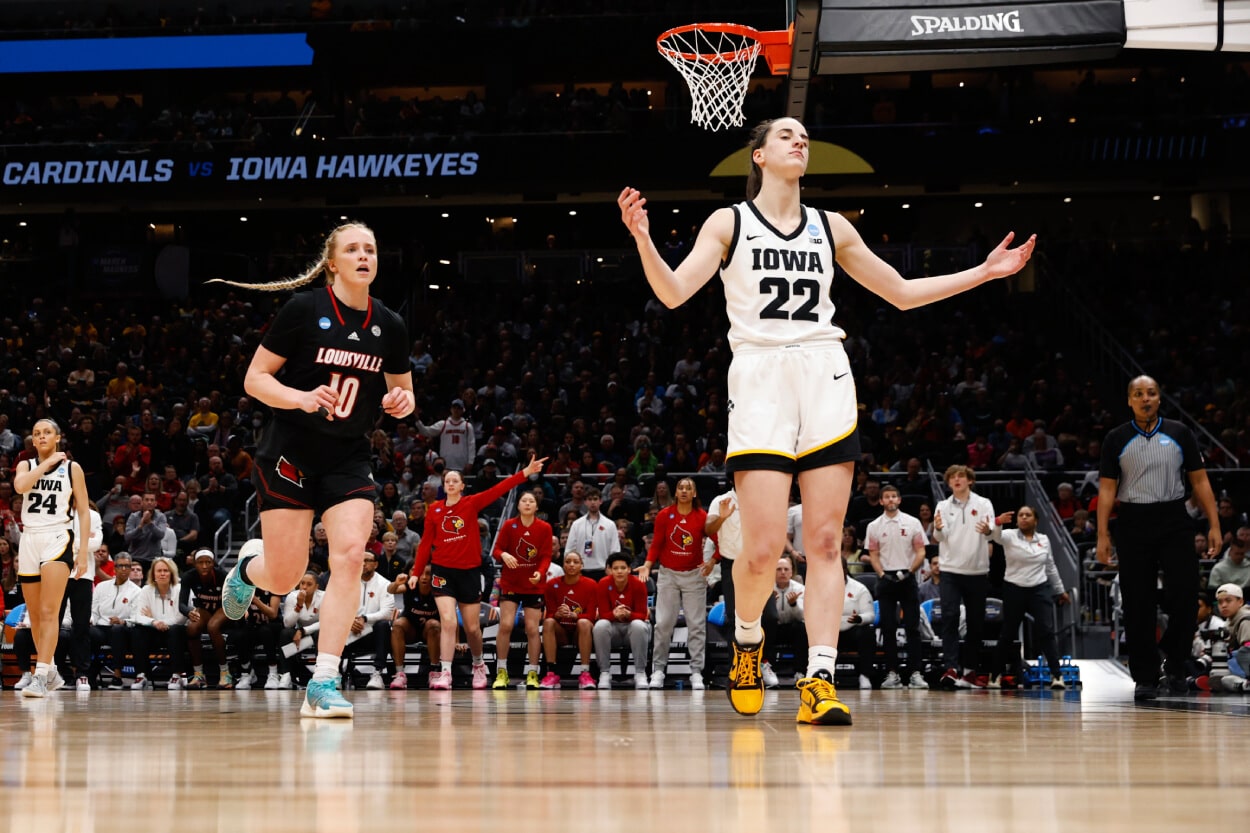 Clark proved the spotlight isn't too bright for her. On Sunday, the Iowa sharpshooter simply took charge. Clark racked up 41 points, 12 assists, and 10 rebounds in a 97-83 victory over Louisville in the Seattle Region 4 final. The win sent the Hawkeyes to their first Final Four appearance in 30 years.
Clark's performance was record-setting. No player, male or female, has ever put up a 40-point triple-double in NCAA tourney history. Hers came in a do-or-die game against a terrific Louisville team on national television.
"She is spectacular," said Iowa coach Lisa Bluder, per The Washington Post. "I don't know how else to describe what she does on the basketball court. A 40-point triple-double against Louisville to go to the Final Four? Are you kidding? I mean, it's mind-boggling."
Clark went 8-for-14 from three-point range. Many of those came from way downtown, triggering comparisons to Curry. While she lit it up for 41 points, she was just as effective in setting up her teammates and running the show. While the stakes were high, Clark admitted she was as cool as she's ever been.
"This is probably the biggest game I played in, but I honestly felt it was the most calmness I've ever felt before a basketball game in my life," she said.
On Wednesday, Clark was named Naismith Player of the Year. For the season, she's averaging 27.3 points, 7.3 rebounds, and 8.6 assists per game.
The Clark hype has been going on for years
While Clark has become a household name these days, she's been well-known among college coaches for years. According to Clark's high school coach Kristin Meyer, colleges have been knocking on Clark's door since the eighth grade.
"Oh, it's been going on since before her freshman year (at Dowling)," Meyer told Sportscasting on Wednesday. "Before her freshman year, I got a call from an assistant coach at a Division 1 program that was ranked in the top 10. They told me that she could play for them right now."
Meyer said Clark is the happy-go-lucky type of kid, but when she hits the floor, she's focused.
"What you see is what you get with her," Meyer said. "She loves life. She loves having fun, goofy fun, but when she steps on the court, she's locked in.
"There are thousands of things I could say about her. She's always been a hard worker and continues to put the work in. She has so much confidence in herself, and she sets high goals. It's fun to see her progress."
Meyer said Clark is like no other.
"She's, by far, the best player I've coached or coached against in high school," Meyer said. "Her skill level and vision are so far advanced."