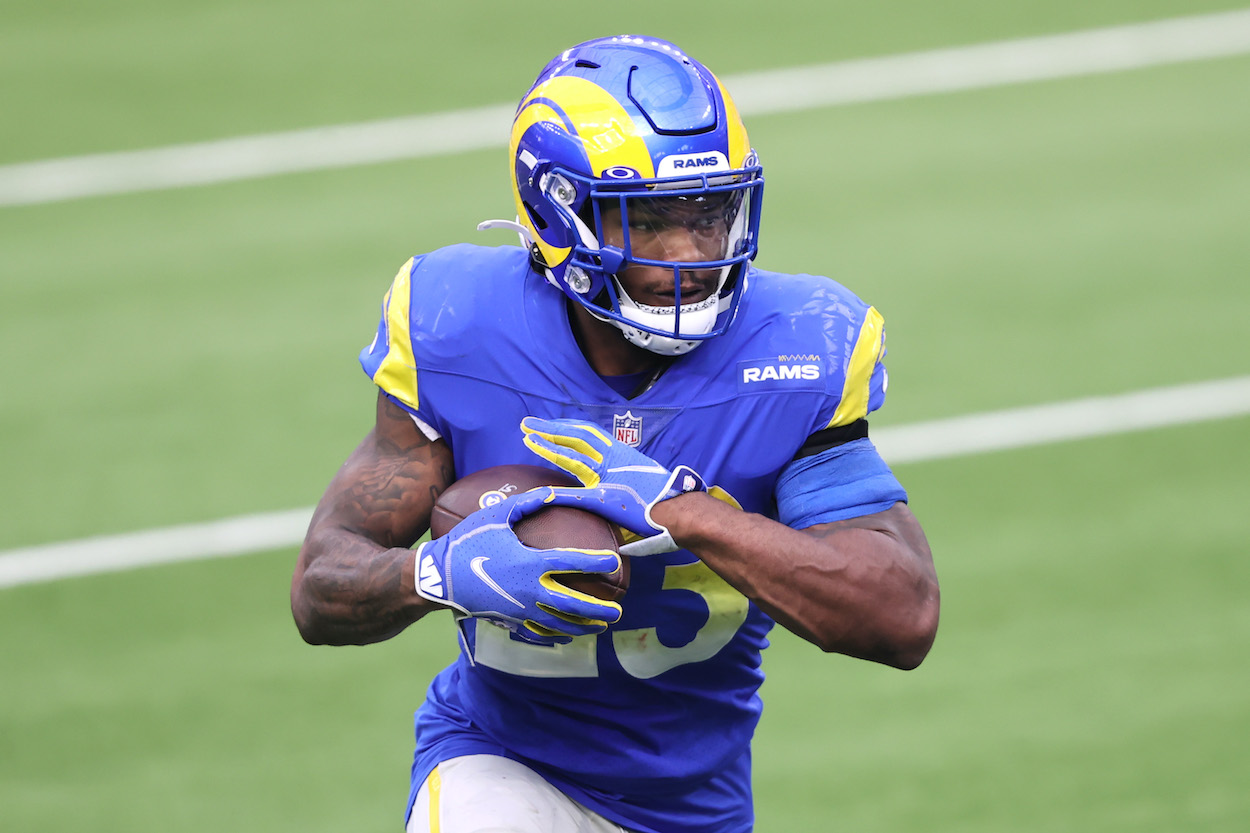 Cam Akers Will Still Get Paid the Rest of His $6.1 Million Contract Even Though He Got Hurt Away from Team Facility for These Reasons, According to NFL Analyst Ross Tucker
The Los Angeles Rams lost Cam Akers for the season to a torn Achilles and might not have to pay him. Ross Tucker explains why they will. The former player-turned-podcast-host says the fact that he didn't opt out in 2020, the timing of the injury, and his value to the franchise mean they'll pay him.
In May 2021, Denver Broncos lineman Ju'Wuan James injured himself working out away from the team's facility. Just two months later, Los Angeles Rams running back Cam Akers did the same. After James' injury, the NFL sent out a memo saying teams are within their rights to cancel a player's contract if they are injured in this type of "non-football" way.
Although they technically might be able to get away with it, the Rams won't cancel Akers' contract, which extends through the 2023 season. NFL player-turned-analyst Ross Tucker explained all the reasons why.
The Los Angeles Rams took Cam Akers in the second round of the 2020 NFL draft
Akers was the No. 52 overall selection in the 2020 draft. The Mississippi native played three seasons at Florida State before leaving for the pros. As a Seminole, he rushed for 2,875 yards on 586 carries and scored 27 career rushing touchdowns. He also added 69 catches for 486 yards and four more scores.
The Rams expected Akers to take the No. 1 job in the backfield his rookie year, but he had an up and down campaign. He did finish the season as LA's leading rusher, but it was only by a single yard (625 to 624) over his undrafted teammate, second-year back Darrell Henderson.
When Akers played in 2020, he played well. The runner even took home the Week 14 NFC Player of the Week Award. However, he struggled with a rib injury early in the season and a high ankle sprain late. He missed three games outright and played three or fewer offensive snaps in three other games.
Despite the checkered injury history, the Rams penciled in the talented back as their 2021 starter.
Ross Tucker explains why Akers will get paid even though he got hurt away from the team, unlike Ju'Wuan James
Akers ruptured his Achilles tendon working out away from the team facility just a week before training camp. It was a situation that, at first glance, seemed similar to the injury that cost James his eight-figure deal.
Looking deeper, though, there are several key differences between the Akers and James situations. Tucker, the host of the Ross Tucker Podcast, tweeted as much, writing, "They don't have to pay him since happened away from facility but unlike Broncos/James I would be VERY surprised if they didn't for multiple reasons."
NFL Network's Mike Garafolo chimed in, responding, "$890k vs $15m being one of the big ones," referencing Akers and James' respective 2021 salaries.
Tucker agreed and went on to list all the other reasons Akers will still get his checks throughout the 2021 season:
Bingo. And he didn't opt out last year. And it's not during the off-season program when he could be at the facility. And he's part of their plans and under contract at a low rate for the next couple of years.

Ross Tucker on Cam Akers
Tucker is absolutely correct, and these are all valid reasons for the Rams continuing to pay Akers while rehabbing his injury. The only issue for both Akers and the Rams is that the history of running backs with Achilles injuries is not great.
Achilles tendon injuries are one of the worst for running backs
In 2018, Foot and Ankle International published a study of 95 NFL players who ruptured their Achilles, according to Orthopedics Today. The study found 73% of the players returned to the NFL. However, "Running backs and linebackers had significantly worse postoperative performance scores compared with preoperative scores."
This matches anecdotal evidence presented by NFL.com in 2013. Writer Charles Wesseling looked at running backs Edgar Bennett and Andre Brown, who ruptured their Achilles in 1997 and 2011. Both came back and had a little bit of success, but both were out of the league a short time later.
In Brown's case, he suffered a broken leg the year he came back, which, according to Wesseling is, "not atypical" because "Achilles tears are infamous for leading to further leg injuries down the line."
Akers is younger than these backs were and most likely more talented than any back ever to tear their Achilles. These fact, coupled with medical advancements in the last decade, could mean good things for Akers in the future.
A fascinating test case to watch in 2021 is Indianapolis Colts running back Marlon Mack. He tore his Achilles in 2020 but is coming back this season. If he can produce like his old self at 25, there may be hope for Akers.
All stats courtesy of Pro Football Reference