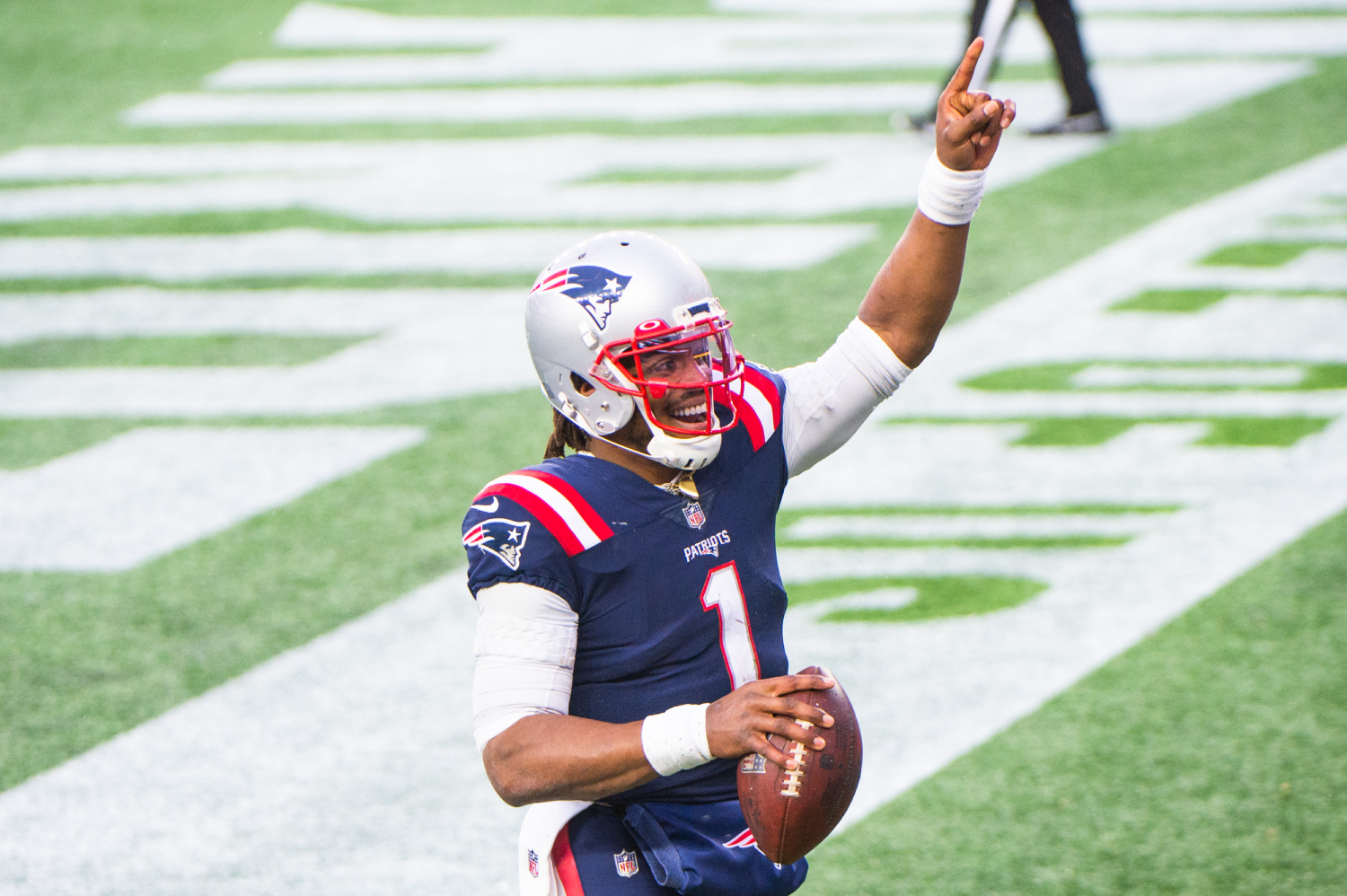 Cam Newton On When He's Leaving New England: 'Immediately'
New England Patriots quarterback Cam Newton was asked Monday when he would be leaving town. "Immediately" was Newton's quick response.
The New England Patriots suffered through their first losing season since 2000. Gone was six-time Super Bowl champion quarterback Tom Brady. Former NFL MVP Cam Newton was brought in to take over. New England struggled mightily, finishing 7-9. Newton was interviewed Monday on a Boston radio station and was asked when he would be leaving town. "Immediately," was Newton's response.
Cam Newton was put in a tough position
Cam Newton was signed late in the offseason to take over for Tom Brady, who left the New England Patriots for the Tampa Bay Buccaneers. Brady spent 20 seasons in New England and claimed six Super Bowl titles. The Patriots signed Newton to an incentive-laden at the tail end of June. With the coronavirus (COVID-19) in full swing, Newton's early meetings with his new teammates were virtual and he didn't get a whole lot of workout time.
Newton got off to a strong start with the Patriots, rushing for two touchdowns in a 21-11 season-opening win over the Miami Dolphins. He rushed 15 times for 75 yards and a pair of touchdowns. Newton also completed 15 of his 19 passes. In a Week 2 loss at the Seattle Seahawks, Newton threw for 397 yards and a touchdown while adding two more rushing scores.
After the Patriots defeated the Las Vegas Raiders to improve to 2-1, Newton was diagnosed with COVID-19 a day before the team was set to travel to face the Kansas City Chiefs. Newton didn't play in the loss to the Chiefs, but never seemed to be the same. He combined to throw five interceptions and no touchdowns in losses to the Denver Broncos and the San Francisco 49ers. Newton finished the season with eight touchdown passes and 10 interceptions. He rushed for 12 touchdowns and he went 7-8 as the starter.
Newton was a hard worker
The overall numbers for Cam Newton weren't very good, but it wasn't for a lack of effort. The Carolina Panthers released Newton after having played in two games in 2019 because of a foot injury. He worked hard to get himself back into playing shape and was one of the hardest workers on the New England Patriots.
While being interviewed on "The Greg Hill Show" on Monday, Hill asked Newton what surprised him most about Boston. Newton said he never got a chance to see the city because he was always at the Patriots facility. "I really haven't witnessed it," Newton said. "I wish somebody had a GPS tracker of the places that I've been in my six months, seven months that I've been here.
Newton said one of his favorite things to do was to go to the mall and look at clothes, whether he bought them or not. He said it was therapeutic for him, but when that was hampered by COVID-19, it was all work. "It was wake up, go to work, go back home," Newton said. "OK, we're traveling this week, let's get ready to go there. I haven't really gotten the full Boston experience."
Newton wants to head home 'immediately'
Host Greg Hill of "The Greg Hill Show" asked Cam Newton now that the season is over, would he stick around and check out Boston? Newton had a rapid response. Hill asked, "Well, are you going to stick around? You're not leaving right away, right?" Newton's answer was, "Immediately."
It's not that he didn't care to see the city. He was itching to see his kids. "I haven't seen my kids in three months," Newton said. "I'm the dad who takes their kids to daycare. I'm the dad who's the screamer in the bleachers and I'm the dad that looks forward to giving my kids baths at night. I'll read bedtime stories at night, make the whack peanut butter and jelly sandwiches, and forcing them to eat it because daddy can't cook.
"I'm the dad who really takes serious football sessions and I'm tackling them as hard as I can but also kissing their little boo-boos after they get scraped by a tackle by dad. I'm a hands-on dad and when you negate that from a man, it weakens him to say the least." For Newton, Boston can wait. Family comes first.