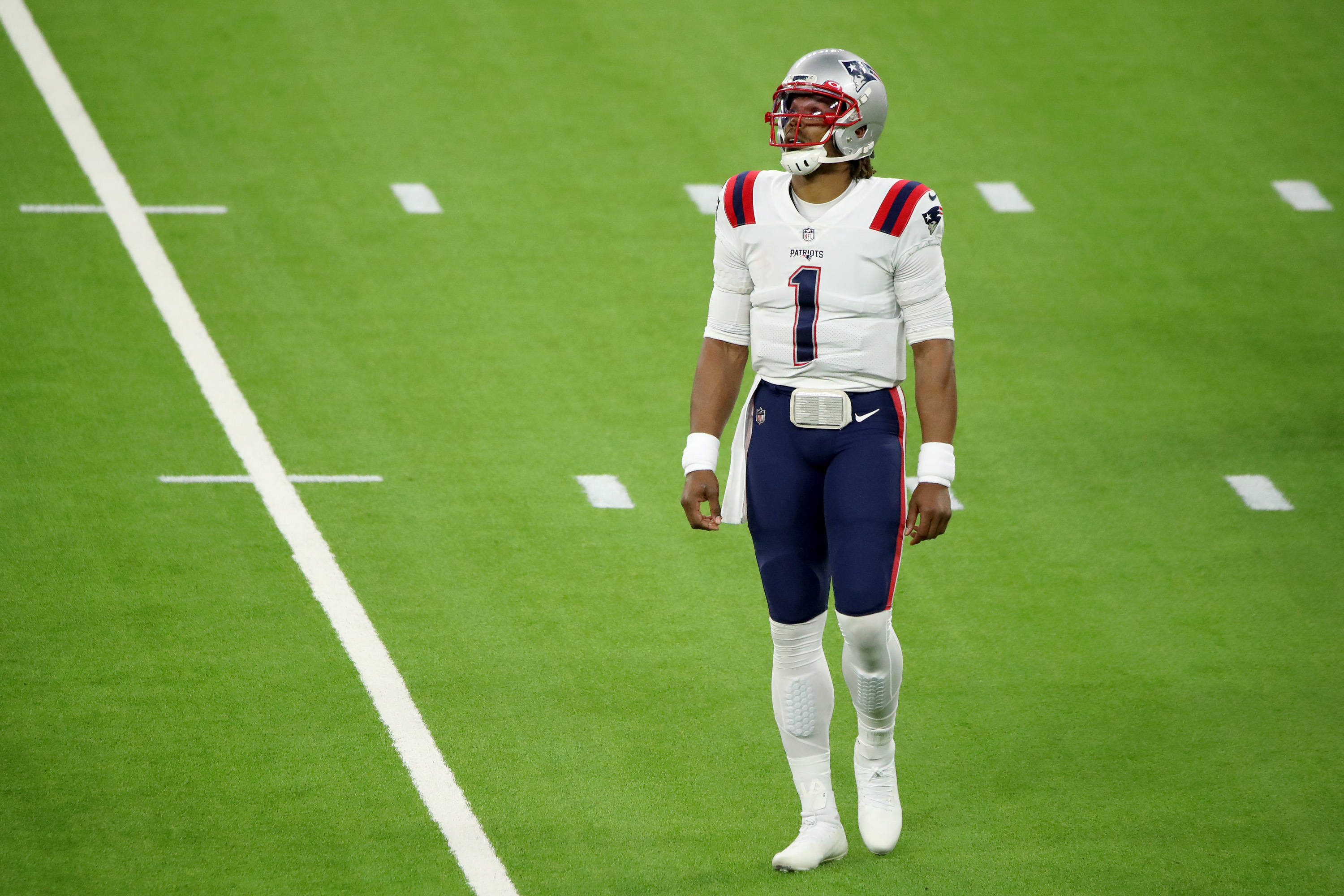 Cam Newton Gets Honest About How COVID-19 Affected Him
New England Patriots quarterback Cam Newton gets honest about how COVID-19 affected him in his first year with the Pats.
It was Week 4 and the New England Patriots were 2-1 and putting together a nice offensive run with new quarterback Cam Newton. Newton then tested positive for the coronavirus (COVID-19) and missed the game against the Kansas City Chiefs. On Monday, Newton talked about how COVID-19 affected him this year and it had nothing to do with any of the physical symptoms.
Cam Newton tested positive for COVID-19 Week 4
On Saturday, Oct. 3, New England Patriots quarterback Cam Newton was placed on the reserve/COVID-19 list after testing positive for the virus. The Patriots were scheduled to play at the Kansas City Chiefs on Sunday, but the game was eventually moved to Monday night. Newton missed the game and the Patriots fell to the Chiefs 26-10.
Newton's positive test forced the Patriots to take two planes to Kansas City on Monday for the Chiefs game. One was for players who had come into contact with Newton during the week. When the Patriots returned to Foxboro on Tuesday, they learned that their best cornerback, Stephon Gilmore, tested positive.
It was an ugly week of missed practices and facility shutdowns. The Patriots never won a game in October. They saw their record fall to 2-5 after four straight losses.
Newton has had a roller-coaster season
Before Cam Newton tested positive for COVID-19, he had thrown two touchdown passes and had run for four more as the New England Patriots were 2-1. New England's only loss was at the Seattle Seahawks, where they fell 35-30. In that loss, Newton 30 of 44 passes for 397 yards and a touchdown. He also ran for two scores.
Newton and the Patriots struggled after that, losing four straight games to fall to 2-5. The Patriots then got hot again, winning four of the next five games to get to 6-6 and remain in the playoff hunt. Newton's biggest game during that stretch came in the loss. He threw for 365 yards and a touchdown, but the Patriots lost to the Houston Texans 27-20.
Newton's overall passing numbers are ugly. He's thrown for five touchdown passes in the 13 games he's played. To be fair, Newton's weapons at wide receiver and tight end are below average at best. Newton has rushed for 489 yards and 11 touchdowns.
Cam Newton discusses struggles with COVID-19
Cam Newton was definitely affected by COVID-19, but it wasn't the physical problems that bothered him most. In an interview on "The Greg Hill Show" on WEEI in Boston on Monday, Newton admitted COVID-19 didn't allow him to be himself and get to know his teammates better. "I think my only regret about COVID is this: I am a very social person, " he said. "I am a social peer, I am a social teammate, and I am a social human being. It's one thing to know a person on a football side, (but) COVID affected our team in a way to make a lot of us feel like associates or co-workers rather than really feeling like a team at times.
"And hear me out when I say, 'at times.' Because for me, if this was not the case, obviously you can have guys over, you can really find out the personal side. 'Hey man, you got a girl? Are you married? How many kids do you have? You don't necessarily know that or find that out until going through certain situations. And we didn't have preseason.
"We didn't have opportunities to kind of break and say, 'Hey bro, every Thursday a different player is going to host Thursday Night Football.' 'Hey, bro, let's go on a dinner date with the wives or the girlfriends' — things that I am used to doing. Sometimes I think this year, it affected a lot of me because I didn't necessarily know (my teammates). And it's not an excuse, more of less the reality of being in a situation where a lot of people were affected and a lot of people were affected in a different way." Newton has made the most of a tough situation both on and off the field.