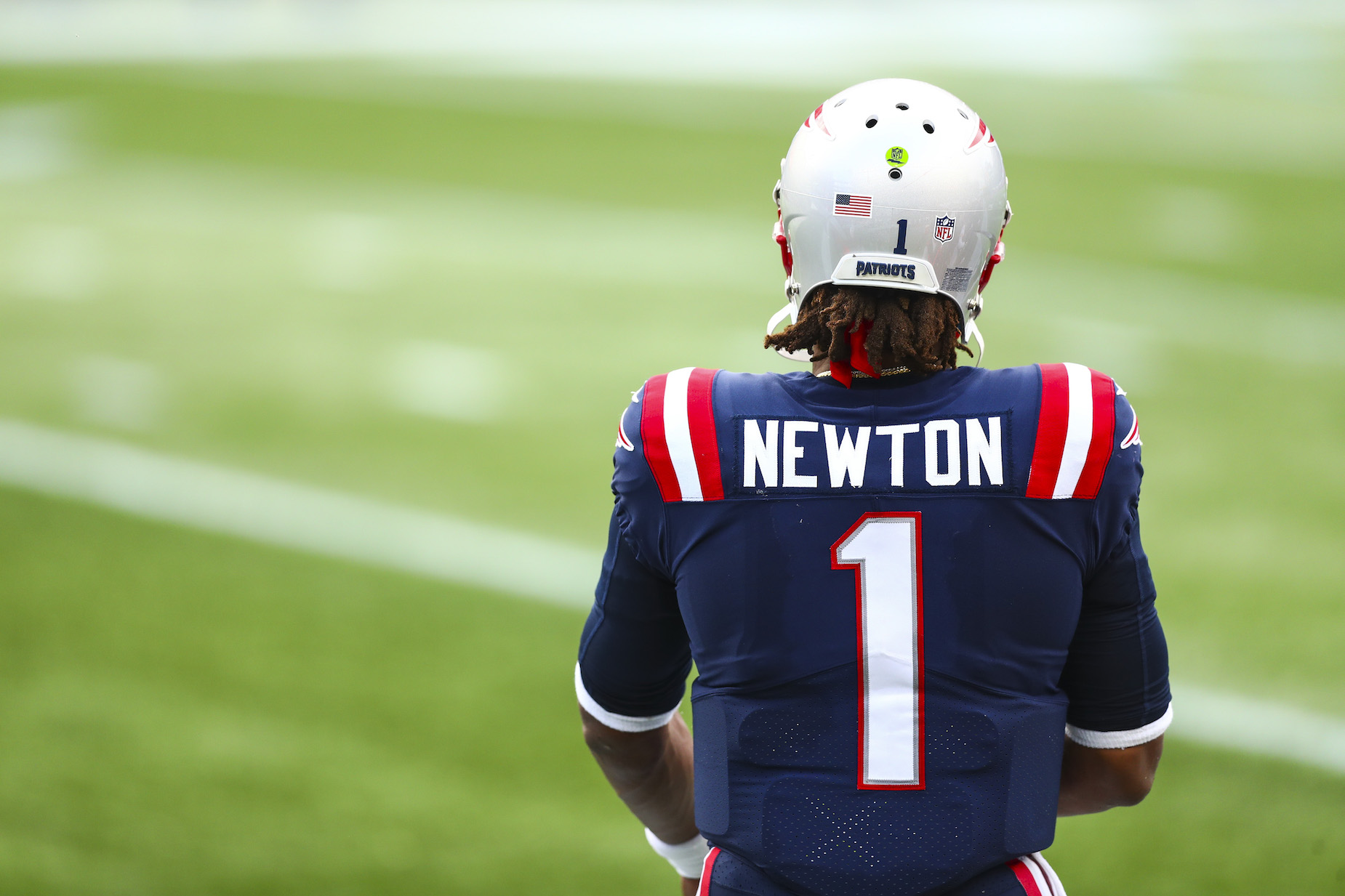 When Can Cam Newton Return to the Patriots Roster After His COVID-19 Diagnosis?
After a COVID-19 diagnosis, Cam Newton won't be taking the field for the New England Patriots. When will he be eligible to return to the roster?
For two decades, Tom Brady looked irreplaceable in New England. While it would be naive to draw any massive conclusions on three games, Cam Newton has done a pretty good job of replacing the living legend. When the Patriots take on the Kansas City Chiefs, however, the starting quarterback won't be under center due to his COVID-19 diagnosis.
While health always comes first, Patriots fans will be clamoring to see their new signal-caller return to action as soon as possible. So when is Cam Newton eligible to return to the New England roster?
Cam Newton has impressed during his short time in New England
During the offseason, it looked like Cam Newton wouldn't be able to find a job; the fact that the New England Patriots signed him for pennies on the dollar tells you everything that you need to know about the market. Three games into the season, however, that contract is looking like a steal.
In an admittedly small sample size, Newton has shown signs that he's still the player who became the Panthers' Superman and claimed NFL MVP honors. He's been able to run the ball—something that, barring quarterback sneaks, Tom Brady simply couldn't do—and pass with equal ease; that dual-threat gives the Patriots more options every time their offense comes to the line of scrimmage.
Newton has also received rave reviews for some of his off-field behavior. Bill Belichick and the rest of the Patriots coaching staff have praised Cam's worth ethic; offensive coordinator Josh McDaniels specifically highlighted the quarterback's humility and willingness to buy into a new way of doing things.
A COVID-19 diagnosis changes everything
The Week 4 match-up between the Kansas City Chiefs and the New England Patriots was supposed to feature two of the AFC's top teams and two talented quarterbacks. While the game will still take place, albeit a day later, Cam Newton won't be taking part.
On Saturday morning, news broke that Newton had tested positive for COVID-19 and going onto the COVID-19/reserve list. The Patriots have passed their subsequent COVID-19 tests, headed to the airport on Monday morning, and, barring any last-minute issues, will play their Chiefs in the first game of a Monday Night Football doubleheader.
While the Cam's health obviously comes first—the coronavirus can strike anyone down, even an athlete who's theoretically in peak physical condition—his absence will be a big loss for both the Patriots and football fans everywhere. With all due respect to Brian Hoyer, he simply doesn't have the raw talent that Newton does.
When can Cam Newton return to the New England Patriots' active roster?
While COVID-19 is a bit different than a sprained ankle or tweaked hamstring, Patriots fans will be anxiously waiting for the day when Cam Newton can return to the active roster. There are some rules, however, spelling out when the quarterback will be eligible to return.
As Darren Hartwell laid out for NBC Sports, the NFL has established a step-by-step process for clearing a player to return. "If Newton is asymptomatic, he can return five days after his initial positive test IF he returns two consecutive negative PCR tests at least 24 hours apart," Hartwell explained. If he is asymptomatic but doesn't have two consecutive negative tests, Cam can return after 10 days.
Things are a bit different, however, if Newton is symptomatic. In that case, he'll still have to wait at least 10 days and go 72 hours without exhibiting any symptoms. "All three scenarios require clearance by a team physician and consultation with the NFL's Chief Medical Officer before Newton's return," Hartwell added.
Since we don't know much about Newton's diagnosis, it's impossible to know when he'll return. According to NFL guidelines, he could be eligible to play in Week 5, assuming he's asymptomatic and passes two consecutive PCR tests. If he can't meet those conditions, he'll miss at least two starts and could rejoin the active roster by Week 6.
At this point, though, pro football is a secondary concern. Once Cam Newton has a clean bill of health, the New England Patriots can worry about getting him onto the active roster.