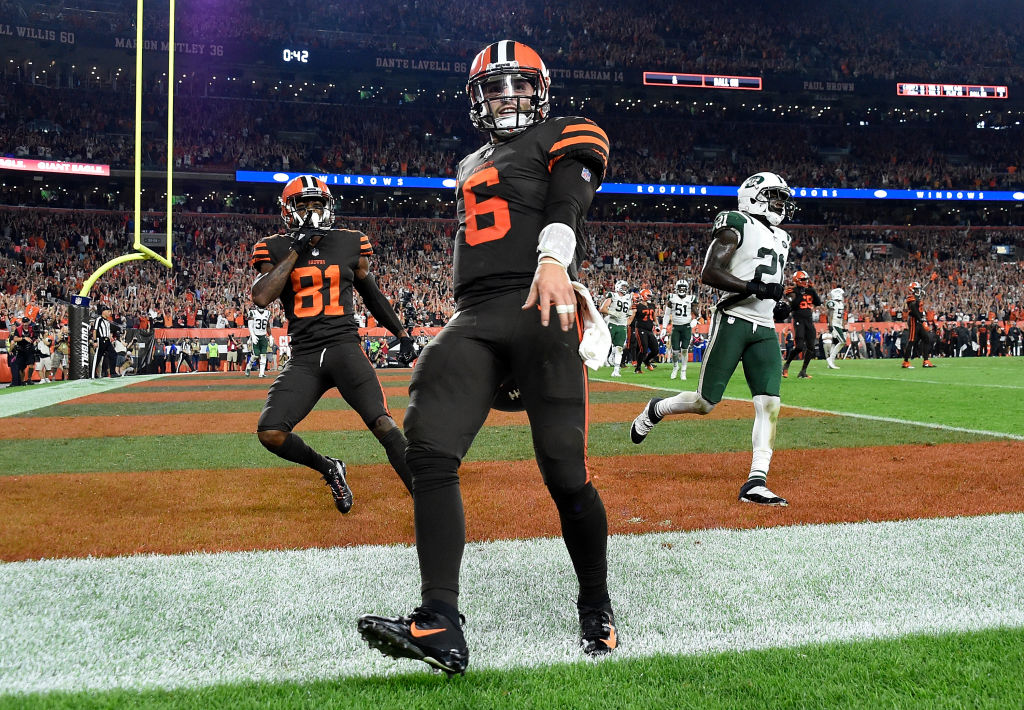 Can Baker Mayfield Really Keep His Mouth Shut?
Cleveland Browns quarterback Baker Mayfield said he is going to let his actions on the field do the talking for him this year.
It wouldn't be fair to label Cleveland Browns quarterback Baker Mayfield a bust just yet, but time is running out. Mayfield was the first overall pick in the 2018 NFL draft and hasn't come close to living up to the lofty expectations. The cockiness and the brashness are still there, but the results aren't. Mayfield recently said he may tone down the off-the-field stuff for the 2020 season and let his actions on the field speak for themselves. Would he really be able to do that?
Baker Mayfield's NFL struggles
Was Baker Mayfield that good or was he overhyped coming out of college? Mayfield was the Heisman Trophy winner in 2017 after a stellar career at Oklahoma. The Cleveland Browns made him the first overall selection in 2018, immediately drawing comparisons to Johnny Manziel, another Heisman-winning quarterback the Browns drafted in the first round.
In his two seasons with the Browns, Mayfield has not been worth the first-round price Cleveland paid. He showed signs of promise during his rookie season when he threw 27 touchdown passes against 14 interceptions. He made 13 starts that year and went 6-7. It was quite an improvement over Cleveland's 0-16 season the previous year.
Last season, the Browns brought in Odell Beckham Jr. to pair with Jarvis Landry, giving Mayfield a dangerous one-two punch at wide receiver. They also had a talented young running back in Nick Chubb who rushed for 1,494 yards in 2019. Mayfield, however, regressed. He threw 22 touchdown passes, while he was intercepted 21 times. He was erratic and his completion percentage dipped to 59.4 percent from 63.8 in 2018. Again, the Browns won just six games.
Mayfield says it's time to put up and shut up
After two six-win seasons in the NFL, it appears Cleveland Browns quarterback Baker Mayfield is making some changes. Always one to speak his mind, Mayfield plans to speak very little this season. In a conference call with the media this week, Mayfield said he plans to do his talking on the football field.
"Right now, it's moving in silence, which is fine with me," he said on Wednesday's call. "That's how I used to do it before getting on a bigger stage. Get back to the fundamentals to where I can accomplish the goals when the season comes around.
He went on to say that he's been keeping interviews to a minimum.
"It's just time to work, do our thing, instead of talking about it," he said. "This is the first media thing I've done, just because there's no need to be talking about it."
Can Mayfield follow through with the silent treatment?
In an article in GQ, Baker Mayfield said he was shocked the New York Giants used the sixth overall pick in the 2019 NFL draft to take Duke quarterback Daniel Jones. Mayfield was quoted as saying, "I cannot believe the Giants took Daniel Jones. Blows my mind. Some people overthink it. That's where people go wrong. They forget you've gotta win."
Later ESPN reported Mayfield clarified his comments in his Instagram Story, writing: "This is not what I said … just so we're clear. I also said I was surprised I got drafted number one. Then was talking about the flaws in evaluating QB's. Where I brought up winning being important. Reporters and media will do anything to come up with a click bait story."
If this is the type of talking Mayfield is going to put to a halt, then it should be beneficial to him. Mayfield, however, can't afford to lose that cockiness. He needs that swagger. Trash-talking, bravado, swagger is what Baker Mayfield is all about. It's what helped get him to where he is today. He can't afford to let that go.