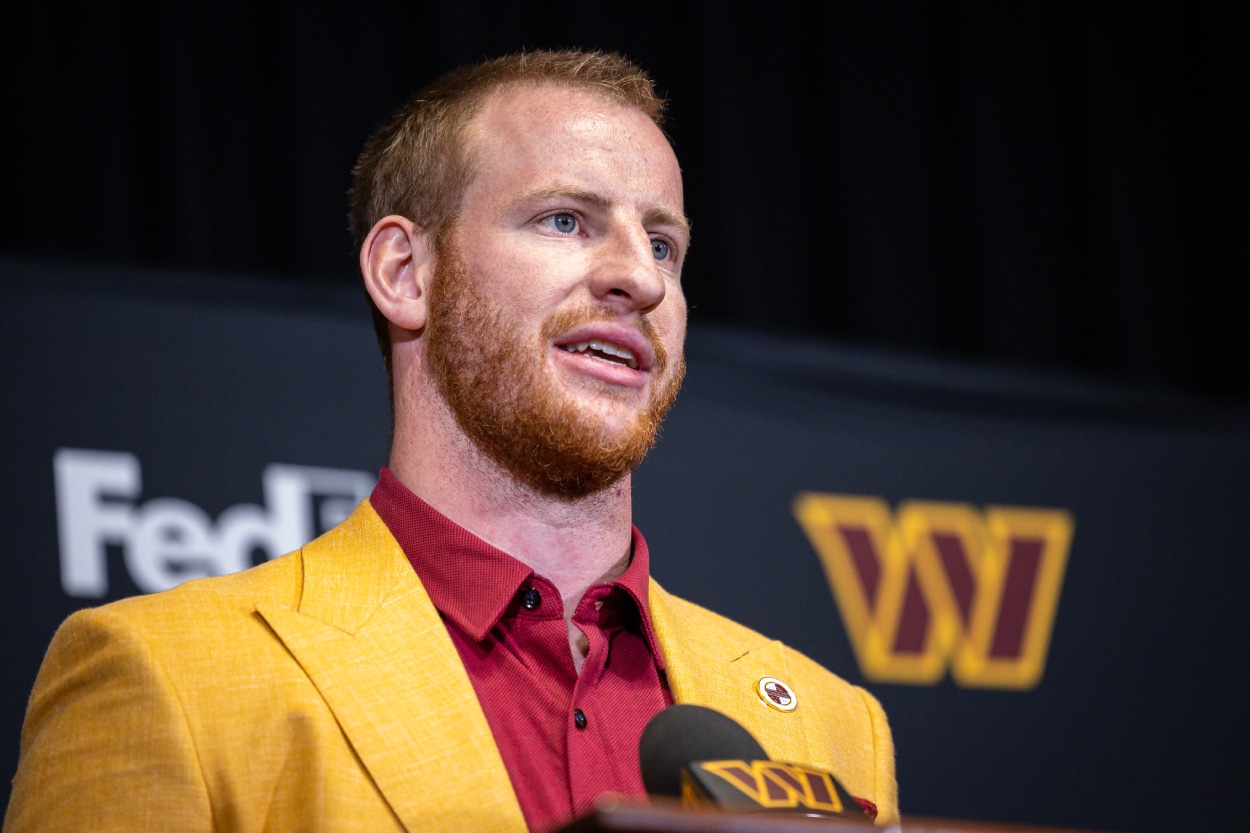 Carson Wentz's Biggest Supporter Dan Orlovsky Seems to Have Finally Given up on Him
Carson Wentz is entering a make-or-break season with the Washington Commanders, and it appears his biggest supporter, Dan Orlovsky, has finally given up on him.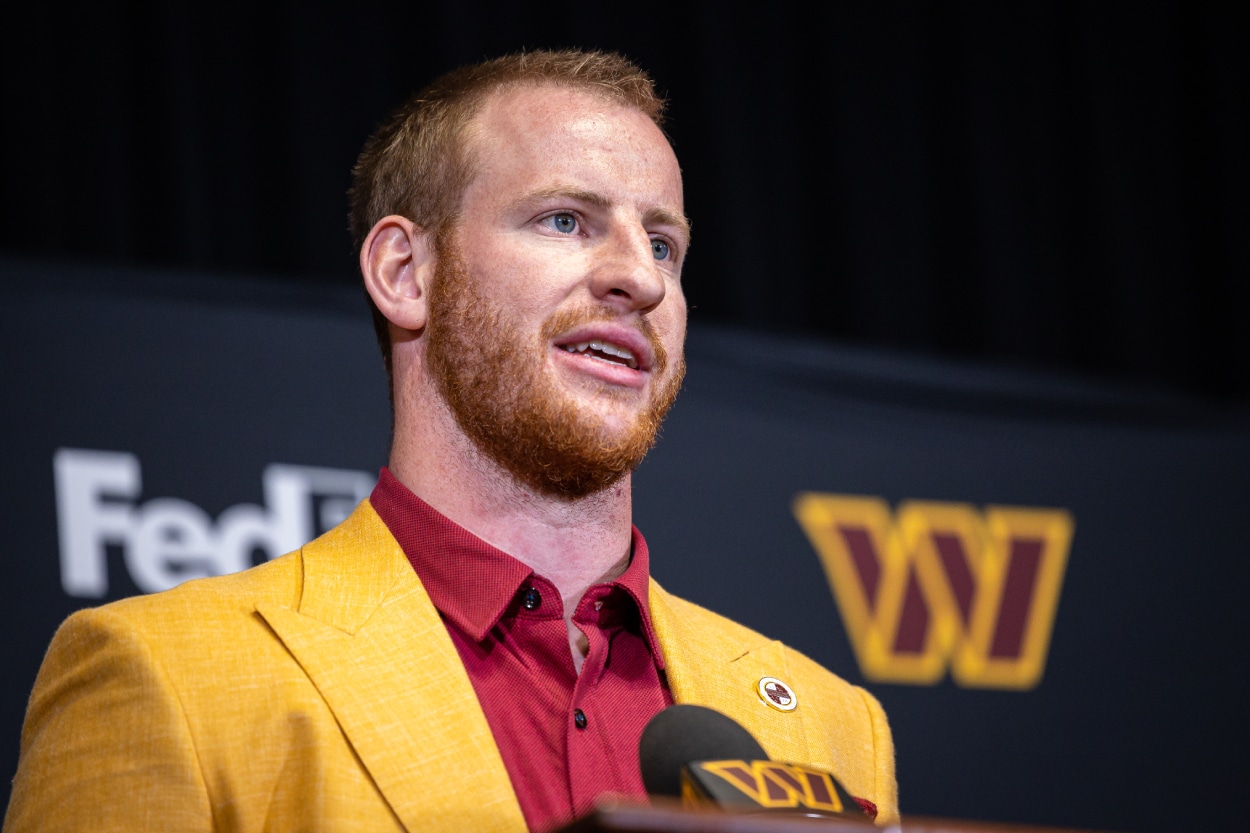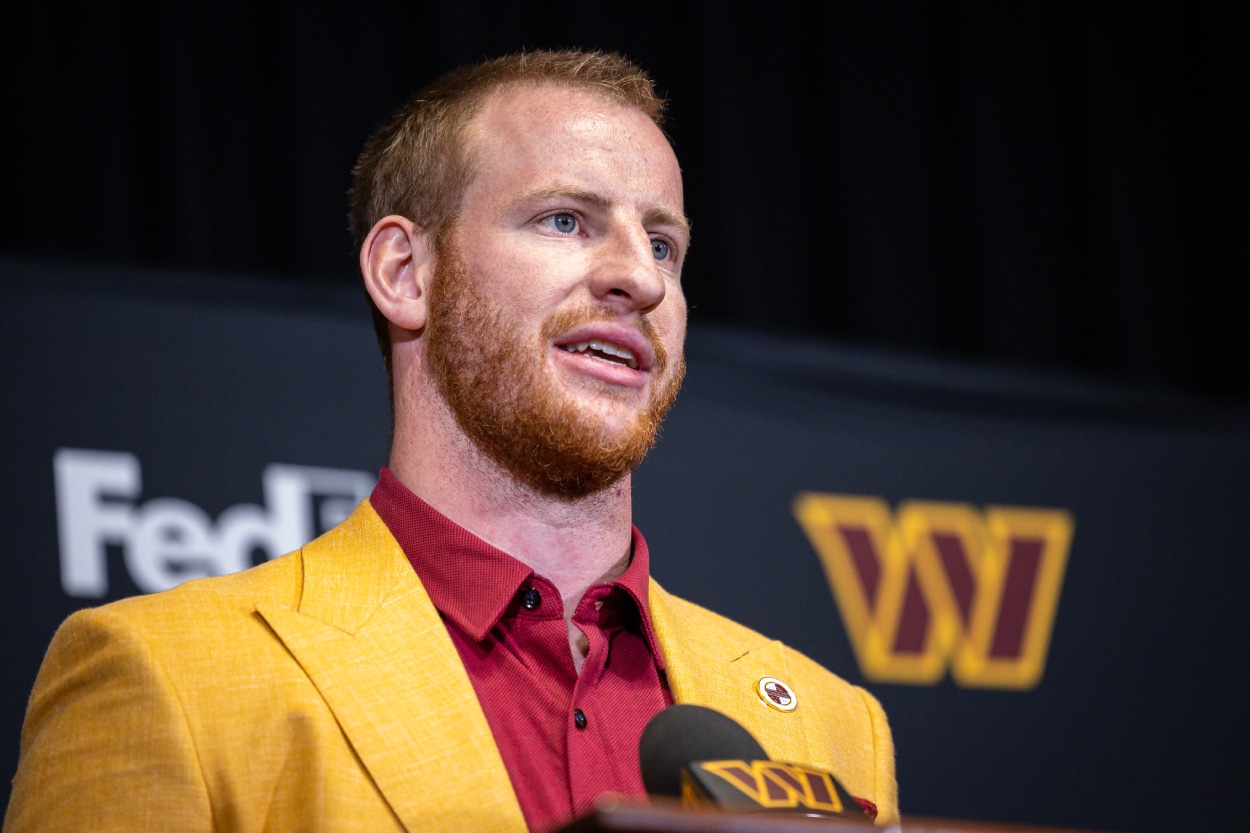 Carson Wentz is entering a season that could be detrimental to his NFL career. If he flops, his time as a starter will likely be over.
So, as Wentz prepares for his first year with the Washington Commanders, it appears one of his biggest supporters has lost faith in him. ESPN's Dan Orlovsky has defended Wentz more than anyone for years, and his recent comments potentially showed a newly-formed opinion about the quarterback.
It seems Orlovsky has finally given up on Wentz.
Dan Orlovsky doesn't seem too confident in Carson Wentz
As mentioned above, Dan Orlovsky has been Carson Wentz's biggest fan for years. So, it surprised some that he didn't put Wentz on his "QBs you win games because of" list nor his "QBs you win games with" list.
And during a recent appearance on The Pat McAfee Show, Orlovsky seemed to finally change his tune on the former Philadelphia Eagles and Indianapolis Colts gunslinger.
"When I made my pound-the-table stances, public television, I was right: 2019, I was dead on," Orlovsky said on the May 31 episode. "Week [16], playoffs are on the line, he outplayed Dak Prescott, carried a bad football team to the playoffs. So, that was right. 2020, it went south real quickly. … 2021, I thought he would be in the MVP conversation given his connection with (Colts head coach) Frank [Reich] and the team and the roster and all that stuff. I probably undervalued two things: One, the lack of skill-position talent in Indy at the receiver position caught up to them a little bit."
OK, so this looks like Orlovsky was just making revisionist history while also not being too hard on Wentz. But he then finally admitted the QB's faults.
"And then two, I guess he's not great off the field in some situations, and that kind of impacted his play on the field," Orlovsky said before addressing Wentz's reckless playing style. "… No, he's not gonna change that. If he was gonna change it, it would have been last year because it was the team to. It was the perfect situation to do that. That's just the player that he is. … I probably leaned into more of the optimist aspect of his talent."
There we go. Orlovsky – who typically gives excellent insight on ESPN – eventually admitted he was blinded by Wentz's potential and essentially overlooked his weaknesses.
So, if Dan is off the bandwagon, does that mean everyone else should also give up on the 29-year-old?
What you see is what you get with Carson Wentz
Carson Wentz — who went to the Commanders via trade earlier this year — has been a starting quarterback for six NFL seasons. He was only a Pro Bowl-caliber QB in one of them. Wentz has been reckless with the ball and an inefficient passer in all the others.
His interception numbers were down in 2021 compared to 2020. He threw an NFL-leading 15 picks in 2020 but only had seven for the Colts last season. However, he ranked 27th in completion percentage (62.4%) and bad-throw percentage (18.8%), and 26th in on-target throw percentage (73.7%) and yards per game (209.6).
The North Dakota State product consistently refused to look for his check-down receivers within the Colts' offense, and he choked with Indy's season on the line in Weeks 17 and 18.
Does Wentz have the tools to be great? Yes. But what you see is what you get. He has proven he is a reckless passer and that he can't lead a team deep into the playoffs. If you haven't done so already, it might be time for you to follow Dan Orlovsky's lead and sell your Wentz stock before it's too late.
Stats courtesy of Pro Football Reference