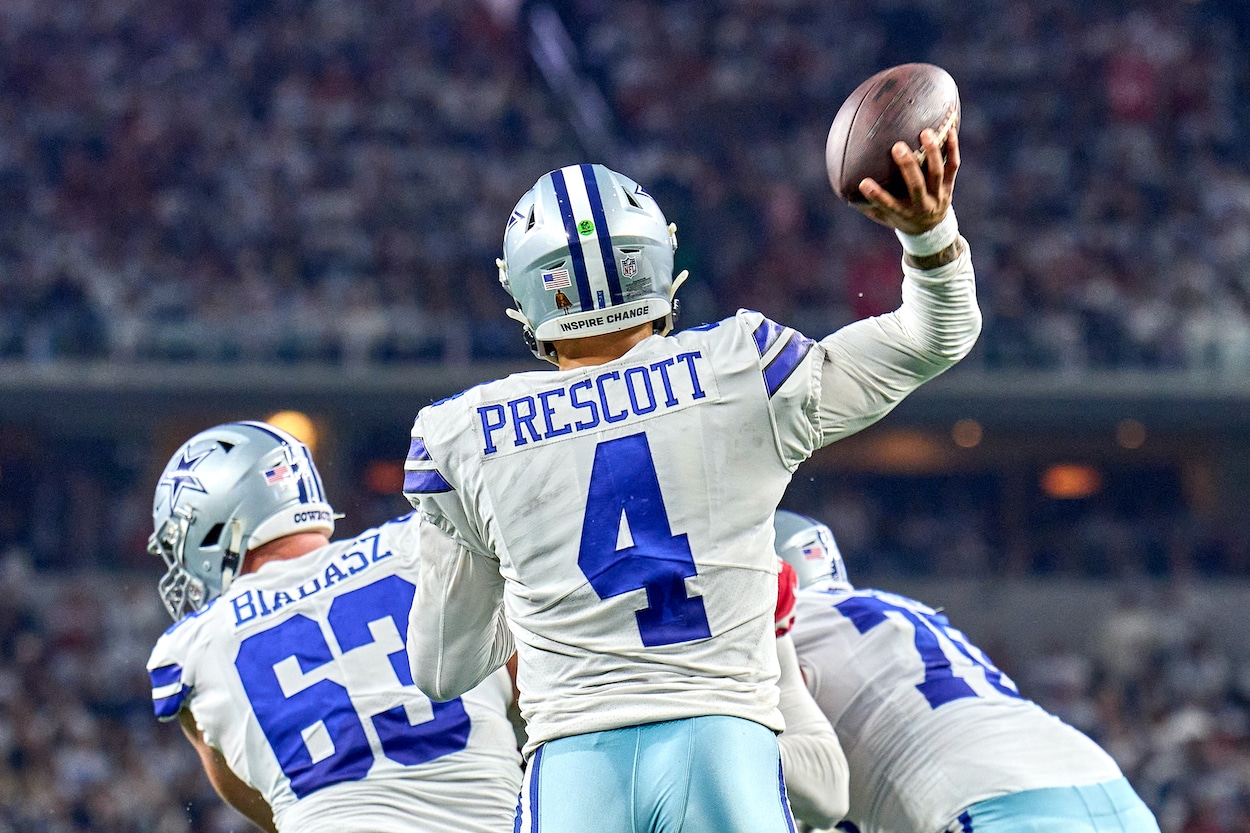 Dan Orlovsky Disrespects Dak Prescott, Leaves Cowboys QB off His 'Win Games Because Of' List
Dan Orlovsky omitted Dallas Cowboys QB Dak Prescott from his list of NFL quarterbacks you can 'win because of' and added a few too many signal-callers.
ESPN NFL analyst Dan Orlovsky loves to stir the pot when it comes to NFL quarterbacks. This time, the former backup QB did it by tweeting out his list of 11 'QB's you win games because of in the NFL right now.' The list generated a lot of controversy, especially because it left Dallas Cowboys signal-caller Dak Prescott off.
ESPN's Dan Orlovsky named his 11 NFL' QB's you win games because of in the NFL right now'
As we reach 100 days until the 2022 NFL season, chatter about the league next season is picking up. ESPN analyst Dan Orlovsky added to the discourse by tweeting his list of the "QB's you win games because of in the NFL right now."
The key phrase here is "because of." There are plenty of quarterbacks who can win your team games in the NFL and plenty who can win it all under the right circumstances. However, there are only a select handful who teams win "because of."
Sports Illustrated's NFL insider Albert Breer defined this argument, tweeting, "I've had the 'win with' vs. 'win b/c of' argument for years with people … and to me the 'win because of' list should be defined by guys who win almost regardless of what's around them, b/c they legit make everyone better.
Orlovsky's list included 11 NFL QBs:
Josh Allen
Joe Burrow
Lamar Jackson
Patrick Mahomes
Derek Carr
Justin Herbert
Deshaun Watson
Russel Wilson
Aaron Rodgers
Tom Brady
Matthew Stafford
Orlovsky put together a solid list with most of the top signal-callers in the NFL heading into 2022. However, one top QB is conspicuously absent from the list, and a few probably shouldn't be on the list to begin with.
Dallas Cowboys quarterback Dak Prescott was conspicuously left off the list 
Putting 11 NFL quarterbacks on his list means that Dan Orlovsky mentioned pretty much all the so-called elite QBs in the league. The one glaring name that doesn't appear is Dallas Cowboys signal-caller Dak Prescott.
In 2021, the Dallas Cowboys won the NFC East with a 12-5 record and had the No. 1 scoring offense in the league. Prescott finished seventh in passing yards (4,449), fifth in completions (410), fourth in completion percentage (68.8%), and tied for fourth in passing touchdowns (37).
With these numbers, you'd think Prescott would wind up in the "win because of" list. He did not, and Orlovsky joined the Pat McAfee Show to explain why.
The then-year NFL backup QB said that early in Prescott's career, he played well thanks to having "one of the greatest offensive lines in the last 20 years in the NFL." Then, when the Cowboys' talent dipped, so did Prescott's production, according to Orlovsky. Getting Amari Cooper then helped the former Mississippi State Bulldog get back on top.
As for the argument that the Cowboys made the playoffs last season, Orlovsky answered that by saying:
Dude, they went 6-6 outside their division. I don't believe in the whole quarterback win stats — all that stuff. I'm just telling you … find me the stretch of games that the Cowboys won when Tyron Smith wasn't playing, or Zeke [Elliot] didn't play, or Amari Cooper didn't play, or the defense gave up 30, and they went like 3-1 because Dak played so ridiculously well. It doesn't exist.

Dan Orlovsky on Dak Prescott
While Orlovsky makes a fine point, it's hard to single out Prescott as a QB who can't win without top-notch talent when there are others on this list who are the exact same way.
Several players should have been left off the list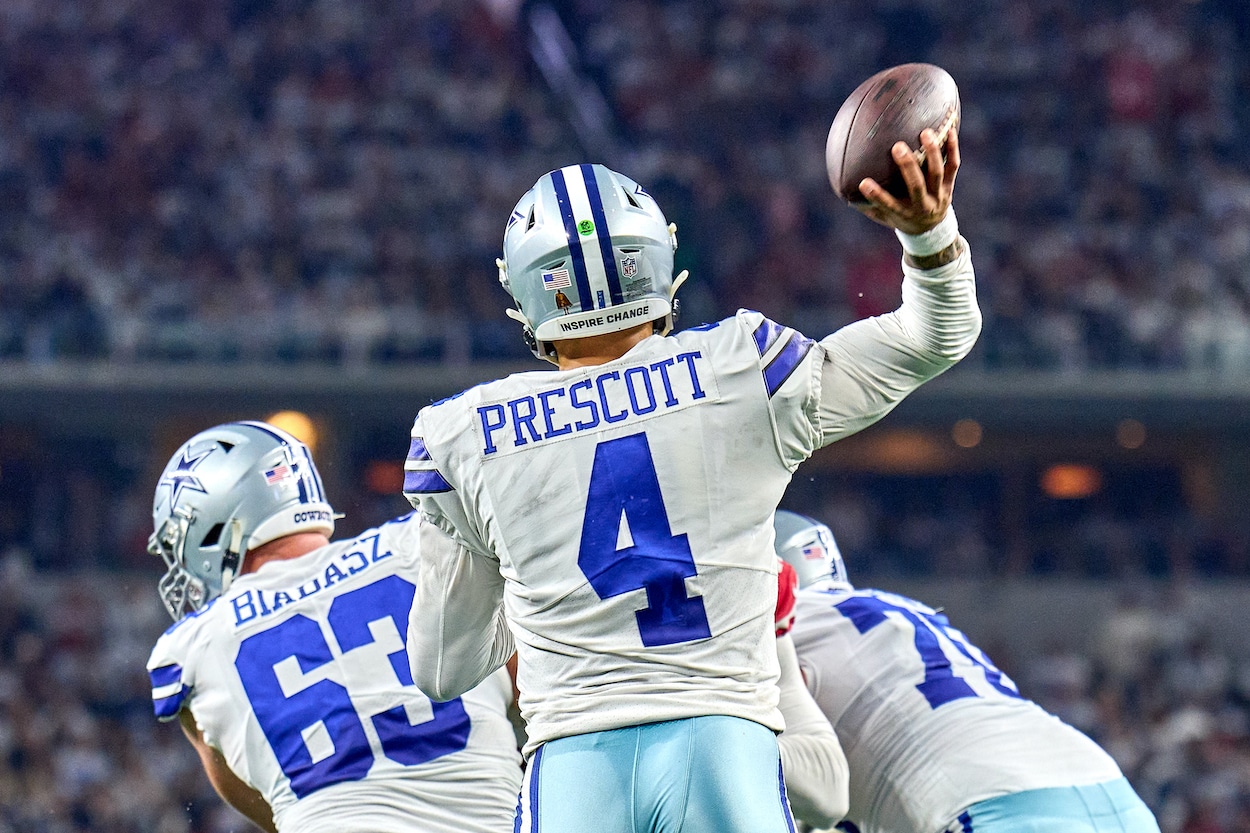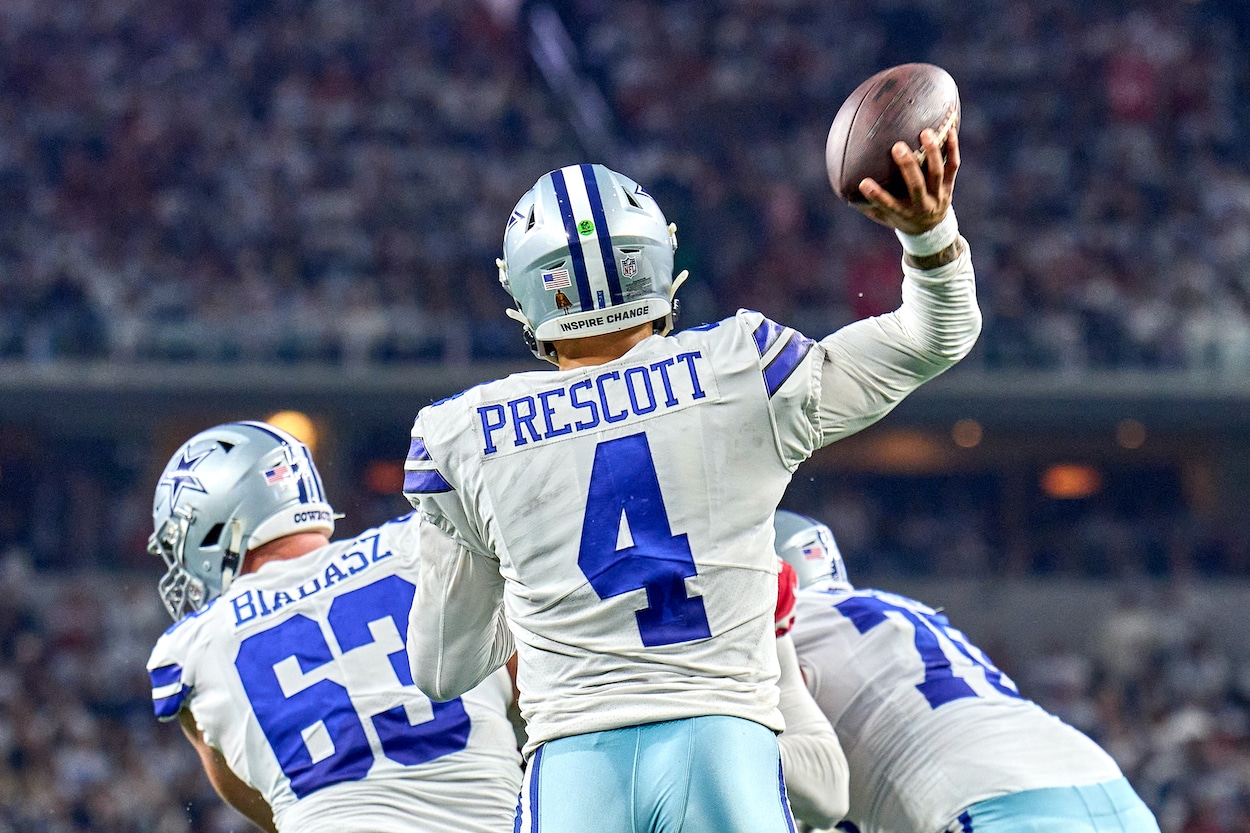 Of the players on the "win because of" list above, Dan Orlovsky is right about eight names. Josh Allen, Joe Burrow, Patrick Mahomes, Justin Herbert, Deshaun Watson, Russel Wilson, Aaron Rodgers, and Tom Brady are all deservedly on that list.
However, three names belong with Dak Prescott on the "win with" list. Those are Lamar Jackson, Derek Carr, and Matthew Stafford.
Jackson has proven he can't win without a solid running game or if he needs to pass 40 times a game like Allen, Mahomes, Brady, and others often do.
As for Carr, 2021 was the first time he's ever made the playoffs, so saying the Las Vegas Raiders win because of him seems a little off-base.
Similarly, Stafford proved for 12 years in Detroit that a team can't win with him alone. Then, he joins a team that is going all-in to win a Super Bowl that season and he does the job and wins the Lombardi. That is the definition of "winning with" vs. "winning because of."
Orlovsky obviously didn't get this all right, but the fact that he put it out there and started the conversation with football 100 days away is still great.
All stats courtesy of Pro Football Reference
Like Sportscasting on Facebook. Follow us on Twitter @sportscasting19 and subscribe to our YouTube channel.