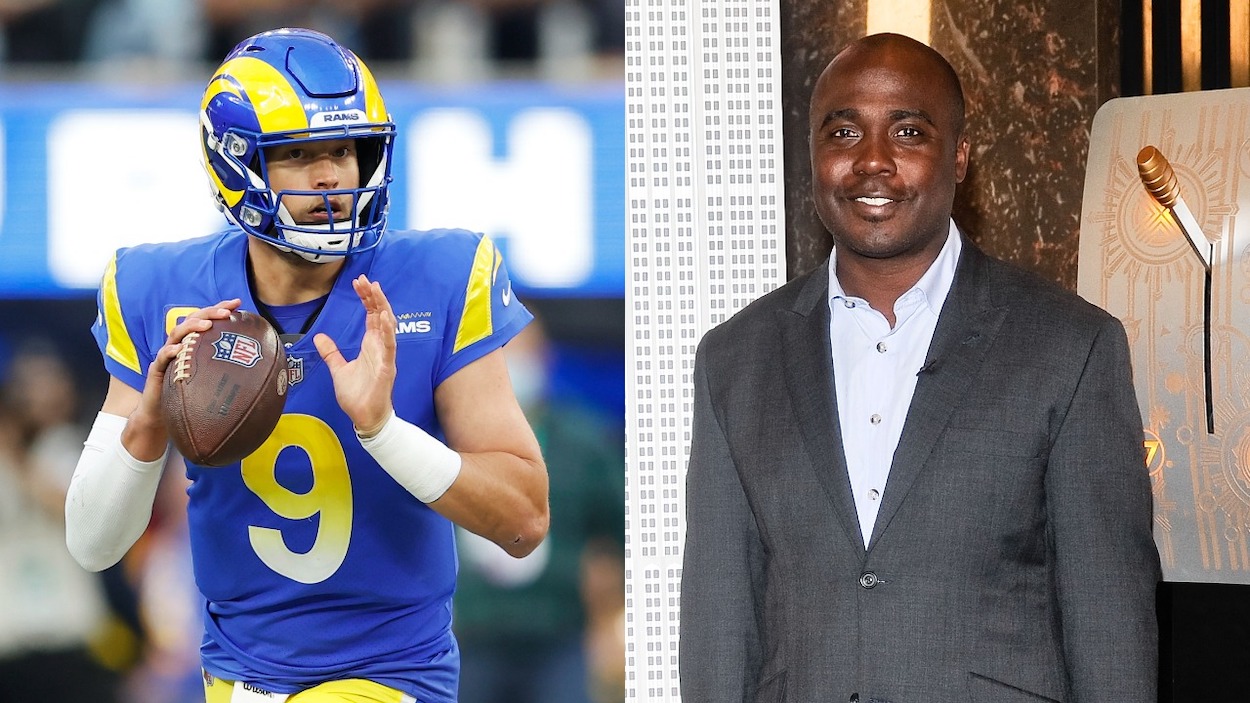 Matthew Stafford Shocked Rams Hall of Fame RB Marshall Faulk With Championship Game Performance: 'I Did Not Know This Guy Existed'
With a win in the NFC Championship game, LA Rams QB Matthew Stafford rewrote the story of his career, much to the surprise of Rams great Marshall Faulk.
Up until Sunday evening, Matthew Stafford was a supremely talented quarterback whose skills never translated into winning in a big spot. With the Los Angeles Rams win over the San Francisco 49ers in the 2021 NFC Championship game to reach the Super Bowl, that narrative has changed. This new Stafford storyline surprised NFL greats like Marshall Faulk. It also now forces us to re-evaluate the signal-caller's career.
Matthew Stafford needed to change the narrative surrounding him this season
If you don't know the exact stats surrounding Matthew Stafford's NFL career, you surely get the gist.
The Detroit Lions drafted Stafford No. 1 overall out of Georgia in 2009 — before the rookie wage scale came in — and gave him a $72 million contract before taking an NFL snap. Stafford played the next 12 yards in the Motor City, producing an underwhelming 74-90-1 record.
The stats were generally good: 62.2% completion rate for 45,109 yards, 282 touchdowns, and 144 interceptions. However, he made just one Pro Bowl and three playoff appearances (without winning a single postseason game).
Up until the 2021 offseason, it looked as though Stafford was doomed to go down in history with names like Vinny Testaverde, Dave Krieg, Bernie Kosar, and Randall Cunningham. These were all good QBs in their era. Although, they never moved the needle enough for their teams to make a Super Bowl.
However, a fateful trip to Cabo happened this offseason, and Stafford went from aging QB of the lowly Lions to the ringmaster of the Greatest Show on Turf 2.0.
In 2021 with the LA Rams, there were no more excuses, no more "maybe next year's." This year was Super Bowl or bust for Stafford, and his squad and the signal-caller came through. This surprised many people, including Rams great Marshall Faulk.
Stafford succeeded with his win over the San Francisco 49ers
With one win, Matthew Stafford dramatically changed his legacy. When the clock hit zero on the LA Rams 20-17 victory over the San Francisco 49ers in the 2021 NFC Championship games, Stafford dropped his title as a quarterback without a Super Bowl appearance.
Stafford played well in the game, too. He 31-of-45 passes for 337 yards with two touchdowns and one interception.
The Rams QB played so well and was so vital to the team winning that it surprised Hall of Fame running back and former Rams great Marshall Faulk.
On the Rich Eisen Show, Faulk credited the three big acquisitions the Rams made — for Stafford, Odell Beckham Jr., and Von Miller — as the reason the team won this game. He was especially impressed with the QB:
Stafford, in the fourth quarter, when you look at the numbers, he made throws that [Jimmy] Garoppolo didn't. … I've been tough on Stafford. I've put it out there. I felt like, man, I don't know. Was it Detroit, or was it Stafford? But, throughout these playoffs, Rich, he's showed me what I needed to see. … He's been dynamic. I'm serious. I'm impressed. I did not know this guy existed in Matthew Stafford.

Marshall Faulk on Matthew Stafford
Faulk had all types of praise for Stafford. He also said that plenty of QBs can thrive in the regular season, but Stafford surprised him by showing he could finally do it in the postseason as well.
Surely, Faulk is not alone in his thoughts about Stafford before this year. However, with what he's now done, Stafford has moved himself into a different part of the historic NFL conversation.
Winning a Super Bowl would dramatically change the QB's legacy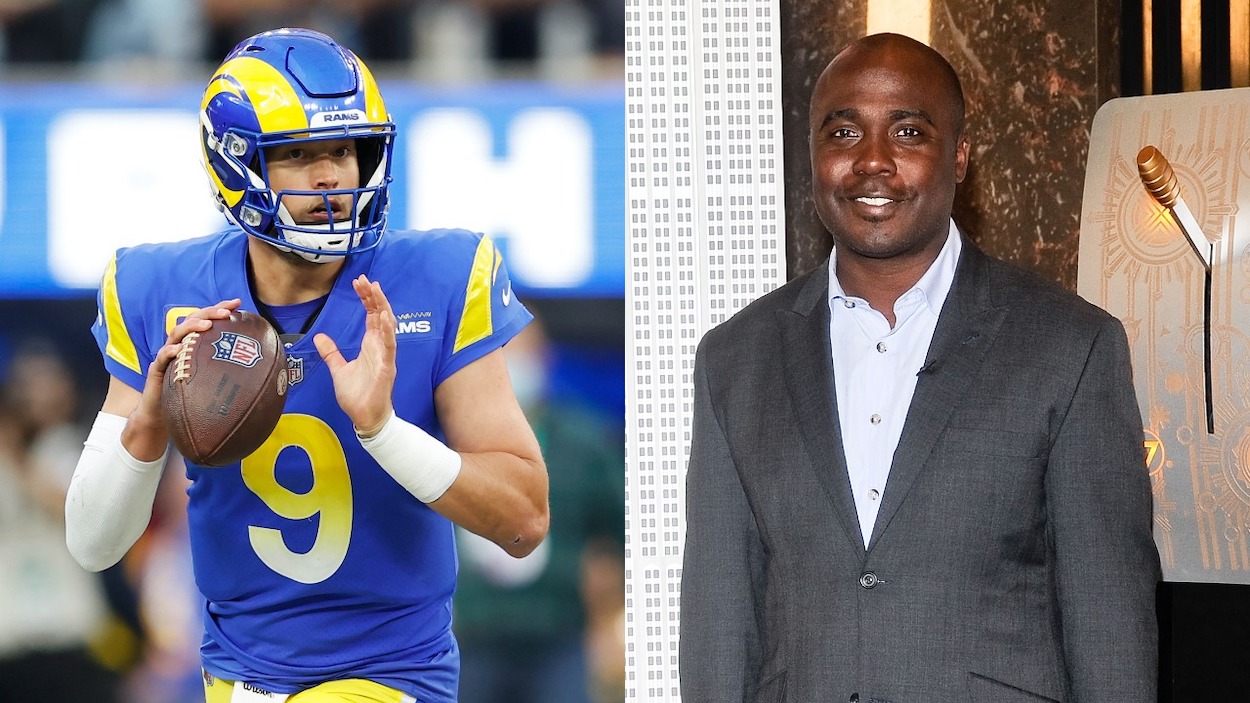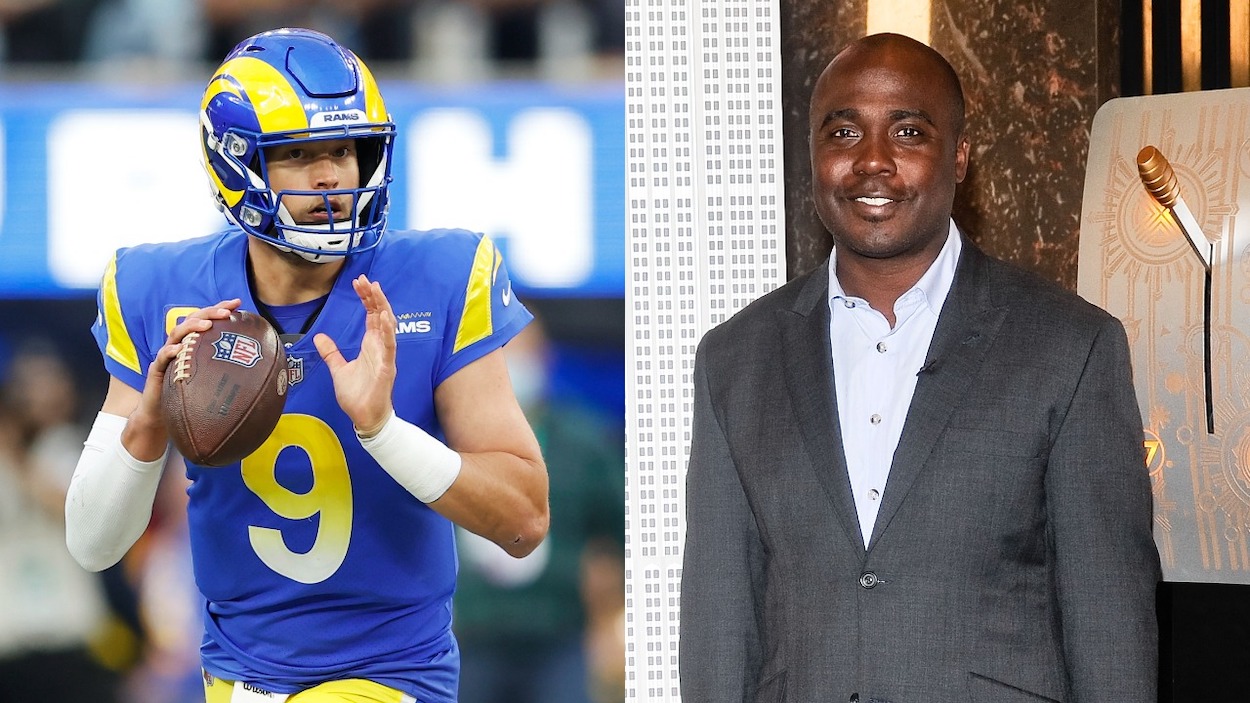 By reaching the Super Bowl, Matthew Stafford is no longer in the category with Testaverde, Krieg, Kosar, and Cunningham.
Even if Stafford loses, he still goes into the class of best quarterbacks to reach, but never win, a Super Bowl. However, that is a two-tiered list, and the former Georgia Bulldog would be on the lower half of that list.
Despite all his physical gifts, Stafford doesn't rise to the level of Dan Marino, Jim Kelly, Fran Tarkenton, Boomer Esiason, or even Donovan McNabb. The Rams QB would be on the lower portion of that ledger with names like Steve McNair, Ken Anderson, and Kerry Collins.
Since Super Bowl 1, 33 different signal-callers have won a Lombardi Trophy. Twelve QBs have multiple titles (Tom Brady, Joe Montana, Terry Bradshaw, Troy Aikman, Eli Manning, Peyton Manning, Ben Roethlisberger, John Elway, Jim Plunkett, Bob Griese, Roger Staubach, Bart Starr), leaving 21 passers who've taken home one Big Game victory. 
If Stafford wins the 2022 edition of the Big Game, where would he rank among the one-time winners?
The Rams QB would come in higher than some of the one-Lombardi wonders on the list. These are guys like Doug Williams, Jeff Hostetler, Mark Rypien, Trent Dilfer, Brad Johnson, and Nick Foles. However, he wouldn't rise to the level of some of the greats with just one win like Brett Favre, Aaron Rodgers, Drew Brees, or Johnny Unitas.
With a W, Stafford's legacy would now rest squarely in the middle of that one-timers club with the other good but not great QBs such as Joe Theismann, Phil Simms, Russell Wilson, and Jim McMahon.
Where in that group Stafford will sit if he does win is up to you.
Like Sportscasting on Facebook. Follow us on Twitter @sportscasting19