Jay Glazer Says Odell Beckham Jr. Won't Replace Robert Woods for the LA Rams, an Unknown Rookie WR Will: 'They Can't Just Put Him In'
It may seem like the Los Angeles Rams have an embarrassment of riches all over the fields, and they do. However, the Robert Woods injury shows why depth is such an essential piece of any championship run in the NFL. Signing Odell Beckham Jr. when they did might be perfect timing for the LA Rams. But, the talented wideout won't step in directly for the injured receiver. That role goes to the virtually unknown, seventh-round rookie Ben Skowronek, according to NFL insider Jay Glazer.
Robert Woods' injury is devastating for the LA Rams
Robert Woods, who is the LA Rams No. 2 receiver, is having a solid season and is a key reason the team, and its high-powered offense, is off to a 7-2 start.
A second-round pick by the Buffalo Bills out of USC in 2013, Woods became a member of the Rams in 2017. Since heading to the West Coast, the 6-foot, 195-pound wideout has essentially doubled his production from his first four seasons in Buffalo.
In four-plus seasons in LA, Woods had 367 catches for 4,626 yards and 23 touchdowns. In 2020, he was on his way to another good season. He caught 45 balls for 556 yards and four scores through nine games.
Already paired with Offensive Player of the Year favorite Cooper Kupp, the addition of Odell Beckham Jr. would have led to even more single-coverage opportunities for Woods and possibly even more success.
That all changed this week when the receiver tore the ACL in his left knee.
NFL insider Jay Glazer reports that after suffering what the team thought was a toe injury in practice on Friday, the team was shocked to find it was actually a season-ending knee injury.
With Beckham coming in, the timing of the injury may seem as fortuitous as it can be with a ready-made replacement on his way, but Glazer says that isn't exactly the case.
Jay Glazer explained that Odell Beckham Jr. is not a one-for-one replacement for Woods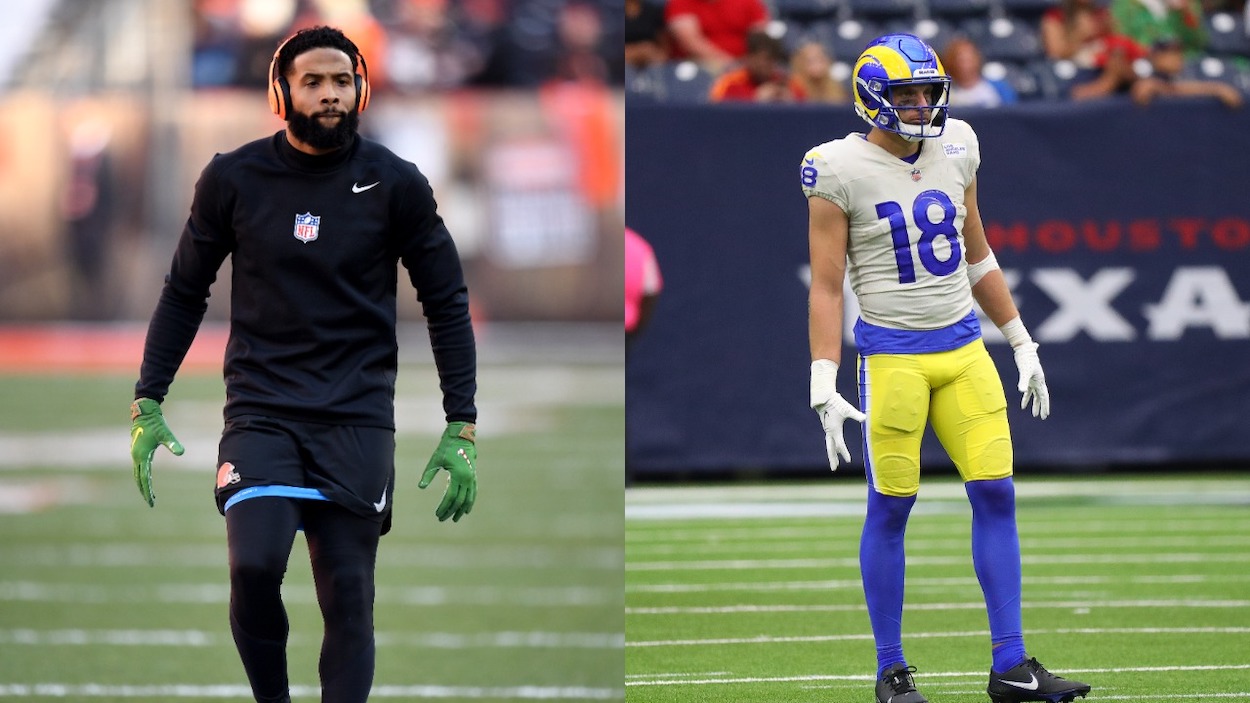 Most football fans would expect Odell Beckham Jr. to jump into Robert Woods' spot without missing a beat. On the FOX NFL Sunday pregame show, Jay Glazer explained that is simply not the case:
Here's the deal. Odell does not play the same position as Robert Woods. And I know everybody thinks, 'well it's a wide receiver,' they just can't put him in. So, Ben Skowronek — Ben Skowronek! — is gonna be the one who's gonna start for Robert Woods. Odell will have a package in there, but like Michael [Strahan] said, how much can he pick up in just two short days? He will play, though.

Jay Glazer on the LA Rams replacing Robert Woods
Beckham has traditionally played the X-receiver, or split end, throughout his career. As Bleacher Report explains, this position "lines up opposite the tight end in most cases, at the line of scrimmage and furthest away from the ball."
Woods is usually the Z-receiver, or flanker, in the LA Rams offense. This position "is off the line of scrimmage and, usually, on the tight end's side. His alignment tends to change based on presnap motion calls."
In addition to the positional differences, there are two other reasons that Beckham won't start in place of Woods on Monday night. One is that Woods was on the field for 93% of the LA Rams offensive snaps in 2021. Two days into his Rams tenure, Beckham doesn't know enough of the playbook to play that much.
Also, Woods is a key piece of the running game. According to Pro Football Focus (h/t USA Today), the former Trojan has an 84.9 pass-blocking grade. This is the best on the squad. Beckham isn't ready (and may never be) for that level of responsibility in the run game.
So, if Beckham's not the answer, who is this Ben Skowronek guy that will get the call?
Who is LA Rams WR Ben Skowronek? 
The LA Rams wideout stepping into Robert Woods' shoes on Monday Night Football against the NFC West-rival San Francisco 49ers is Ben Skowronek.
Skowronek is a 24-year-old rookie that the Rams picked in the seventh round of the 2021 NFL Draft from Notre Dame. After four years at Northwestern — where Skowronek caught 110 balls for 1,417 yards and eight touchdowns — he played a year as a grad transfer for the Fighting Irish.
In South Bend, the Indiana native put up 29 receptions for 439 yards and five TDs.
The Rams took a flyer on the big-bodied (6-foot-3, 220-pounds) pass-catcher in the last round of the draft. Now, it will be up to him to start in place of Woods. He gets his first start after playing only 37 total offensive snaps in the NFL. He has caught all three of his career targets for 30 yards. These all came in the team's blowout win over the Houston Texans in Week 8.
Starting for a team that is among the Super Bowl favorites is a daunting task for anyone, let alone a late-round pick entering his tenth game.
How Skowronek performs on Monday night and how quickly Beckham accrues more playing time will go a long way to determining how the LA Rams do for the rest of the season.
All stats courtesy of Pro Football Reference and Sports Reference