Dak Prescott Comes Out in Support of Simone Biles and Shares Reaction to His Own Depression and Anxiety Issues
U.S. gymnast Simone Biles' decision to remove herself from the team, individual all-around, and most of the individual event competitions at the Tokyo Olympics sent shockwaves around the world. She received an overwhelming amount of love and support, as well as criticism from some corners. One athlete who fell into the first category is Dallas Cowboys quarterback Dak Prescott.  
Prescott is one of the growing number of athletes who are openly talking about mental health. Prescott has shared his experiences with anxiety and depression. The QB recently talked about sympathizing with and not judging Biles from halfway around the world.
Dak Prescott has been open about his mental health
Like so many, Prescott experienced the isolation surrounding the COVID-19 pandemic in 2020. Compounding these issues for Prescott was the personal tragedy of his brother Jace. His older sibling died by suicide in April of last year.  
Dak revealed in late 2020 that he had sought help for anxiety and depression. "Mental health is a huge issue and a real thing in our world right now," Prescott said, per ESPN. "Especially the world we live in where everything is viral and everyone is part of the media."
The QB for America's Team sat down with FOX 4 in Dallas at Cowboys training camp. He spoke about the response to his frankness around his mental health issues:
I got a good response. Obviously, there's always going to be people on the back end. As I think we all know there's some people that may have called me out for that, but I was not necessarily surprised by the response, but I'm grateful that I got the response that I did.

Dak Prescott on mental health
He said that "being genuine and transparent" about telling people "It's OK to not be OK. It's OK to get help" hit a chord with many people going through the same experiences.
Prescott also sent a message of support to Simone Biles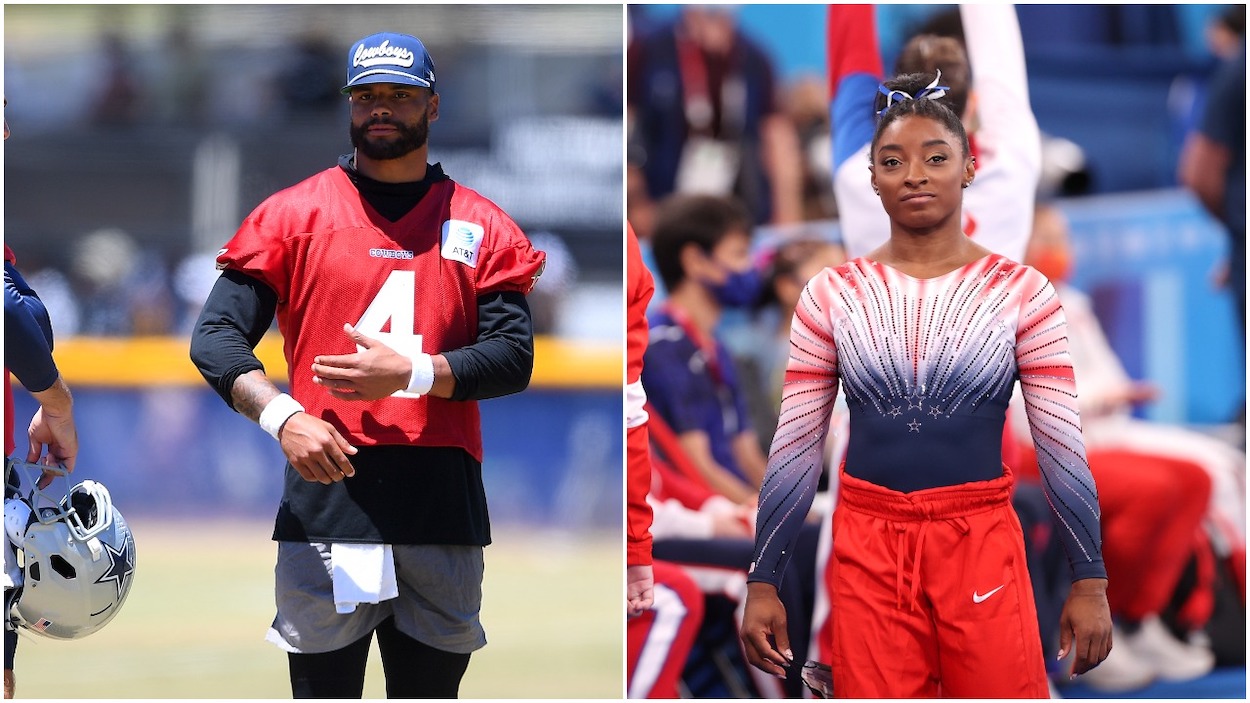 During the same training camp interview in which Prescott discussed his own mental health, he also talked about the Biles situation.
He said he was following the situation a little bit and his overall impression was that, "That's her decision. Obviously, she was feeling something that she didn't necessarily feel comfortable performing."
The former Mississippi State Bulldog also sympathized with the gymnast and said that neither he nor anyone else should critique Biles on her personal decision:
I understand where she's coming from, and I don't think it's up to me or anybody else to judge that.

Dak Prescott on Simone Biles
Prescott is one of the few people in the world who can genuinely relate to Biles and what she's going through as a high-profile athlete himself and as someone whose mental health issues have played out in public.
These two are part of a growing number of world-class athletes openly discussing mental health
Biles and Prescott are two of the most recent examples of high-level athletes discussing the mental health pressures they deal with that come along with their highly visible jobs, but they certainly aren't the only ones.
Michael Phelps, the most decorated Olympic swimmer of all time, has talked about struggling mentally with the weight of Olympic pressure. He now endorses an online therapy company called Talkspace, and he executive-produced a documentary about the pressure on Olympians called The Weight of Gold.
Tennis star Naomi Osaka has also publicly dealt with mental health issues recently. The 23-year-old dropped out of the French Open and Wimbledon to focus on her mental health. She seemingly needed some separation from the stress caused by constant media questioning. She did play in the Olympics for Japan. However, Marketa Vondrousova of the Czech Republic upset her on the same day Biles made her announcement.
A long and growing list of athletes discussing mental health on a regular basis are joining Biles, Prescott, Phelps, and Osaka. Athletes like Kevin Love, DeMar DeRozen, Aly Raisman, and Ronda Rousey are all doing their part to raise mental health awareness.
How to get help: In the U.S. and Canada, text the Crisis Text Line at 741741 to reach a crisis counselor for support.