Simone Biles a Big Winner After Doing Something Much More Important Than Capturing a Gold Medal
All eyes were on Simone Biles. They always are. This time, they watched as she uncharacteristically struggled in her gymnastics routine at the Tokyo Olympics.
After her performance on the vault, she walked with a medical staffer by her side. When all was said and done, Biles was done with the team competition. There would be no gold medal this time, but she did something much more important.
Simone Biles left the floor after her lowest vault score of her career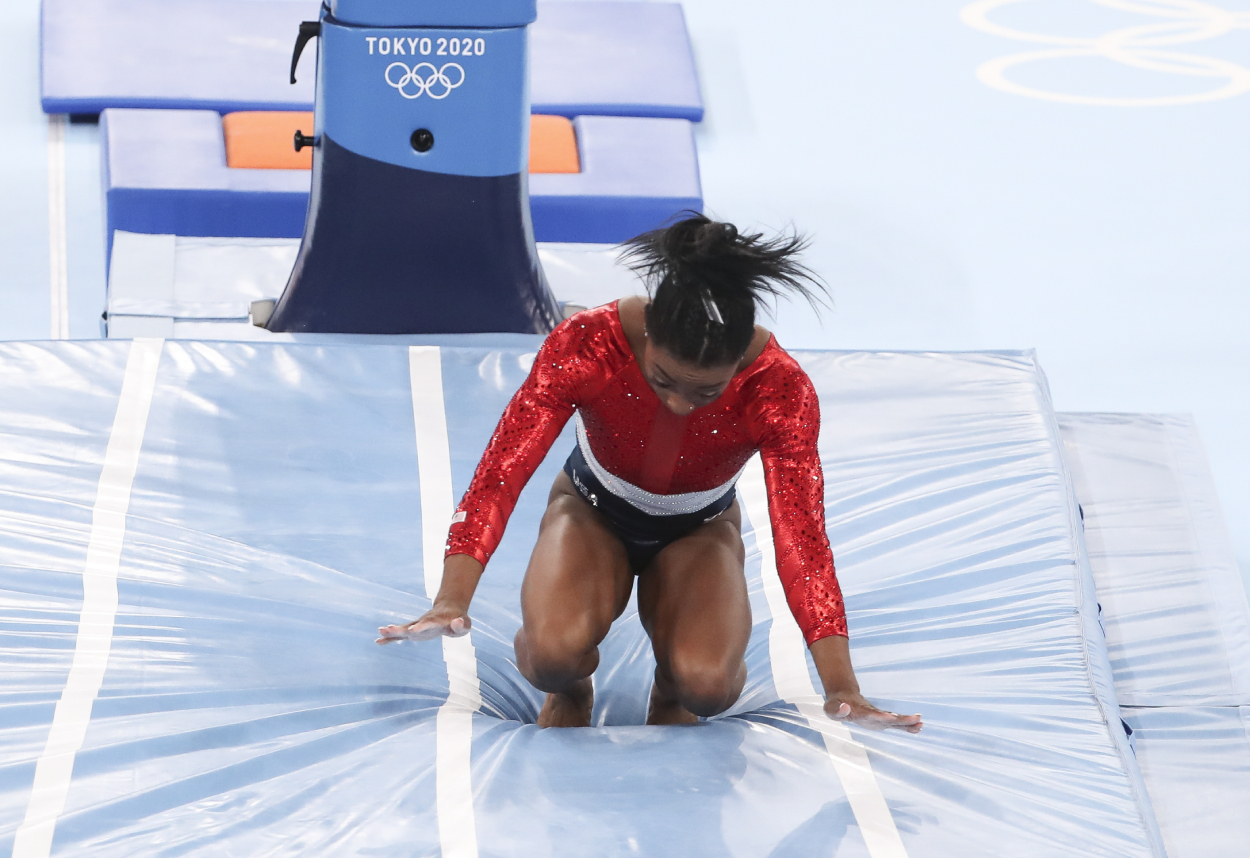 Biles wasn't herself Tuesday. She actually hasn't been herself in quite a while. The 24-year-old American gymnastics star admitted she hasn't been having as much fun with gymnastics. Lately, she felt she was performing for others and not herself.
"I just don't trust myself as much anymore," she said in a press conference Tuesday, according to ESPN. "I don't know if it's age. I'm just more nervous when I do gymnastics. I feel like I'm also not having as much fun. And I know this Olympic Games, I wanted it to be for myself. I'm still doing it for other people."
Some believed Biles injured herself on the vault. She insisted the decision to withdraw from the team competition wasn't because of any physical injury.
"I just felt like it would be a little bit better to take a back seat and work on my mindfulness," she said as she took a deep breath. "I knew the girls would do an absolutely great job and I didn't want to risk the team a medal for my screwup because they've worked way too hard for that."
Simone Biles addressed her mental health in front of the world
There will be some people out there saying Biles quit, but what Biles did Tuesday was more significant than any medal she could've won. She addressed her mental health. She did it in front of a worldwide audience.
Although she's considered the veteran of the gymnastics team, Biles is still only 24. Taking part in the Olympics is no easy task. Participating while in the middle of a pandemic doesn't help. It's been a tough year for just about everyone, never mind an athlete who's expected to being back nothing but gold.
"It's been really stressful, these Olympic Games, just as a whole. Not having an audience. There are a lot of different variables going into it. It's been a long week and a long Olympic process. It's been a long year. I think we're just a little bit too stressed out but we should be out there having fun and sometimes that's not the case."

Simone Biles
"I'd say put mental health first because if you don't, you're not going to enjoy your sport and you're not going to succeed as much as you want to," she continued. "It's OK sometimes to sit out even those big competitions to focus on yourself."
Biles stepped up and did what's best for her
Normally, Biles pushes through. She finishes what she starts. This time, she didn't. She took a deep breath and walked away. She didn't bail out on her team. Biles made herself better.
"We also have to focus on ourselves because at the end of the day we're human, too," Biles said. "So, we have to protect our mind and our body, rather than just go out there and do what the world wants us to do."
"I had to do what's right for me and not jeopardize my health and well-being. So that's why I decided to kind of take a step back and let them do their work."
Even before the competition, Biles posted on Instagram that she was feeling pressure.
"It wasn't an easy day or my best but I got through it," she wrote. "I know I brush it off and make it seem like pressure doesn't affect me but damn sometimes it's hard hahaha!
"The Olympics is no joke!"
Biles is still scheduled to defend her Olympic title in the all-around final Thursday. She also qualified for all four event finals. She said she will regroup on Wednesday before deciding whether to continue.
No matter what Biles decides, she's already proven she's a winner at these Olympic Games.