Carson Wentz's Underwhelming Performances in Pathetic Indy Losses Prove Why the Colts Need to Send Him Packing
Win, and you're in. That was all the Indianapolis Colts needed to do each of the last two weeks of the 2021 NFL season. But first, they somehow fell to a mediocre Las Vegas Raiders squad before getting absolutely embarrassed by the now three-win Jacksonville Jaguars.
The pathetic end-of-the-season collapse by the team with the most Pro Bowlers in the NFL likely has many looking at two people: head coach Frank Reich and quarterback Carson Wentz. And while Wentz doesn't deserve all the blame (none of Indy's Pro Bowlers showed up in Week 18), his underwhelming performances prove why the Colts need to send him packing.
Maybe, Reich should follow him, too.
Carson Wentz and the Colts' passing game was ineffective throughout the last month of the season
After starting 1-4, it appeared the Colts were the hottest team in the NFL. They won eight of 10 games from Oct. 17 to Dec. 25 and had big wins over the Buffalo Bills, New England Patriots, and Arizona Cardinals.
However, Wentz was essentially ineffective during that entire run, as the offense relied heavily on the legs of running back Jonathan Taylor.
Yes, the sixth-year QB took care of the football, only throwing seven interceptions all season. But he struggled to hit his targets at times and proved he couldn't lead the team when it needed him.
In his final eight games, Wentz only threw for over 200 yards twice, averaging 170.6 yards per game. He also threw for less than two touchdowns in six of those contests.
But during the team's embarrassing, season-ending losses to the Raiders and Jaguars, Wentz couldn't hit the broad side of a barn in his home state of North Dakota. He completed just 58.93% of his passes in those games and threw for a combined 333 yards and two touchdowns (with one TD coming in garbage time against Jacksonville). Wentz also had two turnovers in the second half of the team's 26-11 loss to the 3-14 Jaguars.
To put it simply: Wentz was horrible during the the most important stretch of the season. He didn't throw a lot of picks like he did with the Philadelphia Eagles last year, but he couldn't put together any sort of NFL-quality passing attack. His ineffectiveness was a significant reason why Indy suffered those two devastating losses.
Carson's time in Indianapolis needs to be over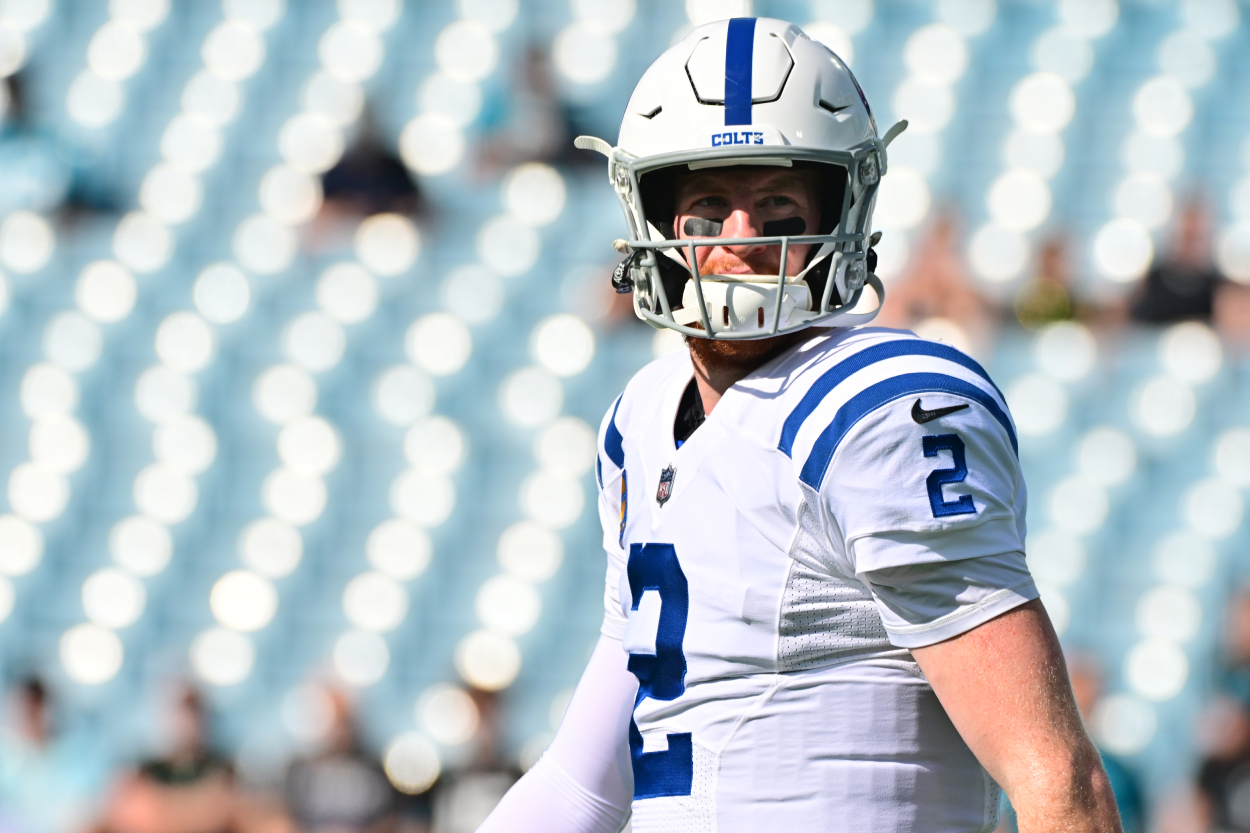 We all know that coach Frank Reich is a big reason why Carson Wentz is with the Colts.
Wentz had an MVP-type year when Reich was the Eagles' offensive coordinator in 2017. And while he showed glimpses of that brilliance in parts of this season (I'll admit, I was a Wentz defender for most of the year), he ended up proving to be unreliable.
Indy went 4-8 in games where Wentz threw 27 or more passes, meaning every loss the team suffered this season came during such performances. The team went 5-0 when he attempted fewer than 27. He also missed multiple practices throughout the year, either due to injury or COVID-19 protocols, given that he is unvaccinated.
The Wentz experiment in Indianapolis has been a rollercoaster of emotions for Colts fans, and it resulted in a non-playoff season, something 39-year-old Philip Rivers at least accomplished in 2020. Carson proved he isn't the guy Indy needs if it wants to become the Super Bowl-contending team some fans think it has the talent to be, especially considering its numerous Pro Bowlers.
So, it's probably time to part ways with the underperforming signal-caller.
And given the fact Indy gave up first- and third-round picks for Wentz, and did so largely because of his connection to Reich, it's reasonable to wonder whether the coach should follow right behind him.
Can the Colts actually part ways with Carson Wentz?
Indianapolis won't fire Frank Reich. He has done a tremendous job, other than the last two weeks of this season, leading the Colts to two playoff appearances in four years and keeping them afloat in the wake of Andrew Luck's shocking retirement.
But the team could actually get rid of Wentz if it wanted to.
According to CBS Sports, the QB has $15 million guaranteed on his contract, and Indianapolis would owe that to him if it were to release him. That's $13.3 million less than what he is supposed to make in 2022, though, so the Colts would actually save money by cutting him, although they would then have to pay another quarterback to take his place.
The other big question-mark is who Indy would turn to next season. Other than potentially going after Russell Wilson in a trade, there aren't any great QBs set to become free agents this offseason. The franchise doesn't have a first-round pick, either, thanks to the Wentz deal, so it can't select a young guy and hope they do what Mac Jones did with the New England Patriots this year.
All in all, it could be difficult for the Colts to move on from Wentz. But if they can find someone who can actually lead them to victories rather than ride the coattails of the run game, they need to do whatever they can to get him in the locker room.
Stats courtesy of Pro Football Reference