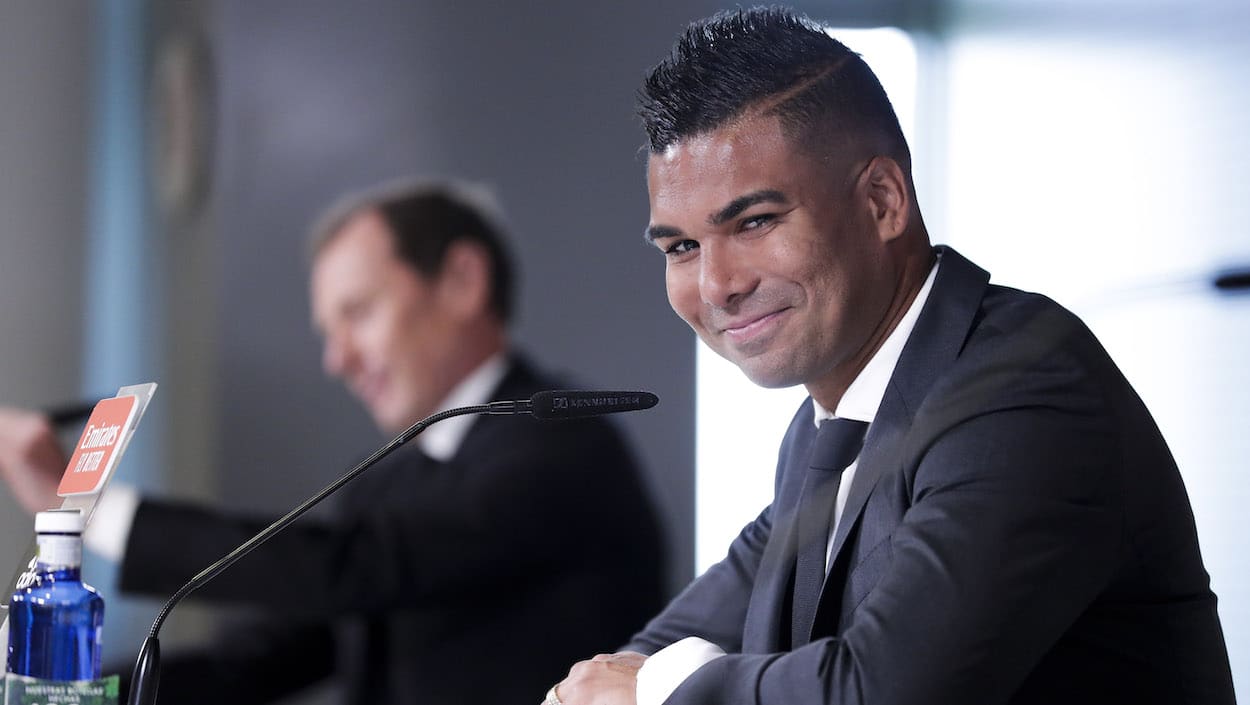 Casemiro's New Monster Contract Oddly Aligns With His Delusional Goal for Manchester United
Casemiro says his move to Manchester United is all about winning, but his contract says if the club wins, he will get paid.
Manchester United's newest summer signing, Casemiro, sat at his introductory press conference and said signing with the Red Devils isn't about the money. The Brazilian midfielder says he has lofty goals to win trophies with Man United. Despite saying he's all about winning football matches and the money is not important, the former Real Madrid star will reportedly make out in a big way if he can somehow accomplish his lofty stated goals. 
Casemiro says the move to Manchester United is all about winning 
Brazilian defensive midfielder Casemiro is making a massive move from Real Madrid to Manchester United. The English Premier League club will reportedly pay the Spanish giants a $70 million (£60M) fee plus $12 million (£10M) in possible add-ons, per The Guardian.  
While an exact number hasn't been confirmed, reports are that Casemiro's contract will be four years with a fifth-year option for around $411,520 (£350K) per week, or $85.6 million (£72.8M) total. 
Despite these lofty numbers that put Casemiro in line with Man U's highest-paid player David De Gea (£375K per week), the hard-nosed midfielder says he's all about the winning and not the money. 
"Those who think I'm leaving for money is because they don't know me," Casemiro told reporters. "I want to show my fighting spirit, capacity to work hard, and professional attitude. I want to win the league."
Casemiro may be saying all the right things in his introduction to the red side of Manchester. Still, framing winning and getting paid as mutually exclusive may be a little disingenuous. 
BBC Sport reports that the midfielder's contract is "heavily performance related, specifically around Champions League qualification." So Casemiro's motivation may be related to winning, but winning is what will get him paid, too. 
Man United winning anything isn't looking good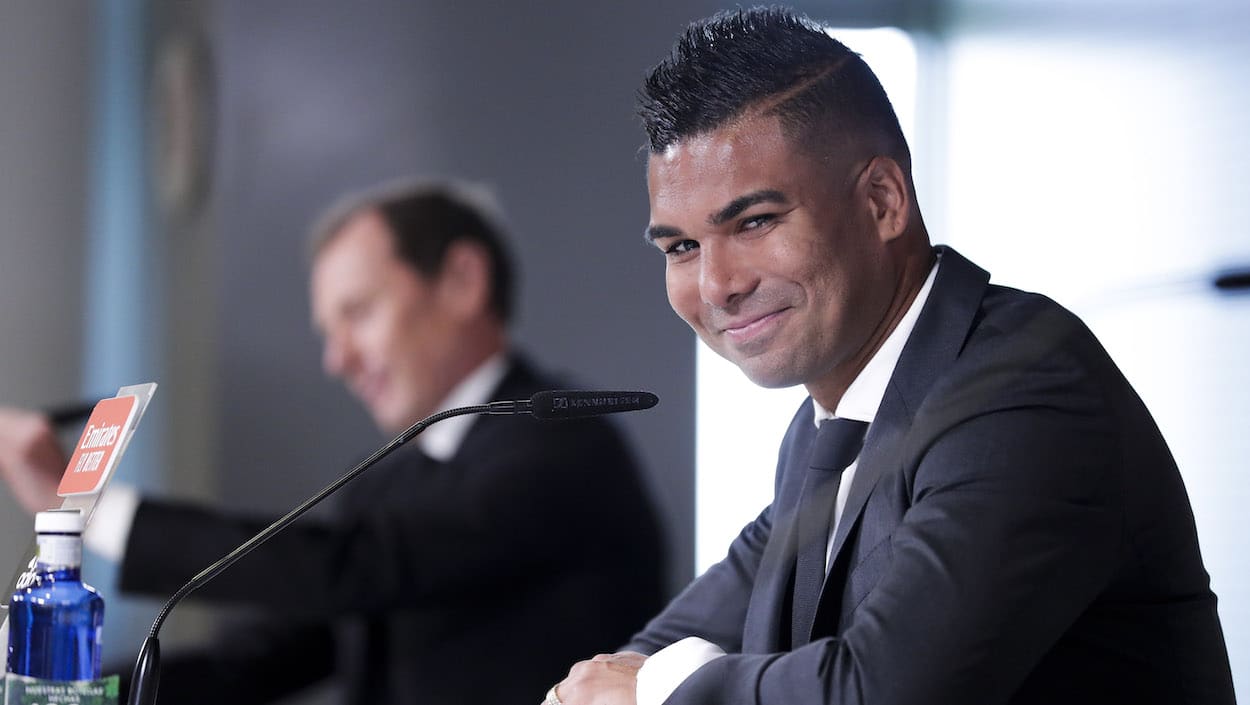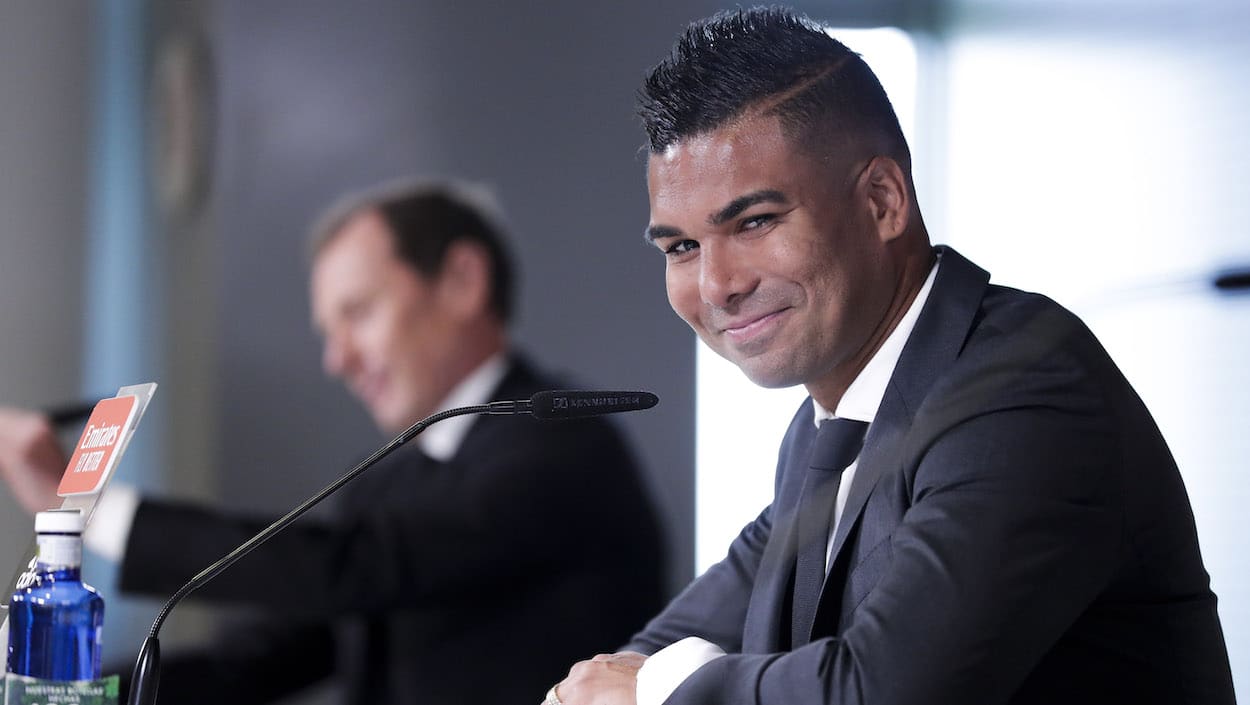 Whether Casemiro is truly all about winning or not, he is in for a rude awakening when he joins the Red Devils after the Liverpool game on Monday. 
Even adding a player the caliber of Casemiro — and with five Champions League wins under his belt, he is a great player — won't help Man United this season. 
The Brazilian midfielder played at Real Madrid with United's unhappy superstar, Cristiano Ronaldo. However, Casemiro admits he hasn't talked to him yet, and nothing seems to have changed surrounding Ronaldo's desire to leave the Premier League side. 
Frankly, United fans should hope Ronaldo still wants to leave as his style of play doesn't fit well with new manager Erik ten Hag's high work rate, counter-pressing, passing-based style. 
And winning the Premier League may already have gone down the drain for United after just two matches. A 2-1 loss to Brighton and a 4-0 embarrassment at the hands of Brentford might have already set the team too far back, especially if Liverpool gives them a thrashing on Monday. 
And, as for Champions League qualification, there are four spots from EPL that will go in 2023-24. Which two of the top five teams — Manchester City, Liverpool, Chelsea, Arsenal, and Tottenham Hotspur — can United surpass to get one of those places in the near future?
Casemiro may be telling the truth, and the only reason he went to Manchester United is to win. However, that may prove much more difficult than he thinks. 
Like Sportscasting on Facebook. Follow us on Twitter @sportscasting19 and subscribe to our YouTube channel.