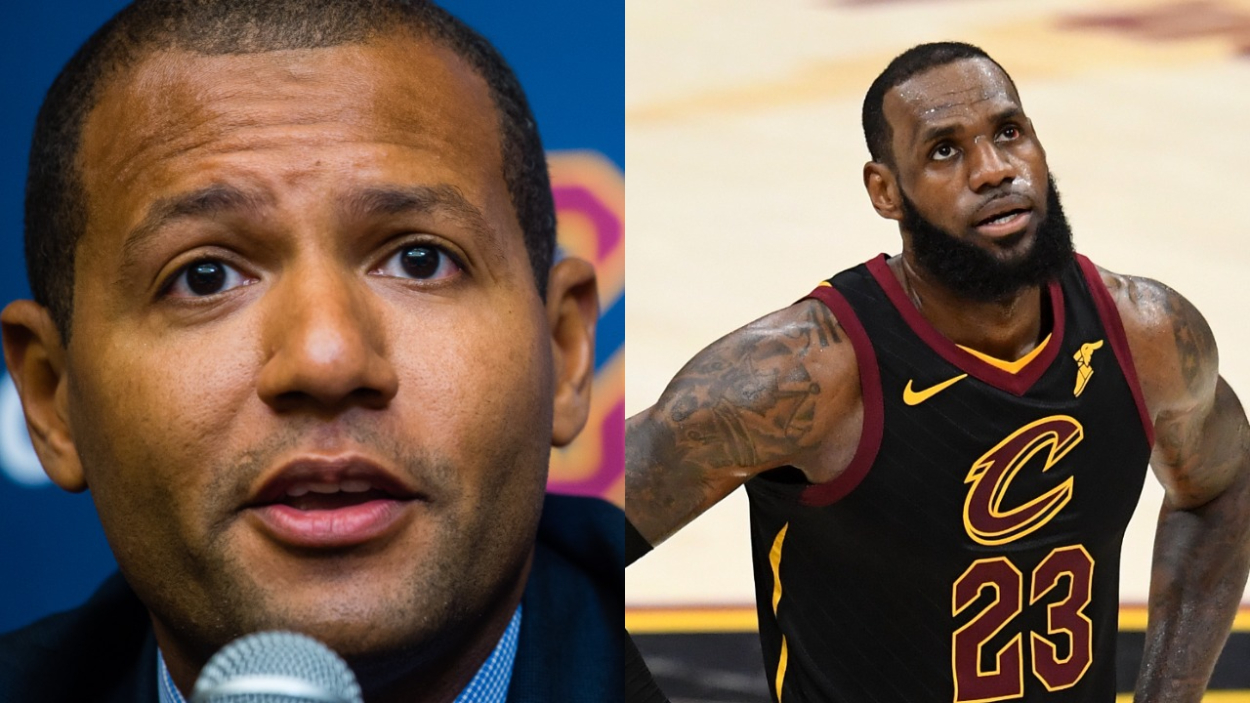 Cavs President Koby Altman Admits Cleveland 'Fell' on Its 'Face' After LeBron James' Departure
LeBron James left the Cavs again in 2018, and team president Koby Altman recently admitted that his departure resulted in the franchise falling on its face.
The Cleveland Cavaliers ran the Eastern Conference for four straight seasons with LeBron James. They went to four consecutive NBA Finals between 2015 and 2018, and they won a championship in 2016.
Life was good, and they had arguably the greatest player ever in James.
However, The King left Cleveland following the 2017-18 campaign, and the Cavs immediately fell into a downward spiral. They went from contending for championships to not even winning 20 games in a season.
But after three years of losing, the Cavaliers are back near the top of the Eastern Conference standings. They are winning without LeBron and even potentially have him feeling jealous due to the Los Angeles Lakers' struggles this year.
So, what led to their turnaround? Koby Altman recently addressed how his team got to this point, and in light of James' recent comments about returning to The Land, the Cavs president of basketball operation's remarks have prompted one vital question:
Should the Cavaliers even want James back?
The Cleveland Cavaliers are on the other side of their post-LeBron rebuild
It may have been a long three years for Cavs fans, but the team has finally reached the other side of its rebuild following LeBron James' 2018 departure.
Cleveland has done a tremendous job building through the draft by selecting guys like Collin Sexton, Darius Garland, Isaac Okoro, and rookie Evan Mobley. It has also pulled off excellent trades, including one for Jarrett Allen and a recent deal for Caris LeVert.
Behind the play of All-Stars Garland and Allen, as well as their Rookie of the Year candidate in Mobley, the Cavaliers have become one of the hottest young teams in the league.
Garland is an elite facilitator but has also turned into an efficient scorer. Allen has developed into an offensive threat in the post and a dominant defender, and Mobley has hit the ground running in his rookie season, having great success on both sides of the court. That talent, surrounded by solid role players like Okoro, Kevin Love, Cedi Osman, Lauri Markkanen, and Rajon Rondo, has helped the Cavs start 35-23 this year.
They sit just 2.5 games back of first place in the Eastern Conference despite losing their leading scorer from the last two years, Sexton, to a season-ending injury, as well as Ricky Rubio.
So, how did they get here? The organization had to take a long look in the mirror.
Koby Altman said the Cavs 'fell' on their 'face'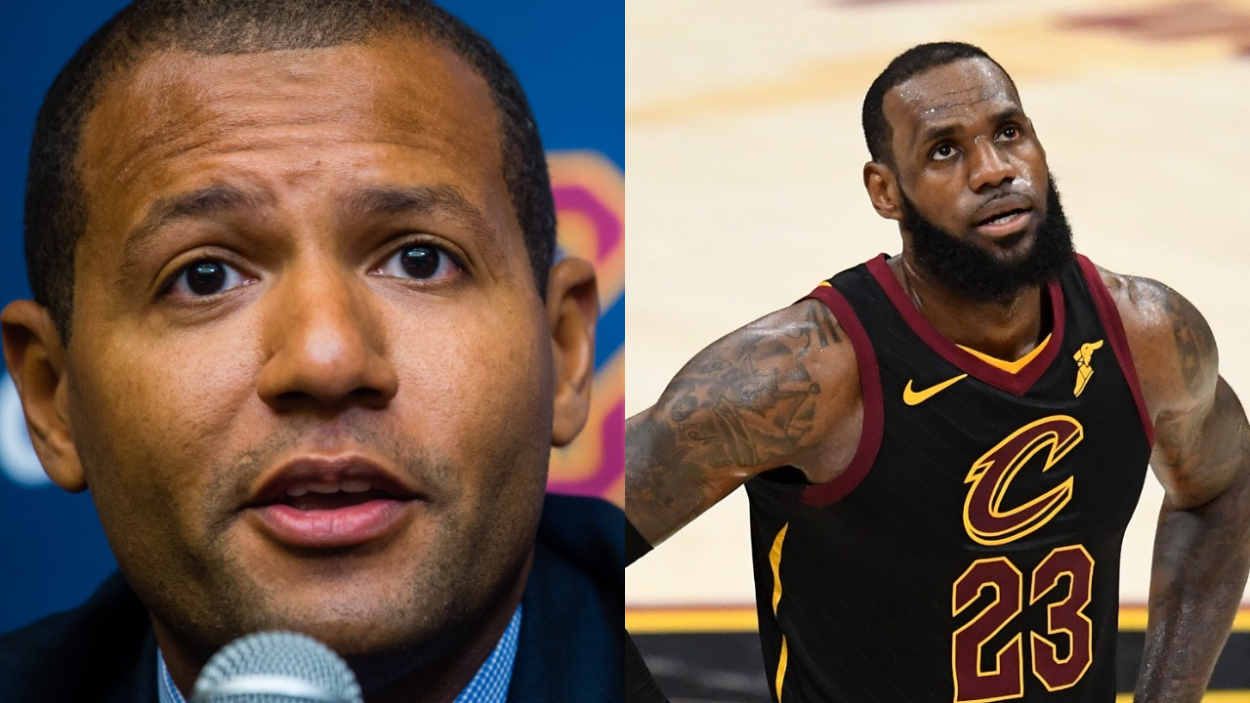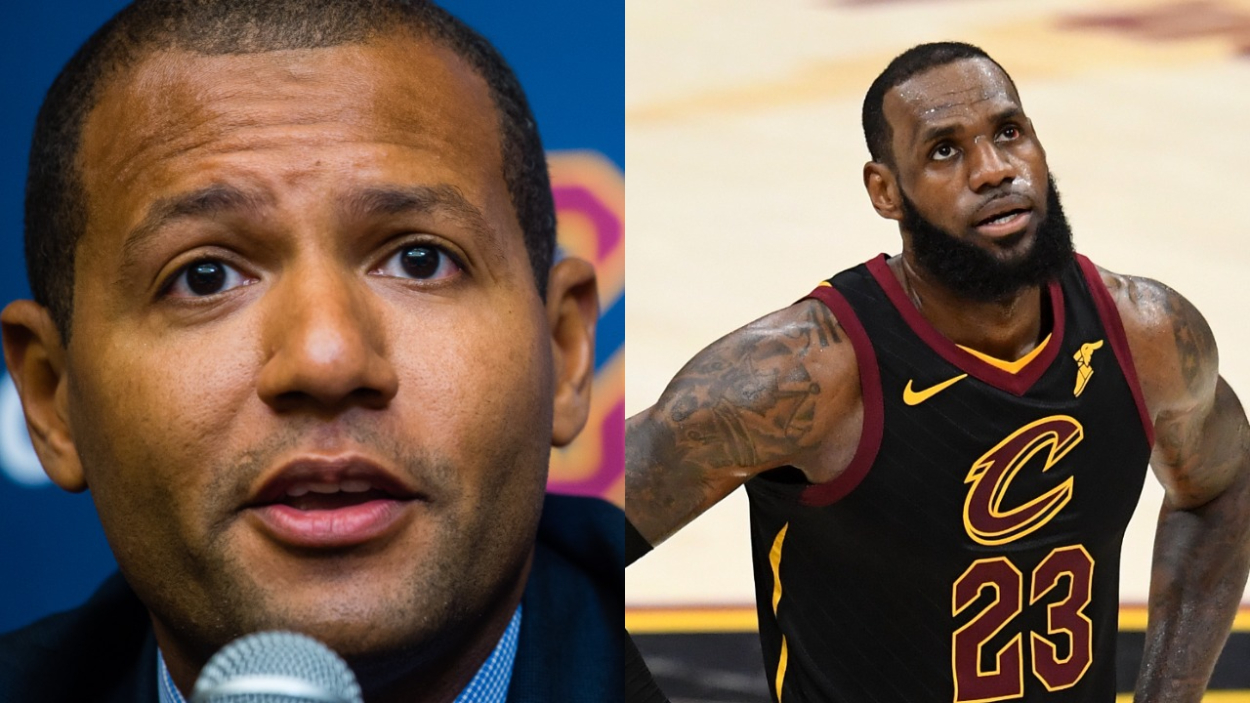 Koby Altman, who took over the Cavaliers' general manager position before the 2017-18 season, is the architect of this current Cavs team.
He recently discussed how Cleveland has made it to where it is now.
"When I took over, it was a completely different mission; that was year four, four straight Finals. And when you have a player the caliber of LeBron James – the best player in the sport – you wake up every day thinking you're going to go to the Finals, and that's not reality," Altman said on the Feb. 18 episode of The Woj Pod with Adrian Wojnarowski. " … To be quite honest with you, after that four-year run, we didn't have a foundation of really anything. We had immense talent during that four-year run, but when LeBron left, we fell flat on our face as a franchise. We weren't rooted in really anything in terms of a culture, a foundation."
He continued: "So, immediately, we knew we had to implement something that we were going to be rooted in, and that was player development and building through the draft. … We had to have a culture shift of what it meant to be successful every day. It's not wins and losses. It's going to be every day, incremental positive steps that we're going to see out Collin Sexton, Darius Garland, Isaac Okoro; give them pathways to be successful."
Altman said they even looked at the players' habits, including how they eat and in what ways they improve their strength and conditioning, to try to prepare them for quick NBA success.
"You can see along the way guys making real steps toward success, even though it didn't reflect itself in the win-loss column," he said.
It sounds like the Cavs erased the entire culture they had with LeBron James and have since developed their own identity. Their plan now has them contending for a top playoff spot in the East.
So, would they really want to throw it all away for another reunion with The King in 2023?
Why would the Cavs tear everything down again for LeBron James?
LeBron James said he hasn't shut the door on a potential return to the Cavs when he becomes a free agent in 2023. Cleveland could also probably make it work, although the front office would likely have to move some pieces around.
But would the Cavs really want to go down that route?
LeBron has been the identity of the Cavaliers' organization for nearly 20 years. Even when he wasn't on the team, he was the face of the franchise, given its lack of direction without him.
Now, though, the Cavs have finally stepped out of James' shadow, becoming a contender on their own. So, why would they want to bring him back and risk disrupting their current culture and path?
James left the cupboard bare both times he ditched Cleveland. Who's to say that wouldn't happen again this time? The Cavaliers would essentially erase everything they have built the last three years just to add an almost-40-year-old player.
All in all, James would certainly make the Cavs title favorites by returning to The Land. But his old franchise needs to think twice before bringing him back.