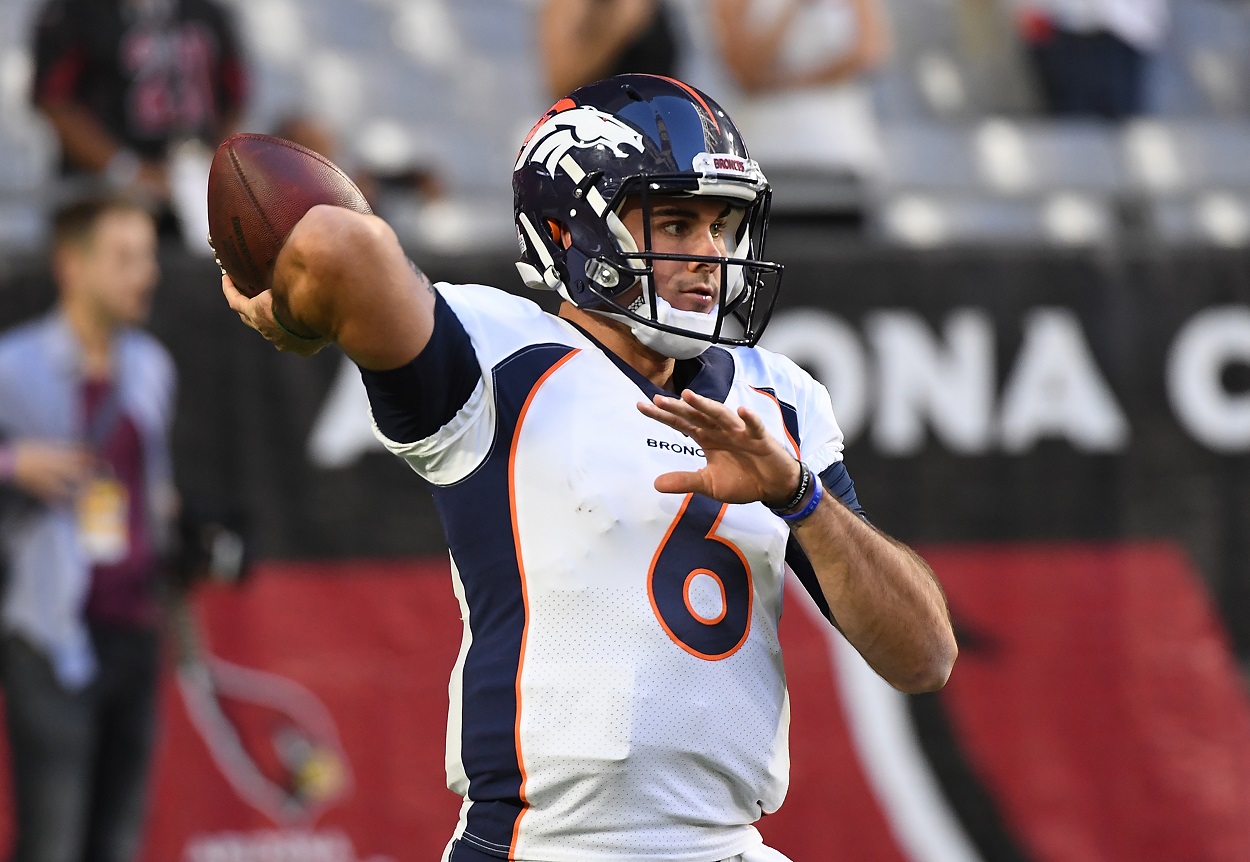 Chad Kelly, a Former 'Mr. Irrelevant' and the Oft-Troubled Nephew of Hall of Famer Jim Kelly, is Getting a QB Tryout With the Green Bay Packers
Chad Kelly, the nephew of Bills legend Jim Kelly and 2017's "Mr. Irrelevant," is getting a QB tryout with the Green Bay Packers.
The Green Bay Packers currently have just two quarterbacks on their roster but only one that actually wants to be there in Jordan Love. As the Aaron Rodgers saga continues to play out, the Packers are bringing in a pair of signal-callers for a tryout at this weekend's rookie camp, one being Chad Kelly, the nephew of Hall of Famer Jim Kelly. The 2017 draft's "Mr. Irrelevant," Kelly has gotten himself into some trouble over the years and has taken just one official snap in the NFL.
Chad Kelly was dismissed from Clemson following a shouting match with the coaching staff
Chad Kelly grew up not too far from his where his famous uncle became a Buffalo Bills legend and showed plenty of promise in his own right as a youngster. He won four punt, pass, and kick competitions, setting records in his age group each time. His family moved to Pennsylvania after his father, a grocery store manager, was transferred, but after Kelly was kicked off the Red Lion High School football team, he returned to New York and became a four-star recruit at quarterback, which led to a scholarship at Clemson.
After redshirting his first year in 2012, Kelly made his debut for the Tigers in 2013, completing 10 of 17 passes for 58 yards in five appearances. He was expected to compete for the starting job in 2014 with Cole Stoudt and an early-enrollee freshman named Deshaun Watson but shortly after the team's spring game, a game in which he got into a shouting match with the coaching staff, Kelly was dismissed from the team.
Kelly then enrolled at East Mississippi Community College and promptly led the Lions to an undefeated season and a national championship, throwing for 3,906 yards with 47 touchdowns against just eight interceptions.
He was arrested just days after committing to Ole Miss and was once involved in a fight at his brother's high school game
Kelly committed to Ole Miss in December 2014 but just days after doing so was arrested at a Buffalo nightclub for striking a bouncer and resisting arrest. He later pleaded guilty to a non-criminal charge and was sentenced to 50 hours of community service.
But the Rebels stuck with him and he was named the team's starter for the 2015 season, a season in which he led Ole Miss to a 10-3 record and wins over Alabama, Auburn, and LSU. In doing so, he became the first QB in school history to beat all three in the same season. Kelly led Ole Miss to the Sugar Bowl and was named MVP after throwing for 302 yards and four touchdowns in the Rebels' 48-20 victory over Mason Rudolph and the Oklahoma State Cowboys.
Midway through the Rebels' 2016 campaign, Kelly attended a high school game of his younger brother Casey, also a quarterback (he later walked on to Ole Miss as a tight end), who took a late hit that started an all-out brawl. As the situation escalated, Chad Kelly rushed the field to assist his brother and had to be restrained by coaches. No arrests were reported and no discipline was handed down to Kelly by the Rebels' coaching staff.
Just a few weeks later, however, Kelly's senior season ended prematurely after he tore his ACL during a win over Georgia Southern, ending his college career. In his two seasons at Ole Miss, Kelly completed 64% of his passes for 6,800 yards with 50 touchdown passes and 21 interceptions, adding 841 yards and 15 touchdowns on the ground.
Kelly was 'Mr. Irrelevant' in the 2017 NFL draft and once served a two-game suspension for criminal trespassing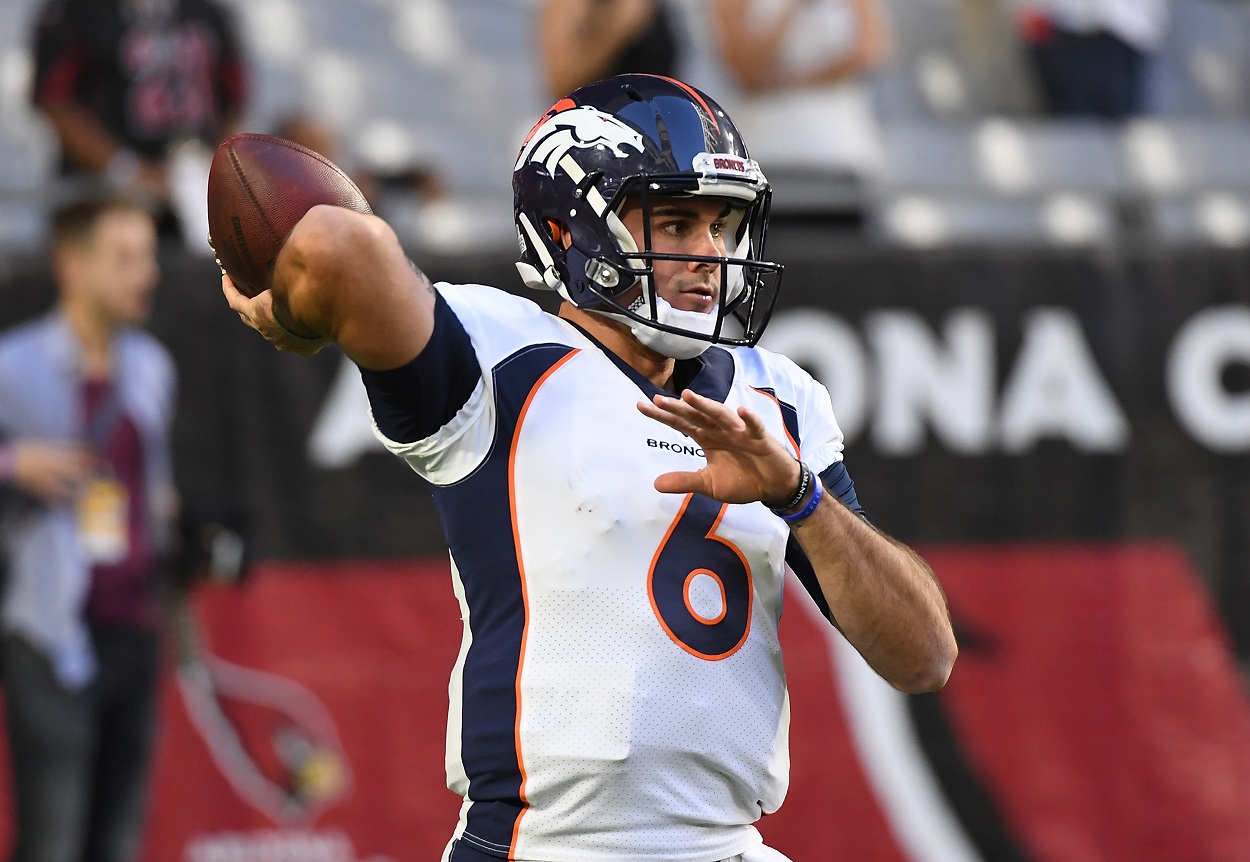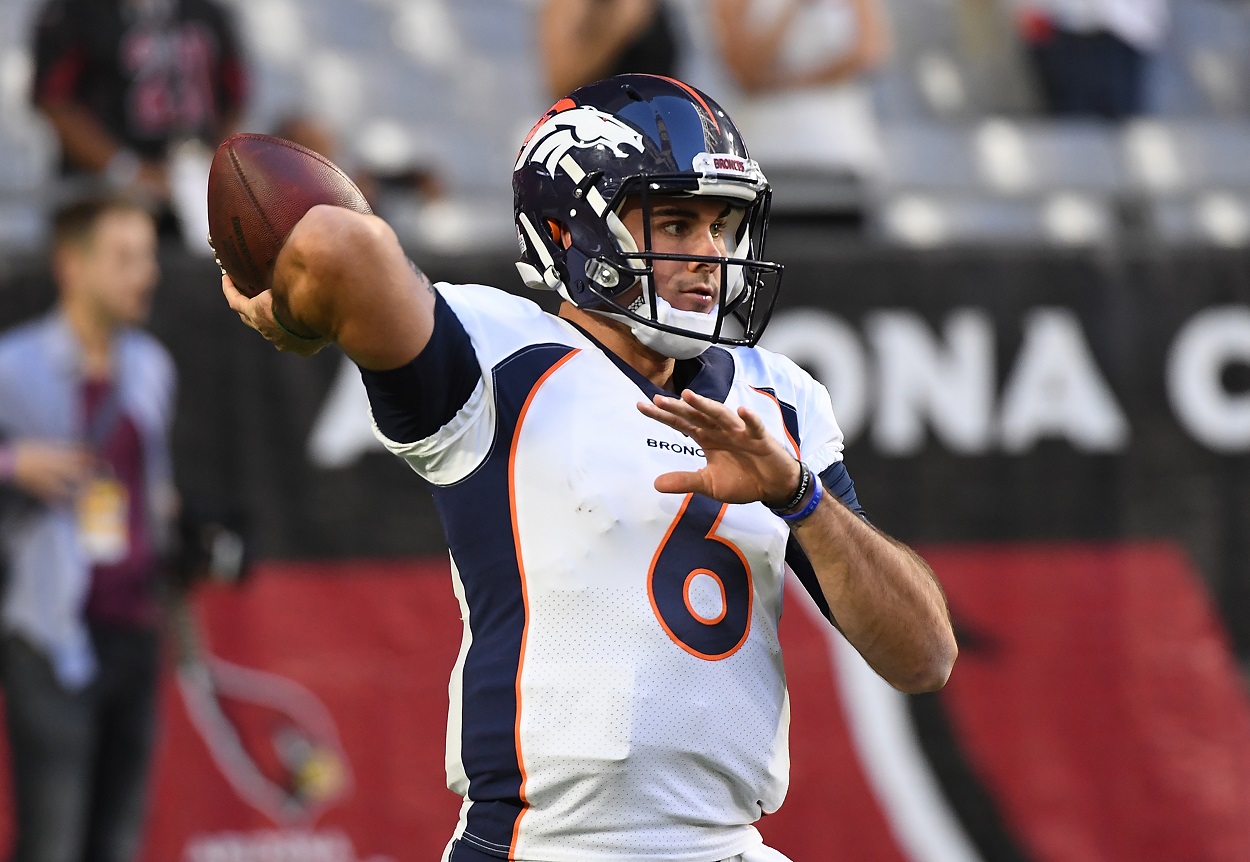 Kelly became the 2017 NFL draft's "Mr. Irrelevant" as he was selected by the Denver Broncos with the 253rd and final pick but was placed on the reserve/non-football injury list after undergoing wrist surgery. He competed for the Broncos' backup role in 2018 behind Case Keenum and won the job by beating out 2016 first-round pick Paxton Lynch.
On October 14, 2018, during a Week 6 matchup with the Rams, Kelly took his first (and only) official NFL snap, kneeling for a one-yard loss at the end of the first half. Just nine days later, however, he was arrested on suspicion of first-degree criminal trespassing after entering a couple's home in suburban Denver following a Halloween party thrown by Broncos teammate Von Miller.
The Denver Post reported that Kelly entered the home in which a couple and their young child lived and sat down on a couch next to the mother, apparently mumbling incoherently. The woman then shouted for the father, who reportedly confronted Kelly and hit him with an aluminum vacuum-cleaner tube.
Kelly fled the scene before police arrived but was arrested a short time later one block away. He was released by the Broncos the next day and later pleaded guilty to a lesser charge and was given a year of probation and ordered to perform 50 hours of community service.
Kelly signed with the Indianapolis Colts in May 2019 but was given a two-game suspension by the NFL to start the season and was released upon his return. The Colts signed him to the practice squad and later promoted him to the active roster but he never took a single snap. He was again signed to Indy's practice squad just ahead of the 2020 season but was released a few weeks later and wasn't picked up by another team the rest of the year.
So the shot he's getting with the Packers this weekend may be Kelly's last in the NFL. As mentioned, Kelly is one of two quarterbacks Green Bay is bringing in for a tryout, the other being former Virginia signal-caller Kurt Benkert, who went undrafted in 2018 and spent the last three seasons with the Atlanta Falcons.
Stats courtesy of Sports Reference