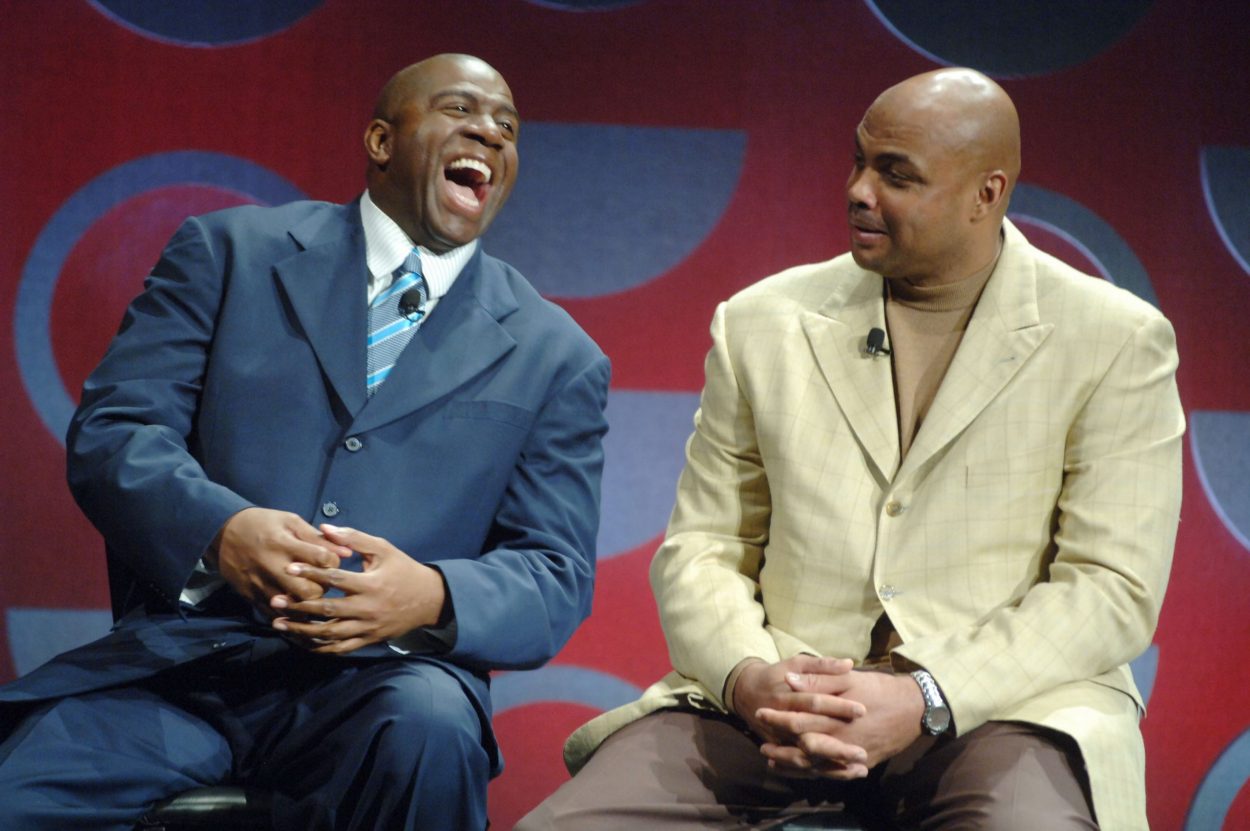 Charles Barkley Once Got Blasted By 76ers Fans For Trying to Honor Magic Johnson By Wearing No. 32
Charles Barkley wanted to honor Magic Johnson by wearing No. 32 during the 1991-92 NBA season. Philadelphia 76ers fans made the tribute something negative.
Even when he had good intentions, Charles Barkley could not win the hearts of Philadelphia 76ers fans.
Barkley had a complicated relationship with the Sixers and their fans. He developed into one of the best forwards in the NBA in Philly, but also rubbed some people the wrong way with his attitude and allegiance to being unabashedly himself. The City of Brotherly Love often made things hard on the Round Mound of Rebound, with local media even accusing him of racism.
Still, Chuck's desire to honor Los Angeles Lakers icon Magic Johnson in the wake of his retirement should have been something more wholesome. It was anything but, thanks to Sixers followers and their endless love for a retired franchise legend.
Charles Barkley wore No. 32 to honor Magic Johnson and raise awareness about HIV/AIDS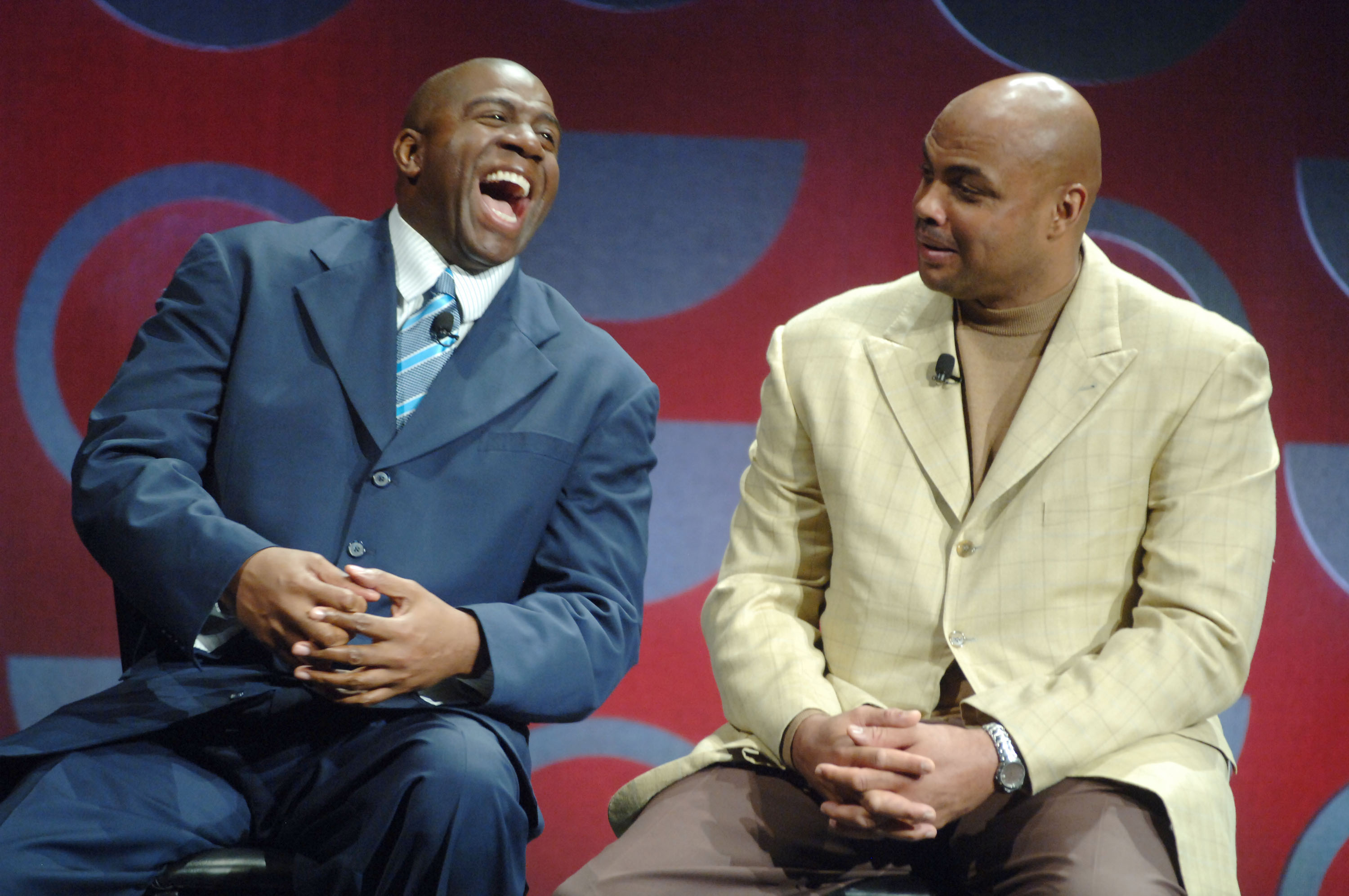 Magic Johnson shocked the Lakers, the NBA, and the entire world when he announced his retirement in November 1991. Some of Magic's peers, like Larry Bird, remained at a loss for words in the weeks after he stepped away from the game. Barkley wanted to take action.
The Sixers star desired to honor his friend and simultaneously raise awareness for HIV and AIDS. To do so, he donned Johnson's famous No. 32.
Barkley wore No. 32 for the first time on Nov. 15, 1991 in a game against Bird and the Boston Celtics. He dominated the contest, scoring 28 points on 12-of-17 shooting from the field while also grabbing 11 rebounds. Sir Charles wore the number for the remainder of the season.
Chuck's tribute had the makings of something pure. It was anything but, however, as he received ample criticism from Sixers fans behind the scenes.
Philadelphia 76ers fans bashed Barkley for wearing Billy Cunningham's retired jersey
Billy Cunningham is a Hall of Famer and one of the greatest players in Philadelphia 76ers franchise history. So when Barkley iterated a desire to wear his retired No. 32 jersey, the fans relented.
According to the Washington Post, Sixers fans throughout the city called in to radio shows with all sorts of negative takes. Some blasted Barkley for asking the team to pull Cunningham's jersey down from the rafters, even though Chuck's gesture received appraisals from Cunningham himself. Others theorized that Barkley expected the team to deny his request and use that refusal as an incentive to request a trade.
Basically, 76ers fans looked right past Barkley's friendship with Magic and assumed he had ulterior motives. Sir Charles couldn't understand the backlash.
Barkley felt he would receive scrutiny no matter what he did
Barkley simply could not fathom how fans could take his homage to Magic Johnson and make it something negative. He clapped right back at 76ers fans.
"I was just trying to salute a friend of mine. I can't believe that something that I thought was good could be turned into something bad. There's no doubt in my mind that people don't have a [expletive] clue."

–Charles Barkley (1991), via the Washington Post
Chuck continued on, saying he felt like a "steprock." Still, he refused to allow anyone hurling insults his way to get under his skin. He had some parting shots in store when the Sixers ultimately traded him to the Phoenix Suns in 1992.
Barkley went after just about everyone in the organization on his way out the door. He suggested the team wasn't trying to win and went on about the media constantly misrepresenting him and his intentions.
The Charles Barkley-Philadelphia 76ers relationship always seemed likely to come to a grim end. The outcry over Chuck's tribute to Magic Johnson may as well have forecasted his eventual departure.
Stats courtesy of Basketball Reference.