Charles Barkley Fought Back When the Philadelphia Media Accused Him of Racism
Charles Barkley has always called it as he sees it. Now a popular analyst on TNT's Inside the NBA, Barkley is renowned for his lack of a filter. When he thinks something, he says it, and it's up to the rest of us what we do with it. Sometimes that has gotten him into controversies. Those typically blow over within a single news cycle because there is one truth to Barkley's career in basketball and media:
If he doesn't believe it, he doesn't say it.
It's a refreshingly honest place from which to view the world. But Barkley beat considerable odds to become an all-time great. A player not even 6-foot-5 is never supposed to be an inside force or an unstoppable rebounder. Barkley was both of those and more. But he's never apologetic about his worldview.
Telling his truth is not new for Charles Barkley
In 1993, Playboy profiled Charles Barkley. The 30-year-old Barkley sounds nearly indistinguishable from the 58-year-old we hear on television today. Interviewed by veteran sports journalist Tom Boswell, Barkley didn't duck any questions, said what he thought, and had no remorse about it.
During his first season with the Phoenix Suns, Barkley reflected on his eight years with the Philadelphia 76ers. He was sorry that it was over, but he was bitter about how it happened.
"Last year, guys were saying they would have done better than me if they got the ball as much as I did," Barkley said. "Guys were saying I was holding them back. Hersey Hawkins said I was holding him back. He was an All-Star with me. Armon Gilliam said he didn't get a chance to show his real game.
"I told him, 'You've been on three teams. I wasn't on the other two teams, and they traded you.' Nobody ever had a problem with my game until last year, and I blame the Sixers for that. The Sixers should have come out and said, 'Listen, Charles is the only player we have with any trade value, that's why we'll trade him,' instead of saying Charles is causing all these problems."
With Barkley in 1991–92, Philadelphia won 35 games and missed the playoffs. Without him, it fell to 26–56 while Barkley and the Suns posted the NBA's best record and reached the NBA Finals. Someone was wrong, and it doesn't appear to have been Barkley.
The Philadelphia media accused Barkley of racism, which he flatly denied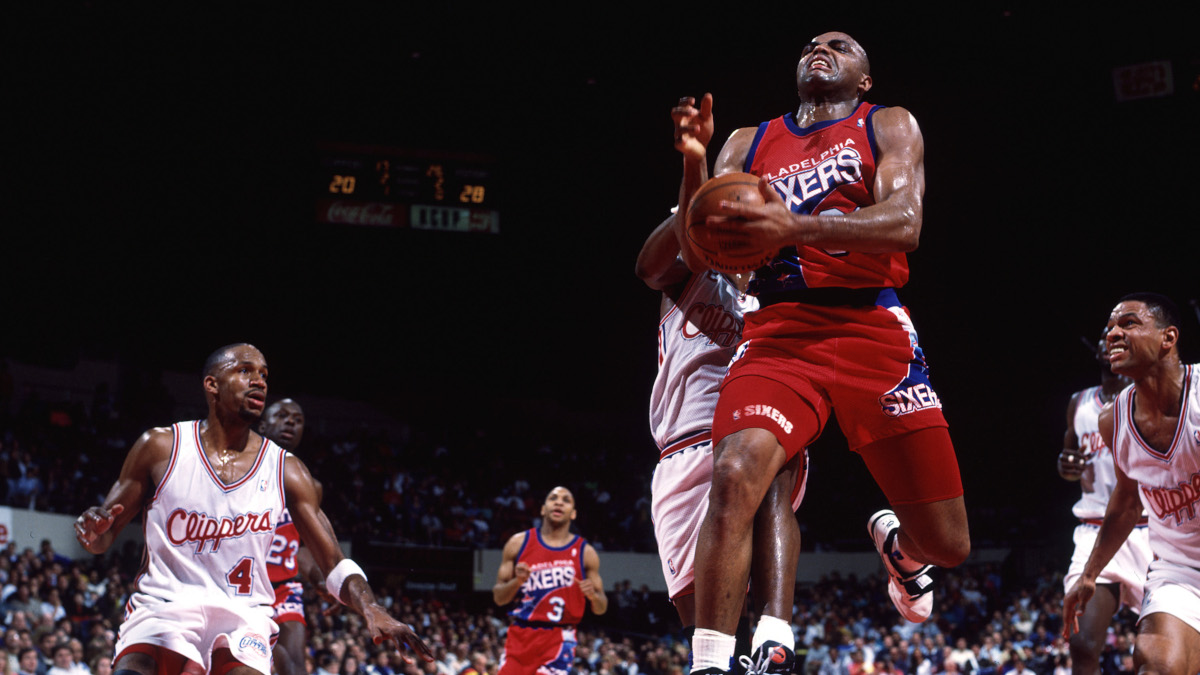 Before the 1991–92 season, the local press asked Charles Barkley about the competition to fill the final spots on the roster. Some interpreted his answer as racist, a charge he vehemently denied.
"The Sixers were down to 14 or 15 players in training camp, and somebody asked me, 'Do you think they'll cut Dave Hoppen?'" Barkley recalled. "I said, 'I don't know. But if they cut Dave Hoppen, some people will be upset because we'll have an all-Black team.' End of quotation."
He was surprised and angry when that answer turned into a racial debate:
"Well, in no way did I say Dave Hoppen was on the team only because he was white. Or a token. I was really offended by the way the media made me out to be a racist. Because, as a Black person, I am never going to be a racist. I know how it feels to be treated that way. I will never treat another person that way. Never."
The NBA was a different place in those days. It was controversial when the New York Knicks had an all-Black roster in 1979–80, the first team in league history to do so, per Newsday. It led to some fans using racist language to refer to the team. General manager Red Holzman said the decision came down to who the best 11 players were. Novel idea, that.
Charles Barkley never shies away from the racial discussion
Charles Barkley grew up in Leeds, Alabama, in the 1960s and 1970s. Raised in the projects, Barkley says he benefited from attending a primarily white school. He credits that for helping him gain perspective.
"It was good for me," Barkley said. "It gave me a chance to experience more. The educational system was better at the white school. It gave me a chance to interact with nice white people. When you're a kid, you don't think racist. When you grow up, that's when you become racist.
"Some knucklehead teaches you to be racist. You can't look at all white people and say, 'I don't like them.' You can't say, 'Well, I like all Blacks.' There are Black people I don't want to be around, and there are white people I don't want to be around."
But he also refused to use it as an excuse.
"A lot of people use racism as a crutch," Barkley said. "I'd be the first to admit that a lot of Black people use that for their failures. No white person in this world can stop me from being successful if I want to be successful. I believe that. No Black person could stop me from being successful, either."
Agree with him or not, Charles Barkley isn't going to sugarcoat things. He leaves no doubt what he thinks, and there's something admirable in that.
Like Sportscasting on Facebook. Follow us on Twitter @sportscasting19.