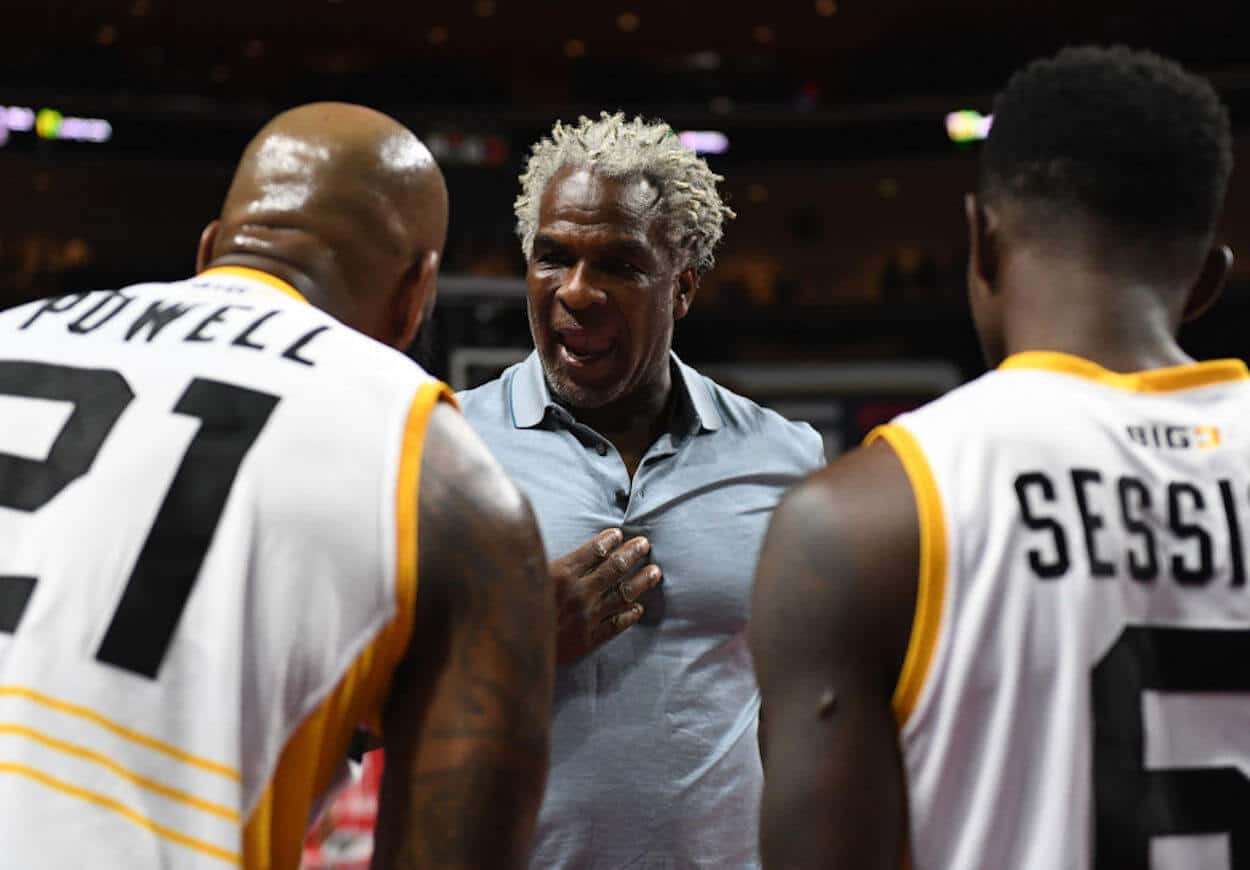 Charles Oakley Used His Hidden Culinary Talent to Help Bring His Teams Together
While Charles Oakley earned his reputation as an NBA tough guy, his teammates certainly saw a softer side away from the court.
When you think of intimidating NBA players, Charles Oakley probably lands near the top of the list. Battling in the low post was a tough enough affair in the 1980s and 1990s, but things got even tougher when you saw Oak Tree under the basket.
If you were lucky enough to be on the forward's team, though, things looked a bit different. Not only would Oakley come to your aid if things got heated, but he'd also invite you over for dinner once a month and make you a home-cooked meal.
Sound unbelievable? Well, allow the big man to explain it in his own words.
Charles Oakley learned to cook and used that talent to bond with his teammates
Based on his role as an NBA enforcer, you'd probably imagine that Charles Oakley could be a bit grumpy around the locker room. Away from the floor, however, the Virginia Union product apparently had a softer side.
During a Showtime Basketball conversation with Kevin Garnett, Oak revealed that, over the years, he actually became quite the cook.
"The thing is, I'm picky," the former New York Knick explained. "You know, my grandparents, my mother, all my sisters and my aunts, they're great cooks. So my thing, when I was coming up, I always had a good meal. When I got older, now I had to adjust from them cooking to myself cooking. And then when I got to the league, I really had to adjust because when you travel in the NBA, sometimes [you] take a five-game road trip, three games, seven days. So, my thing was, on the road, I didn't want to eat the same food on the road when I come back home. So I started dipping in that, doing this, doing that, and I started learning how to cook."
Like anything else, Oakley honed his craft. By the end of his career, he was even able to use his culinary skills to help bring the Toronto Raptors together.
"So, I'd invite every guy," he continued. "I'd tell every guy on the team, pick a day of the month. I'mma cook, and you come to the house. And whoever want to come eat, you can come eat. So, I just learned how to cook, and people started [to] believe in me. No one ever got sick, so knock on wood. That's the key. … When I played ball, it was good I learned how to cook because you can bring the team together, you know? And we can talk about stuff. We don't always have to be on the plane, in the locker room, so come over and watch the Monday Night Football, Thursday Night Football. So, I think it was better for me in my career because I can bring guys together and bring people together."
Oakley certainly knew a thing or two about being a good teammate
Even if you didn't expect Charles Oakley to be the sort of guy to spend hours in the kitchen whipping up a meal, it shouldn't be surprising to learn that he used his talents to pull the group together.
During his time on the hardwood, the big man was known as one of the league's top enforcers. While it's easy to see how that would make him a valuable teammate — everyone wants to feel protected — Oak took things even further.
Consider, for example, his relationship with Michael Jordan. While the two men didn't spend that much time together in the Windy City, they apparently formed quite the bond. Not only did Oakley eventually head to Washington to reunite with His Airness, but he's still defending MJ well into retirement.
That reality, taken in combination with the big man's anecdote about cooking, also provides a valuable reminder about the human side of team building. While it might have been easy to write Oakley off, especially in the twilight of his career, there's more to a team than its statistical output. And while you don't want to prioritize soft factors, like sticking up for teammates and cooking dinner for the guys, to the point that it hinders roster construction, there is something to be said for having good characters around the squad.
And, if you disagree, you can take that up with Charles Oakley.