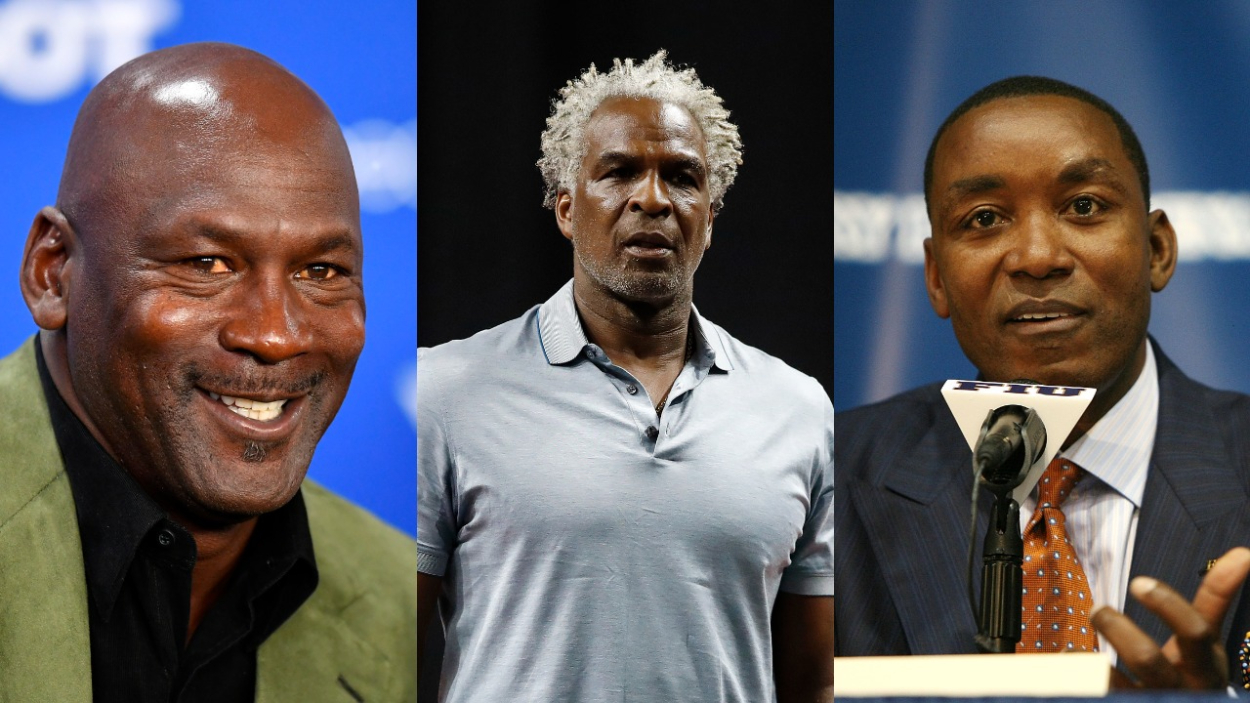 Charles Oakley Proves His Loyalty to Michael Jordan, Savagely Clowns Isiah Thomas: 'Mike Do Not Want to Be Your Friend'
Charles Oakley was Michael Jordan's ultimate protector during his first few NBA seasons with the Chicago Bulls, and he just showed his loyalty to MJ by clowning Isiah Thomas.
Before he became an All-Star power forward with the New York Knicks, Charles Oakley had one crucial job every night: to protect Michael Jordan.
Oakley played on the Chicago Bulls in the first three seasons of his career, working his way up from a solid role player to a full-time starter. And during his time with the team, he formed a tight relationship with arguably the greatest player of all time in Jordan.
Throughout MJ's legendary career, he developed numerous rivalries in the league. So, Oakley, who had an imposing presence in the paint, protected him against all those enemies. 
Detroit Pistons legend Isiah Thomas was one of his biggest.
It's hard to find someone who has had as heated a rivalry with Jordan as Thomas, and it seems it's still alive today. In fact, Oakley recently took some time to clown the Hall of Fame point guard, showing his ultimate loyalty to MJ.
Michael Jordan and Charles Oakley became good friends on the Bulls
Michael Jordan joined the Bulls in 1984 when they drafted him No. 3 overall in that year's draft. Chicago then traded for Charles Oakley, the No. 9 overall pick in 1985, that following year.
Oakley went from being a player who averaged just 9.6 points and 8.6 rebounds in 23.0 minutes per game as a rookie with the Bulls to recording 14.5 points and 13.1 rebounds in 36.3 minutes per game in 1986-87. He also formed a close bond with MJ and remains close to him to this day. Jordan even wrote the foreword in Oakley's recently-released book, The Last Enforcer.
"Me and MJ, we just bonded," Oakley said on the Feb. 3 episode of All The Smoke. "We started going everywhere together. … He stayed right around the corner from me for my first two or three years. Go in the house and play ping pong, pool, spades. … We just had fun."
Oakley has proven his loyalty to His Airness over the years, and he continued doing so recently by clowning Isiah Thomas.
Charles Oakley clowned Isiah Thomas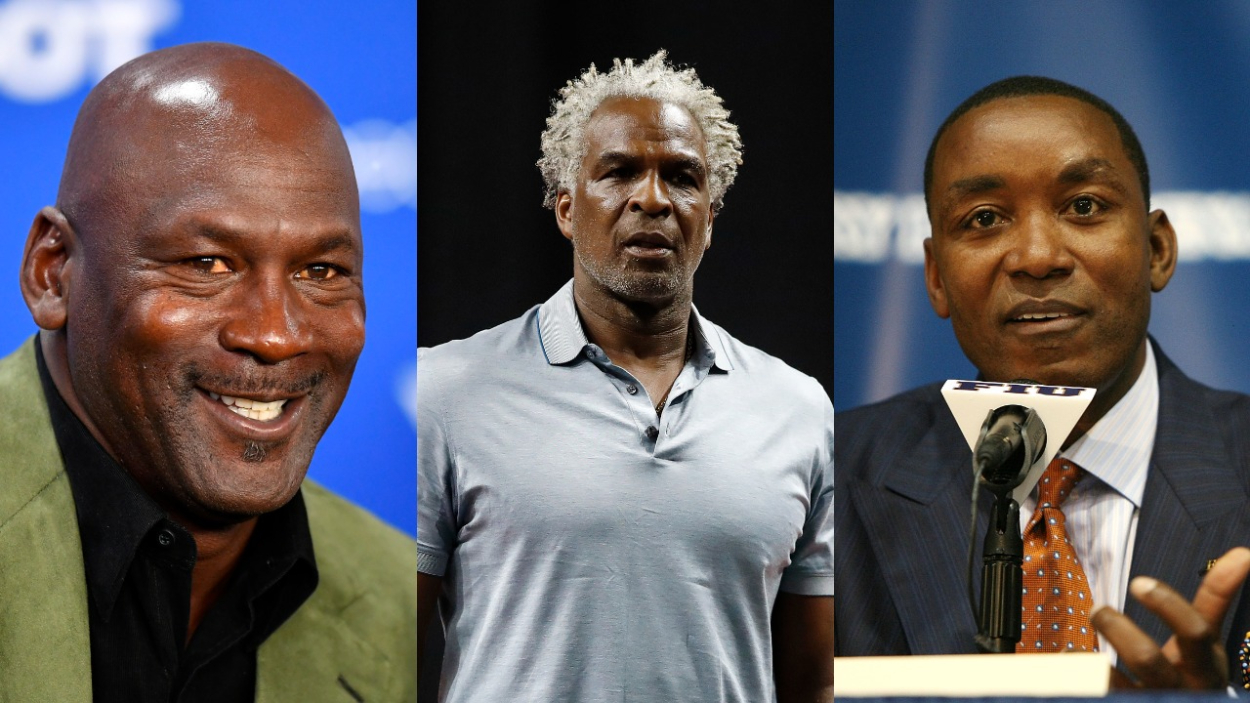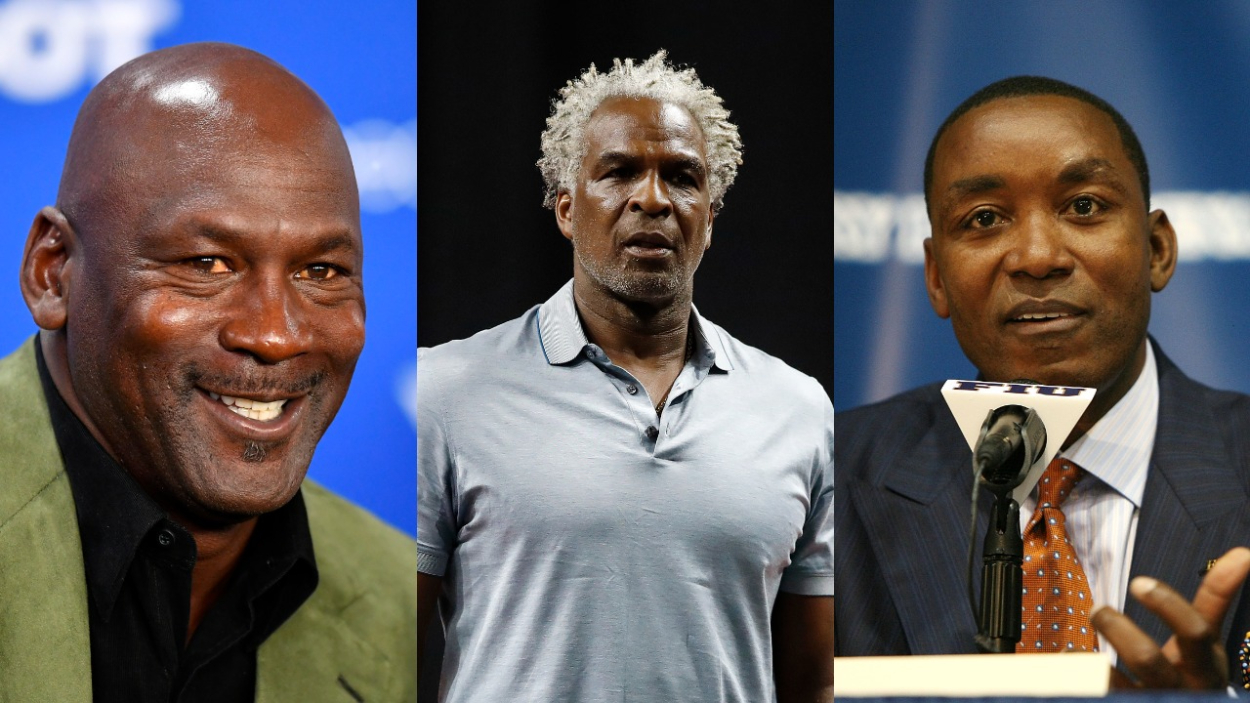 There's no NBA rivalry more contentious than the one between Isiah Thomas and Michael Jordan. From the playoff battles between the Pistons and Bulls to the belief that Jordan potentially kept Thomas off the Dream Team, their beef has numerous chapters.
So, while discussing The Last Dance, Jordan's pal Charles Oakley took some time to make fun of Thomas.
"He (Michael) said a lot about a lot of people," Oakley said on All The Smoke. "… Isiah talked about himself. Don't nobody like Isiah no more. I don't know what's up with Isiah. He's just too sneaky. He always says, 'I ain't do it,' but he did it. It's like, 'We got you on camera; you did it.' He still wanna be Mike. Mike do not want to be your friend, Isiah. I'm telling you for the fifth time. He do not want to be your friend. Stay on ESPN. Keep talking on TNT. Now you're trying to say everybody better than Mike. It's OK. You not better than Mike. He came to your city and took your city. That's why you really mad: He took over Chicago. I know."
Oakley didn't hold back.
Isiah will likely have his beef with Michael for years to come, which will, in turn, give him some sort of rivalry with Oakley as well.
Oakley is Jordan's guy.
Oak is Michael Jordan's ultimate protector
Charles Oakley has shown where he stands with Michel Jordan. His Isiah Thomas comments just further proved that. But his willingness to stand up for his friend begs one question: What if the Bulls never traded him?
Chicago traded Oakley and a couple of picks to the Knicks for Bill Cartwright, a first-round selection that later became Will Perdue, and a third-round pick. It resulted in the Bulls winning titles, as Cartwright and Perdue were both a part of Chicago's first three-peat.
However, they probably would have won those titles with Oakley as well. And there's a chance Jordan wouldn't have taken as much of a beating because of the fear Charles put into his opponents.
"He ain't take a beating when I was there, really," Oakley said on All The Smoke. "… Y'all (Detroit) was some punks. Y'all was some punks, y'all waited until I left. They was some punks; I don't care about them. Dennis Rodman, all of them. … I'll fight all of them."
So, had Oakley never been traded, would there still have been the Jordan Rules? Maybe, maybe not. Oakley's book is called The Last Enforcer for a reason, though, and he would have done whatever it took to protect Michael Jordan.
Stats courtesy of Basketball Reference