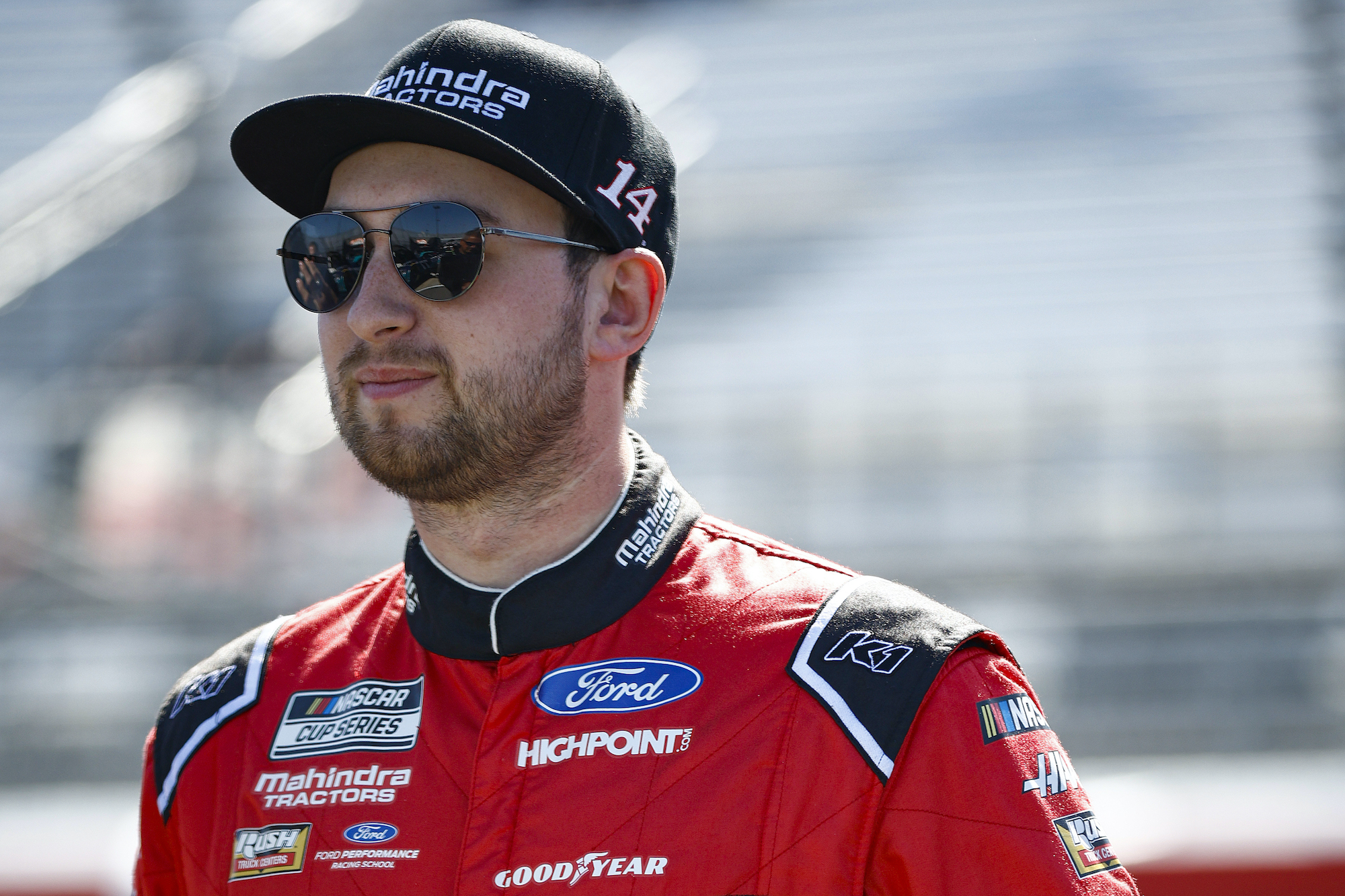 Chase Briscoe Has Cup Series Garage's Attention and Not in a Good Way, According to Austin Cindric, and It Could Prove Costly Later
Chase Briscoe has made two moves in two Cup Series seasons that has the garage's attention and should have him mirror-watching the rest of 2022.
Chase Briscoe comes across as a nice, unassuming guy off the race track. However, like so many drivers, he's a completely different person when he straps on the helmet and gets in behind the wheel of his No. 14 car. Winning, even if that means ruffling a few feathers along the way, is his top priority. He's now proven twice just how far he's willing to go in his first two NASCAR Cup Series seasons. 
And his fellow drivers have taken notice. Daytona 500 winner Austin Cindric admitted as much in a recent interview and he also said how a large number of drivers would have responded dramatically different to the Stewart-Haas Racing driver's latest incident with Tyler Reddick at Bristol.
Chase Briscoe wrecks Tyler Reddick and apologizes
On the final lap on the Bristol dirt, Chase Briscoe thought he saw an opening that would allow him to win the race, and made his move. Unfortunately, it failed and sent both him and race leader Tyler Reddick spinning and knocked both drivers out of contention, which allowed Kyle Busch, who was running third, to steal the win.
Everyone, including the SHR driver, knew he had miscalculated and costs Reddick his first Cup Series win. Realizing the gravity of his mistake, he promptly walked down pit road after the race and sought out the Richard Childress Racing driver to apologize, and did so with the understanding that he was walking into an emotional situation that could end up with him getting punched.
The No. 8 driver had no such thoughts in his mind. He accepted Briscoe's apology and even accepted partial responsibility for what had happened on the wild final lap, saying he shouldn't have let him get close enough to even consider making the move. Some praised Reddick for keeping his cool and remaining professional, while others suggested he should have delivered a more forceful response. 
Austin Cindric says Chase Briscoe has garage's attention
Austin Cindric was nowhere near the final lap chaos at Bristol. The Penske driver finished 16th. He did, however, have an opinion on what happened and shared that with The Athletic's Jeff Gluck during a recent interview when asked if someone blatantly wrecked him to win a race, would he interrupt the celebration, similar to Denny Hamlin's response last year at Martinsville to Alex Bowman's victory.
"In anything like that, it has to be a justifiable action," Cindric said. "You can look at (Bristol dirt) with Reddick and Briscoe. I think Tyler had every justification to be as mad as humanly possible, and there's 90 percent of the garage that probably would have dealt with that issue in a significantly different way. Especially given the scenario with who had done it.
"Not to pick on him, but Chase has already done that before — as far as taking out the leader of the race trying to race for the win. I know those things don't pass very easily in this garage. So I would say the justification and the situation are two very key elements."
Wrecked Hamlin last year at Indianapolis in overtime
The rookie correctly pointed out how this wasn't the first time Briscoe had gone for broke and dumped a race leader. It happened last year on the Indianapolis road course in August when Denny Hamlin exited Turn 1 wide on the second restart in overtime and forced Briscoe into the grass. The SHR rookie then cut through the grass, rejoined the track behind Hamlin, and spun him, ending his chances at victory.
Hamlin and Briscoe had an impromptu meeting on pit road where the young driver explained what happened, and the veteran listened.  
"I agree it's not on purpose, but my team told me that he had a penalty right away and to me, it's obvious," Hamlin said afterward. "If you cut the racetrack and end up in the lead, you're going to have a penalty. Lack of awareness. Race me for a lap. He went right in the back of me. We can't race that way. I don't think he did it malicious. I've raced with him for a year now. He's not that kind of person, just bad judgment."
Now that it's happened a second time in as many seasons, would Hamlin still consider it bad judgment? Cindric's comment suggests most in the garage think otherwise. Briscoe is already bound for the playoffs with a win at Phoenix. When he gets there, it might be wise to keep one eye in the mirror. 
Like Sportscasting on Facebook. Follow us on Twitter @sportscasting19.