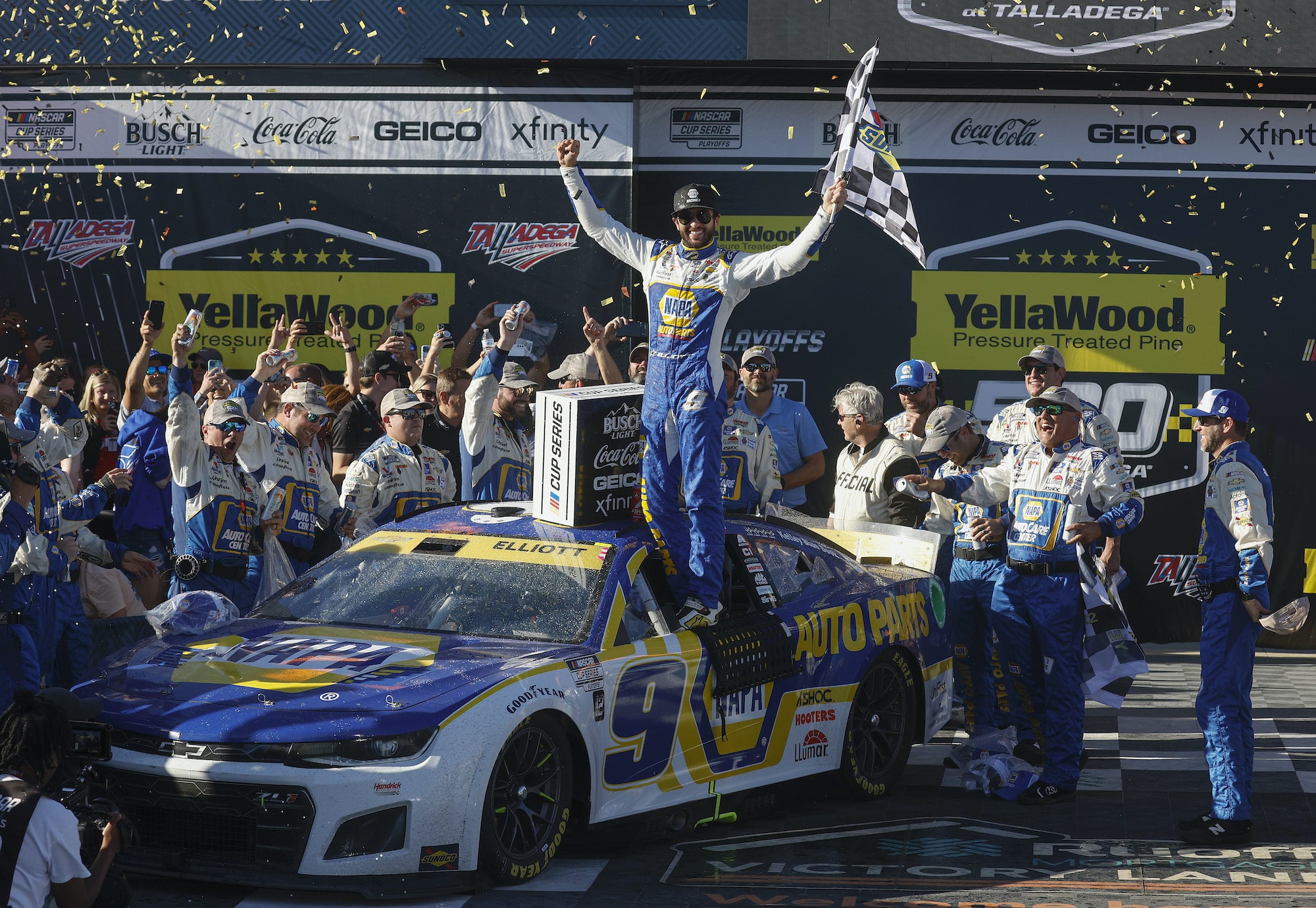 Chase Elliott Directs Stern Words at NASCAR Just Moments After Talladega Win, and Reveals Why He Could No Longer Keep His Mouth Shut on Safety Concerns
Chase Elliott bluntly admitted after winning at Talladega why he refuses to keep his mouth shut any longer about safety concerns with the Next Gen car.
Chase Elliott was understandably happy on Sunday afternoon after winning at Talladega, his fifth victory of the season and first of the playoffs, which secured him a spot in the Round of 8. However, during the celebration, the Hendrick Motorsports driver took time to address his teammate Alex Bowman's concussion situation and continued with his thoughts from earlier in the week on how it was surprising that it had gotten to this point. He also revealed why he felt that he had kept his mouth shut long enough.  
Chase Elliott replies to Justin Marks and takes aim at NASCAR 
Last Sunday at Texas Motor Speedway, Chase Elliott exited early in the race after blowing a tire, crashing into the wall, and escaping from his burning car. It would be understandable if the 2020 champion were frustrated after the race by troubles that didn't appear to be his own doing, but he wasn't. 
"I'm not sure that Goodyear is at fault," Elliott told reporters after visiting the infield care center. "Goodyear always takes the black eye, but they're put in a really tough position by NASCAR to build a tire that can survive these types of racetracks with this car. I wouldn't blame Goodyear."
The next day, Elliott was a little more pointed in his remarks when he responded to a tweet by Trackhouse Racing co-owner Justin Marks.  
"This new car is the most radical change in the history of @NASCAR – perfecting its performance and safety is going to be a process," Marks tweeted. "We cannot assume perfection right out of the gates. This comes from an owner whose parts expense is an order of magnitude more than budgeted."
"With the experience and knowledge gained since 1948 and the technology we have in 2022… we should never take steps backwards in any area with a new design," Elliott replied. 
Elliott reveals why he could no longer keep his mouth shut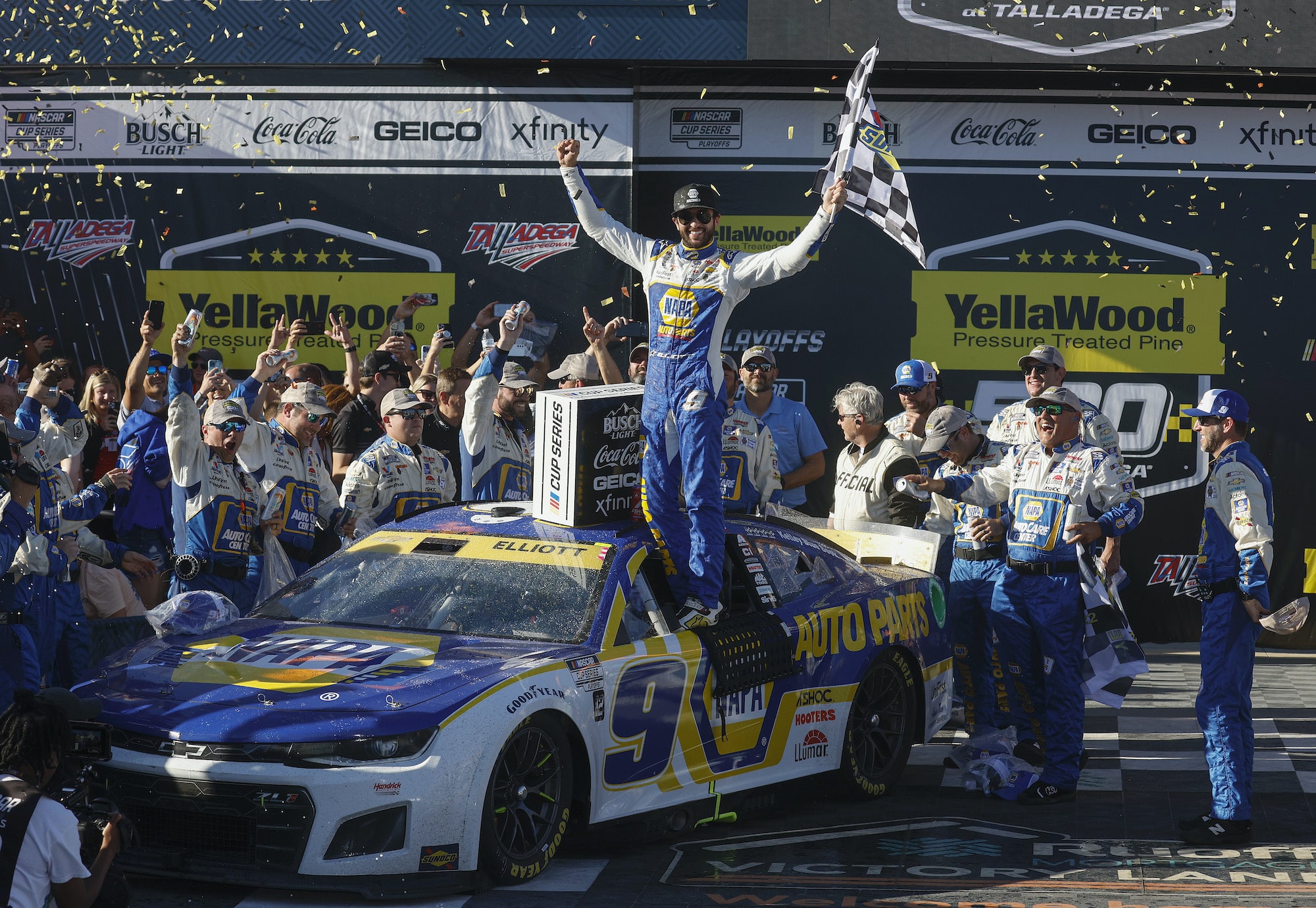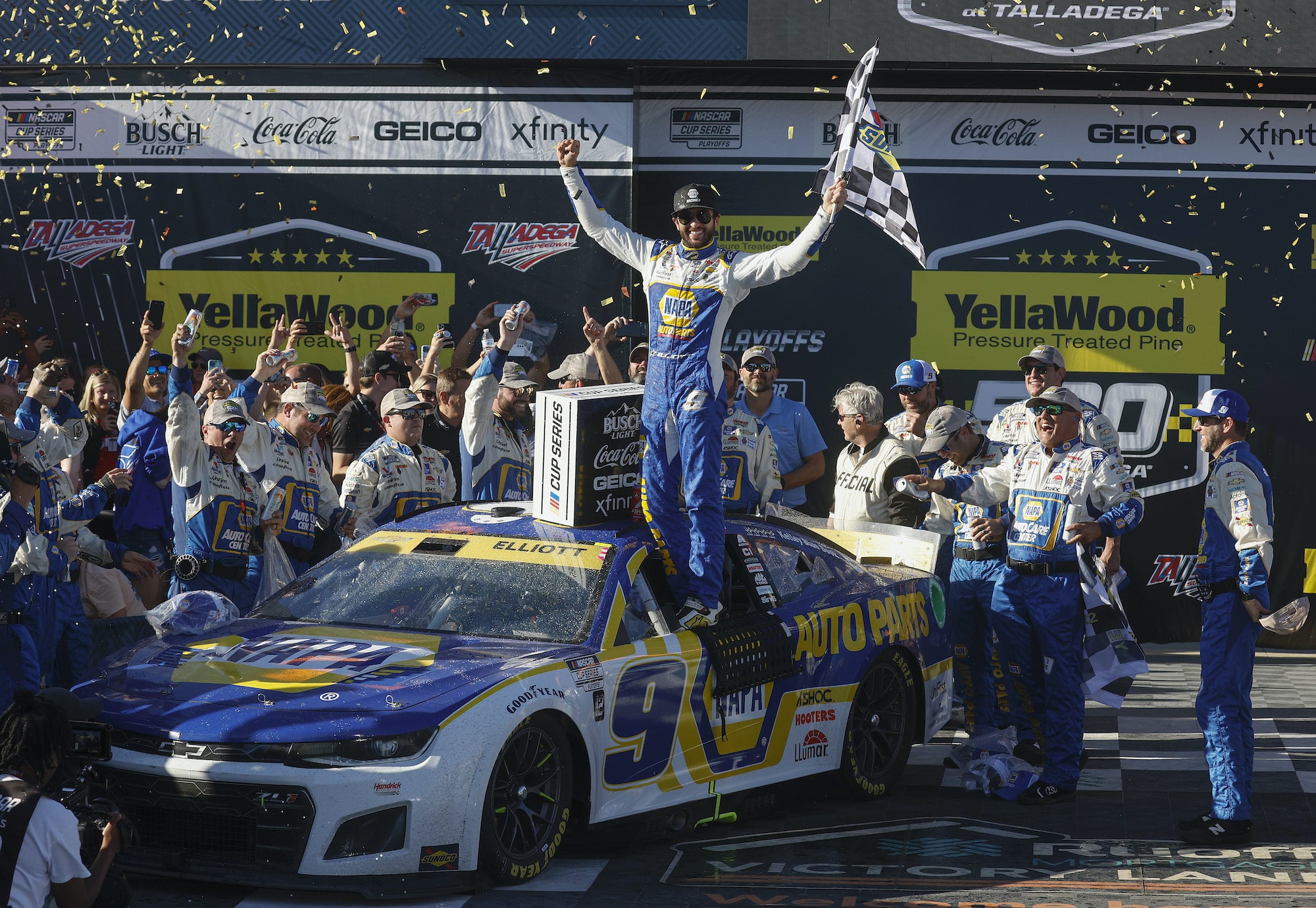 That was last Monday. Elliott was just getting started. On Saturday, before the race at Talladega, the HMS driver and others openly talked with the media about safety concerns with the Next Gen car after Alex Bowman joined Kurt Busch as the second driver to be sidelined due to concussion. 
"You have all these years of experience and knowledge and time of racing and crashing these cars and teams working on them and building them, and it just blows me away that we can have something new in 2022 that offers all this technology and all this time and experience of so many just super talented people in this sport and we allow to go backward, especially with safety," Elliott told reporters, echoing his earlier remarks on Twitter.
On Sunday, after winning the race and securing his spot in the next round of the playoffs, the 26-year-old visited with SiriusXM NASCAR's Claire B. Lang, who asked him his thoughts on Bowman, including what prompted him to be so outspoken on the matter. 
"When you start seeing your peers go down like that and know that it could be you or anybody else, this week, next week, the week after, it's a serious thing," Elliott said. "This is an area of concern that was brought up last fall. So, it's like, here we are a year later.
"I feel like everybody has kept their mouth shut for a long time and given them opportunities to make changes and do better and we haven't. Now we have two drivers out for concussions. I just think it's time to get after it. We should have never been in the situation to begin with and now that we are, we need to fix it and fix it fast."
Kyle Larson also addresses safety concerns
Interestingly, Elliott wasn't the only HMS driver to voice his concerns about the safety of the Next Gen car last week. On Saturday while meeting with reporters, Kyle Larson had some stern words of his own, and it sounded familiar. 
"All of racing has trended to try and make their stuff safer, and not that NASCAR didn't with this car, but it's definitely not as safe as the previous years of cars," Larson admitted. "That's concerning that we went backward instead of forward on the safety side of things. It is a bit odd that I feel more unsafe in a Cup car than in a sprint car at this point. Not good. 
"Now, looking at all the resources that NASCAR does have and we've gone backwards, as far as safety concerns go, that's very concerning and very surprising, too. They saw the data and saw the rear impacts were a lot worse than the previous car, yet we still rushed this car into production and went racing with it."
The past two Cup champions, who typically let their on-track performance do the talking, have felt compelled to go public and address the safety concerns, which, as both mentioned, have been around for more than a year.
It's unbelievable that it has come to this, but everyone can only hope the powerful words of the two HMS drivers, along with the others who have been outspoken (Kevin Harvick and Denny Hamlin), continue to push NASCAR to identify solutions and implement them in a timely manner.
Like Sportscasting on Facebook. Follow us on Twitter @sportscasting19 and subscribe to our YouTube channel.