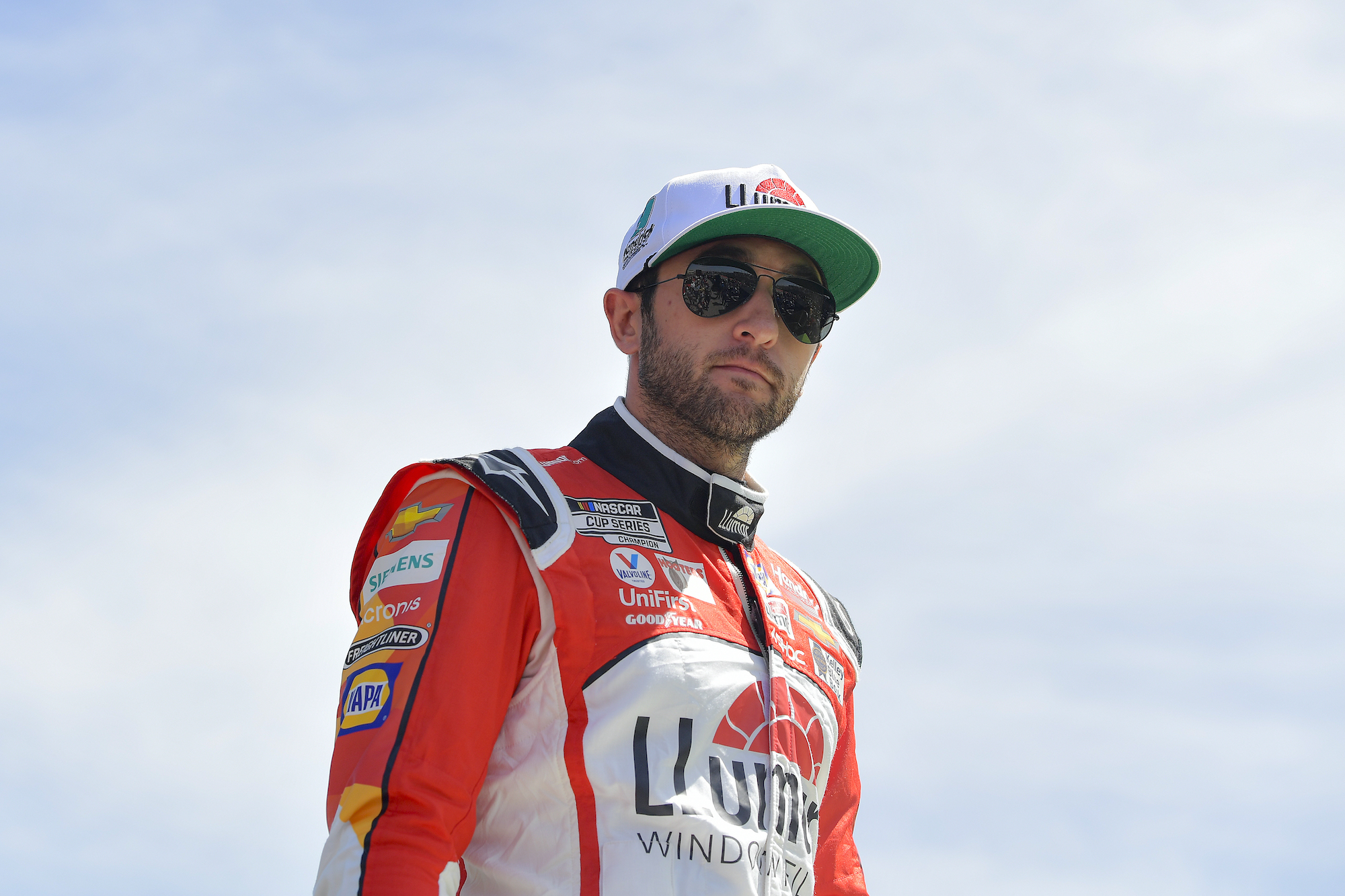 Upset Chase Elliott Tosses F-Bombs at His Team at COTA in Second Profane Outburst in a Month
The typically calm Chase Elliott has lost his cool twice in a month, including his latest profane outburst aimed at his pit crew at COTA.
Just two short years ago, Chase Elliott was in the middle of his first NASCAR Cup Series championship-winning season. Some thought it was the first of many. Then, Kyle Larson happened. 
Today, Elliott is not the champion of the sport. Heck, he's not even considered the best driver on his team. In 2022, the driver of the No. 9 car is off to a good start and leads in the points standings. However, he's missing that one critical thing — a win. His three Hendrick Motorsports teammates have each found themselves in Victory Lane after one of the season's first six races. 
During Sunday's race at Circuit of the Americas, the four-time most popular driver was in position late to make a run at winning his second race in as many tries on the technical 3.41-mile road course. Unfortunately, a bad pit stop doomed him, and the typically calm driver didn't remain calm and let his team know about his unhappiness with their performance over the radio in what is the second profane outburst in less than a month. 
Chase Elliott watching other teammates win
Last year, Chase Elliott won twice and watched his HMS teammate Kyle Larson win 10 times, plus the All-Star Race, and, most importantly, the season championship. Alex Bowman tied with Martin Truex Jr. for second in total wins with four. William Byron won a single time.
Already this season, Larson has won once. So has Bowman. And recently on the newly reconfigured Atlanta Motor Speedway, Byron added another trophy to the HMS collection. 
In a stat that's getting a lot of publicity lately with the last 12 Cup races being won by drivers 30 and under, the 26-year-old Elliott isn't one of them. 
Not happy after dropping from 11th to 4th on bad pit stop
Chase Elliott arrived in the Lone Star State with confidence after winning the inaugural race at COTA a year ago, albeit in very different conditions. After practice and qualifying this year, the No. 9 team didn't have that same swagger. Something felt off.
He started 12th, moved forward, and finished seventh at the end of Stage 1. In the second stage, due to varying pit strategies, which regularly come into play on road courses, he ended 25th. 
In the most important stage, Elliott unsurprisingly figured out the new Next Gen car on the 20-turn layout and found himself in contention late, running as high as fourth. However, during one late pit stop, the jackman didn't lift the car high enough on the right side to install the rear tire and it proved costly. He dropped from fourth to 11th and was not happy about it.
"How many more times are we gonna get f***** on pit road on the last f****** stop?" he pointedly asked on the team radio.   
Elliott lost cool in Kyle Larson conflict a month ago
While it's uncommon for the normally cool Elliott to lose his cool like he did in Austin, it's now the second time in a month. In late February, during the second race of the season at Fontana, the 2020 champion blew a gasket when his HMS teammate Larson unexpectedly ran him into the fence. 
"Stupid motherf*****!" Elliott said of his teammate.
"He's a f****** idiot," crew chief Alan Gustafson responded.
Several moments later when realizing the severity of the damage, the driver continued. "It f****** broke again," Elliott said, referring to the toe link of his car, which had already broken earlier. "Piece of s*** motherf*****. God damn it!"
Chase Elliott is leading in the points. That's a good thing. But he's lacking in the wins department and that almost guarantees a spot in the playoffs. 
As a true professional, he's going to say all the right things about being content with what he's doing and being atop the points standings. But as he watches his teammates and other young drivers earn victories, his salty language in a pair of outbursts in the last month tells a different story. 
Like Sportscasting on Facebook. Follow us on Twitter @sportscasting19.