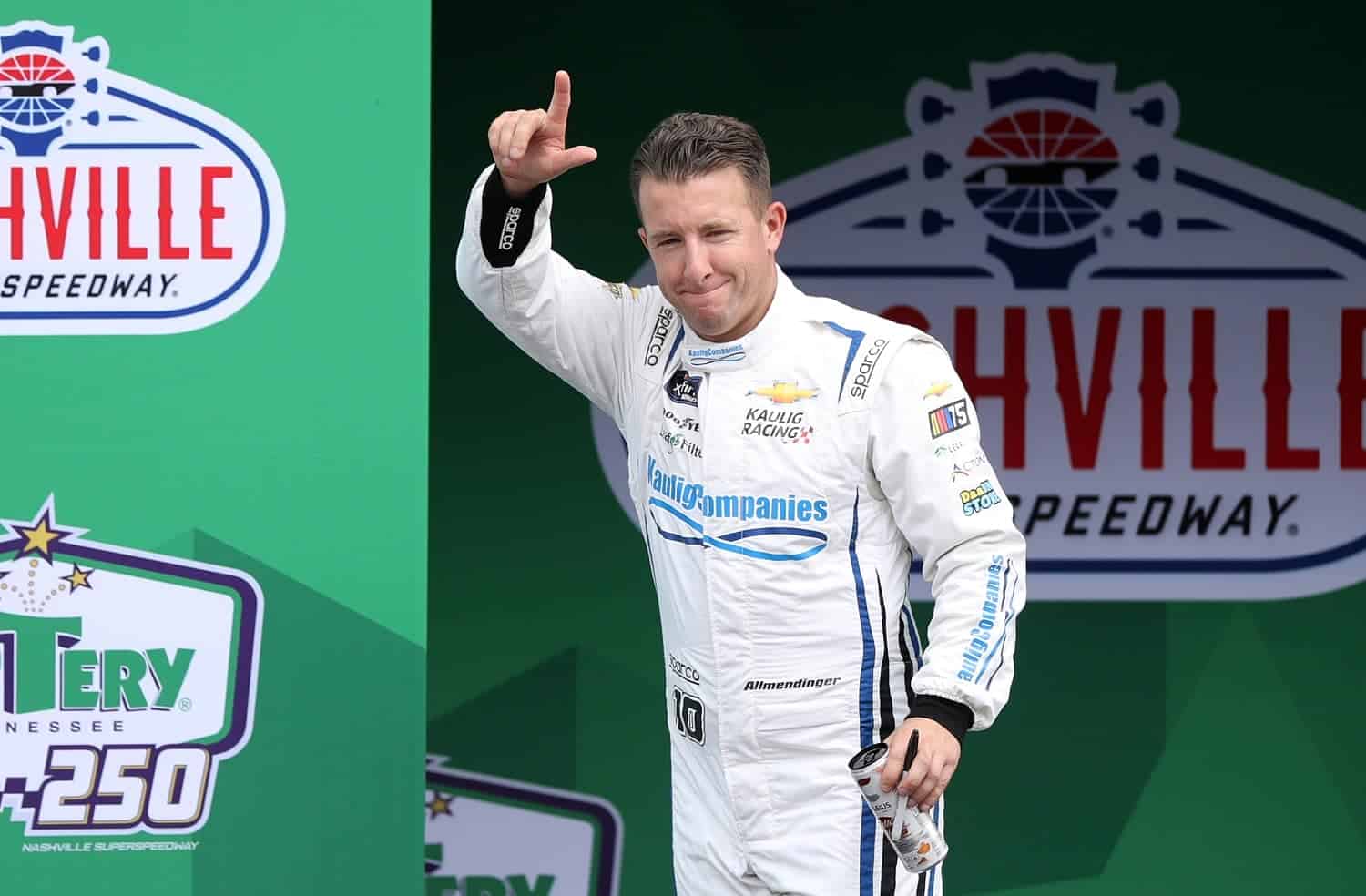 Chicago Could Be AJ Allmendinger's Happiest Week in NASCAR, so Why Is He Talking About Crying?
NASCAR veteran AJ Allmendinger says drinking, Adele, and crying get him past his worst days.
NASCAR launches its grand experiment on Sunday, and its resident nutty professor is the consensus pick for who'll benefit most. For the uninitiated, AJ Allmendinger, who drives the No. 16 Chevy for Kaulig Racing, is the only Cup Series competitor with experience in street racing, albeit years ago in open-wheel racing.
His other distinction? "Dinger" is consistently among the best interviews in NASCAR for his unfiltered, sometimes quirky, and usually humorous takes.
Chicago could be AJ Allmendinger's happiest week of the season
NASCAR veteran AJ Allmendinger is climbing out of an early-season hole and possesses momentum heading into NASCAR's inaugural street race this weekend in Chicago. With two straight top-10 results and five finishes of 14th or better in his last six starts, Allmendinger has climbed to 19th in the standings, 24 points behind 16th-place driver Daniel Suarez.
Allmendinger's specialty is road courses, comparable to the street layout in Chicago as NASCAR experiments with a new look to attract attention in a major U.S. city. He's won twice in Xfinity Series races on road courses this season, bringing his career total to 12.
That's in addition to his two Cup Series wins in 411 starts, at Watkins Glen in 2014 and the Indianapolis Motor Speedway infield in 2021. Thus, he's as good a bet as anyone to rack up big points on Sunday and perhaps snare the victory that would all but assure a Cup Series playoff berth.
Crying and Adele are involved in getting AJ Allmendinger through bad days
AJ Allmendinger doesn't hold much back in radio communications during races or interviews afterward, and one of his impressive traits is his ability to bound from frustration to humor. And while he has his detractors, that ability to fill a notebook or a digital recorder with quotable material is appreciated by reporters.
Jeff Gluck interviewed the Los Gatos, California, native for his weekly Q&A column on The Athletic website, and there was a familiar ring to one of his answers. At the end of the 2021 season, Allmendinger playfully advised soon-to-be Cup Series rookie Austin Cindric that drinking would quickly become a part of his life. When Gluck asked Allmendinger what he does to feel better after a bad day, the one-word response was, "Drink."
He then took a moment to expand upon that answer.
"I drink and then listen to Adele, cry and get a good soul cleanse in, and then I'm better after. The drinking is just one thing, but you've got to get a good cry in there, so Adele brings it out."
'Dinger' is about to become a daddy
AJ Allmendinger, 41, married Nebraska native Tara Meador in 2019, and she is seven months pregnant with their first child. How the two met goes a long way toward explaining his personality and keeps with the drinking theme.
Allmendinger said he'd been drinking when he walked up and introduced himself as a professional bowler, calculating that the University of Nebraska's success in the sport might pique her interest.
"It brought her in just enough, I had her like right on the cliff there," he said in the Q&A. "She could have gone either way, but she came in. And 10 years later, we're here."
The reporter wondered if having to recant the bowling story wouldn't be a deal-breaker.
"Well, you've already got them sucked in at that point," Allmendinger countered. "It draws them in, and then you tell them the story you want to tell them."
Got a question or observation about racing? Sportscasting's John Moriello does a mailbag column each Friday. Write to him at [email protected].