Austin Cindric Has Been Warned Before His First Full NASCAR Cup Series Season: 'You'll Start Drinking Heavy, I Promise You'
Article Highlights:
Team Penske has promoted 2020 Xfinity champion Austin Cindric to the NASCAR Cup Series
Cindric narrowly missed a second Xfinity championship this month at Phoenix
Fellow competitor AJ Allmendinger offered a tongue-in-cheek preview of what Cindric should expect
There is no disputing that Austin Cindric deserves his shot. His one full season in the trucks series earned him four more driving in the NASCAR Xfinity Series, where he continued to excel. Now, with Brad Keselowski having moved on, Team Penske is bringing Cindric to the 2022 Cup Series.
He already knew to expect fierce competition from some of the best drivers in the world. On the final weekend of the season, however, one of his top Xfinity rivals advised Cindric that there will also be drinking involved.
Lots of drinking.
Austin Cindric has assembled a sparking NASCAR resume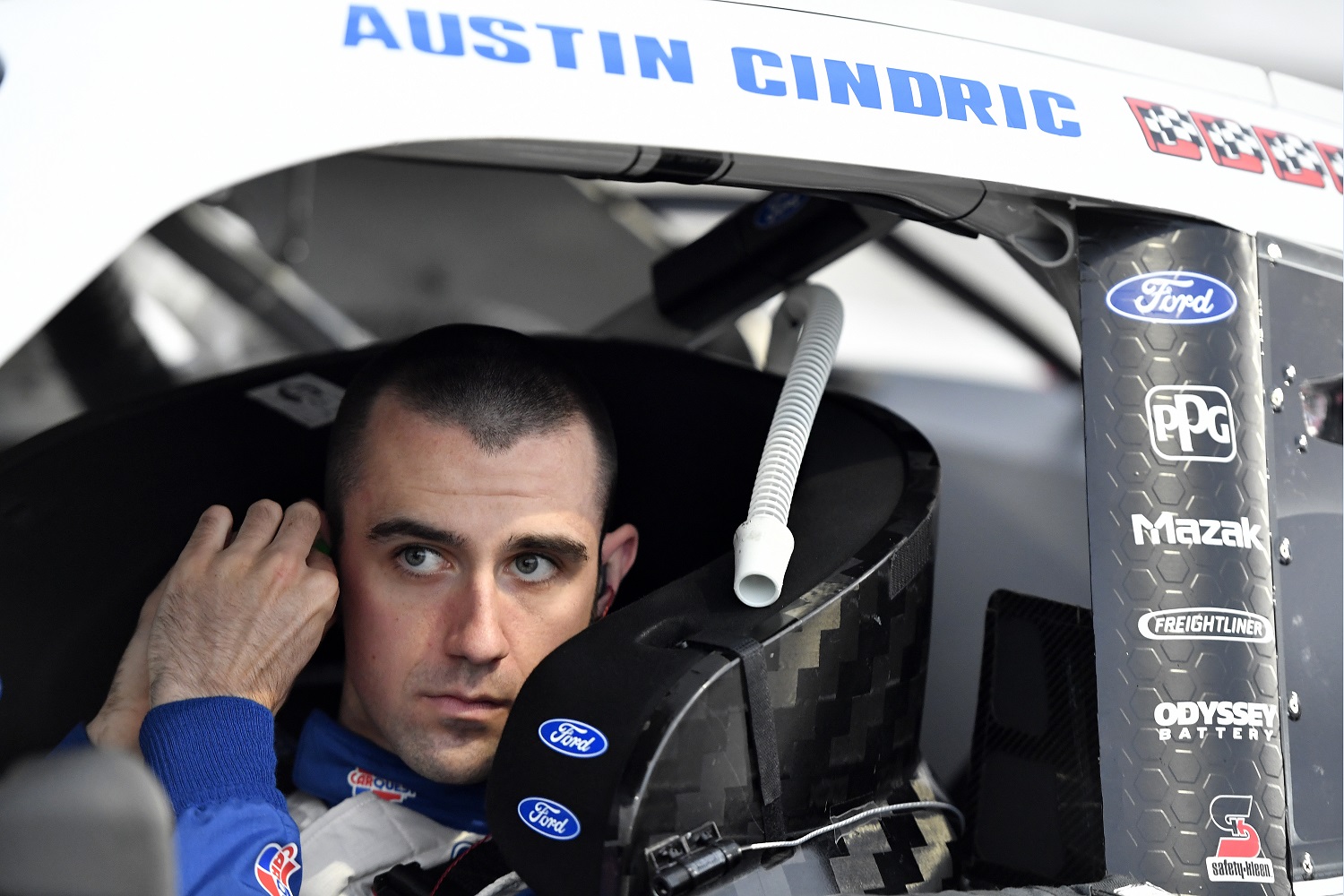 Austin Cindric's past suggests he has a long, bright future. Cindric, 23, comes to the NASCAR Cup Series in 2022 with a sparkling record in the lower series and a brief taste of the top level. Team Penske rightfully believes it has a star in the making.
Cindric started slowly in the 2017 trucks series before placing in the top 10 in 14 of his final 15 races, winning once and finishing third for the season. He went winless during his first season in the Xfinity Series but still finished eighth in points. He finally broke into the win column by going back-to-back at Watkins Glen and Mid-Ohio late in the 2019 regular season and hasn't looked back.
After winning 13 of his last 80 races, Cindric had back-to-back season titles in his sights until Daniel Hemric brushed him aside off the final turn at Phoenix Raceway this month. He finished 2021 with Xfinity-best totals of 22 top-five finishes and 13 stage wins. Additionally, he led 1,150 laps to break the Team Penske record Brad Keselowski set in his 2010 championship season.
In short, the man is ready for bigger challenges.
AJ Allmendinger: 'You'll start drinking heavy, I promise you'
The battle for the 2021 Xfinity Series championship was exciting. Almost to the very end, Austin Cindric, AJ Allmendinger, Noah Gragson, Daniel Hemric, Justin Allgaier, Justin Haley, and at least four others all looked like they had realistic shots at driving away with the trophy.
The two most consistent performers were Cindric, who's now heading to the NASCAR Cup Series, and Allmendinger, who has been there before and will get a taste of the action once again in 2022.
Allmendinger drove the top series for a dozen years beginning in 2007 with just one victory and 11 top-five finishes. Losing his ride was disappointing, but he's bounced back with Kaulig Racing, even winning at Indianapolis as a road-course ringer this season.
Allmendinger has all that experience in a sport in which Cup Series and Xfinity drivers travel in the same circles, literally and figuratively. As such, he knows the challenges of the steep leap Cindric is about to make and offered his rival a taste of what's to come after a season in which they both visited victory lane five times:
"Hell, I threw up on the back straightaway at Indy at 6 in the morning from drinking too much after winning the Cup race. I'm not going to take that away, like, 'Hell yeah!'. Who wouldn't love to throw up on the straightaway? … About 10 more years of 'Cup' (and) you'll start drinking heavy, I promise you. Don't you worry."

AJ Allmendinger
Austin Cindric moves into a good place to be
Whether AJ Allmendinger was describing the pressures of racing in the NASCAR Cup Series or reminiscing about champagne flowing on victory lane, Austin Cindric needn't worry. He's in a good place on Team Penske.
Cindric sat in the No. 33 Ford seven times last season, even finishing ninth at Indianapolis, so rookie jitters won't be an issue even though he's technically the replacement for an accomplished Brad Keselowski.
At Penske, Cindric joins drivers Ryan Blaney and Joey Logano, so it's not as though the fortunes of the organization will be riding on his shoulders. In addition, the introduction of the Next Gen car shifts the focus from drivers to equipment for at least the first four to six weeks of the season. It means Cindric can get his bearings without intense scrutiny, an advantage Chase Briscoe probably would have liked last season at Stewart-Haas Racing after replacing the retired Clint Bowyer.
He's in a good place for 2022.
All stats courtesy of Racing Reference.