Chris Bosh Made $239 Million in the NBA, but His First Big Purchase Went up in His 'Man Cave': 'This Was Better Than Money'
Chris Bosh made millions with the Toronto Raptors and Miami Heat throughout his legendary NBA career that saw him earn 11 All-Star selections and win two championships. But the big man's first major purchase wasn't a car, house, or any other typical big-money item. It was something that went in his man cave.
Getting that first big paycheck as a professional athlete can be life-changing. There are countless stories of players who used that cash to buy a nice car, new house, or a closet full of new clothes. That's not what former Toronto Raptors and Miami Heat star Chris Bosh did, though. Bosh's first big purchase was something that eventually went up in his "man cave."
Chris Bosh worked hard for the money he earned
Chris Bosh didn't get things handed to him as he grew up. He worked hard for the money he made.
According to NBA.com, Bosh spent his childhood in Hutchins, Texas. He and his little brother shared a bed until his younger sibling was six years old, and they then later shared a bedroom. They often cut grass, washed their grandma's car, and picked pecans for money, which taught them the value of working hard for what they earn.
That hard work likely played at least somewhat of a role in Bosh becoming a dominant force on the basketball court. He eventually became a star at Lincoln High School in Dallas before playing college ball at Georgia Tech.
In college, Bosh averaged 15.6 points, 9.0 rebounds, and 2.2 blocks as a freshman, and he earned the 2002-03 ACC Rookie of the Year award.
But his stellar play didn't just help him earn collegiate accolades. It also helped the 6-foot-11-inch superstar become a top NBA prospect.
His first big purchase was an iconic NBA painting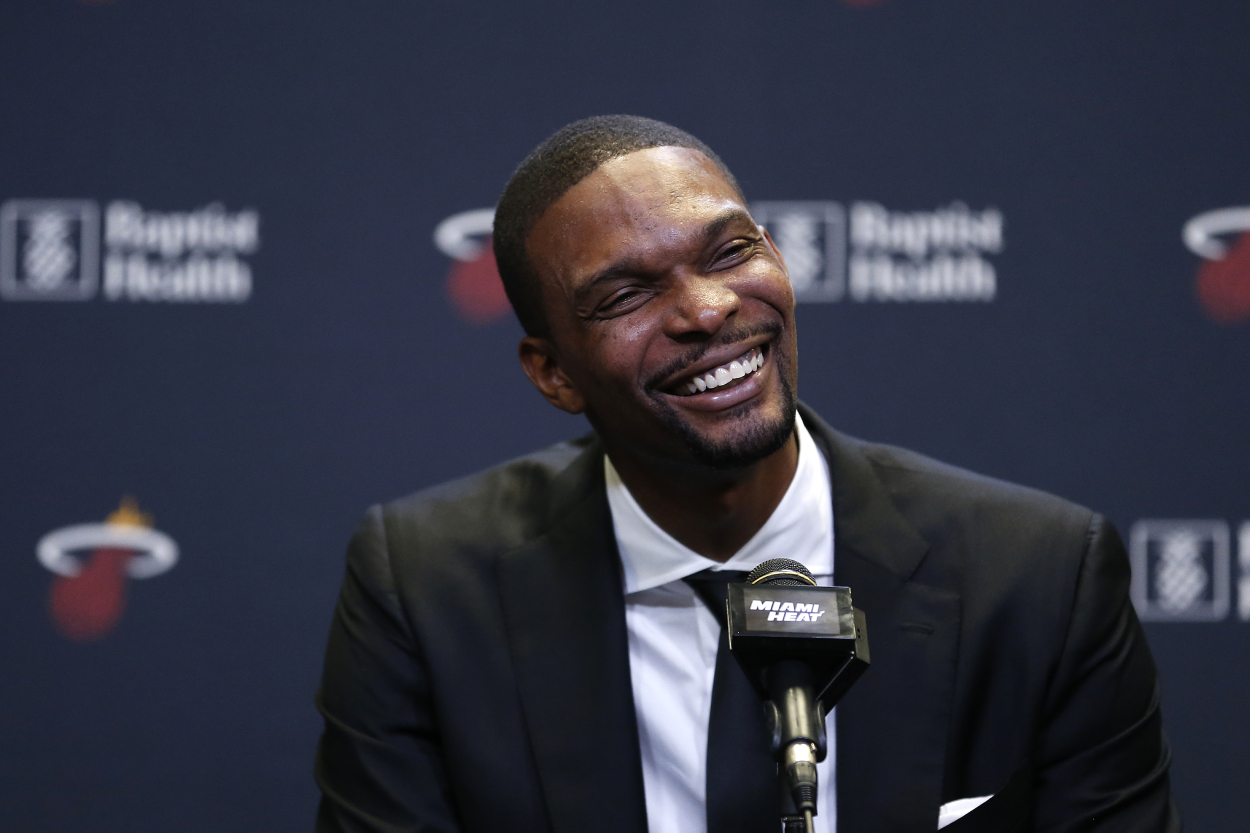 Chris Bosh went to the Raptors with the No. 4 overall pick in the 2003 NBA Draft, and he made boatloads of money right away. Bosh earned an estimated $2.99 million as a rookie and around $13.7 million through his first four seasons.
So, what did the man who came from a modest upbringing buy with his first big purchase?
According to a 2016 piece by ESPN, after the Raptors drafted him in 2003, Bosh bought a painting (with autographs) of the top-50 greatest players in NBA history. Only 250 of them were made and 50 of them went to the players in the picture. The other 200 are out there somewhere — one being Bosh's.
In 2016, the big man said it hung on a wall in his "man cave," per ESPN.
"This was better than money," Bosh said, per ESPN. "There were only so many in circulation."
So, how much does the picture cost? It's unclear how much Bosh bought it for, but one on eBay with 49 autographs is listed for $68,900.
At one point, Bosh said he thought he would be on the next top-50 painting. But the unfortunate ending to his career will likely keep him off it.
He still, however, had a legendary NBA tenure and made a significant amount of money in the process.
Chris Bosh became an NBA legend with the Raptors and Heat
Chris Bosh had a marvelous seven seasons with the Raptors after going to them in the 2003 NBA Draft, as he earned five All-Star selections in Toronto. He averaged 22.8 points and 9.9 rebounds during those five stellar campaigns.
In 2010-11, though, Bosh went to the Miami Heat to team up with Dwyane Wade and LeBron James. His numbers took a dip while in Miami, but he still earned six All-Star selections and led them to four consecutive NBA Finals, where they won two championships.
Bosh's last season came in 2015-16, as his career ended earlier than expected due to blood clot issues. He, however, still went out with an incredible resume and a significant amount of cash. Bosh was an 11-time All-Star, a two-time NBA champ, and he averaged 19.2 points and 8.5 rebounds for his career. The big man later earned a spot in the Naismith Memorial Basketball Hall of Fame for the class of 2021. Bosh's success also helped him make an estimated $239 million in the NBA and rack up a $110 million net worth.
No, there likely won't be a future athlete who buys a top-50 player painting with Bosh on it. But he's still a legend and his career deserves to be celebrated.
Stats courtesy of Basketball Reference. Contract numbers courtesy of Spotrac. Net worth courtesy of Celebrity Net Worth.