Chris Jericho vs Eddie Kingston on AEW Dynamite Is Going to Be 'Barbaric,' According to Hardcore Legend Tommy Dreamer
For months now, Chris Jericho vs Eddie Kingston has been the biggest blood feud (literally and figuratively) on AEW Dynamite. The former WWE superstar and all-time great has tortured, thwarted, and trash-talked the independent scene legend at almost every turn. Now, Jericho and Kingston will go one-on-one in a Barbed Wire Everywhere Death Match. And the Jericho Appreciation Society will be suspended above the ring in a shark cage.
While the event will make for an incredible AEW Dynamite TV show, it will be a 'barbaric' match for the performers in the ring. That's according to someone who knows better than almost anyone else: Hardcore legend Tommy Dreamer.
The Barbed Wire Everywhere Death Match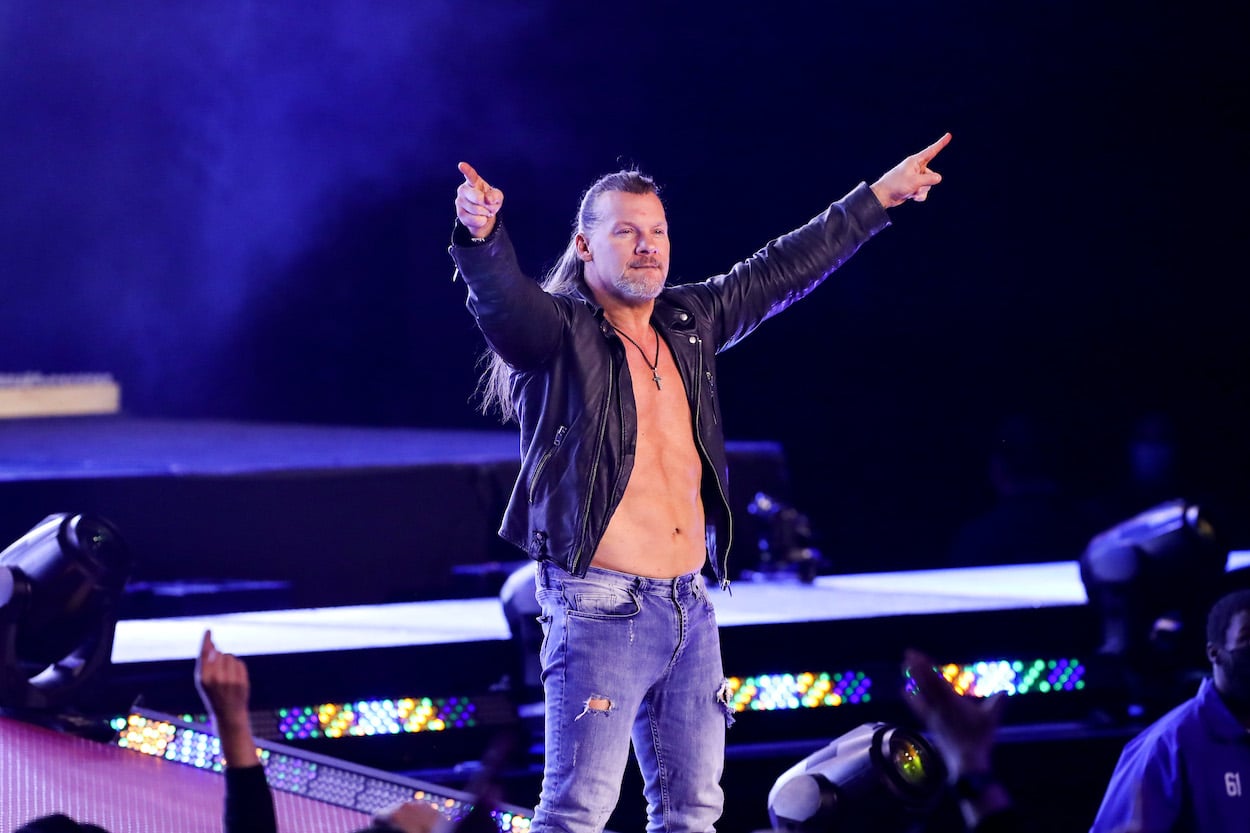 AEW's Fyter Fest Week 2 will kick off with an AEW Dynamite episode featuring a Barbed Wire Everywhere Death Match between "The Painmaker" Chris Jericho and Eddie Kingston.
The two wrestlers have been feuding since late 2021. They, along with the Jericho Appreciation Society and Blackpool Combat Club, have produced some incredible hardcore matches.
For this match — in conjunction with Shark Week on Discovery (TNT's fellow Warner Brothers-owned sister network) — the JAS will be suspended above the ring in a shark cage.
The real draw, though, will be the match below with, as the name suggests, barbed wire everywhere around the ring.
On a recent episode of the Busted Open podcast, former ECW and WWE superstar and the current owner of the House of Hardcore wrestling promotion, Tommy Dreamer, explained what a match like this is like for pro wrestlers:
Barbed wire matches are not pretty. And they hurt, and there's going to be blood. … We only did a few in ECW because they were that barbaric. I remember there was one in TNA, and it got kicked off the network because they said it was too barbaric. They couldn't show it when they saw the screener. This is going to be on live television, so, hopefully — I know it will work out with the competitors in there. But when you saw people complaining about Blood & Guts because of the blood and guts, you're surrounding the ring with barbed wire. It's meant to cut you open. You're going to see people bleeding a lot.

Tommy Dreamer on barbed wire matches
For Dreamer to say that barbed wire matches were too hardcore to do too often back in the ECW days is truly saying something.
The Chris Jericho vs Eddie Kingston Barbed Wire Everywhere Death Match on AEW Dynamite Wednesday will absolutely be iconic. But it won't be for the faint of heart.
The Chris Jericho vs Eddie Kingston feud
In addition to the brutal spectacle of the Chris Jericho vs Eddie Kingston Barbed Wire Everywhere Death Match on AEW Dynamite Wednesday, there is also a gripping story to tell.
The Chris Jericho vs Eddie Kingston feud started at AEW Dynamite New Year's Smash in December 2021. 
Jericho came out and interfered for Kingston with Santana and Ortiz vs Daniel Garcia with Jeff Parker and Matt Lee. Kingston got mad at Jericho, saying he didn't need the help. The feud led to Santana and Ortiz leaving Jericho's inner circle. "The Wizard" formed a new faction, the Jericho Appreciation Society, with Matt Menard, Angelo Parker, Daniel Garcia, and Jake Hager. 
The feud escalated, with Jericho throwing fireballs in the face of Kingston and his associates.
At AEW Double or Nothing in May, the JAS took on Kingston, Santana, Ortiz, and Blackpool Combat Club members Bryan Danielson and Jon Moxley. In the violent, bloody match, Kingston poured gasoline on Jericho, but Danielson stopped him before a fire started. 
These same basic groups — with Sammy Guevara and Tay Conti for JAS and Claudio Castagnoli and Wheeler Yuta in place of an injured Danielson for BCC — fought on AEW Dynamite in a Blood & Guts cage match, which Kingston's side won. 
However, Kingston didn't get to make Jericho bleed in this match. That fact, combined with Conti injuring Kingston's good friend Ruby Soho, led to the Barbed Wire Everywhere Death Match.
You can see this battle on Wednesday's AEW Dynamite at 8 p.m. EST on TNT.
Like Sportscasting on Facebook and subscribe to our YouTube channel.
RELATED: Is AEW CEO Tony Khan Related to WWE President Nick Khan?