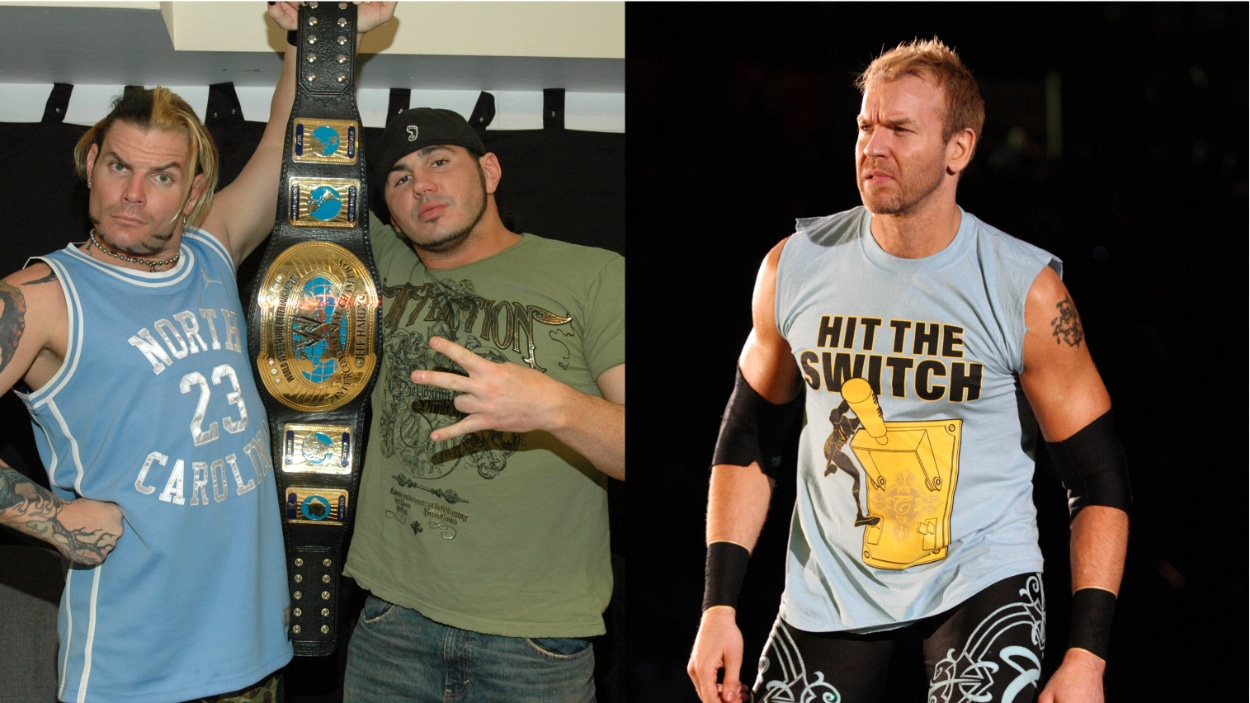 Christian Cage Delivers Another Below-the-Belt Promo on 'AEW Dynamite'
Christian Cage is going off on fellow AEW wrestlers, bringing up real-life tragedies like Luke Perry's death and Jeff Hardy's arrest in promos.
The Christian Cage heel turn in All Elite Wrestling (AEW) has gone from 0 to 60 in no time flat. Turing on his Jurassic Express protégé Jungle Boy in the ring was one thing, but his vile personal attacks in promos after that moment have taken it to another level. And just two weeks after making fun of Jungle Boy's (real-life) dead father, the former WWE superstar went below the belt again. This time it was calling out Matt Hardy for his brother Jeff's (real-life) addiction problems.
Christian Cage got personal with Matt and Jeff Hardy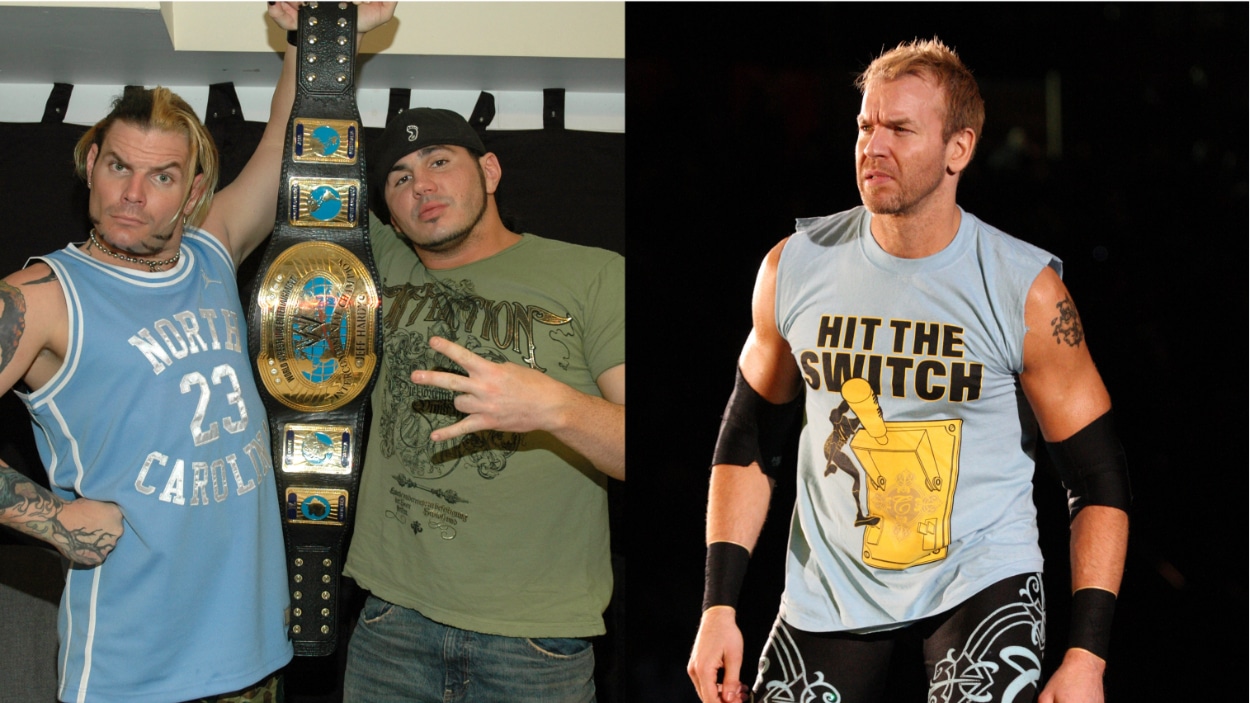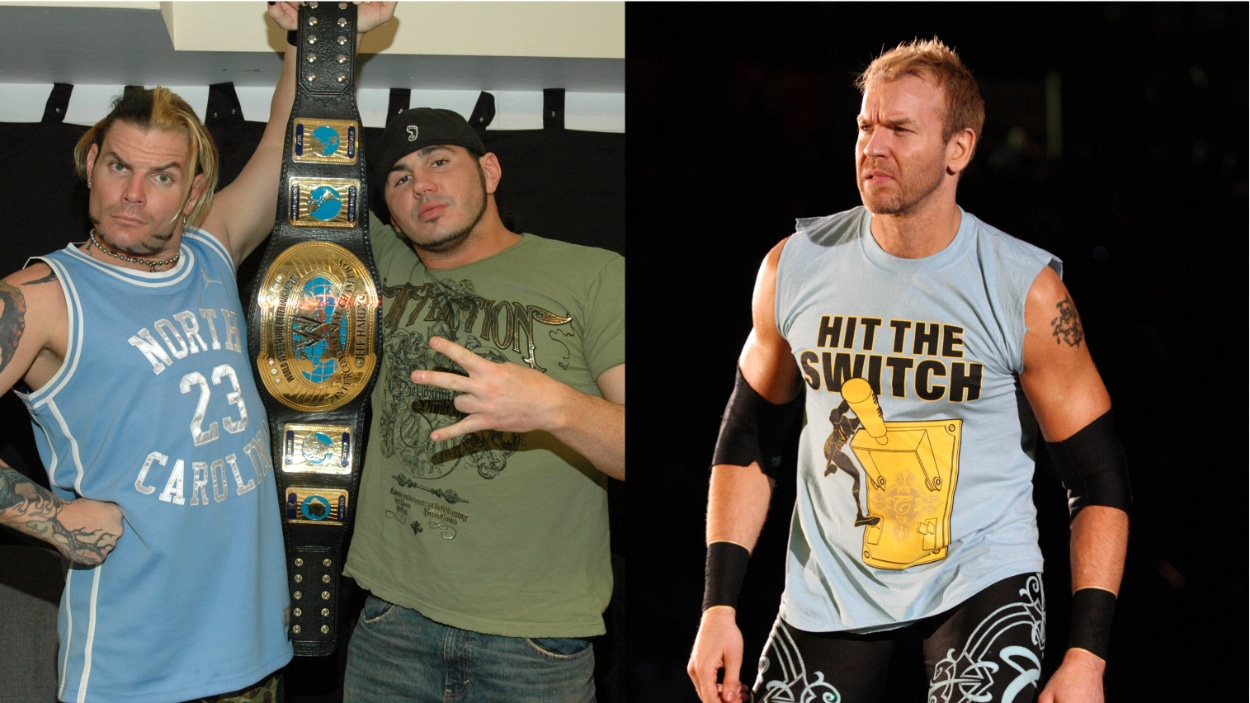 The heel turn from Christian Cage in AEW was quick and decisive over the last month. After backstabbing Jungle Boy and getting incredibly personal with him and his family (more on that below), Cage did it again with a promo delivered to Matt Hardy on the Wednesday, July 6 episode of AEW Dynamite.
The promo came amidst the backdrop of Jeff Hardy, the longtime professional wrestler, and member of the Hardy Boyz tag team, with his brother, Matt, being arrested for DUI.
According to the Daytona Beach News-Journal, Florida Highway Patrol arrested Jeff on June 13. The FHP charged the wrestler with DUI, driving on a suspended license, and "violating a restriction which required him to have a DUI interlock device in his vehicle."
This was Jeff's third DUI arrest and the latest in a string of addiction-related troubles for the AEW star.
On the July 6 episode of AEW Dynamite, Jeff's brother Matt interrupted a Christian Cage promo to defend Jungle Boy, and Cage turned his barbs to the younger Hardy's situation, telling Matt:
You can't stand when your name isn't in the headlines for more than two seconds. You use everybody around you. You'll use your kids, you'll use your wife, your father-in-law … You'll even turn a blind eye to your brother and his issues just so you can ride his coattail for one last run. … And here's the thing. Your screw-up, loser brother isn't even the most embarrassing to your family. You are!

Christian Cage on Matt and Jeff Hardy
The deep-cutting personal attack from Christian Cage got a massive reaction from the crowd and accomplished its purpose of turning Cage heel as quickly as possible. It also was very on-brand for Cage as he delivered a similar style of promo two weeks earlier, using the death of actor Luke Perry to get under his son's skin.
Christian Cage turned on Jungle Boy, and thing's got personal
Shortly after joining AEW in 2021, Christian Cage hooked up with the Jurassic Express tag team of Jungle Boy and Luchasaurus as a mentor.
The team became AEW Tag Team Champions but lost the belt to The Young Bucks on the June 15 episode of AEW Dynamite. After the match, Cage attacked Jungle Boy in the ring.
The turn happened with Jungle Boy's (Jack Perry) mother and sister in the front row. After the beatdown, Perry's family gave Cage the middle finger.
A week later, Cage delivered a vicious promo where he brought up Jungle Boy's family and the death of his real-life father, Beverly Hills 90210 star Luke Perry. Cage said:
I was only giving Jungle Boy's mom a chance to apologize to me for giving birth to Jungle Boy. And she instead flipped me off. But here's the thing. Here's why I think she's really mad. I think she saw her knight in shining armor go off into the sunset. I think she's a little sweet on Christian Cage, if you know what I mean. … Here's the thing, Jungle Boy. I never wanted to be your father. I never wanted to be your father figure. You have a father, but your father's dead. And that's probably a good thing, Jungle Boy, because he would be embarrassed and ashamed to see how you turned out.

Christian Cage on Jungle Boy's father, Luke Perry
Christian Cage is truly going for it in a big way during this heel turn, and personal attacks based on real-life subjects have gone on before in pro wrestling.
In fact, this isn't even the first time that real-life events involving Christian Cage and Matt Hardy have been used in kayfabe storylines.
When kayfabe and real-life mix in pro wrestling
In pro wrestling, kayfabe (fictitious yet presented as real) storylines are the norm. However, every so often, real-life drama spills over and becomes part of the television narrative.
An authentic beef between Sean Michaels and Brett "The Hitman" Heart got personal in the 1990s. HBK suggested in his infamous, televised "Sunny days" promo that the married Hart was having an affair with the wrestler Sunny.
A few years later, Paul Heyman delivered a blistering attack on WWE head man Vince McMahon.
Heyman brought up the infamous "Montreal Screw-Job" and McMahon's mistreatment of Hulk Hogan and Michaels. Most brutally, Heyman suggested that Vince waited until his father, Vincent J. McMahon, to die before he broke the elder McMahon's word to regional wrestling promotions that WWE wouldn't crush them.
Despite all this, possibly the biggest real-life-drama-turned-storyline involved Matt Hardy and Christian Cage.
In 2005, Matt Hardy's then-girlfriend, Lita, cheated on him with Christian's WWE tag-team partner, Edge. The genuine feud turned into an on-screen storyline, and Matt Hardy and Edge got into it (for real) during an episode of WWE's Byte This! show.
The two wrestlers started bickering, and, as the back-and-forth got more and more personal, Matt Hardy went so far as to drop the wrestling kayfabe altogether and started addressing Edge by his real name, Adam.
There is a long history of wrestling superstars dropping real events into promos like Christian Cage is doing on AEW these days. However, that doesn't make them any more cringe-worthy to watch and listen to.
How to get help: In the U.S., contact the Substance Abuse and Mental Health Services Administration helpline at 1-800-662-4357.