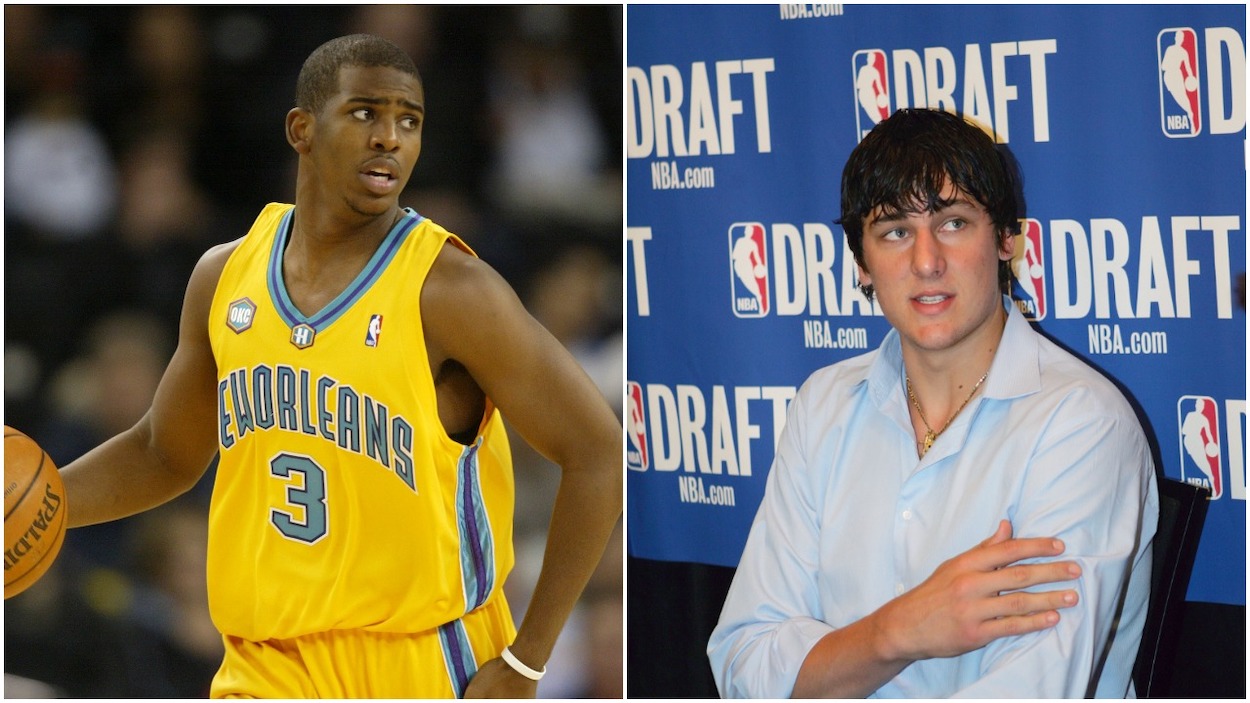 Chris Paul Was Almost a Milwaukee Buck Until Andrew Bogut Shocked NBA GMs at His Draft Interview
Chris Paul is facing the Milwaukee Bucks in the NBA Finals. The all-time great point guard may have been a Buck if not for Andrew Bogut's unique draft strategy. The center treated the draft process like a business interview which impressed the Bucks. They picked Bogut No. 1 and Paul fell to No. 4.
After 16 seasons of struggle and strife, Hall-of-Fame-bound point guard Chris Paul is finally in the NBA Finals with the Phoenix Suns. The Western Conference champs are taking on Giannis Antetokounmpo and the Milwaukee Bucks. 
No one can predict how his career would have played out, but there is a chance Paul could be in the other locker room in this series if Paul's draft night had gone a little differently. The Bucks held the first overall pick in the 2005 NBA draft and, although many considered Paul the best player, the franchise took Utah center Andrew Bogut No. 1.    
Chris Paul was the best player in the 2005 NBA draft
Paul hails from Winston-Salem, North Carolina, and attended nearby Wake Forest to play college hoops. In his two seasons as a Demon Deacon, Paul dominated the ACC. He put up 18.0 points, 7.5 assists, and 3.0 steals per game in his career and was a first-team consensus All-American as a sophomore.
Paul left school after his second season at Wake and declared for the 2005 NBA draft. That draft class included four players thought to be surefire NBA stars. In addition to Paul and Bogut, North Carolina forward Marvin Williams and Illinois point guard Deron Williams were in that group.
On the Mystery Crate podcast on the Dan Le Batard & Friends network, ESPN draft insider Chad Ford went back into his notes from that draft.
He says that "size was by far the biggest issue" with the 6-foot guard. However, even Ford was surprised when looking back at "how many scouts said, 'He's the best point guard prospect since Jason Kidd.'"
His conclusion from these decade-and-a-half-old notes was that "the most glowing scouting report of anybody in this draft was Chris Paul."
Paul may have been a Buck if not for Andrew Bogut's unique draft strategy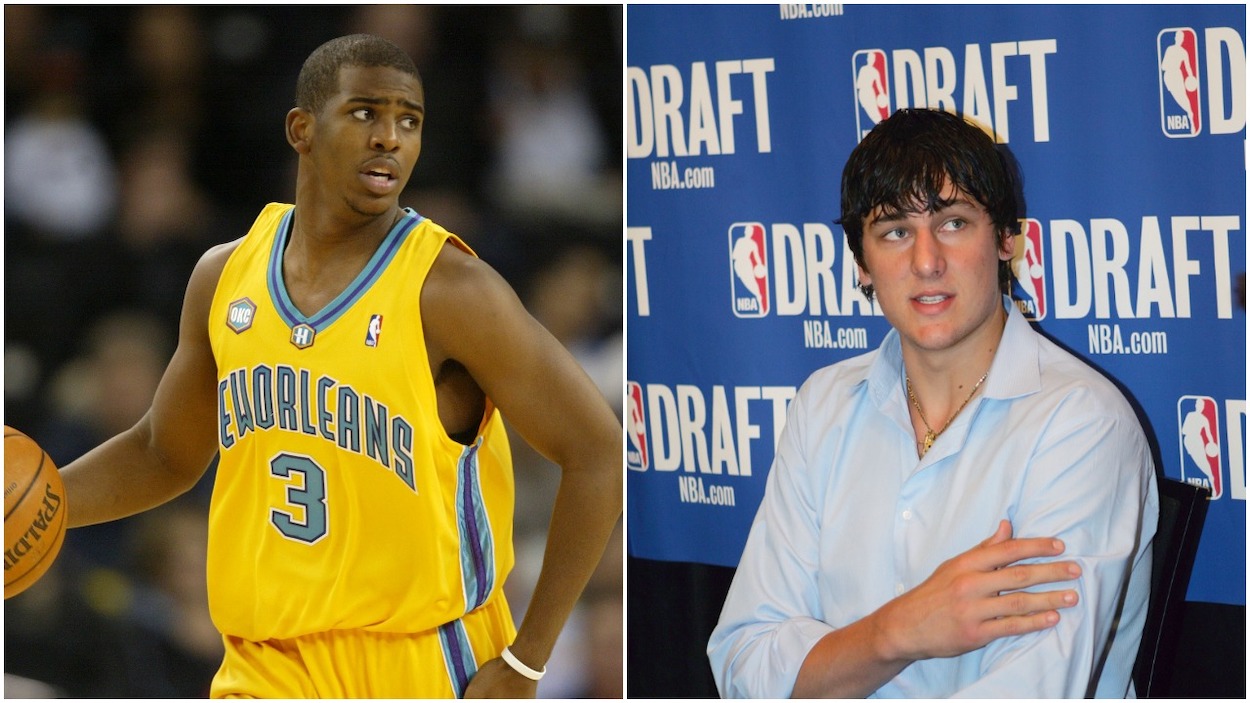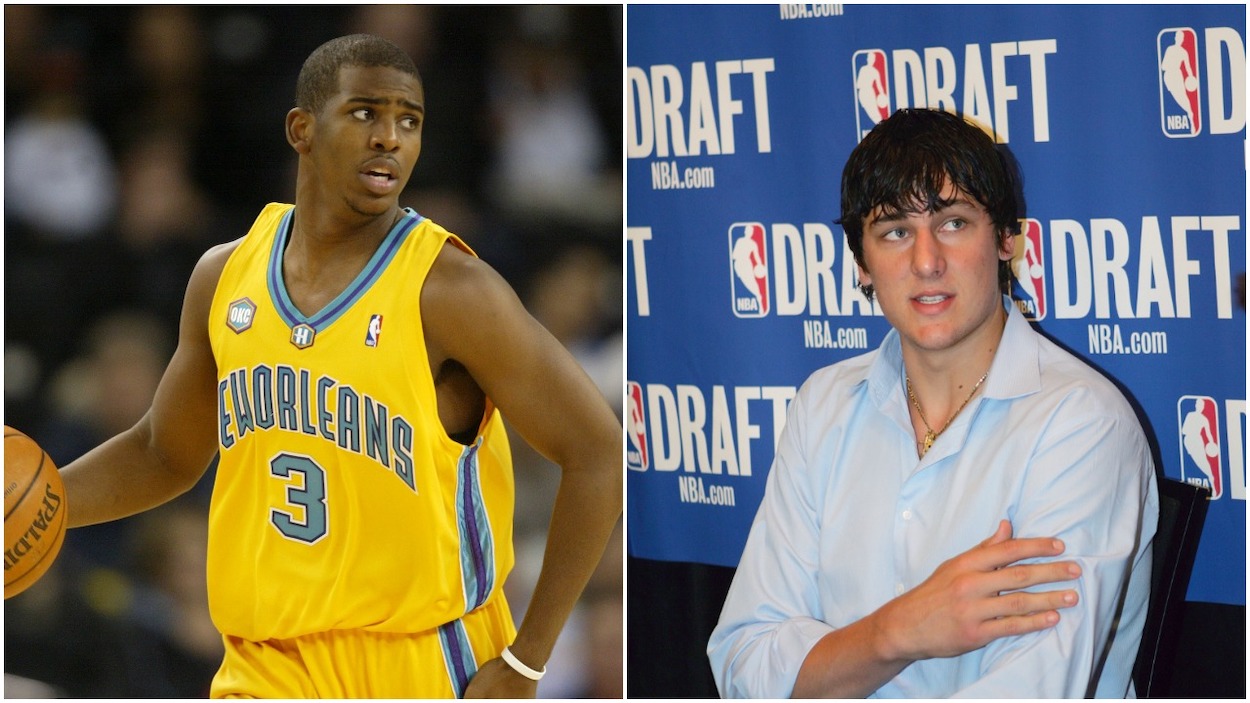 If Paul was the best player in the 2005 NBA draft, why did the Bucks pick Bogut?
One reason was fit. Then-Bucks GM Larry Harris says the organization leaned toward Bogut over Paul because the team already had four guards they liked on the roster: T.J. Ford, Charlie Bell, Mo Williams, and Michael Redd.
The thing that won the Bucks over, though, was Bogut's approach to the draft process. Prior to the draft, Bogut's agent, David Bauman, came up with the idea to approach the draft process like an interview at a "big-time bank or prestigious law firm." Bogut explains:
We put together a strategy of showing up to these draft workouts and meetings as a business interview. My agent helped me, and we drew up a resume, full-on like it was a job interview. So, when I showed up for the meetings with both teams, with the GMs and the owners, I put a prepared resume out on the table for them to read. I showed up in a suit and tie and treated it as a job interview.
This tact especially impressed the then-governor of the Bucks, Herb Kohl. Bogut's professionalism and snappy dressing blew away the U.S. Senator and businessman who started Kohl's department store.
While he had seen players wear suits in draft interviews, Harris says the "resume thing" was something he'd never seen before. This "Corporate America strategy sealed the deal" for Bogut to the Bucks, and Paul fell to No. 4 and the New Orleans/Oklahoma City Hornets.
The Bucks missed out on one of the best point guards of all time
By any metric (outside of Larry O'Brien trophies), Chris Paul is one of the best point guards of all time. He was the 2005-06 NBA Rookie of the Year and an 11-time All-Star. He has 10 All-NBA teams and nine All-Defensive teams under his belt as well. He's led the league in assists three times and in steals five times too. 
He is the NBA's active leader in assists (10,275), assists per game (9.4), steals (2,332), and steals per game (2.1). 
Paul also ranks 44th in all-time NBA Defensive Win Shares, but third in this category for players 6-foot-1 or shorter. His offensive contributions are even better. He ranks 10th all-time in Win Shares and second, only behind John Stockton, for shorter players. 
In addition to these numbers, Paul has helped define the last generation of the NBA. He led the transition of the Hornets (now Pelicans) franchise from Oklahoma City to New Orleans, and he captained one of the most exciting teams of the last two decades, the Lob City Clippers. David Stern famously overruled his trade to Kobe Bryant's Lakers, and now he's mentoring Devin Booker and Deandre Ayton to a possible championship. 
And to think, it could have all been different if Bogut didn't wear a suit. 
All stats courtesy of Basketball Reference