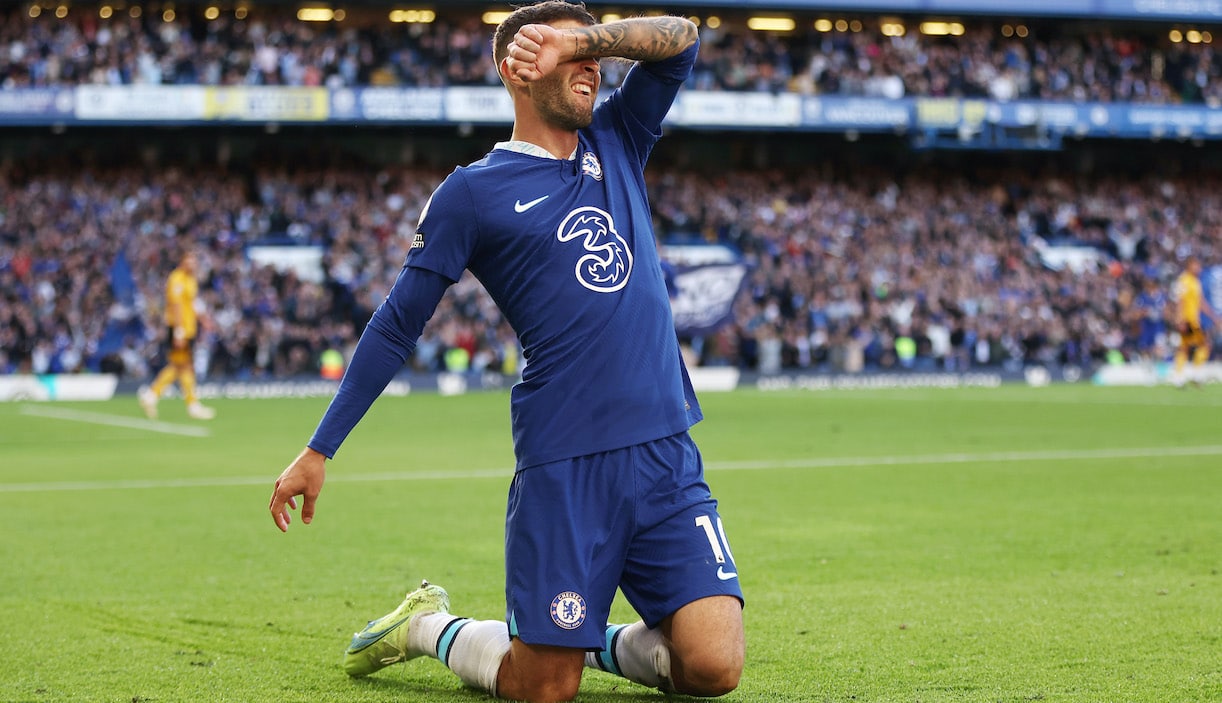 Christian Pulisic Shuts up European Pundits in His First Chelsea Start Under New Boss Graham Potter
Christian Pulisic finally got a Premier League start for Chelsea under Graham Potter and promptly rewarded his new manager for his choice.
American soccer star in London, Christin Pulisic, nearly had to change his full name to "the much-maligned Christian Pulisic" in recent weeks. The Hershey, Pennsylvania native, playing for Chelsea in the Premier League, wasn't getting much playing time under Chelsea boss Thomas Tuchel. After new American owner Todd Boehly sacked Tuchel, new manager Graham Potter didn't seem all that interested in playing the USMNT captain either. 
However, on Premier League Matchday 10 vs. Wolves, Potter handed Pulisic the start, and the forward answered with a goal — at least momentarily — silencing his critics, which include some incredibly high-profile former Premier League stars. 
Christian Pulisc scored his first Premier League goal of the season
On the eve of the 2022 World Cup in Qatar, USMNT superstar Christian Pulisic isn't getting much run with his pro team, Chelsea. Despite the Blues struggling to score goals early in the EPL season, Pulisic wasn't considered a legitimate option for Thomas Tuchel. 
Under Tuchel, Pulisic played a grand total of 156 Premier League minutes and got one start three days before Tuchel's sacking, playing an hour vs. West Ham. 
The Graham Potter Era didn't start much better for Pulisic. He played just six minutes in Champions League vs. RB Salzburg and six minutes in Premier League vs. Crystal Palace. However, for Saturday's EPL match vs. Wolves at Samford Bridger, Potter tapped Pulisic to start. 
Early in the second half, up 1-0, Pulisic rewarded Potter's decision by netting the goal that essentially put the game out of reach for the visitors. Pulisic and Mason Mount played a pretty give-and-go at the top of the box, with Mount sliding an incredible pass past the defender to get Puisic 1-v-1 with Wolves keeper José Sá. 
Pulisic chipped the ball over a sliding Sá and put it in the back of the net for his first club goal in all competitions this season. 
This moment had to give Pulisic a lot of confidence, and it (at least momentarily) shut up critics like Jamie Carragher and Thierry Henry. 
Big-name pundits don't believe in the American Chelsea star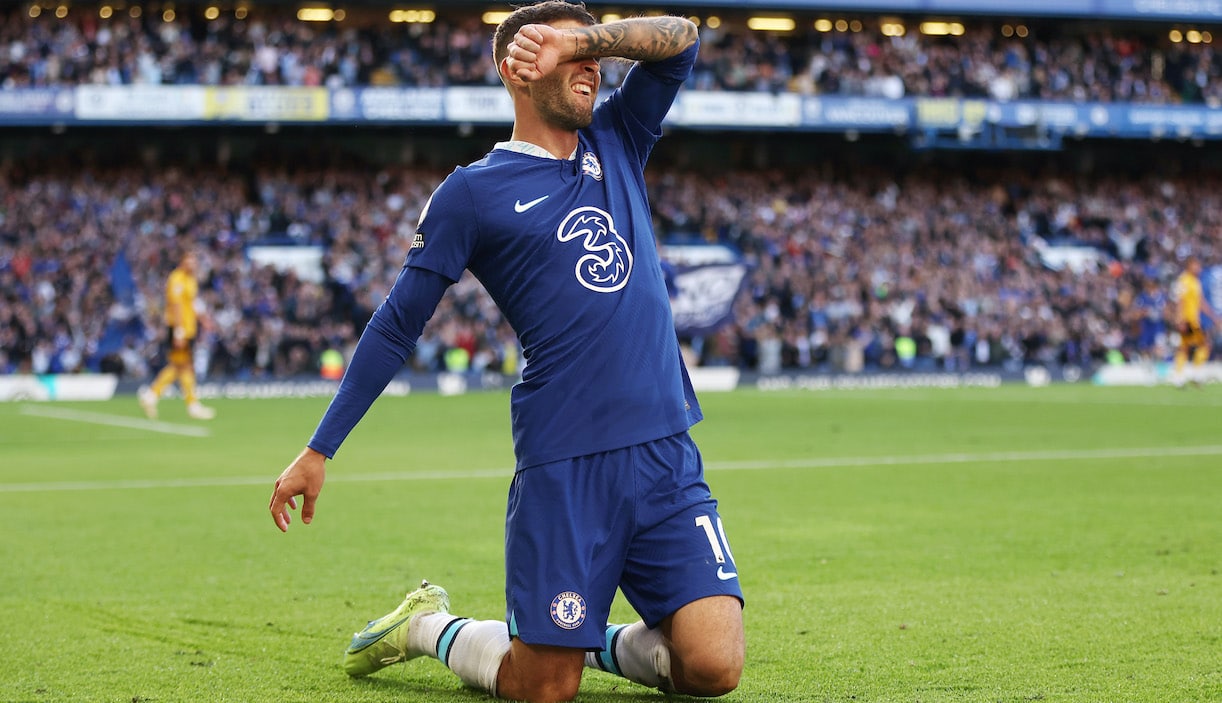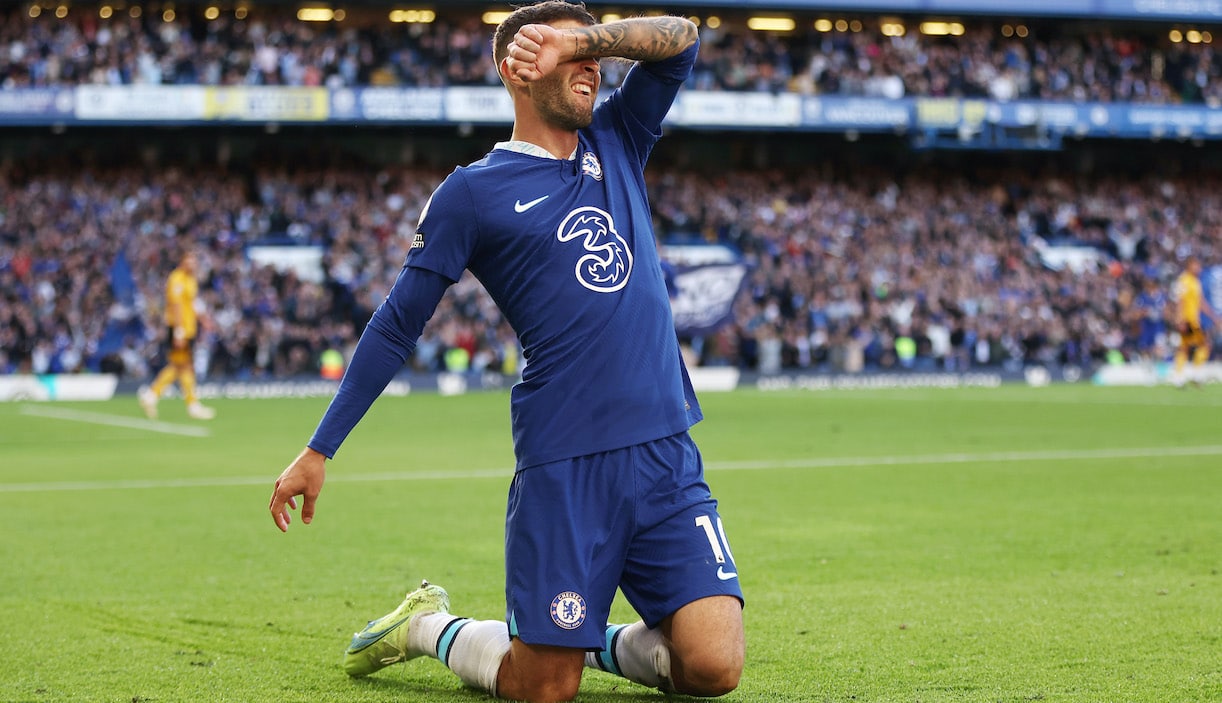 It's no secret there is a lot of attention on Chelsea's Christian Pulisic because of his nationality. As Americans' interest in international soccer grows, so does their attention on American stars abroad like Pulisic, Brendon Aaronson, Weston McKinnie, and others. 
In 2022, the amount of attention is probably more than these fledgling stars deserve, and that doesn't sit well with older, well-known European players. 
Retired Liverpool defender Jaime Carragher was one of the first to take shots at Pulisic this season. After Chelsea fired Tuchel, Carragher said of Pulisic: 
Do you think [Pulisic] is not playing because of Thomas Tuchel? Or himself? I don't think he's good enough to play for Chelsea. I think he's been there a few years now. I think he's had enough opportunities. I don't think a new manager is going to completely rejuvenate him, and he's going to play week in and week out. I just think he's a squad player to Chelsea.

Jamie Carragher on Christian Pulisic
Carragher's CBS Sports Champions League studio show partner and Arsenal legend Thierry Henry has also called out Pulisic in recent weeks. Referring to the #FreePulisic movement, where U.S. fans are urging the player to leave Chelsea in January, Thierry said: 
What was the hashtag? He has to free himself. You have to come and deliver. It's about you also. What you bring to the table. 

Thierry Henry on Christian Pulisic
Henry also sent another warning to Pulisc that the grass isn't always greener. "How many managers are not going to trust you?" Pulisic asked on the CBS UCL show. "It's got to be you at some point, so find a way."
After his excellent starting performance this Saturday, maybe it will keep the Pulisic detractors quiet for at least a week or so. 
Like Sportscasting on Facebook. Follow us on Twitter @sportscasting19 and subscribe to our YouTube channel.