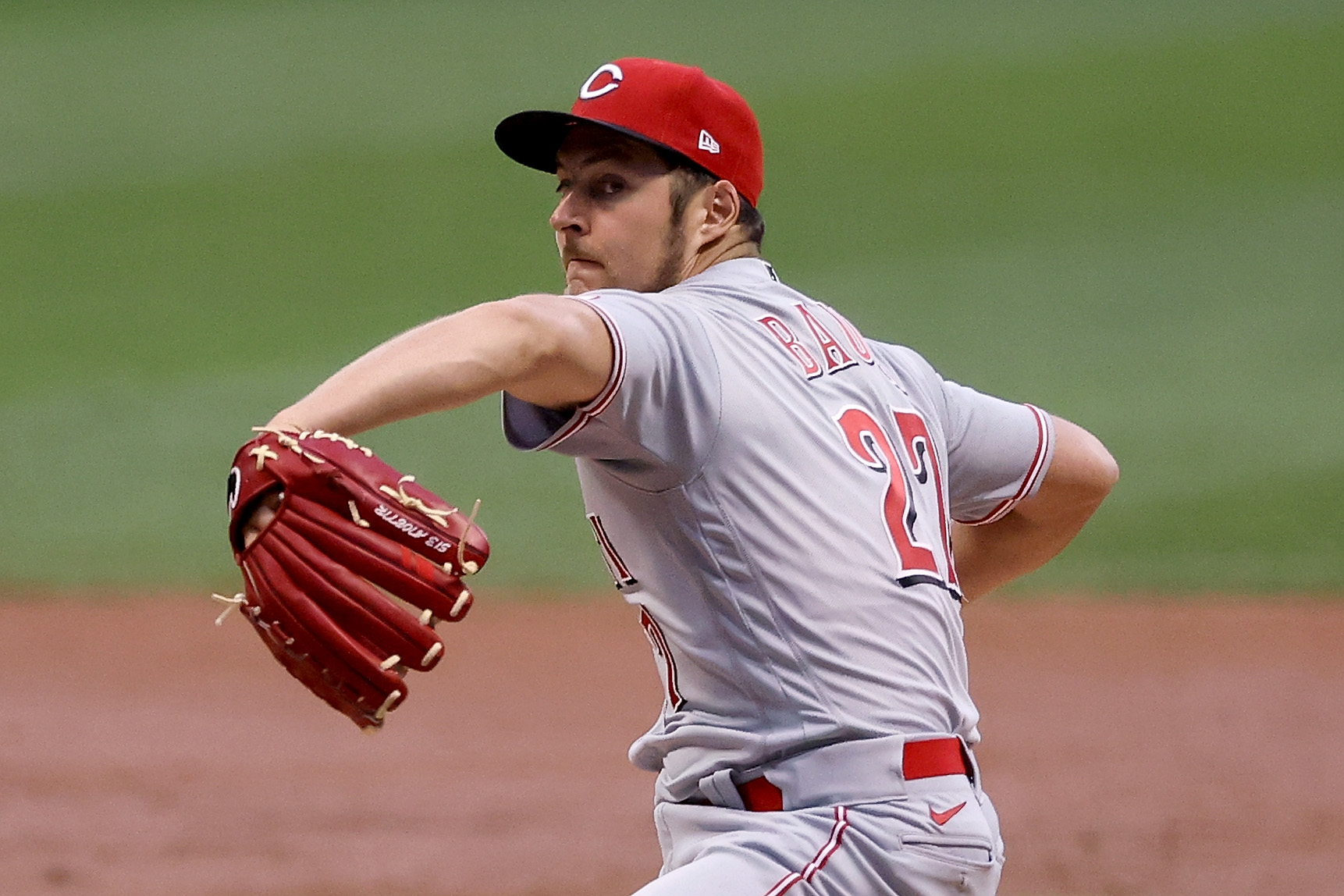 Cincinnati Reds Pitcher Trevor Bauer Continues to Blast Scott Boras and His Ego
Cincinnati Reds outspoken pitcher Trevor Bauer continues to blast prominent player agent Scott Boras and his ego.
Trevor Bauer usually doesn't hold anything back. Such was the case again this weekend when Bauer lashed out against prominent player agent Scott Boras. It's not the first time the fiery Cincinnati Reds pitcher has blasted Boras and it likely won't be his last.
Trevor Bauer's big-league career
Trevor Bauer was the third overall pick in the 2011 MLB draft, taken by the Arizona Diamondbacks. He quickly made his way to the big leagues, making his Major League Baseball debut the following year. During the 2012 season, Bauer made four starts, going 1-2 with a 6.06 ERA. He was optioned back to Triple-A mid-July.
In December of 2012, Bauer was traded to the Cleveland Indians and struggled in his first two seasons with the club. He made 26 starts in 2014 but went 5-8 with a 4.18 ERA. He won 11 games in 2015 ad then put together a string of three straight winning seasons beginning in 2016. In 2016, he was scheduled to start Game 2 of the World Series but sliced his pinkie while repairing a drone. His start was pushed back to Game 3, but left after the first inning when the wound opened up. In 2018, Bauer was an MLB All-Star after going 12-6 with a 2.21 ERA.
In July of 2019, Bauer allowed seven unearned runs against the Kansas City Royals. Out of frustration, he fired the ball from the pitchers' mound over the center field fence when he saw manager Terry Francona coming to take him out of the game. Three days later, he was traded to the Cincinnati Reds. He went 2-5 to finish out 2019 but is off to a 2-0 start this season.
Bauer is very outspoken
Trevor Bauer's Major League Baseball career has been pretty inconsistent. His outspokenness is anything but. Bauer is a guy who speaks his mind and he'll tell it like it is. When the Houston Astros were caught cheating, Bauer didn't hold back his feelings.
"They are hypocrites, they are cheaters, they've stolen from a lot of other people and the game itself was completely unfair," Bauer was quoted in The New York Post. "You guys think you are better than everyone and you don't have to abide by the rules? F–k you. You know? That's how I feel about their whole operation."
Back in May when negotiations were going on about how MLB would get into action during the pandemic, Bauer issued a strong tweet directed at player agent Scott Boras. Bauer wrote, "Hearing a LOT of rumors about a certain player agent meddling in MLBPA affairs. If true — and at this point, these are only rumors — I have one thing to say… Scott Boras, rep your clients however you want to, but keep your damn personal agenda out of union business."
Bauer lashes out at Scott Boras again
Trevor Bauer has a vlog that shows fans how baseball life has been going during the pandemic. In several different tweets this weekend, Bauer suggested Scott Boras' agency had his clients accuse Bauer of disclosing a positive COVID-19 test of a Reds player. The Reds and Pirates series was postponed.
Bauer again ripped Boras through Twitter, writing that Boras "wants to shut my vlog down, is not a friend of the people or fans, is not a fan of players marketing themselves, is not a fan of marketing his players. PSA to all the players reading this, he doesn't care about you. He cares about himself and his ego. Be smart."