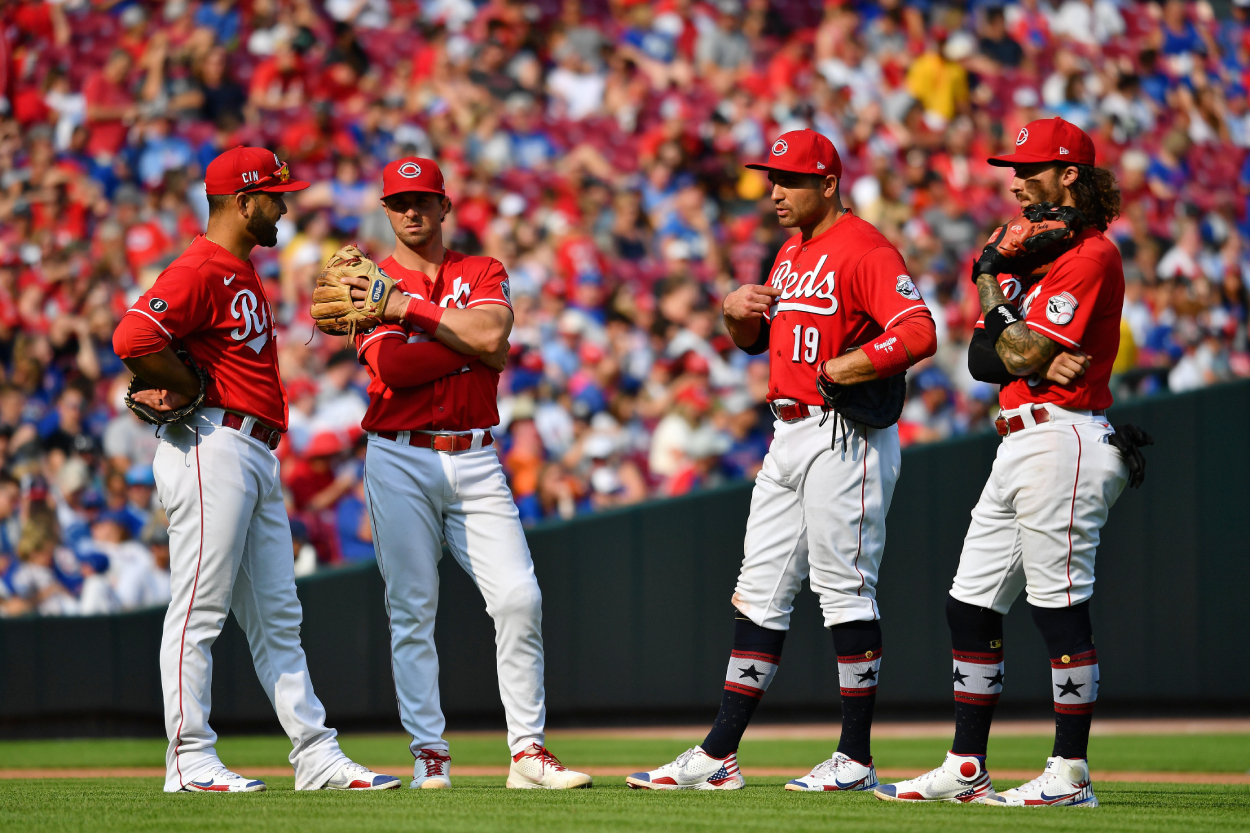 The Cincinnati Reds are Proving Why They Will Always Be a Laughingstock
The Cincinnati Reds have been trash for nearly three decades. However, they just proved why they will always be a laughingstock, and also insulted their fan base's intelligence.
Let's play a quick game. Imagine you're a front office executive for an MLB team. Your organization hasn't won a playoff series in nearly 27 years, and your fans desperately want a winner.
You would probably do everything in your power to make your club a contender, right?
Not if you work for the Cincinnati Reds.
The Reds, the MLB's inaugural team, have a rich history. They won their first World Series win in 1919 and eventually had the Big Red Machine dynasty in the 1970s. However, Cincy has been garbage for nearly three decades, and it seems that ownership couldn't care less.
After half-heartedly building a winning team the last two years, the Reds are essentially giving it all up again. They appear to be entering another rebuild despite only having one playoff appearance and no postseason wins to show for it.
Writer's note: This article was published before the Reds traded Jesse Winker and Eugenio Suarez to the Seattle Mariners.
The Cincinnati Reds have been irrelevant for decades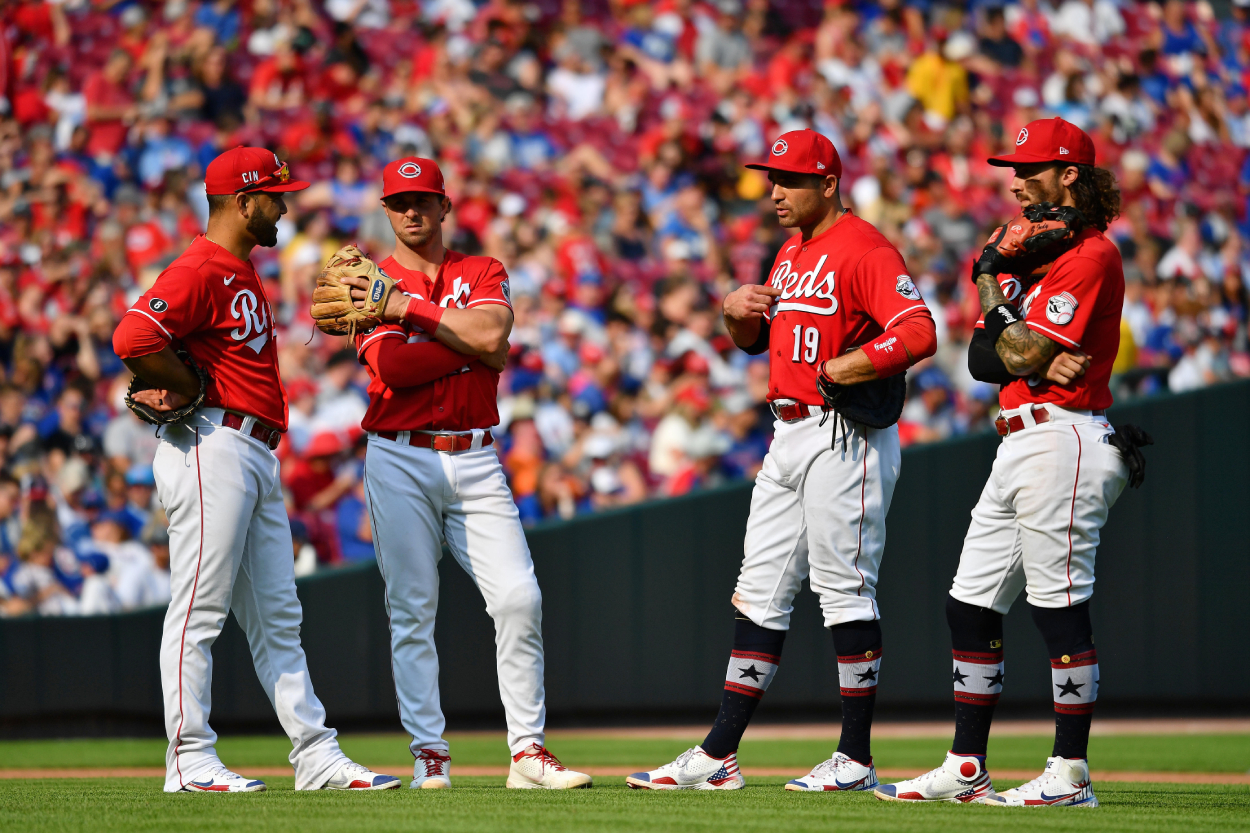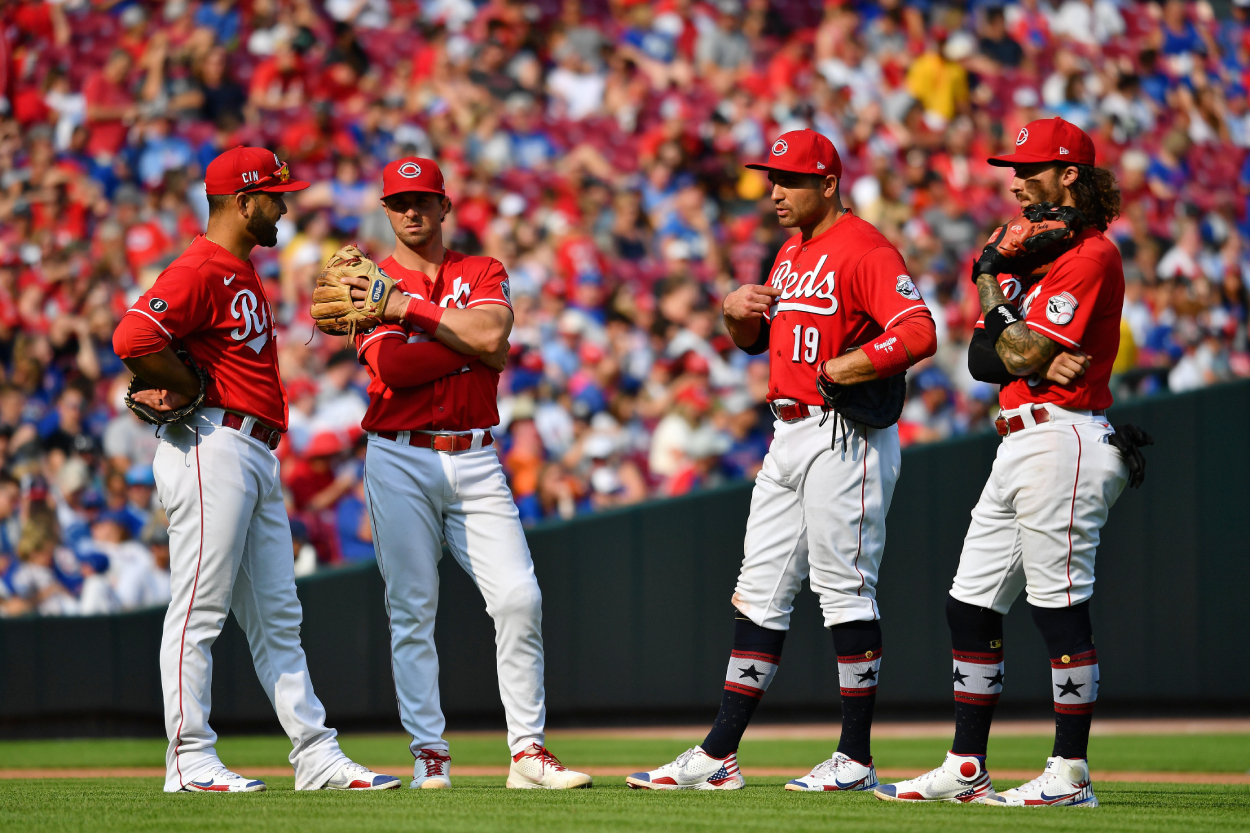 The 1995 season was the last time the Reds won a playoff series. They went to the NLCS that year before losing to the Atlanta Braves, 4-0.
Since then, they have been perennial losers.
In the last 25 seasons, the Reds have only made the playoffs four times. One of those trips came during the 2020 campaign in which COVID-19 kept fans from attending games. They also haven't won a single playoff series during that stretch and have had a losing record in 20 of the last 31 seasons.
So, why have they been so bad?
The front office will blame it on them being a small market team. The Reds have consistently developed talented players in their farm system just to let them go whenever it's time to pay them. Guys like Johnny Cueto and Aroldis Chapman are a couple of the big names that come to mind.
However, a couple of seasons ago, it looked like Cincy was changing its strategy. The organization started spending money, and it brought in a couple of big-name players.
But it turned out to just be a ruse.
Cincy's championship contention lasted for a whopping two seasons
The Reds suffered six straight losing seasons between 2015 and 2019, losing more than 90 games in four of those years.
However, in 2019, it looked as if they were finally trying to build a winning ball club. They acquired pitcher Sonny Gray and hitters Yasiel Puig and Matt Kemp. Cincy then later moved Puig for an elite pitcher in Trevor Bauer.
That next offseason, the team made one of its biggest free-agency splashes in franchise history. The Reds signed Nick Castellanos and Mike Moustakas to four-year, $64 million deals and added Wade Miley to their rotation.
It resulted in a playoff berth during the COVID-19-shortened 2020 season. They, however, lost to the Atlanta Braves 2-0 in the NL Wild Card Round.
Cincy had to let Bauer, the 2020 Cy Young winner, walk in free agency, but last season's squad still showed promise. It went 83-79 and just barely missed out on the postseason.
The Reds were just a couple of pieces away from true contention.
But they have since decided to enter a rebuild again.
In November, Cincinnati didn't pick up Miley's $10 million club option (despite him throwing a no-hitter last year), and the Chicago Cubs claimed him off waivers. (Yes, the team lost him for nothing.) It also traded Gold Glove catcher Tucker Barnhart to the Detroit Tigers.
The Reds' recent decisions, though, have been even more perplexing.
On March 13, they dealt Gray to the Minnesota Twins. In return, they received an 18-year-old prospect.
Cincy also essentially revealed that it has no intention of signing All-Star outfielder Nick Castellanos. On March 12, general manager Nick Krall said the team had not "been engaged with his representatives," per The Athletic's C. Trent Rosecrans.
So, why are they giving away all their stars? In November, Krall stated (h/t Cincinnati.com), "We're aligning our payroll with our resources."
In other words: They're being cheap.
The Reds are continuing to insult their fans
Bob Castellini became the Reds' owner in 2006.
He said this back then (h/t Cincinnati Business Courier): "We're buying the Reds to win. Anything else is unacceptable."
OK, so why does it seem like he's doing everything in his power to lose?
Fans are more intelligent than he must think, and they know that the team's personnel moves are just the front office's way of being cheap and not actually caring about winning. Why else would the Reds trade a talented starter in Sonny Gray for an 18-year-old who probably won't play for several years?
Yes, playing in a small market is difficult. That's why large-market teams like the Los Angeles Dodgers and New York Yankees are always good.
However, the Cleveland Guardians are in a comparable market to Cincy, and they have made it to the World Series three times since the Reds' last playoff win.
How do you explain that?
Losing equals less cash flow. If fans aren't interested in your product, you won't have money to spend. But Cincinnati's front office must be trying to trick its supporters into thinking the team is still (somewhat) interested in winning.
On March 12, Krall said (h/t Cincinnati.com), "We're trying to eliminate peaks and valleys, that's where we need to go. We need to figure out how to continue to build through our player pipeline, player development, and scouting."
Wait, you want to eliminate peaks, too? So you want to embrace mediocrity? 
Fans know basic words, and to possibly think that they would just skip over "peaks" and focus on "eliminate" and "valleys" when reading your quote is an insult to their intelligence. Either tell them you're entering a full rebuild or that you're trying to win.
No one wants to be mediocre.
All in all, the Reds have a loyal fan base that has endured a lot over the last 25-plus years. However, Cincinnati needs to start trying to win, or it's in danger of losing all its supporters sooner rather than later.