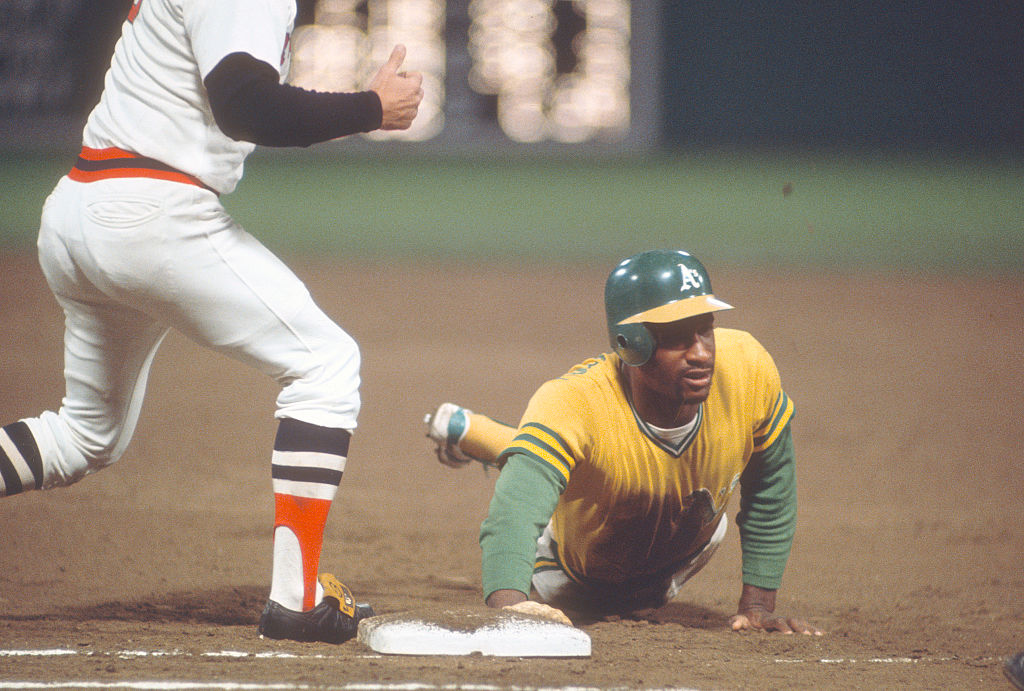 Claudell Washington Went From Undrafted to a World Series Champion in 2 Years
The Oakland A's made one of the greatest undrafted free-agent finds ever in Claudell Washington, who would go on to play 17 MLB seasons.
Two-time MLB All-Star outfielder Claudell Washington died at the age of 65, the Oakland A's announced Wednesday. His journey to the big leagues was a one-in-a-million success story that included some oddities along the way.
Claudell Washington played in the World Series at 19
Claudell Washington revealed in 2018 that he had been diagnosed with prostate cancer and had chosen to end treatment for the disease. "If I go tomorrow, I'm good," Washington told The Athletic at that time. "I'm at total peace with my life. I wouldn't change my script for nothing in the world."
It's no wonder why he would say that with respect to his baseball career. Washington was a rags-to-riches story who didn't quite reach the level of success that many expected, but he still could walk away from the sport justifiably proud of his achievements.
He helped complete the Oakland Athletics' World Series three-peat as a 19-year-old in 1974, was selected for two All-Star Games, and played 17 seasons in the big leagues for seven clubs.
The amazing part of the career .278 hitter's story is that he never even played varsity baseball in Berkeley, California, went undrafted after graduating, and still made it to the majors with the Oakland A's less than two years later at the age of 19. As such, he qualifies as one of the great free-agent finds of all time.
The second of his 1,912 MLB games demonstrated why Claudell Washington was destined for success. Playing at the sold-out Oakland Coliseum in the summer of 1974, Washington produced the walk-off hit in the 10th inning to deny Cleveland Indians pitcher Gaylord Perry a 16th straight victory.
Washington would finish his career with 164 home runs, 824 RBIs, and 312 stolen bases.
Claudell Washington's 1981 contract caused an uproar
Whereas he had no bargaining power for his first pro contract – a $3,000 signing bonus — as an undrafted free agent out of high school in 1972, Claudell Washington was in demand as a veteran free agent after the 1980 season. Washington was coming off seven major-league seasons with a .280 average, pop in his bat, and speed on the bases. And at just 26 years old, it was easy to project him to last another decade or longer despite sub-par defensive skills.
Washington negotiated a five-year contract worth $3.5 million – one of the biggest deals in MLB history at the time — with Atlanta Braves owner Ted Turner. It led one unidentified rival owner to speculate that Turner must have been drunk and thought he was signing Dave Winfield instead.
In fact, Washington's contract bumped up Winfield's value in the market, resulting in him wrangling a 10-year contract out of George Steinbrenner's New York Yankees that ultimately ended up making Winfield $18 million.
To put the contract numbers of the time in perspective, it had been only a year earlier that Houston Astros pitcher Nolan Ryan signed the first contract paying $1 million a year. The fact that Washington was the player Ryan struck out most often in his career (39 times) suggests that owners were probably right to question Ted Turner's wisdom.
A career of interesting tidbits
Play major-league baseball long enough and some unusual stuff is bound to happen along the way. That was certainly true for Claudell Washington:
He had the briefest of cameo appearances in Ferris Bueller's Day Off. It was a foul ball off Washington's bat that Bueller caught at Wrigley Field.
Washington was twice traded for the fathers of major-leaguers who would go on to hit 600 career homers: The Texas Rangers sent him to the Chicago White Sox for Bobby Bonds in 1978, and the Atlanta Braves swapped him to the New York Yankees for Ken Griffey Sr. in 1986.
Despite possessing just average power, he was the third player in MLB history, behind Babe Ruth and Johnny Mize, to hit three home runs in a game in both leagues.
His pinch-hit homer on April 20, 1988, in Minnesota was the 10,000th round-tripper in Yankees history.
All statistics are from Baseball-Reference.com.