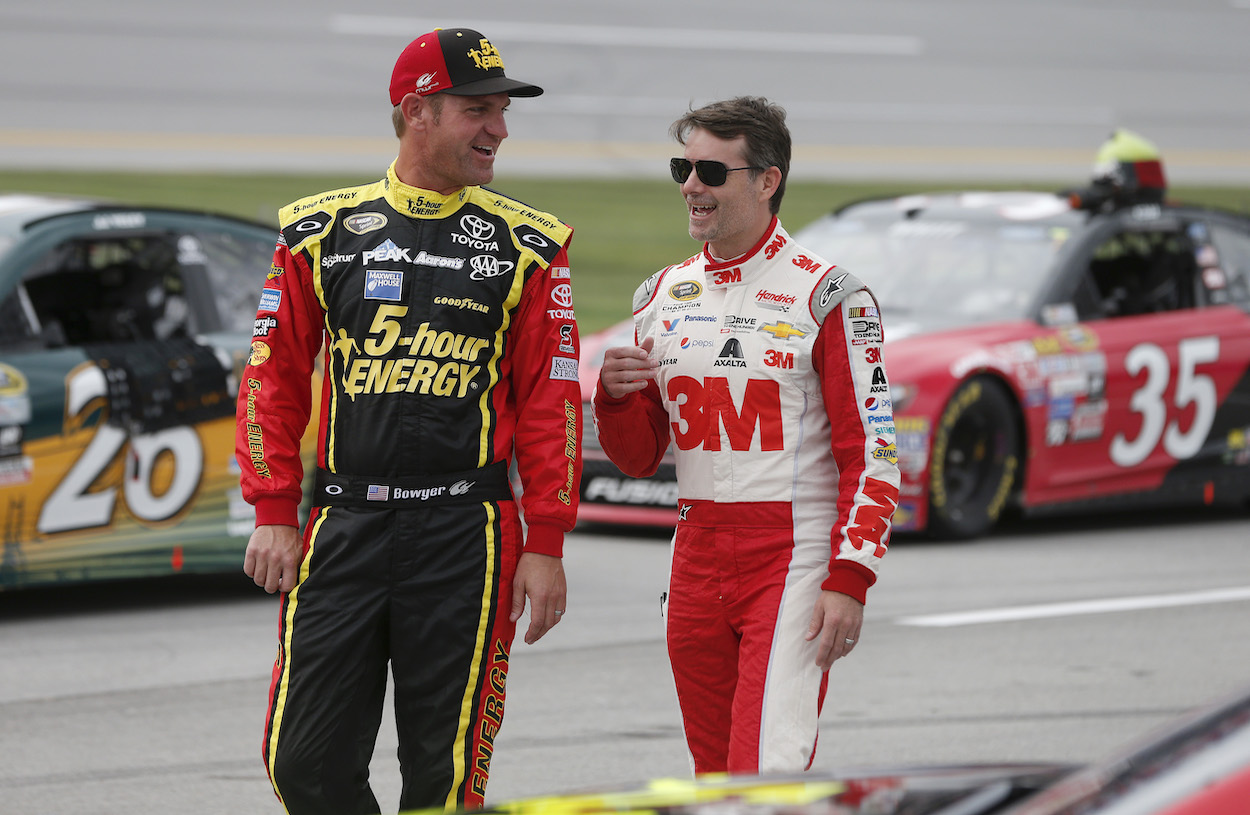 Clint Bowyer Borrows Jeff Gordon's Pantyhose in Bizarre Exchange During Fox NASCAR Coverage at Las Vegas
Clint Bowyer and Jeff Gordon have had fun working together on Fox covering NASCAR but things took a weird turn this weekend when Bowyer borrowed Gordon's pantyhose while visiting a dirt track.
After years of battling each other on the track, Jeff Gordon and Clint Bowyer have teamed up in the Fox broadcast booth for NASCAR races this season, and it just works. In addition to calling races in a very engaging style where the two former drivers often take opposing viewpoints, the network has managed to incorporate the pair into various witty skits on and off the track.
Gordon and Bowyer appeared together during the Las Vegas race broadcast on Sunday in a promo for the upcoming dirt race at Bristol later this month. By the time the spot was over, both former drivers were covered in dirt, and Bowyer had borrowed a pair of Gordon's pantyhose in a bizarre yet oddly entertaining moment.
Jeff Gordon and Clint Bowyer race in Days of Thunder parody skit
Since Clint Bowyer joined Jeff Gordon and the Fox NASCAR team, the network has regularly featured both drivers and their racing backgrounds in sketches sprinkled throughout the broadcast.  
Prior to the second race of the season at the Daytona road course, Bowyer and Gordon took part in a Days of Thunder parody skit that began on the track with both drivers offering pre-race analysis with Chris Myers, before each jumped into an older model rental car for a race around the track and up to the broadcast booth.
Both drivers slammed into each other as they navigated the road course, each driver spinning out the other. The two finished the race and made it up to the booth with the winner undecided. Bowyer later confirmed things got a little hairy from all the banging of cars. 
"Jeff's car caught fire," Bowyer said on Twitter. "When we lifted the hood to put it out, the water hose was melted and sprayed antifreeze all over."
Clint Bowyer bizarrely borrows Jeff Gordon's pantyhose
On Sunday, during the broadcast of the Pennzoil 400 from Las Vegas Motor Speedway, Jeff Gordon and Clint Bowyer were at it again. This time the two set up outside of a dirt track in an undisclosed location. After Gordon suggested watching dirt track racing at Bristol might be new for some NASCAR fans, Bowyer said his broadcast partner didn't look prepared and offered him a pair of goggles.
The pair then put on their goggles moments before a car went whizzing by, throwing dirt on both of them. When Gordon suggested something was still missing, Bowyer conveniently leaned down and picked up a pair of red plastic cups, handing one to Gordon to drink.
Clint Bowyer looked down at his cup with the dirt inside and hesitated. "Oh, I have to do something about this," he said as he reached into his back pocket and pulled out something unexpected. "Borrowed your pantyhose," he told Gordon as he put it over his cup to filter the dirt before drinking.
"I've seen it all now," Gordon replied as the car once again brushed by the outer fence and dusted the pair with another healthy dose of dust and dirt. 
Racing on the dirt at Bristol
The 2021 NASCAR season schedule has generated more buzz than usual with the addition of multiple road courses, including COTA and the first dirt track race for NASCAR in 50 years.
Bristol Motor Speedway will be transformed into a dirt track on March 28 and everyone is excited. Clint Bowyer said fans should expect the unexpected because the race is going to be up for grabs and anyone could claim victory. 
"It is the action track, baby," Bowyer said on NASCAR.com. "It is going to be probably more action than it's seen in a long time with this dirt track. It's going to be interesting to watch these races to see what happens."
Clint Bowyer and Jeff Gordon will be up in the booth to call the action from Bristol on March 28. Pantyhose not included.