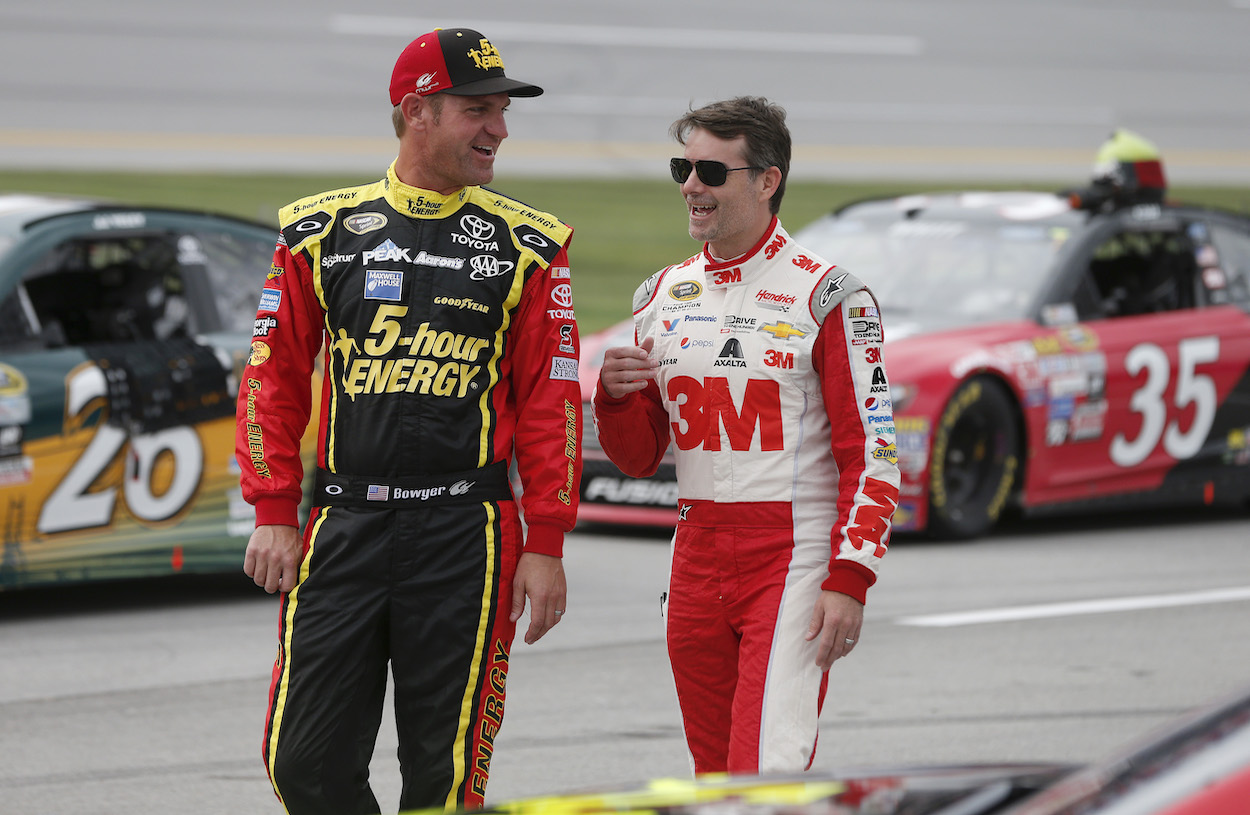 Clint Bowyer Fires Direct Shot at Jeff Gordon Just Days Before Pair Return to Phoenix and Site of Ugly 2012 Incident
Jeff Gordon and Clint Bowyer return to Phoenix this weekend and the site of an ugly incident between the pair in 2012. Bowyer appears ready for more and has fired the first shot.
Jeff Gordon and Clint Bowyer competed against each other for years on the NASCAR Cup Series. In 2012, the pair had an ugly post-race incident in Phoenix where a member of Bowyer's team attacked Gordon and chaos ensued. 
Now working together in the broadcast booth on Fox's NASCAR coverage this season, that conflict was put behind them, or so we thought. This week, as the Cup Series returns to Phoenix and the scene of the incident, Bowyer didn't mince words when he fired a shot at his broadcast partner. 
Jeff Gordon and Clint Bowyer's teams engage in post-race brawl
Jeff Gordon and Clint Bowyer had some entertaining battles on the track during their careers, but the two are most remembered for an incident that happened late in the 2012 season at Phoenix. 
Late in that race, Gordon deliberately got into Bowyer's right rear, which sent his car into the outside wall. Gordon and Joey Logano both got collected in the wreck. The accident cost Bowyer the race, and more importantly, a shot at the season championship, as he stood in third place at the time. 
When the race was over, and Jeff Gordon pulled into the pit road area and exited his vehicle, he was attacked by a member of Clint Bowyer's team. Chaos ensued for several minutes as both teams brawled. Unfortunately for Bowyer, he arrived at the party too late and NASCAR officials prevented him from personally confronting Gordon.  
Partnered together at Fox in 2021 NASCAR season
While there were some hard feelings for a time, Jeff Gordon and Clint Bowyer put aside their differences and made amends. There's no better evidence of that than the two teaming up in the broadcast booth for Fox and its NASCAR coverage this season.
The pair has playfully participated in a variety of skits highlighting the rivalry. Among them, the two raced against each other in the pre-race show before the second race of the season at the Daytona road course, in a Days of Thunder parody skit, where they raced around the track in old rental cars banging doors and spinning each other out. 
Up in the booth, Jeff Gordon and Clint Bowyer banter back and forth, with each typically taking an opposing viewpoint, no matter the subject. It's worked and fans on social media have positively responded to the friendly rivalry. 
Clint Bowyer fires shot at Jeff Gordon ahead of Phoenix race
With NASCAR running in Phoenix this week, Fox appears prepared to play up the whole 2012 incident between Jeff Gordon and Clint Bowyer. 
This week Jamie McMurray tweeted an interesting photo in which he was wearing Gordon's firesuit, and Larry McReynolds was donning Clint Bowyer's firesuit. 
"I really don't even know where to start. Tune in to the @NASCARONFOX Pre Race show this Sunday to see what this is all about," McMurray wrote.
Clint Bowyer responded to the photo by taking a direct shot at Jeff Gordon.
"I hope you get your ass kicked this time," Bowyer succinctly wrote, referencing how NASCAR officials intervened last time.
Sunday's race in Phoenix should be entertaining both on the track and up in the broadcast booth.  
Like Sportscasting on Facebook. Follow us on Twitter @sportscasting19.