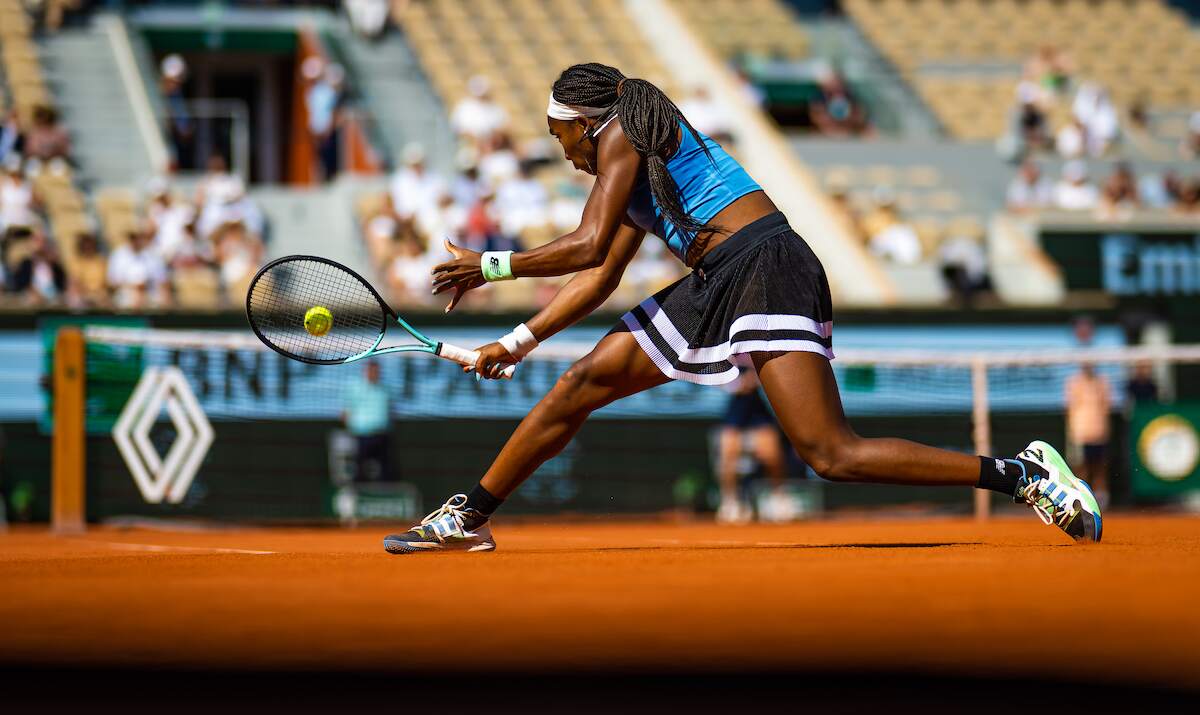 Coco Gauff's Shoes: The New Balance Athlete Stands Alone With Her Signature Sneaker Line
While Coco Gauff may rank No. 1 during her tennis career, she already tops a list as the first women's tennis player to have a signature shoe.
As a young tennis star, Coco Gauff has never been afraid to stand out. The 19-year-old is currently No. 6 on the WTA singles rankings and No. 3 on the doubles rankings.
While she could very well be No. 1 at some point in her tennis career, Gauff already tops one list: She's the first women's tennis player ever to have their own signature shoe. Here's a look at Gauff's tennis career and her unique New Balance contract. 
Coco Gauff's shoes set apart the young tennis star 
At just 19 years old, Gauff has already established herself as a legend in the tennis world. When she was just 15 years old, Gauff won her first WTA Tour singles title at the 2019 Linz Open. However, what really helped the young tennis star rise to fame was her opening-round performance at Wimbledon in 2019. In the first round, Gauff beat World No. 1 and seven-time Grand Slam champion Venus Williams. 
Having grown up idolizing the Williams sisters, Gauff's experience defeating one of her heroes was certainly surreal. The Atlanta native has proven she is not one to back down from a challenge. This includes her deals and sponsorships.
At just 18 years old, Gauff became the only women's tennis player to have her own signature shoe when she released her New Balance CG1s before the 2022 U.S. Open. Following Roger Federer's retirement in September 2022, Gauff became the only active tennis player to have their own signature shoe currently. 
What is Coco Gauff's New Balance contract worth?
According to Forbes, Gauff signed her first contract with New Balance when she was just 14 years old. In late 2022, four years after her initial contract, she signed a long-term extension with the sports and apparel giant.
While the deal's monetary terms have not been publicly disclosed, Gauff is likely receiving a pretty penny for her association with New Balance. After all, the teen is no stranger to seven figures. As Essentially Sports reports, Gauff has already earned over $6 million in tennis prize money in the past several years. 
The concept behind Gauff's signature shoe was unveiled following her contract renewal with New Balance late last year. According to Foot Wear News, the New Balance Coco CG1, or simply CG1s, has been marketed as an "All in the Family" shoe available in men's, women's, and kids' sizes. The adult sizes typically retail for $170. The kid's sizes retail for around $90. 
Coco Gauff's sneakers are inspired by her brother 
Gauff stayed true to her "All in the Family" branding when designing her CG1s for kids. In fact, Gauff consulted with her 9-year-old brother, Cameron, on the colorway for the shoe. Gauff talked to People about the experience, saying, "He was really excited. I think he kind of sensed it in a way because they asked him to draw on this shoe and then for the paper. He's young, but he kind of put two and two together."
As the tennis pro indicated, Cameron was initially unaware he would be helping his sister design the kid's line. However, when he was asked to create some color schemes, he got the hint that his ideas might come to life. 
After Cameron's designs were completed, Gauff talked to her little brother about the process. As she revealed to People, "I asked him about [his design], and he said it was, 'Just what I was feeling.' I think that's just like what's fun about being a kid in general. As you get older, you tend to overthink things. But I feel like kids really trust their first instinct, and that's kind of what he did. He just said he just thought the colors look cool together."