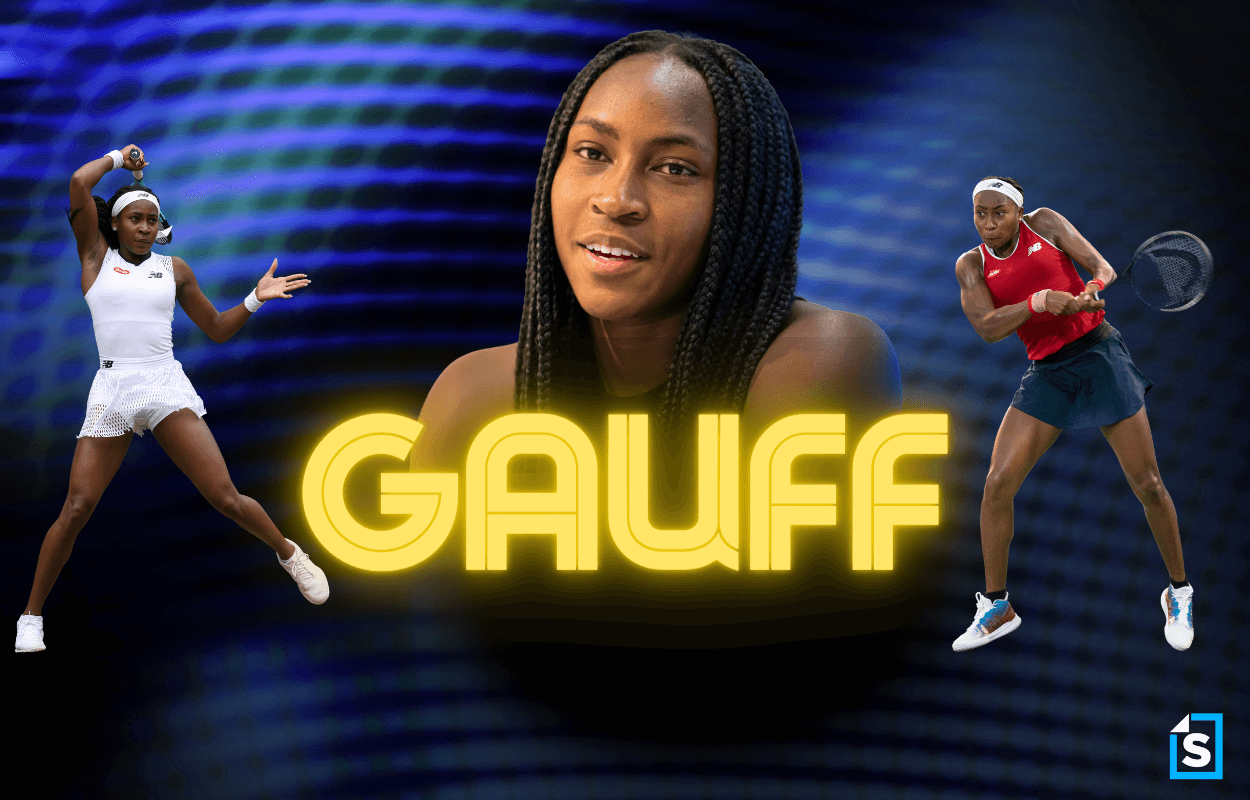 Coco Gauff: Biography, Career, Net Worth, Family, Top Stories for the Tennis Star
Who is Coco Gauff? We've got you covered with anything and everything about the rising American star.
In the world of sports, there's a perpetual struggle for the top spot. Once you start climbing the leaderboards, there's immediately a target on your back. Sure, you receive plenty of plaudits — not to mention fame and fortune — but all eyes are on you. Coco Gauff has experienced that reality firsthand.
After growing up idolizing the Williams sisters, Gauff followed their footsteps onto the court. She quickly proved to be a true talent, and even as the spotlight has become brighter, the teenager hasn't missed a beat. Whether you're a tennis expert or not, it's obvious that she's the real deal.
With that in mind, let's get to know the real Coco Gauff a bit more. Here's everything to know about the Atlanta native, ranging from her tennis history to some perspective on the contents of her off-court success.
Article Contents
Quick facts
Early life and tennis influences 
Junior career
Professional career
Pro stats/records
United States Career
Playing Style
Net worth/earnings
Nicknames
Media presence
FAQs
Quick Coco Gauff facts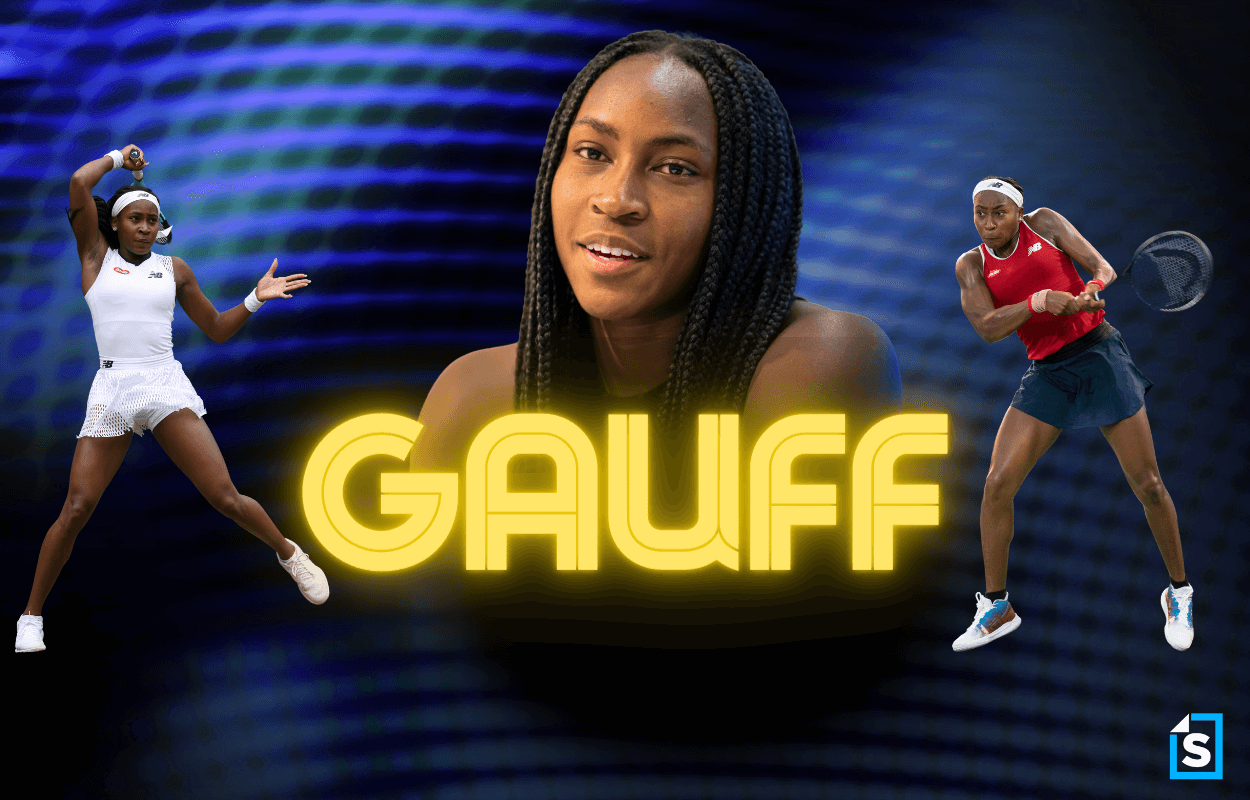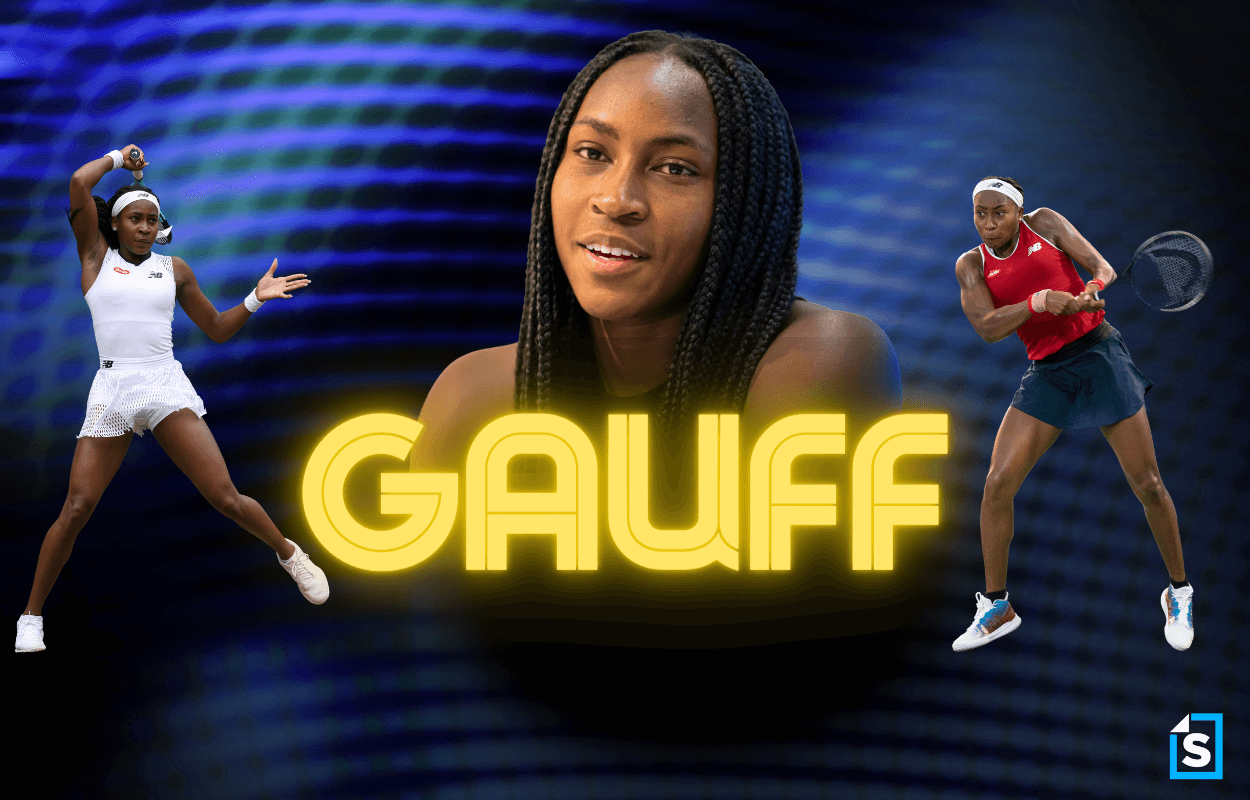 Full name: Cori Dionne "Coco" Gauff
Birthday: March 13, 2004 
Birthplace: Atlanta, Georgia
Parents: Corey Gauff and Candi Goff (nee Odom)
Siblings: Codey Gauff and Cameron Gauff
Listed height: 5-foot-9
Handedness: Right
Professional playing career: 2018-present
Marital status: Single
Coco Gauff early life and tennis foundations
While cliches can be tired, there's usually an element of truth behind the overused line. Take, for example, the idea of following the family business. 
Athleticism runs in Coco Gauff's family. Her father, Corey, hit the hardwood at Georgia State; not to be outdone, Coco's mother, Candi, was a two-time South Florida Sun Sentinel Athlete of the Year before joining Florida State's track and field team. Unsurprisingly, their daughter took to sports without missing a beat.
"They encouraged Coco to try every activity they could think of –basketball, track, dance, gymnastics, cheerleading, soccer, you name it," D'Arcy Maine explained on ESPN.com. "She was a natural at everything she tried — even winning the first 5K race she ever ran — but tennis was her favorite."
And a key part of that favoritism was the two women shining on the court at the time: Venus and Serena Williams.
 "I grew up watching her," Gauff said of Serena in a WTA piece by Greg Garber. "I mean that's the reason why I play tennis. Tennis being a predominantly white sport it definitely helped a lot. Because I saw somebody who looked like me dominating the game. It made me believe that I could dominate, too."
Venus was also an influence, and Gauff's father was inspired by Richard Williams' desire to help his daughters reach their full potential.
"I think her whole story, the Williams sisters' story, not just Serena, with Mr. Williams and all that he's done for both of them inspired my dad to continue to coach me and help me," Coco continued. "Even though he had not really much tennis experience. But he was like, 'If Mr. Williams can do it, then I can.'"
That, plus the individuality of tennis, in addition to its attire (her dad also told Garber that she liked the skirts for another ESPN piece), combined into a potent cocktail, and Gauff took to the court. Before long, she had proven to her parents that she was ready for more.
"One thing we noticed," her father explained, "was she had a unique ability to actually concentrate for 15 to 20 minutes. As parents, we decided to make no-regrets moves: 'Let's get her good coaching and a lot of feedback.'"
And that coaching, which eventually came from Patrick Mouratoglou, who famously worked with Serena Williams, but also included time with Gerard Loglo at the New Generation Tennis Academy, paid off. Coco won the "Little Mo" 8-under Nationals. Then, at age 10, she claimed the USTA Clay Court National 12-under title.
On the back of that success, it was time for the junior circuit
Coco Gauff junior career
In most other sports, college offers the clearest path to the pros. Tennis is a bit different, but that didn't stop Coco Gauff from cutting her teeth in high style.
Although junior records can be a bit spotty — with all due respect, that's not the height of tennis competition — the high points of Goff's time at that level are unmistakable. 
In 2014, Gauff entered the Les Petits As tournament. Despite being two years under the U14 age limit, the American reached the semifinals.
At age 13, she joined the ITF Junior Circuit. Gauff started out with two runner-up finishes at the 2017 editions of ITF College Park and the US Open, respectively. While those could either be viewed as disappointments or incremental steps toward glory, there wasn't much time for debate. In 2018, she took the top spot at the French Open, ITF Roehampton, and ITF Plantation.
The teenager also found success on the doubles scene. Playing alongside Caty McNally, she secured victory at the 2018 US Open. A couple of months later, Gauff, this time playing with Hurricane Tyra Black, also won ITF Mexico City.
All of that success was also reflected in the ITF Rankings. In July 2018, Goff ascended to the top of the junior world leaderboard. As a USTA write-up explained, she reached the top of that specific mountain at 14 years, four months, and three days old; she was the youngest girls junior player to accomplish that feat since the ranking system was overhauled in 2004.
Success at the junior level, however, is only worth so much. Gauff was ready for a new challenge.
Coco Gauff professional career
If you're feeling cynical, you could argue that there's nothing impressive about reaching the professional level if you don't achieve any success there. Coco Gauff, however, isn't simply on the tour to make up the numbers.
The Floridian entered the ITF Tour in 2018 and, later that year, made her US Open qualifying debut at age 14. Gauff didn't win a match in Queens, but appearing on that stage is still quite the feat. 
In 2019, the teenager checked some additional firsts off her to-do list. At the Miami Open, Gauff reached the main draw for the first time. She also recorded her first win, although she fell at the second hurdle. While she didn't make much noise at Roland Garros, a big-time trip to London was on the cards.
At Wimbledon, Gauff upset the top-seeded qualifier to enter the main draw. That would have already made for a successful tournament, but she wasn't done yet. The young American defeated one of her idols, Venus Williams, in straight sets and only kept rolling from there.
While Gauff eventually fell in the fourth round, she had become the talk of tennis, playing on Centre Court and stealing the show on ESPN.
When the 2019 US Open rolled around, Gauff continued her rise. In singles play, she advanced to the third round, eventually falling to Naomi Osaka. On the doubles side of things, Gauff and Caty McNally also pulled off some upsets en route to the third round before losing out to Ashleigh Barty and Victoria Azarenka. Before the year was out, Gauff and McNally would claim victory at the Luxembourg Open; Gauff would also earn a singles title at the Linz Open.
Although 2020 was an unconventional year — COVID-19 upended our lives and, consequently, the world of sports — the American teenager continued to progress. At the Australian Open, Coco defeated both Venus Williams and Osaka before exiting in the fourth round. 
Elsewhere, the US Open was a (metaphorical) nonevent as Gauff failed to clear the first hurdle. She scored a notable upset at the French Open, knocking off Johanna Konta in the first round, but crumbled against Martina Trevisan, heading home in disappointing circumstances.
Despite that stumble, the teenager continued to grow.
A series of positive results, including reaching the semifinals in Adelaide, the quarterfinals in Dubai, and the semifinals in the Italian Open, pushed Gauff into the WTA top 30. While that was already quite the accomplishment, a win at the Emiglia-Romagna Open pushed Coco into the top 25. She also won a doubles title at the same tournament, still playing with McNally.
While that could have added pressure onto any player's shoulders, it didn't seem to weigh Gauff down. At the French Open — she was seeded at a Grand Slam for the first time in her career — the American marched all the way to the quarterfinals. While she lost in straight sets, she made history as the youngest female to reach a Grand Slam quarterfinal since 2006, the youngest American to reach a Grand Slam quarterfinal since 2007, and the youngest American to reach the French Open quarterfinals since 1993.
The rest of the year was no less eventful. Gauff reached the fourth round at Wimbledon and was scheduled to participate in the 2020 Olympics until a positive COVID-19 test ruled her out of the action. The young American didn't make much noise in singles at the US Open but did reach the finals of the doubles bracket; she and McNally, however, fell at the final hurdle.
While 2022 didn't get off to the best start — Gauff fell in the first round of the Australian Open — that wasn't a sign of things to come.
In Qatar, she won a doubles title alongside Jessica Pegula. That was followed by a successful trip to Roland Garros. At the French Open, Gauff went further than ever before, reaching a Grand Slam final before losing to Iga Swiatek. On the doubles side of things, Goff and Pegula also made it to the final but fell short of the big prize.
That tournament still paid dividends. Gauff's ranking understandably increased, pushing her into the top five in women's doubles.
Singles may normally steal the spotlight, but the Floridian's doubles success continued. At the Canadian Open, Gauff reached the quarterfinals in singles, but that was insignificant compared to her other efforts. She and Pegula topped the field, pushing Gauff to the No. 1 spot in the world doubles rankings.
In Queens, though, Gauff and Pegula stumbled in the first round. Coco did better on her own, reaching the quarterfinals and pushing into the top 10 in the WTA singles rankings.
The 2023 season has brought further success for the rising star. Gauff kicked things off with a win at the Auckland Open, then reached the fourth round at the Australian Open. She and Pegula defended their doubles crown in Qatar; the two also took the top spot at the Miami Open, confirming they're still a pair to be reckoned with.
Coco Gauff Grand Slam record
While the tennis calendar is chock-full of events scattered around the globe, the four Grand Slams are where players can truly make a statement on the biggest stage. Coco Gauff hasn't claimed the top spot in any of those tournaments yet, but her results do show why she's so highly regarded.
| Year | Australian Open | French Open | Wimbledon | US Open |
| --- | --- | --- | --- | --- |
| 2019 | — | — | Round of 16 | Round of 32 |
| 2020 | Round of 16 | Round of 64 | — | Round of 128 |
| 2021 | Round of 64 | Quarterfinal | Round of 16 | Round of 64 |
| 2022 | Round of 128 | Final | Round of 32 | Quarterfinal |
| 2023 | Round of 16 | — | — | — |
Coco Gauff United States career
Despite nationalities being very present in tennis, Coco Gauff doesn't have much experience on the international stage. Her resume to date, however, does include some high honors and suggests she'll be a key part of the American contingent for years to come.
During her time on the junior circuit, Gauff was tapped to represent the United States at the 2018 Junior Fed Cup. The Floridian did her part, and the Americans defeated Ukraine to claim the title.
That success, combined with her tour accomplishments, kept her on the international radar, and when the rescheduled 2020 Olympics rolled around, Gauff joined the American delegation. The teenager tested positive for COVID-19 ahead of the Games, though, and was unable to compete.
While it would be easy to think of that as a crushing blow — the Olympics hold a special place in sports, and you never know what the future holds — Gauff wasn't deterred. She was stung but refused to be deterred.
"It was disappointing not to be able to go, but I think I was only sad for about a day, then after that I was of the mindset that you can't change the past and everything happens for a reason," Gauff told PEOPLE.
Since then, the Floridian got a chance to represent her country at the senior level. She joined the United States for the 2022 Billie Jean Cup (formerly known as the Fed Cup, which is essentially the female version of the Davis Cup), and is a part of the 2023 squad, too. To make things sweeter, she even got to play a 2023 qualifier at her hometown's tennis center.
"It's a weird feeling. I don't think I'll know how it will truly feel until I step out there but seeing places like this gym right here, I played basketball here when I was 12," Gauff explained, according to ABC 25 WPBF.
Coco Gauff playing style
Coco Gauff makes sheer power a key part of her game.
That's most apparent in the teenager's serve, which is one of the fastest in the women's game. She's also capable with both her forehand and backhand, though the latter is a bit more reliable.
Gauff doesn't simply use power to beat her opponent into submission, though. Incredible athleticism and long reach combine to make her a defensive force, and she's also mentally tough enough to grit out an ugly victory when things aren't going 100% to plan.
Are there some matches in which unforced errors undermine everything? Yes, but you shouldn't assume that you'll defeat the young American without a great deal of effort.
That isn't to say that Gauff is perfect. Her forehand is a weakness, and opponents have found success by forcing her to play from that side of the court.
The caveat, however, is that the teenager still has room to grow, both physically and on the court.
"One of the best movers on tour, Coco is still improving the consistency of her serve — one of the fastest in the women's game — and her forehand," Alyssa Roenigk explained in a 2022 ESPN piece. " Although she finally stopped adding inches to her height (5-foot-10), her arms grew a half-inch recently, which changed the geometry of her game, so she's working to adjust and find extension on her shots when the ball is close to her body. And she's learned from the emotional experience of her first Slam final."
Coco Gauff net worth and career earnings
Due to its individual nature, playing tennis professionally can be quite the risk. There's a low financial floor but a high ceiling since the amount of money you take home at the end of a tournament is directly related to how well you played.
That reality hasn't been a problem for Coco Gauff. She got her start impersonating her hero and hasn't looked back.
According to the WTA's official site, the Floridian has earned $6,566,556 thus far in her on-court career. While that's already a sizable sum for anyone, let alone a teenager, that isn't the end of Gauff's financial prowess. 
Thanks to her success and unique position as a young American arriving on the scene as the Williams sisters were nearing the end of their legendary careers, Gauff hasn't had any trouble landing endorsement deals. In 2019, for example, Forbes ran a story about the teenager after she announced a partnership with Barilla. At the time, the publication estimated that she earned more than $1 million from her sponsorships.
When you consider Gauff's other endorsements — she's used New Balance gear since age 14 and, in 2022, became the only active tennis player with a signature shoe other than Roger Federer — and the fact that her profile has only continued to rise, it's safe to assume that earning power has only increased.
So, what does that mean for overall net worth? A Tennis 365 post ran on Yahoo estimates Gauff's overall fortune at $6 million. Given that Serena Williams topped out at approximately $250 million (h/t Celebrity Net Worth), though, the sky is certainly the limit.
Coco Gauff nicknames
In the world of sports, there are several ways that nicknames can come about. Some are ironic, like calling a larger person "Tiny." Others are tied to more stylistic aspects of play; consider calling an unbeatable goaltender "The Dominator." A third group is directly linked to names, adding an "-er" or "-y" to form a moniker.
None of those apply to Coco Gauff. 
As you might expect, Gauff's parents didn't name their daughter Coco. Her actual name is Cori, but family similarities facilitated a change.
Since Gauff's father is named Corey, the family needed a way to differentiate between the two. An aunt suggested calling Cori "Coco," and the nickname stuck. It even bore some resemblance to her father's old nickname as a bonus. 
No matter what you call her, though, Coco Gauff is certainly worth talking about.
Coco Gauff media presence
Since she's a teenager, you might assume that Coco Gauff is comfortable putting herself out there on the internet. And while stereotypes aren't ideal, there is some truth to that perception.
On social media, Gauff maintains a strong presence on both Twitter and Instagram. She has about 273,000 followers on the former platform and a shade under 870,000 on the latter. And, perhaps most importantly, the Floridian shows actual personality — she tweets about the Miami Heat, comments on the Oscars, and even pokes fun at herself — in addition to sharing New Balance content.
Beyond that, Gauff has appeared in multiple commercials. Most of them have been for New Balance, but she's also helped advertise the US Open. The teenager was also the star of some video profiles, like the following ESPN piece:
And 24 hours with Vogue: 
Coco Gauff FAQs
What is Coco Gauff's real name?
Coco Gauff's given name is Cori Dionne Gauff.
How tall is Coco Gauff? 
Coco Gauff is listed at 5-foot-9, per her WTA profile.
Where was Coco Gauff born?
Coco Gauff was born in Atlanta, Georgia. She later moved south to Delray Beach, Florida.
How old is Coco Gauff?
Coco Gauff was born on March 13, 2004. He is currently 19 years old.
When did Coco Gauff go pro?
Coco Gauff made her senior professional debut in 2018.
Is Coco Gauff right or left-handed?
Coco Gauff is right-handed.
What is Coco Gauff ranked in the world?
Coco Gauff is sixth in the WTA singles rankings and sits in third place on the doubles side of things.
How much money has Coco Gauff made playing tennis?
According to the WTA, Gauff has made $6,566,556 of prize money during her time on the court.