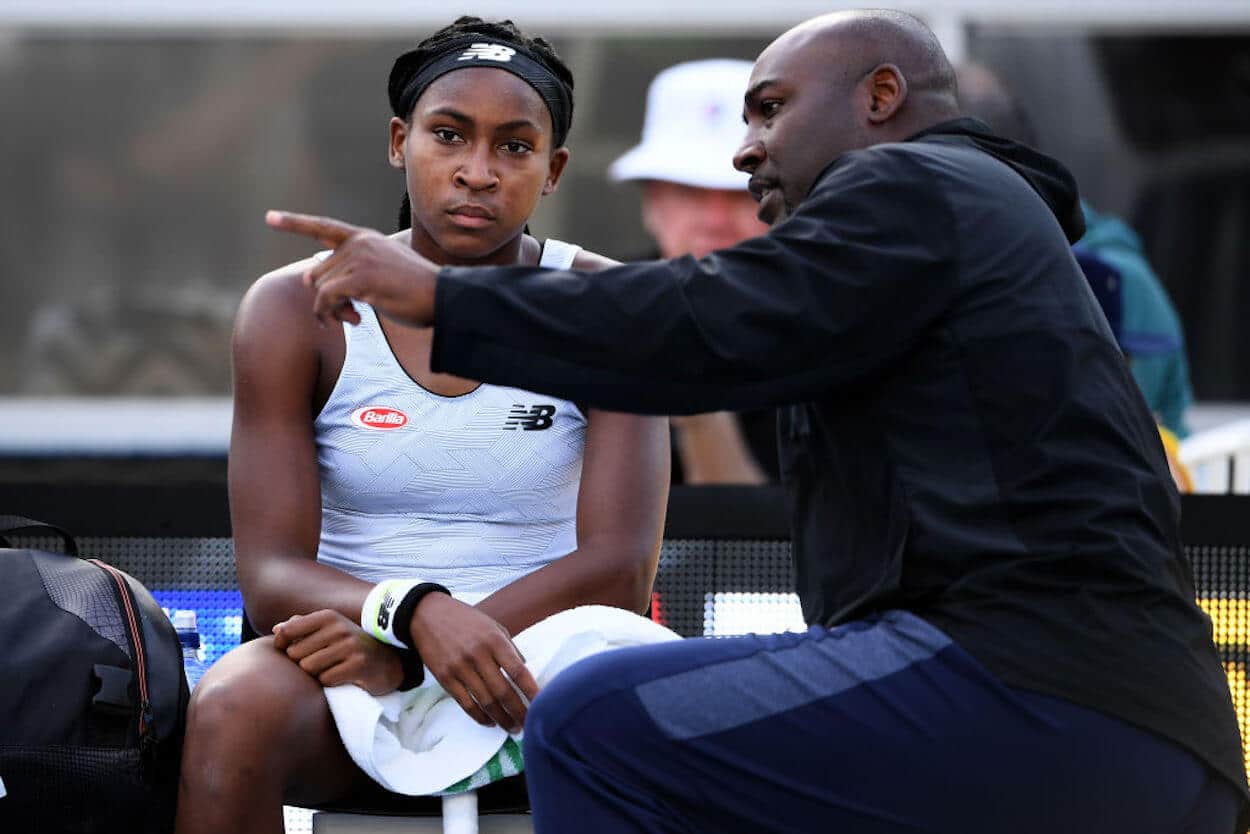 Coco Gauff's Athletic Parents Set Her Up For Success: 'Tennis Chose Her'
In the world of sports, you'll hear plenty of talk about destiny. Coco Gauff's tennis career could be an example of that.
Sometimes sports fans can use the idea of "destiny" as a narrative crutch. While it can sometimes feel a bit strange admitting that luck played a role in the result, it's easier to blame the hand of fate. Sometimes, a player or team is simply meant to win. When it comes to Coco Gauff and her tennis career, though, it does seem like there was some destiny involved.
As a girl, Gauff tried virtually every sport imaginable, but one held a particular appeal. That, of course, was tennis, and if you take Coco's father at her word, the game chose her.
Is it destiny? Or just a coincidence? You can be the judge of that.
Coco Gauff's parents were athletes and nurtured their daughter's passion for sports
At the risk of painting with something of a broad brush, children tend to follow in their parents' footsteps. For Coco Gauff, that meant that sports were on the cards. Her father, Corey, played at Georgia State; Coco's mother, Candi, held her own as a two-time South Florida Sun Sentinel Athlete of the Year and member of Florida State's track and field team.
During her youth, Gauff played every sport available and found plenty of early success. "[Her parents] encouraged Coco to try every activity they could think of — basketball, track, dance, gymnastics, cheerleading, soccer, you name it," D'Arcy Maine wrote in an ESPN piece. "She was a natural at everything she tried — even winning the first 5K race she ever ran — but tennis was her favorite."
Depending on who you ask, there are different explanations for what drew Coco to the court.
If you go by Greg Garber's WTA story, then seeing Serena Williams — an African-American woman — dominate the competition drew Gauff in. Another Garber piece on ESPN, however, quoted Corey Gauff as saying his daughter "liked the skirts." Others also attribute tennis' appeal to the individual nature; Coco didn't have to rely on any teammates and could flex her own metaphorical muscles.
In a 2019 New York Times write-up, however, Gauff's father offered another take. "Tennis chose her," he simply explained.
And, no matter what drew her to the sport, Coco Gauff has certainly followed through.
After working with her father — he took inspiration from Richard Williams and coached his daughter, while Coco's mother handled homeschooling — Gauff started training under Patrick Mouratoglou, who famously coached Serena Williams. She took the top spot at the "Little Mo" 8-under Nationals, then, at age 10, she claimed the USTA Clay Court National 12-under title.
From there, the rest is history.
Gauff has already lived up to that 'chosen' status
As I mentioned at the top of this piece, the idea of destiny can be somewhat of a crutch. Coco Gauff, however, hasn't had any problem living up to the expectations that her father's words carry.
After finding success on the junior circuit — she reached the top of the leaderboards in 2018, becoming the youngest girls junior player to accomplish the feat since the rankings were overhauled in 2004 — the Floridian was ready for the pros. And while things were understandably a bit tougher there, she still found plenty of success.
Gauff made her US Open qualifying debut at age 14, which is already an impressive feat, but didn't make much noise in Queens. When the calendar turned to 2019, though, everything changed. The teenager arrived at Wimbledon as a wildcard but knocked off the top seed to enter the main draw. Once there, she pushed into the fourth round, defeating Venus Williams in the process and becoming the talk of the tennis world in the process.
That success wasn't a one-off. Gauff reached the third round of that year's US Open, eventually losing to Naomi Osaka; she'd also reach the third round in doubles.
That success, however, proved to be something of a double-edged sword. As documented in a 2020 New York Times story, the teenager candidly discussed the weight of expectations.
"Throughout my life, I was always the youngest to do things, which added hype that I didn't want," Gauff said. "It added this pressure that I needed to do well fast. Once I let that all go, that's when I started to have the results I wanted."
Even with that acknowledgment, though, the young American still continued to progress through the ranks. At the 2021 French Open, Gauff set multiple age-based milestones as she reached the quarterfinals. Then, during the following year's trip to Roland Garros, she reached her first Grand Slam final, although Iga Swiatek ultimately took home the title. One year later, she won her first Grand Slam at the 2023 U.S. Open.
Coco has also found success on the doubles side of things, where she plays alongside Jessica Pegula.
Gauff's success can also be measured in some additional ways. From a rankings-based perspective, she pushed as high as world number one in the doubles ranking. While she lost that lofty position, the American still sits as the second-ranked women's doubles player and the third-ranked singles player as of October 2023.
If you prefer a financial perspective, Gauff has done pretty well for herself there, too. According to her WTA profile, she's taken home $11,107,463 in on-court winnings throughout her career. That's not a bad haul for anyone, let alone a teenager.
Was Coco Gauff actually chosen to play tennis? You can decide that for yourself. If nothing else, she's certainly playing like she is.