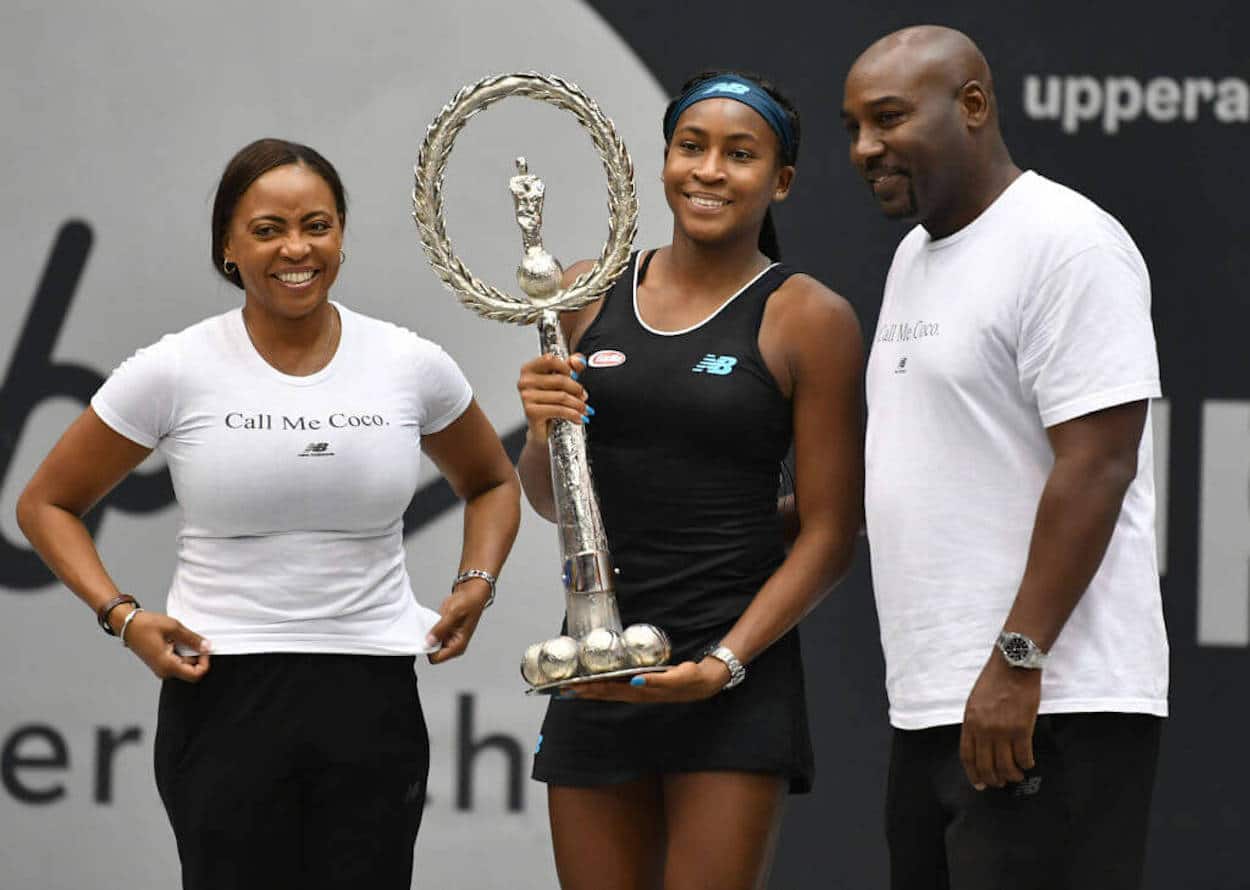 Coco Gauff's Parents: The Tennis Star's Dad Told Her She Could Be the 'Greatest' When She Was Only 8
When Coco Gauff was a girl, her father told her that she could be "the greatest." Since then, she's been living up to his words.
Tennis, for better or worse, is a largely individual sport. That reality can be something of a double-edged sword. If you're capable of handling the pressure, there's no one else to bring you down. If you struggle, though, there's no one to blame but yourself. Coco Gauff, it seems, is more than comfortable in the spotlight.
While the American ace is still young, she's had no problem climbing up the WTA rankings and making a name for herself. That rapid ascent might have been a surprise for some, but it wouldn't have caught Coco's father, Corey, off-guard.
In fact, he went as far as telling her that she could be "the greatest" during her early days on the court. Let's check it out.
Coco Gauff's parents were accomplished athletes who started their daughter down a sporting path
In the world of sports, there are plenty of famous families. And while they don't quite have the clout of the Bretts or the Mannings, Coco Gauff and her parents are all pretty comfortable strutting their stuff.
Coco's father, Corey Gauff, played basketball at Georgia State. Her mother, Candi Gauff, made her name for herself as a track-and-field talent before taking her talents to Florida State. Unsurprisingly, their daughter also tried her hand at plenty of athletic endeavors.
[Her parents] encouraged Coco to try every activity they could think of — basketball, track, dance, gymnastics, cheerleading, soccer, you name it," D'Arcy Maine wrote in an ESPN piece. "She was a natural at everything she tried — even winning the first 5K race she ever ran — but tennis was her favorite."
And once tennis was chosen as Gauff's primary sport, her parents were fully on-board.
Coco had her parents' full support when it came to tennis
Just how supportive were Coco Gauff's parents? Allow Mike Persak of the South Florida Sun-Sentinel to explain:
When Coco was born they got her involved with sports at an early age. It was around the time she was in second grade and the family was living in Atlanta that Corey and Candi knew they were going to have to commit to tennis full-time if they wanted to give Coco a chance to reach her potential.

"[Corey] said to me, he was like, 'If we're gonna do this, she's gonna have to home-school,' " Candi said. "And that meant that was my last year teaching. And I said, 'OK, well, give it a year.' And we moved into my parents' home and came here."

Mike Persak, the SOUTH FLORIDA SUN-SENTINEL
In that arrangement, Corey became Coco's coach. Candi handled the home-schooling responsibilities to ensure that their daughter didn't fall behind academically. The Gauff family was growing, and their income streams were shrinking, but it all served a greater purpose.
"It was a risky move, but Candi remembered her experience with gymnastics and didn't want to hold Coco back from her own dreams," Persek explained.
Coco Gauff's father told her that she could be 'the greatest,' and she's following through
While Corey Gauff didn't have much experience playing tennis — Persak noted that his career was limited to a few years in middle school — that didn't stop him from having confidence in his daughter's skills. Even when Coco was eight years old, he made sure that she was aware of her potential.
As laid out by a 2021 Good Housekeeping post, Gauff said that it was her dream to be "the greatest." That idea, it seems, came from dear old dad.
"My dad told me I could do this when I was eight, and obviously, you never believe it," she explained. "I'm still not 100 percent confident, but you have to say things and believe in them."
And regardless of that (slight) lack of confidence, Gauff has certainly put herself on the right path to fulfill those words. The teenager burst onto the scene at the 2019 edition of Wimbledon and hasn't looked back, even winning her first Grand Slam at the 2023 U.S. Open.
As of October 2023, Gauff is a top-three player in both singles and doubles and has piled up more than $11 million in on-court winnings.
Does she have plenty of work to do before officially becoming "the greatest"? Of course. But, thus far, Corey Gauff was undeniably right about his daughter's tennis potential.