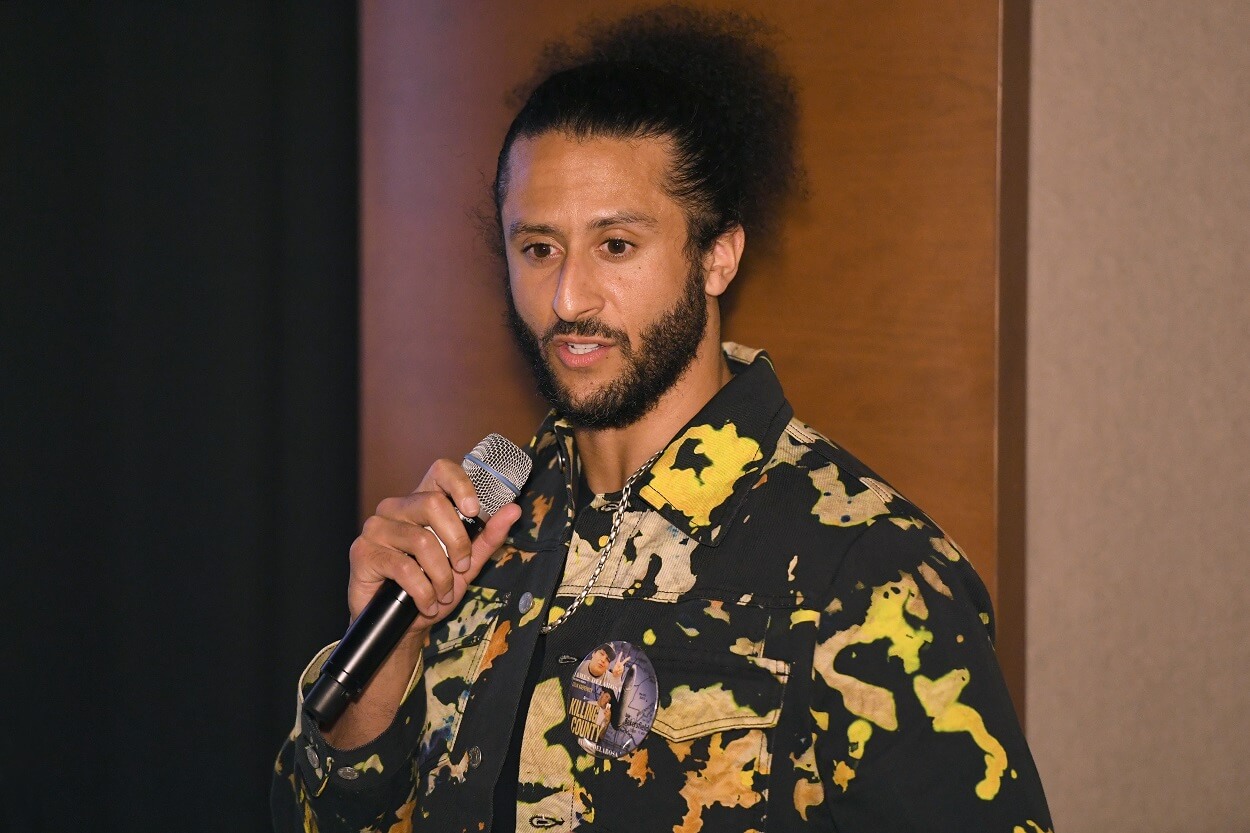 Colin Kaepernick Makes Some Interesting Choices When Naming His Top 5 NFL QBs of All Time
Colin Kaepernick reveals his picks for the top five quarterbacks in NFL history.
Love him or hate him for his actions and beliefs outside the lines of a football field, there's no denying Colin Kaepernick was a remarkable talent inside of them.
During his four-year run at the University of Nevada, he became the first (and still only) player in Division I history to record 10,000 passing yards and 4,000 rushing yards, which is why the San Francisco 49ers took him in the second round of the 2011 NFL Draft.
And while certainly not the greatest NFL quarterback of all time, Kaepernick enjoyed some success at the professional level as well. When Alex Smith went down during the 2012 campaign, the two-time WAC Offensive Player of the Year stepped in and led the Niners to their first Super Bowl appearance in 18 years.
And in his first full season as a starter, Kaepernick led San Francisco to a 12-4 record and a second straight appearance in the NFC Championship Game. The seasons that followed didn't go quite as smoothly, and he's famously been out of the league for more than six years now — but let's not pretend that's because his win-loss record took a bit of a dip.
While that is true — he went 3-16 over his final 19 games — Kaepernick never had a single season in which he threw more interceptions than touchdowns. And while his completion percentage left something to be desired at times, the dual-threat QB did his best to make up for it with his legs.
In 69 career regular-season games, Kaepernick threw for 12,271 yards with 72 touchdowns against just 30 interceptions and accounted for another 2,300 yards and 13 scores on the ground. He also added 1,374 passing yards, 507 rushing yards, and 11 total TDs in six postseason appearances. And 181 of those postseason rushing yards came in one game, setting an NFL record that still stands.
Again, while not the greatest NFL quarterback of all time, Kaepernick enjoyed a solid (albeit far too short) career. So exactly who does he believe is the greatest?
Colin Kaepernick reveals his picks for the top five greatest quarterbacks in NFL history
In a recent interview with Sports Illustrated, Colin Kaepernick not only revealed his pick for the greatest NFL QB of all time but gave his top five choices. And while his GOAT selection shouldn't come as a shock, a couple of others might.
Kaepernick kicked things off with Tom Brady, whom he called the "undeniable GOAT." And that's hard to argue as TB12, of course, won seven Super Bowls and retired as the NFL's all-time leader in passing yards and touchdown passes, both in the regular season and postseason.
His next choice, however, isn't seen on as many top-five lists as Brady, that being Randall Cunningham, the four-time Pro Bowler who Kaepernick says "broke the mold for quarterbacks" and "did everything on the ground but was also airing it out," which is accurate.
Next up was Warren Moon, the nine-time Pro Bowler who became the first Black quarterback and the first undrafted signal-caller ever to be inducted into the Pro Football Hall of Fame.
Number four on Kaepernick's list was Patrick Mahomes, who's already won two Super Bowl titles, two Super Bowl MVP awards, and two NFL MVP awards in his first six years in the league.
And his final selection was none other than Aaron Rodgers, who he called "one of the greats with what he's done on the field," also referencing the battles he had against the four-time NFL MVP.
While undoubtedly a strong list, it's highly likely not everyone will agree with Colin Kaepernick's choices. But that's certainly nothing new, is it?