Pat McAfee Gives a Blunt Assessment of Colts' Embarrassing Shutout by the Jaguars
On paper, the Indianapolis Colts have a lot more talent than the Jacksonville Jaguars. They have a Super Bowl quarterback in Matt Ryan, last season's leading rusher in Jonathan Taylor, and a defense that includes All-Pros like DeForest Buckner and Stephon Gilmore. Despite these advantages, the Colts traveled down to Duval County in Week 2 and laid an egg, getting shut out by the Jacksonville Jaguars. And former Colts punter Pat McAfee didn't mince words when describing his former team's performance.
Pat McAfee summed up the Colts' performance perfectly
The Indianapolis Colts entered their Week 2 game with a significant injury crisis. The team was missing All-Pro linebacker Shaquille Leonard and wide receivers Michal Pittman Jr. and Alec Pierce, among others.
That said, the Colts still should have had plenty of firepower to at least play with (or at least score a single point!) against the Jacksonville Jaguars. However, that just didn't happen.
Without two of his top targets, Matt Ryan had a horrible game. He was 16-of-30 for 195 yards with no touchdowns and three interceptions. All-Pro running back Jonathan Taylor rushed just nine times for 54 yards.
On the other side, Trevor Lawrence was an ultra-efficient 25-of-30 for 235 yards with no INTs and two TDs. The Colts D didn't have a single sack or create any turnovers vs. the perennial FAC South bottom-feeder.
Former Colt turned Indianapolis-based sports talk host Pat McAfee summed the game up bluntly and correctly, tweeting, "This team appears to stink."
The AFC South isn't all that good this season, so it's not time for Colts fans to completely panic yet. That said, if the team doesn't quickly fix the issues emanating from head coach Frank Reich's play-calling and QB Matt Ryan's play, this could get ugly fast in Indy.
Indianapolis' road losing streak vs. the Jaguars grows to eight years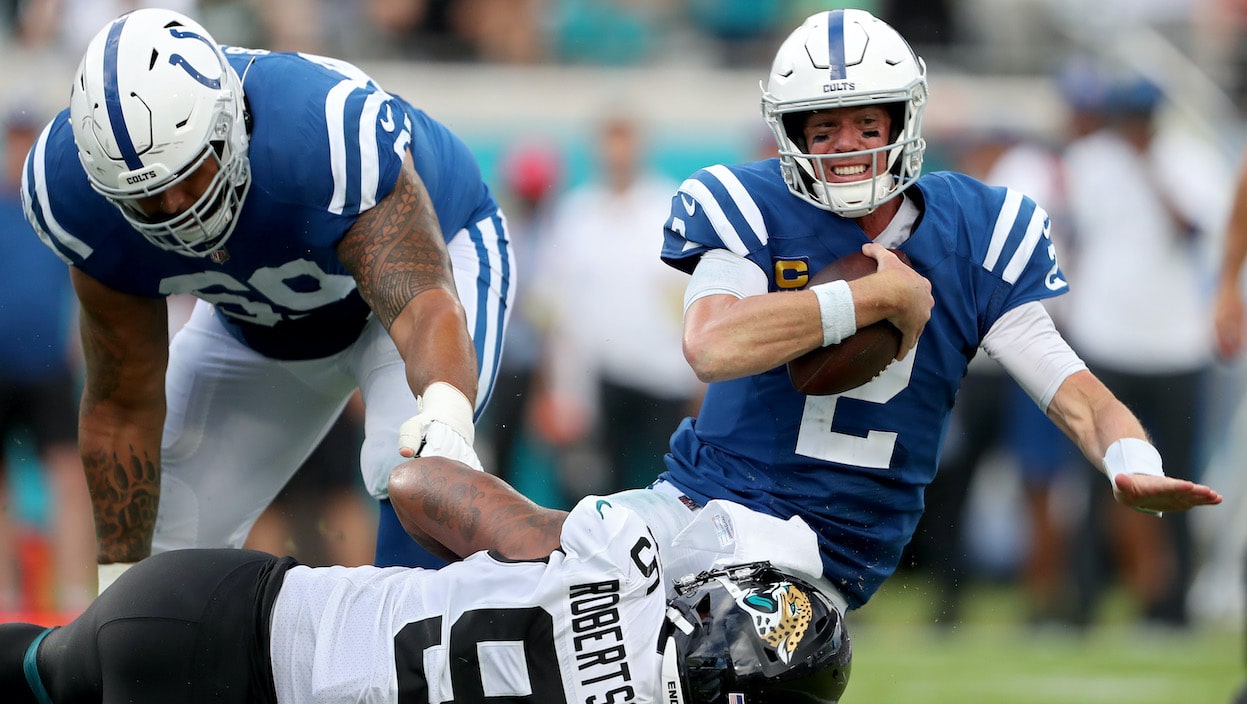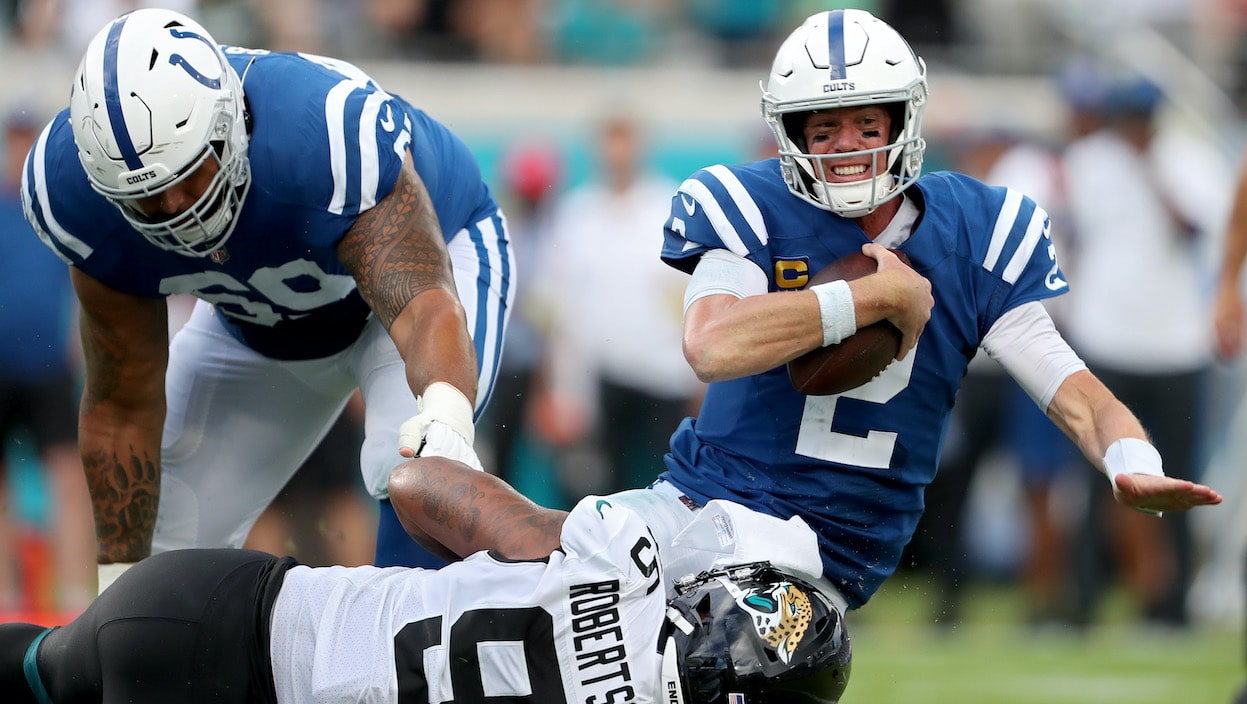 Yes, the Indianapolis Colts stunk on Sunday. But you have to give some of the credit for that to the new-look 2022 Jacksonville Jaguars. The Jags blew a lead against the Washington Commanders (and former Colts QB Carson Wentz) in Week 1 and cleaned up a lot of their issues in Week 2 vs. the Colts.
In fact, having the Colts at home is the perfect formula for the Jaguars to right the ship over the last eight seasons.
For nearly an entire decade now, the Colts haven't won at Jacksonville (and once in London with the Jaguars as the home team) since 2014. That was Andrew Luck's third season in the NFL.
Since that day, almost exactly eight years ago, neither Chuck Pagano nor Frank Reich has beaten the Jaguars in Duval County. Neither has Luck, Jacoby Brissett, Philip Rivers, Carson Wentz, or now, Matt Ryan.
Since that day, the Colts are 7-1 vs. the Jaguars in Indiana but haven't been able to crack the Jaguars' code on the road.
The last two games at Jacksonville were particularly meaningful for the Colts. In last year's Week 18, Indy only needed a win, and the team was in the 2022 playoffs. They couldn't get it done, though, losing to a 2-14 Jacksonville squad, 26-11.
This season, the Jags' Week 2 win puts Indianapolis in a tailspin, and if they don't recover soon, the first season of the Matt Ryan Era could be over soon.
Like Sportscasting on Facebook. Follow us on Twitter @sportscasting19 and subscribe to our YouTube channel.
RELATED: Greedy Colts Owner Jim Irsay Insists the NFL Doesn't Make Enough Money: 'I'd Like to Play on the Moon, and We Will Someday'