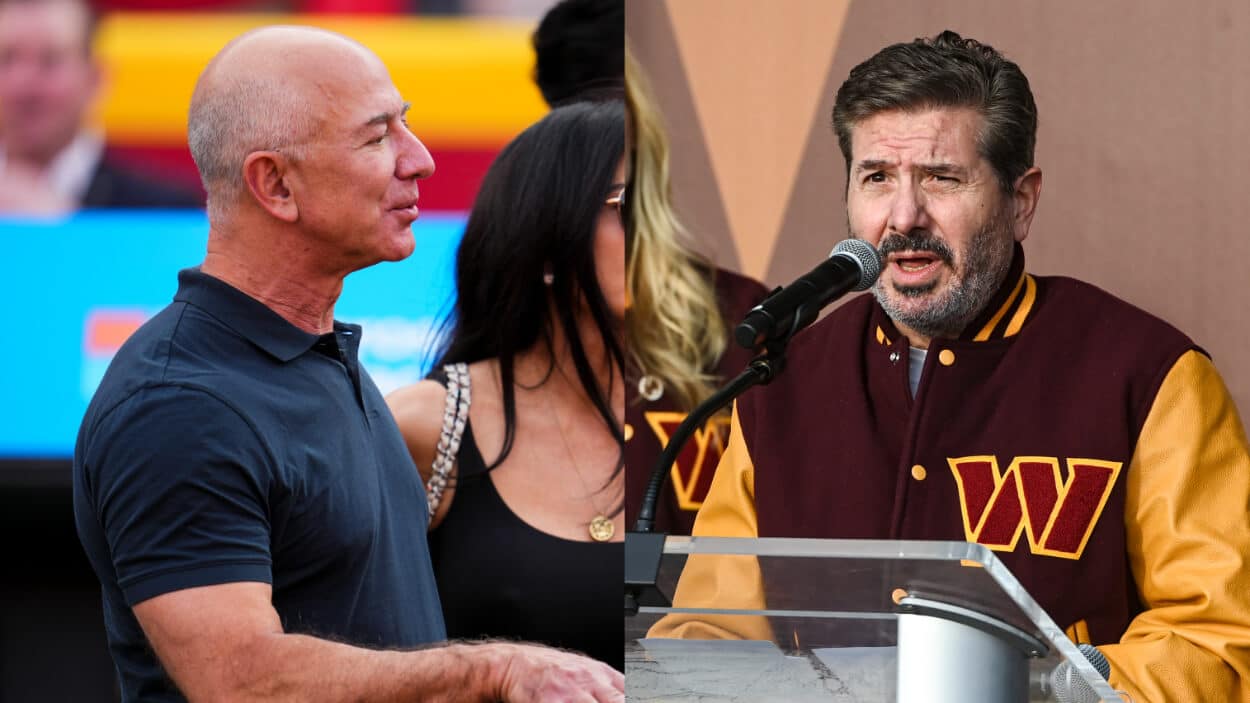 Daniel Snyder and Jeff Bezos Go to War Over Commanders Sale: 'He's an A**'
A Jeff Bezos-Commanders sale might not happen if Washington owner Daniel Snyder gets his way due to a personal grudge between billionaires.
Washington Commanders owner Daniel Snyder is going through the process of selling the team, although no potential buyer has met his desired price yet. One of the wealthiest people in the world, Amazon founder Jeff Bezos, wants to buy the team, but he's not allowed to bid. The Commanders sale is, unsurprisingly, turning ugly as Snyder is holding a personal grudge against Bezos that is hindering the deal. However, sources say a Jeff Bezos-Commanders sale still may materialize because other NFL owners want it.
Will a Jeff Bezos-Commanders sale happen?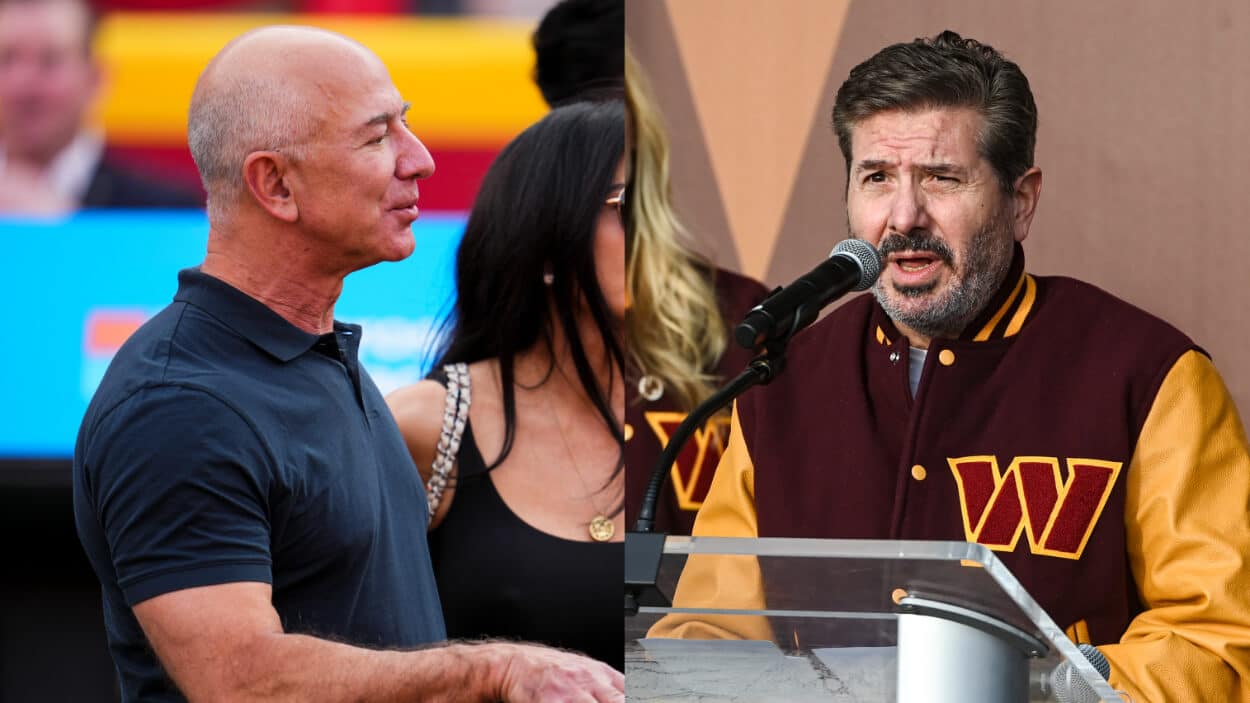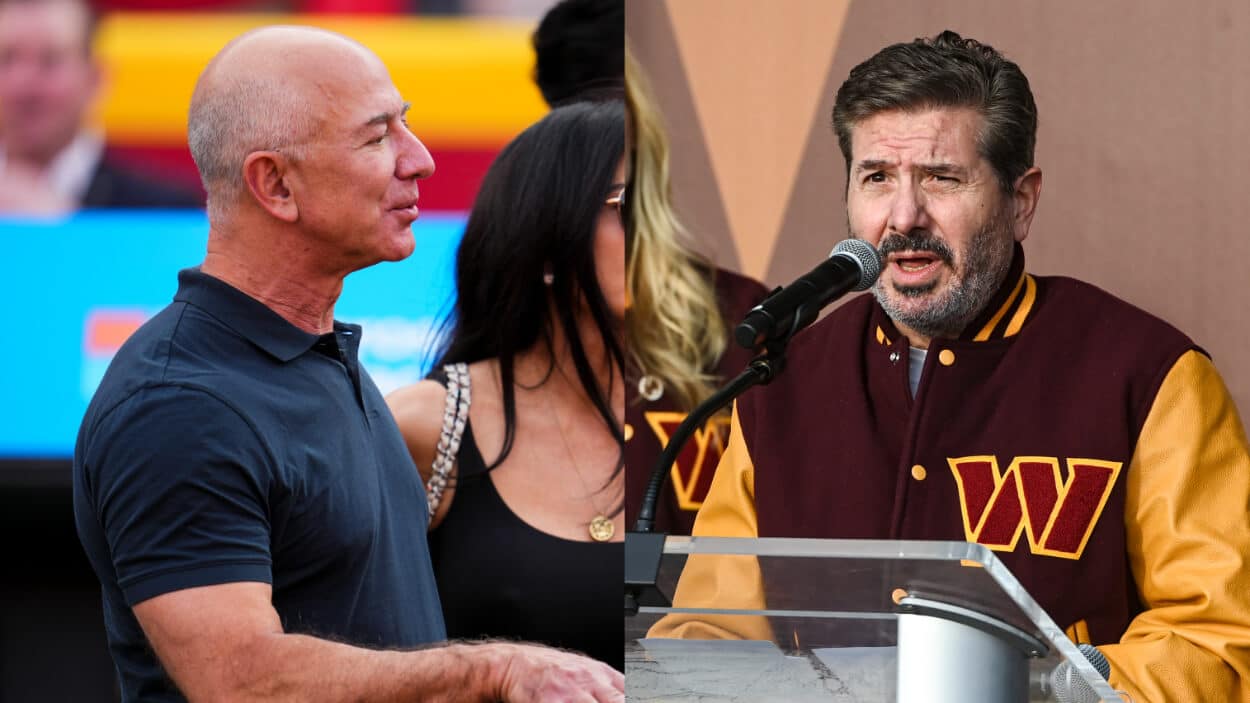 After multiple accusations and reports of misconduct — from sexual harassment to hiding revenue from the NFL — it seems as though the league is quietly pressuring Commanders owner Dan Snyder into selling the team.
Snyder retained a firm to help him explore a sale and had a private auction to evaluate bids for the franchise. However, according to the New York Post, Snyder set the bid floor at $6 billion, and only two offers (one anonymous, one from Philadelphia 76ers owner Josh Harris) even came close at around $5.5 billion.
The complicating factor here is that one interested party, Amazon's Jeff Bezos, was not allowed to bid despite multiple reports that he is interested in purchasing the franchise.
A Jeff Bezos-Commanders bid wasn't allowed because Snyder holds the billionaire responsible for this whole fiasco.
Snyder's downfall can largely be attributed to exposés about the toxic workplace culture published in the Washington Post, a newspaper that Bezos owns. According to a separate New York Post report, some sources close to the matter "even believe that Snyder suspects Bezos, who bought the Washington Post in 2013 for $250 million, encouraged the tough coverage in 2020 in a bid to force him to sell him the team."
Despite his personal grudge against Bezos, Snyder may not be letting the uber-rich CEO in for another reason. The Post quoted "a source closely watching the sale" who told the paper simply that "[Snyder] 's an a** and he may not want to give it up."
So, by setting the price sky-high and locking out one of the few people in America who can afford it, Snyder may be sabotaging his own sale, which he may not want to make.
This wouldn't be terribly shocking with what we know about Daniel Snyder. The billionaire bought the team in 1999 for $800 million. At the time, it was the highest price ever paid for an NFL franchise. Snyder didn't seem to care, though, as buying the Commanders was a passion project for him as he grew up a fan of the team in suburban Maryland.
Whether Snyder is self-sabotaging his sale or just holding out for the highest price, a Jeff Bezos-Commanders sale isn't dead yet.
League owners may continue to exert pressure on Snyder that includes letting Bezos into the bidding process. That's because, ultimately, getting one of the richest people in the world involved in the NFL and having him pay top dollar for a team is good for the league and the value of the 31 other owner's franchises.