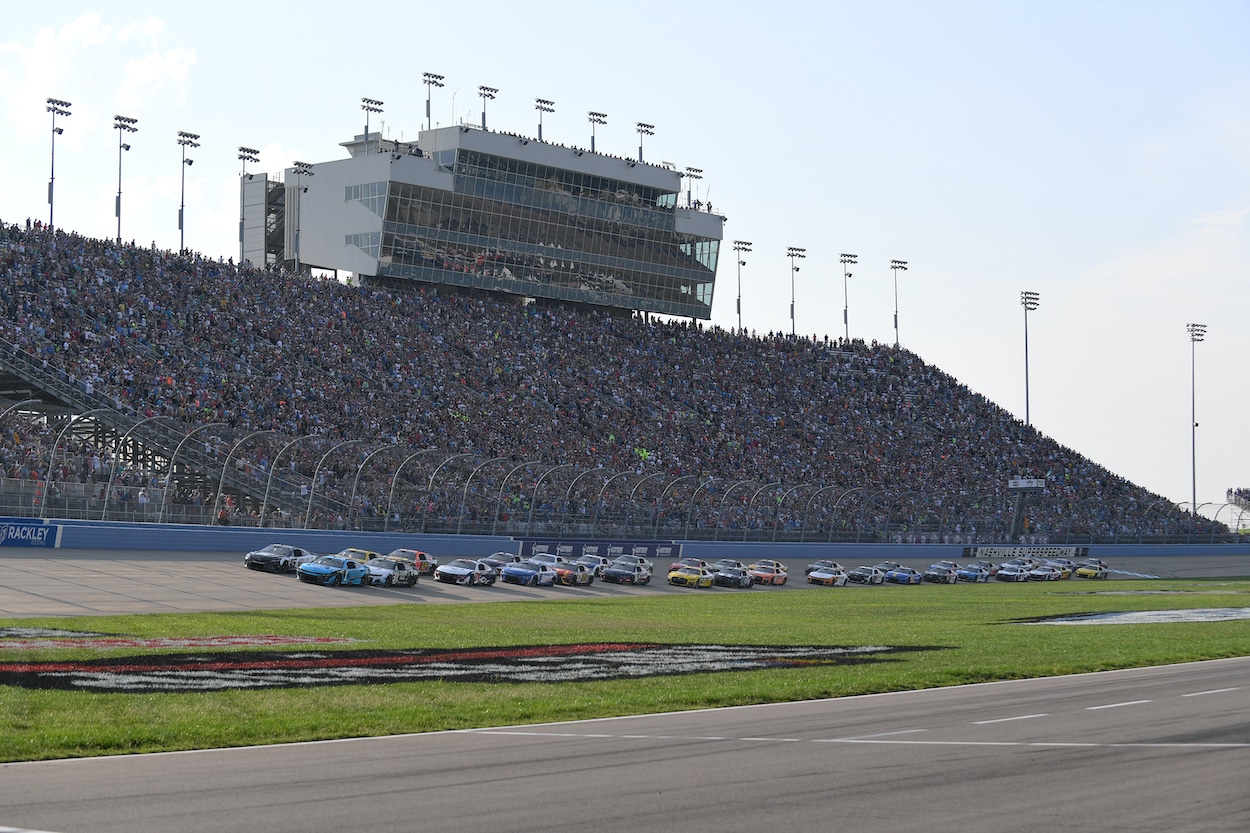 Commercial Tracker: 2023 NASCAR Cup Series Race at Nashville and NBC's First Broadcast of Season
The commercial tracker for NBC's first Cup Series race of the season showed a noticeable difference between the number of commercials aired on the Peacock versus Fox.
With NBC taking over the NASCAR coverage this week, we have revived our commercial tracker to see how many advertisements were broadcast during the race from Nashville Superspeedway and compare it to our last tracker used during Fox's coverage at Dover last month.
As done in the past, we break it down by total number of commercial breaks, including side-by-sides, total commercials, total amount of time spent in a commercial break, and total green-flag laps missed by the television viewing audience.
The Ally 400 at Nashville Superspeedway begins
The green flag for the Ally 400 at Nashville Superspeedway waved at 7:06 ET. NBC delivered its first commercial break on Lap 15 during green-flag action. The first break turned out to be a template for the rest of the race and featured six spots that lasted a total of 2:30. Fans watching on TV missed five green-flag laps.
With no cautions in that first stage, the network ran three more breaks during green-flag racing, each including six advertisements, with two 2:30 in length and the other 2:20. This included fans missing 17 more green-flag laps.
Upon the stage conclusion, NBC ran two more breaks that featured 14 commercials, lasting 4:50. In total, the first stage, including the stage break, had six sets of ads, a total of 38 commercials, which lasted for 14:40. Viewers at home missed 22 green-flag laps.   
Stage 2 includes first cautions for accidents
Unlike the first stage, which went caution-free, the second stage had only two natural cautions for cause, including a pair of incidents with Tyler Reddick losing a wheel on pit road and Ryan Blaney suffering a hard hit on the inside wall. 
However, before those incidents, NBC aired a pair of commercial breaks (total of 10 spots), both running for 2:30. Fans at home missed 12 more green-flap laps. During the caution for Reddick, fans saw seven commercials lasting 2:20, and on the caution for the No. 12, another six spots ran for 2:30.
NBC featured its first side-by-side of the race in the fifth round of commercials. At the end of Stage 2, which included the standard two sets of commercials during the stage break, fans had witnessed seven commercial breaks (one side-by-side) and a total of 42 commercials, lasting 17:10. 
Final stage includes four side-by-side breaks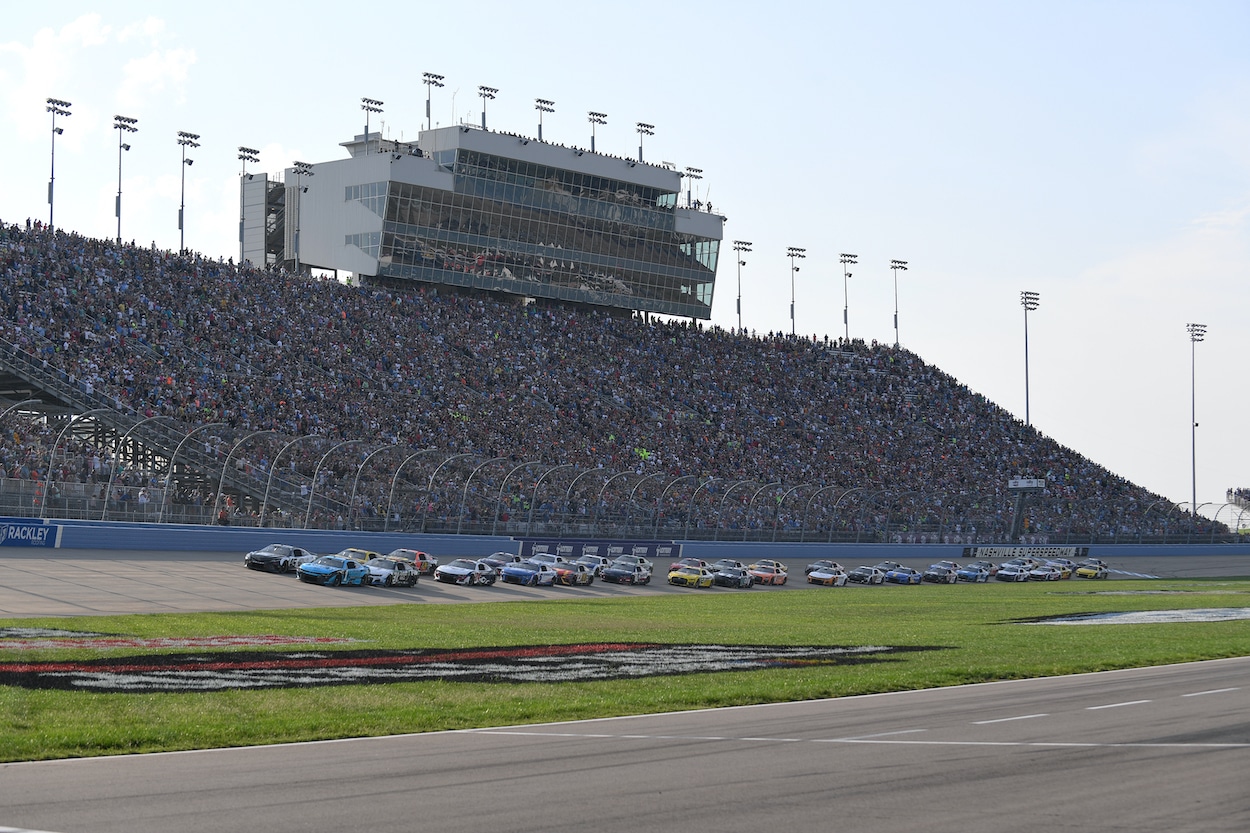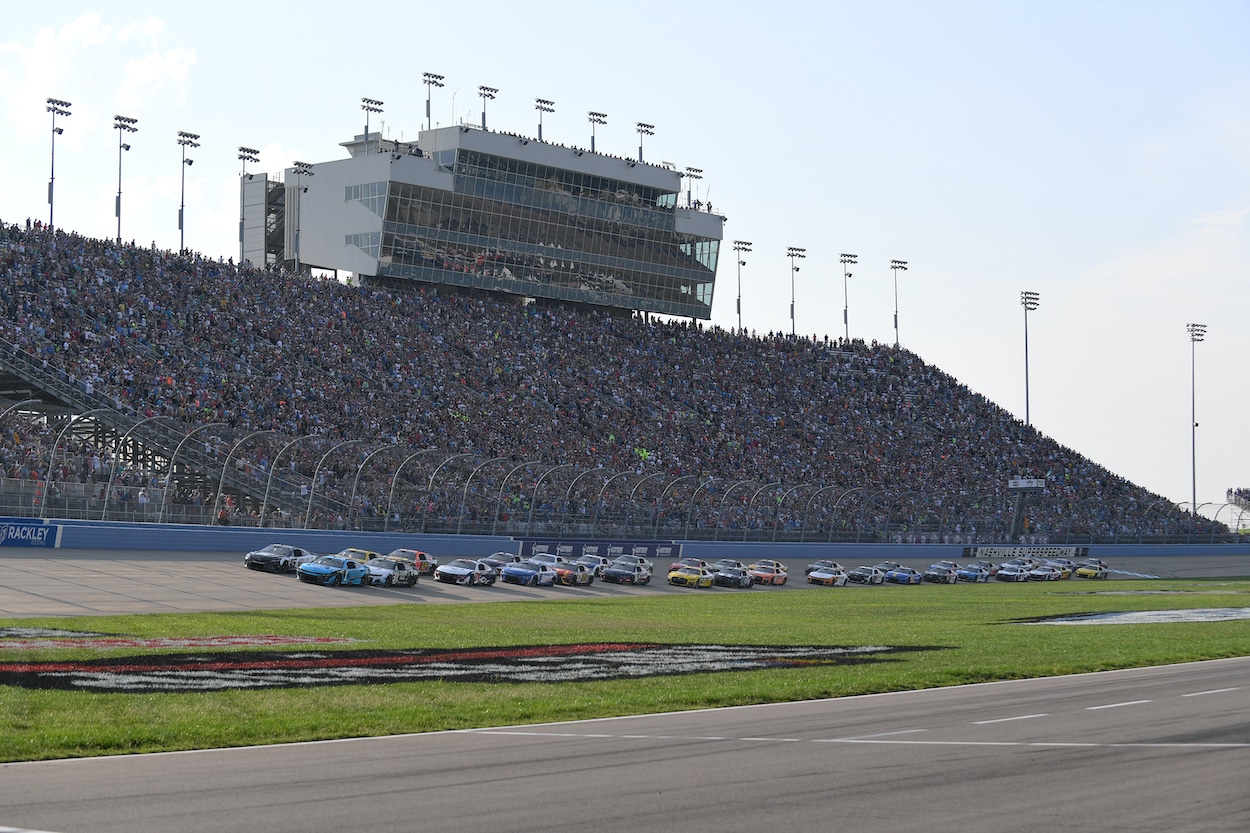 The final stage at Nashville was much like the first in that it didn't have any natural cautions. However, NBC's coverage was dramatically different as that final stage included six breaks, four side-by-side. 
During the only two full-screen commercial breaks, fans watched 14 commercials that lasted 4:50 and missed 12 green-flag laps. 
The final stage had six breaks (four side-by-side) and included a total of 35 commercials that lasted for 13:50.  
Final numbers from Nashville
| | |
| --- | --- |
| Total Time of Race (Green to Checkered) | 3 Hours 0 Minutes |
| Total Commercial Breaks (Side-By-Sides) | 19 (5) |
| Total Commercials | 115 |
| Total Time of Commercials | 45:40 (25.37% of race broadcast) |
| Total Laps Missed by Viewing Audience | 46 green-flag laps |
Fans saw fewer commercials on NBC versus Fox
The numbers are interesting when comparing to our last commercial tracker with Fox, which we used last month at Dover. The Dover race lasted 21 minutes longer, and included two more commercial breaks. Both Dover and Nashville had a total of five side-by-side breaks.
There was a notable difference between the two broadcasts. The Dover race on Fox featured 146 commercials. NBC's broadcast from Nashville included 115. Unsurprisingly, the Peacock's commercials lasted 45:40, or 25.37% of the broadcast versus Fox's ads run at Dover, which lasted 51:45, or 25.75% of the broadcast.
And finally, on missed green-flag laps, the fans missed 46 on Sunday from Nashville versus 60 last month at Dover.
To stay up to date on the latest happenings in NASCAR, including breaking stories you can't find anywhere else, follow Kyle on YouTube and Twitter.