Commercial Tracker: 2023 NASCAR Cup Series Pala Casino 400 at Auto Club Speedway
After so much commotion following the season-opening Daytona 500 and many frustrated fans calling out Fox for its commercials, including timing and length of advertisements, we have decided to track the commercials for the remaining races of the 2023 NASCAR Cup Series season.  
This will give fans a chance to see just how much time the broadcast dedicates to the race versus commercials and offer a good barometer if it's consistent throughout the year. Each week we'll break it down by total number of commercial breaks, including side-by-sides, total number of commercials, and total amount of time spent showing ads. We'll also throw in some fun nuggets like the winner for the longest commercial of the race. Here's a look at what fans saw watching the Pala Casino 400.
The Pala Casino 400 at Auto Club Speedway begins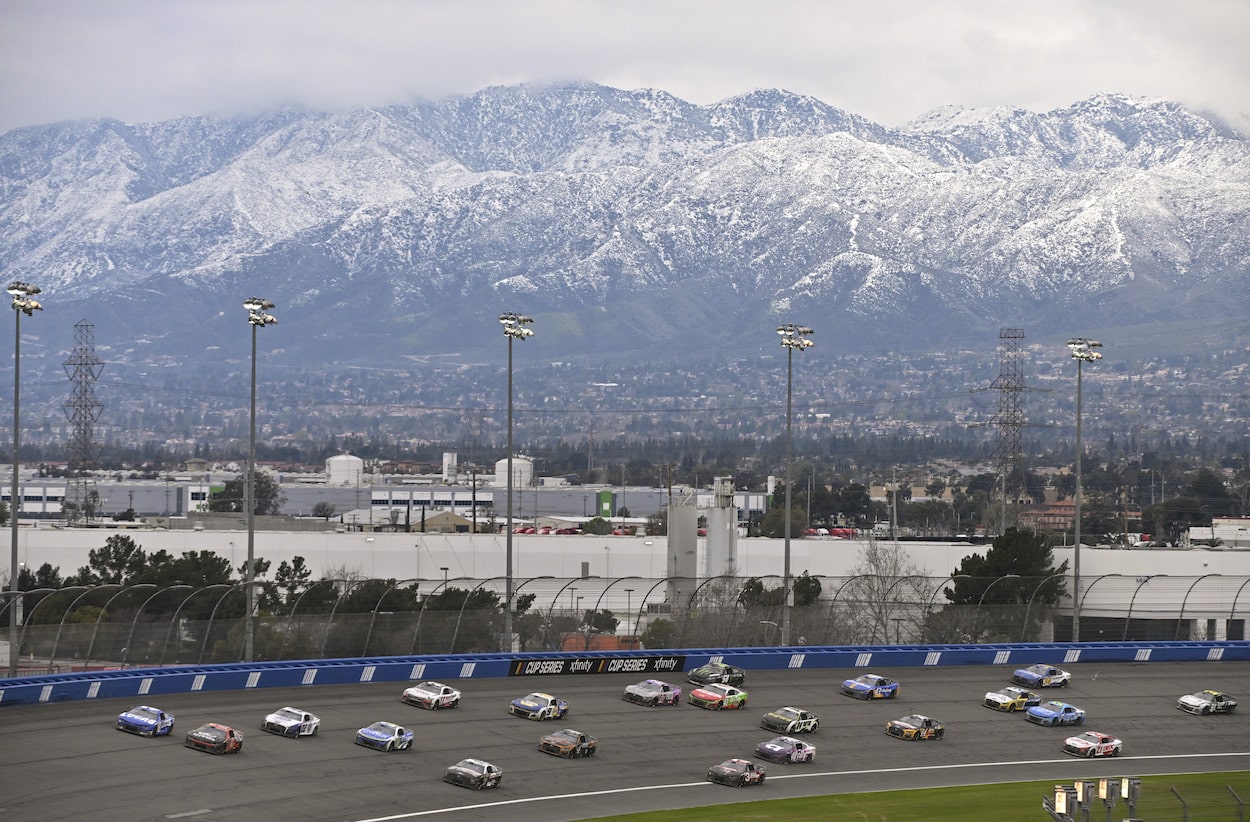 The green flag for the Pala Casino 400 and the final NASCAR Cup Series race on the two-mile configuration of Auto Club Speedway waved at 3:52 ET. Due to wet conditions from the day before, officials implemented a competition caution on Lap 17. 
During that first commercial break under yellow, fans witnessed a total of six commercials lasting 2:30. Just five minutes later, Fox ran its first break during a green-flag run and began its front-loading process of ads, or running more advertisements at the beginning of the race to avoid interrupting action later in the race. That break included five commercials and lasted three minutes. 
In the first stage, Fox ran seven breaks (three under green-flag conditions), including one side-by-side, for a grand total of 41 commercials that lasted for 17:50. Interestingly, two breaks came after the stage concluded and included 13 commercials for a total time of 4:40. 
Stage 2 caution-filled and includes most commercials for race
While the network and fans agree it's always best to avoid running commercials during green-flag runs, it's unavoidable. However, in situations like the start of Stage 2 at Fontana, the network had options.
The first occurred on Lap 75 when AJ Allmendinger went for a slide after making contact with Corey LaJoie. The resulting commercial break included seven spots for 2:30. The Spire Motorsports driver wasn't done and just eight laps later went for a spin himself, bringing out another yellow. Six commercials for 2:05. 
As they say, "cautions breed cautions." On the subsequent restart, Joey Logano led the field to green and many didn't make it very far past the start-finish line as numerous cars checked up, producing an accordion effect, with drivers slamming into the car in front of them. 
That yellow produced a pair of commercial breaks that included 13 spots for 4:55. 
Just 15 minutes after racing resumed, the network produced its first green-flag break in the stage. That was one of only two and also included a side-by-side. Fox concluded the stage with a pair of commercial breaks. 
Fans saw a total of eight breaks during the stage, with a total of 52 commercials for 19:45. 
Final stage features fewest commercials 
As expected and like the week before at Daytona, the network dramatically reduced its number of ads in the final segment. The first came due to a caution for the wounded No. 77 car of Ty Dillon. The break lasted for two minutes and featured three commercials. 
The final two commercial breaks of the race were under the green flag and included one side-by-side, which came with 20 laps remaining in the race. Both breaks combined included 11 commercials for 4:55. 
Final numbers 
| | |
| --- | --- |
| Total Time of Race (Green to Checkered) | 3 Hours 8 Minutes |
| Total Commercial Breaks | 18 |
| Total Commercials (Side-by-Sides) | 107 (3) |
| Total Time in Commercials | 44:30 |
| Longest Commercial – Paxlovid | 1:30 (40 seconds devoted to negative side effects) |
| Company With Most Commercials | Tie between Coke and Wendy's with 6 each |
For real-time commercial tracking during all NASCAR Cup Series races, check out @kdsportswriter on Twitter.