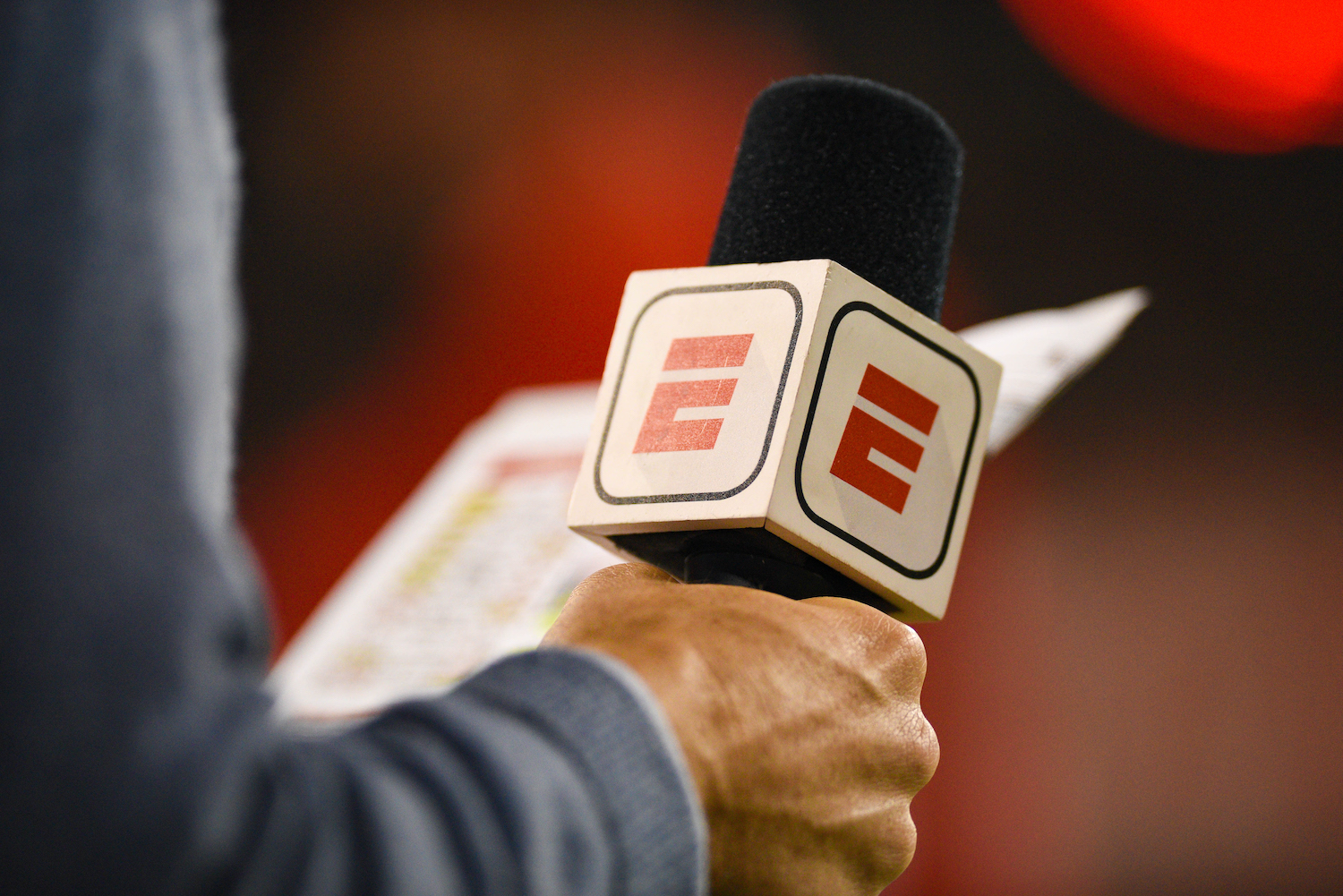 Could Your Favorite ESPN Personality Soon Be out of a Job in New Round of Layoffs?
Sports have returned after the pandemic shutdown but there are lingering effects. ESPN was hit hard and the network is expected to announce layoffs in the coming days.
ESPN has been the Worldwide Leader in Sports since it first appeared on televisions back in 1979. Since that time, the sports network has set the standard in broadcasting with its coverage of sports and the development of original programming.
Vital to the company's success has been its employees, many of which regularly appear on televisions in houses across the nation. Now, with the COVID-19 pandemic changing the sports landscape in 2020 and dramatically affecting business, some of those familiar ESPN faces might be caught up in a new round of layoffs and looking for work.
ESPN loses revenue with sports shutdown
When the NBA suspended its season on March 11 after Rudy Gobert's positive test for the coronavirus, it had ripple effects in ways unseen by most. The most obvious effect happened in the days that followed when other sports like MLB, NHL, and MLS also shut down. 
For the average sports fan, it was understandably disappointing not to see events like March Madness, the start of MLB, or the conclusion of the NBA and NHL seasons. For those people who covered those events for a living, there were much bigger concerns. How long would it last? And more importantly, would it affect their ability to pay the bills?
The sports shutdown lasted for months. The NBA finally returned to action in late July. Despite the return, employees of ESPN and other networks were unsure of the long-term effects from the shutdown.
ESPN to announce layoffs this week  
With no games to broadcast and no advertising dollars coming in, it was evident early on that ESPN and its bottom line would take a huge hit. Add in the fact that the sports network's parent company, Disney, has been hemorrhaging money as well because of closed theme parks, cruise lines, and movie theaters, and it was a recipe for a disastrous year financially.  
Now, the network is making tough decisions to try and help offset some of the lost revenue. Back in early October, Front Office Sports reported that ESPN was planning on laying off between 300 and 700 employees. The anticipated cuts were expected to occur with those primarily working behind the scenes. The report indicated that some on-air talent could also be affected, especially those with contracts expiring this year.
Now, according to a new report in The Athletic, ESPN is planning on laying off employees as soon as this week. The report did not provide an exact number but indicated it would be "significant" and would include personalities. Keith Olbermann got out early when he announced in October ESPN was letting him out of his deal early to launch a political show on YouTube.
Network has resorted to layoffs in recent years
Unfortunately, ESPN and its employees are all-too-familiar with layoffs. In recent years, as more consumers have cut the cord and steered away from watching traditional cable, the network has had to resort to layoffs as a cost-cutting measure.
In 2015, ESPN laid off approximately 300 employees, or about 4-5 percent of the workforce. That, however, was just the beginning. In April 2017, the network, which has its headquarters in Bristol, Connecticut, and has more than 6,000 employees globally, released almost 100 journalists and on-air personalities. Later that year, the company eliminated another 100 jobs. 
For sports fans, 2020 will forever be remembered for the pandemic, its ever-growing death toll, and how it shut down the world of sports. Sadly, it will also be remembered by a large number of people who lost their jobs. ESPN is just the most recent company to suffer from its effects.